Bryan Loo is a better businessman because he's a father, a role that has taught him about love, loyalty, perseverance and a little thing called legacy.
Is he a genius whiz entrepreneur who created gold from the ordinary, or a super lucky businessman who happened upon the right trend at the right time?
Ask Bryan Loo that, and he'll tell you he's neither. What he is though, is a family-made man, who owes everything he has to his parents, wife and, most significantly, his children.
He can even exemplify exactly how each plays a role in the success of his career.
"I'm super close to my father," the CEO of Loob Holdings says without hesitation. "Dad was with me since day one when I started my career. We are so close because when growing up, dad was there with me throughout my journey to build my career together. That's priceless."
Having that with his own father impacted him so much that it was the main reason he got married to wife Sally Quah at 24 and jumped into fatherhood himself at 26.
"My vision is always to be like my father," he tells. "I want to be there with my my kids to help them build their dreams as well."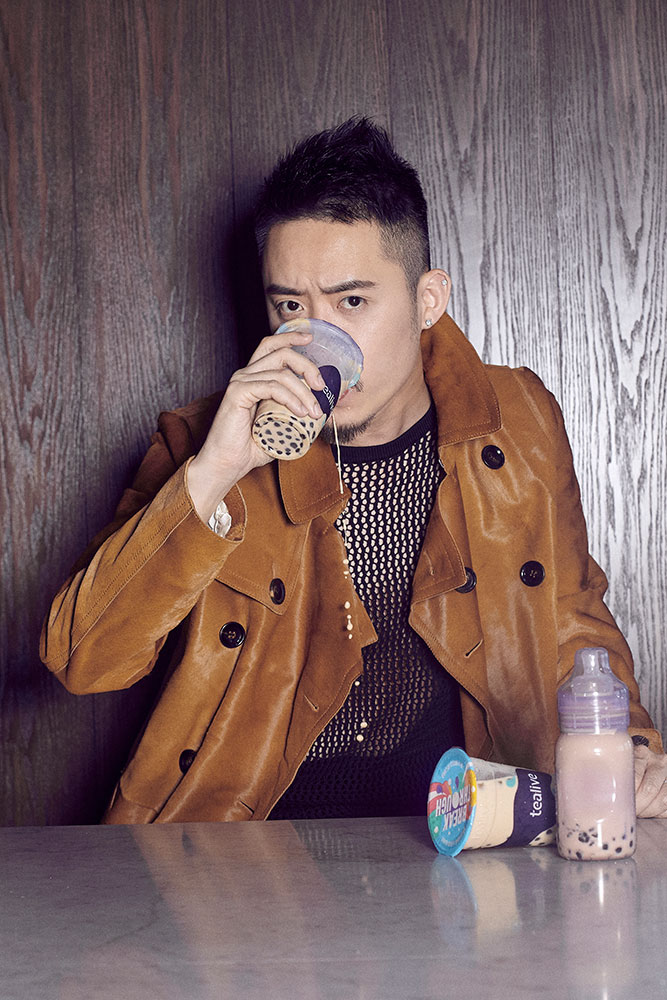 "I tell them I love them every single day"
Fatherhood looks good on Bryan, to say the very least. He's professional at the start of our interview, answering questions after careful thinking with crisp, concise answers. Once his  brood Kylie, 7, Haylie, 6 and Louie, barely a month old at the time of our shoot, arrive chaperoned by Sally, he lights up. A switch turns on that shows a Bryan who's more animated – more alive.
"I struggle to describe how I want to bring up my kid each time someone asks me that," he confesses. "I don't know how exactly but I just look at how my parents brought us up a long time ago."
He's most thankful for the ample freedom he and his siblings were given to call the shots in their own lives. "They gave us 100% freedom to make our own decisions. That's what we want to have with our kids as well, but we also want to ensure they aren't spoiled."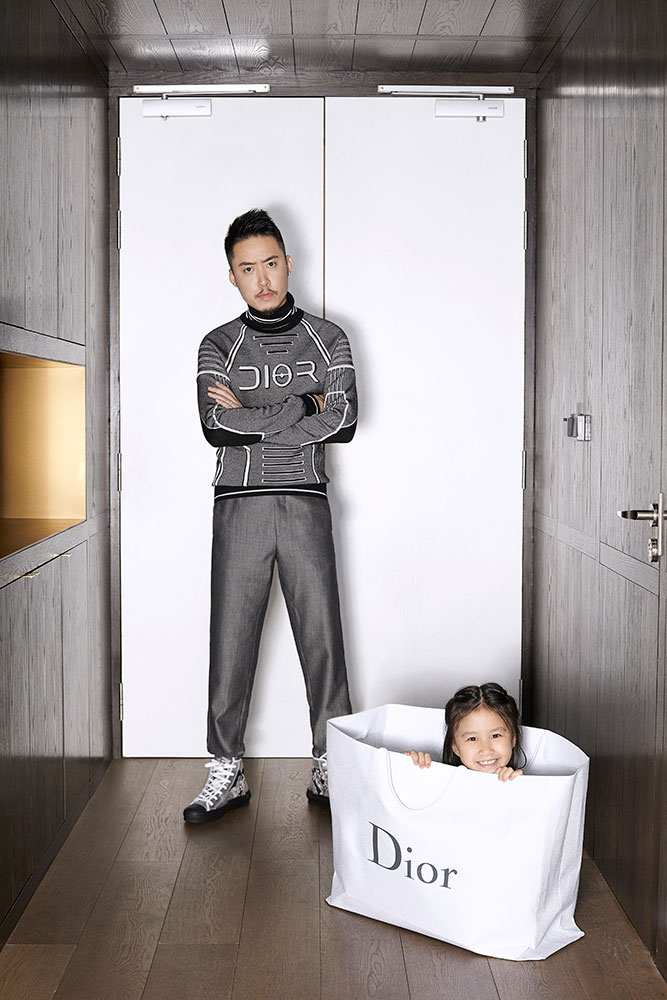 Spoiled is the furthest thing his two daughters are. Kylie is sweet and polite, soft-spoken in her knee-grazing dress, shy smile and long hair. Haylie is inquisitive and fearless, holding her own with the staff and crew, asking when is her turn for photos.
Bryan proudly tells that Kylie takes after Sally, while Haylie is a reflection of him.
"Kylie is a princess. She wants things to be neat, she's easy to take care of, she's obedient since young," he remarks. "Haylie is wild, she's gangster. She's easy-going yet doesn't care about rules. I see a lot of myself in Haylie – wild and always living in her own world. She doesn't care about what you want."
Then along came baby Louie, a prized son after two beautiful girls who have made him happier than he can ever imagine.
"Being Chinese, it's not that we wanted a son. We need a son," Bryan opens up. "There is a pressure to have a son, it's non-negotiable."
But before anyone dares to jump to the conclusion that he would love and prioritise Louie more, he makes it clear that the girls will always have his undivided love and attention.
"I tell them I love them every single day," he says.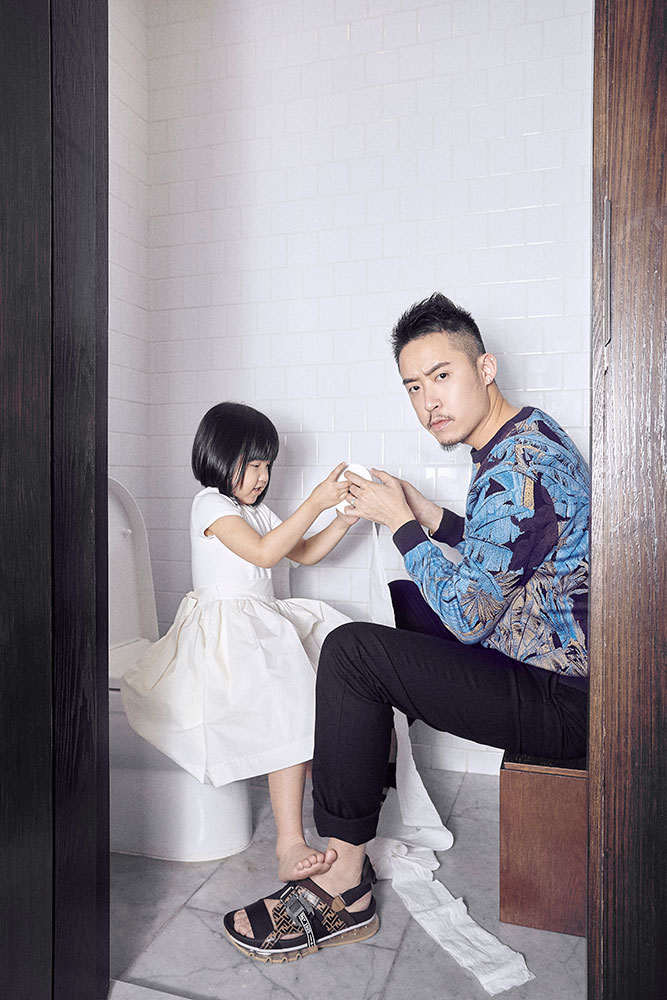 "I'm constantly reminded to be like them – to learn and let go easily"
The small window of time before his children go to school and before bed are Bryan's favourite hours of the day. He describes those hours as when his daughters' "brain engines" are at their peak performance, and as much as he has on his mind, speaking to them and hearing them chatter about their little lives and schedules leaves him in a nice mode of zen.
"They won't stop talking sometimes and I joke that they're annoying but really, it's my favourite part of the day," he divulges.
A few other favourite moments with his kids include bedtime. To this day, both girls sleep in the same bed with him and Sally, and they're just waiting until Louie grows up a little more to join them.
"It's because I travel so much for work," he explains. "I'm only in the country maybe 10 days out of the month, so I want to spend every minute I have with them, even when we're sleeping."
These moments may seem trivial to most, especially to a man that has a 1,000-staff, six-figure revenue company to run. Quite the contrary, they've taught him invaluable lessons.
"Watching them, I'm constantly reminded to be like them – to learn and let go easily," Bryan reveals. "There's something about their naivety. They can get work up over something and it may seem like the end of the world, but they'll let go just as easily and focus on the next thing."
"We can all learn to take on life like that," he reflects.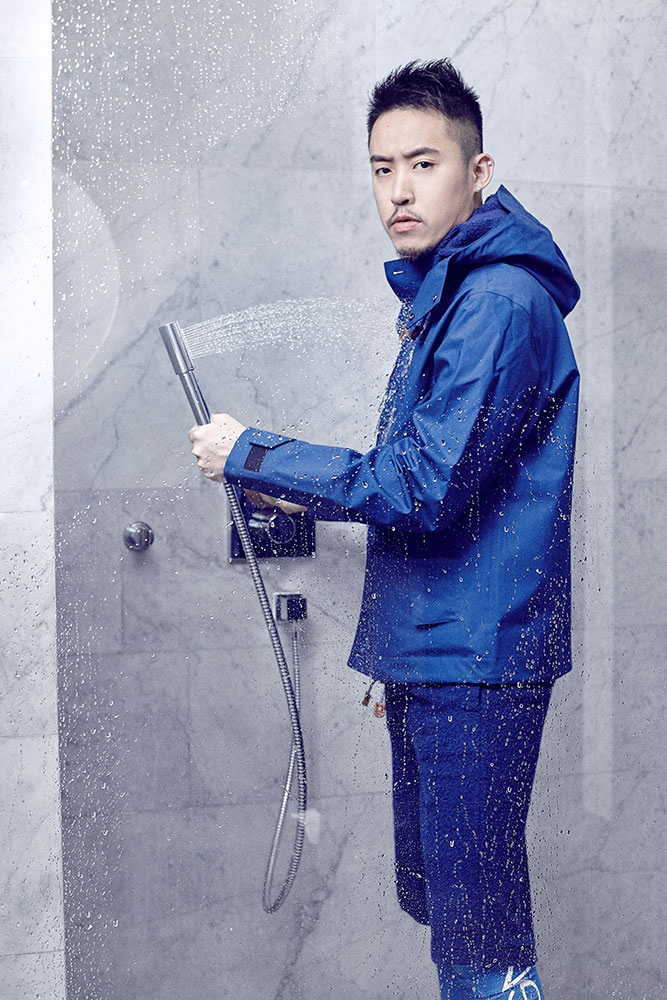 Leaving legacies
Everything that he is and has, Bryan, without hesitation, credits it to his family.
Family is what spurred him to start his business so young, and family is his motivation to build something impactful with his entrepreneurial ventures beyond just making money.
"I was already the earliest in my group to get married and I was the earliest to get kids," he regales. "That's left me feeling like I'm always a step ahead in many things. Because all these came earlier to me, it allows me to truly focus on my career."
Many times he mentions his gratitude to Sally, his childhood sweetheart and now life partner, in playing a part in his success. "She sees to everything regarding the household and the kids so I never need to worry about anything."
And as he looks forward to a father and friend to his own children, he falls back on his relationship with his own father to guide him there.
"My dad plays a lot of roles. He's my business partner, role model, consultant, mentor," Bryan tells. "We are very close, since we are in business together. He's really someone I look up to. Up to today, nine years in the business later, I feel like I have so much to learn from him, especially like how he can make such big decisions while remaining so calm.
If there's a quote of wisdom Bryan lives by, it's this one piece of advice he got from his father years ago that has seen him through many a turbulent time.
"Every time I need to make a very big decision that may seem impossible at first, he told me take a break of 3-4 minutes, go to the toilet, sit and think," Bryan shares. "Don't commit to anything right away. If you rush into something, you're not doing it with a very clear mind. Excuse yourself, go to the toilet, and when you emerge, you will have a clearer head. Those 3-4 minutes can change your life. That's what I do now."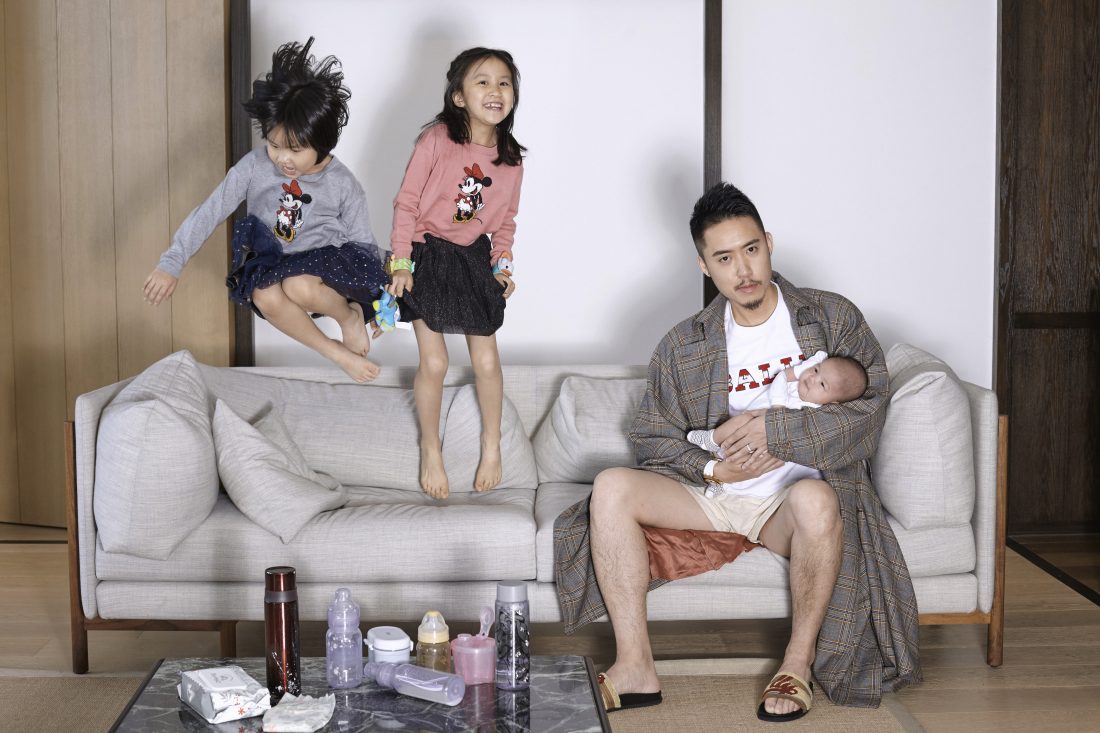 Just like how his father has left him something irreplaceable, he hopes he can do the same for Kylie, Haylie and Louie. It's left him thinking a lot about the legacy he wants to leave behind for them.
"A long time ago, before kids, before family, I would not think about legacy," he muses. "I would have just created businesses and sold them. Because of my kids, I want to create a global brand so that I have something to pass on to the next generation and their next generation."
It's taught him to think long-term, to consider impact and consequences beyond himself.
"Fatherhood has taught me a lot about sustainability as well. Without my kids and family, I would think more differently, only about selling my businesses at a good price, never about building global brands. Because of the kids now, I want to build something sustainable and can leave a mark in the family and can be a big legacy for the family."
For someone who got in on the bubble tea business nine good years before the trend took over the world, we'd say that's some solid longevity in his vision right there.
Photography: Xerxes Lee of Awesome Image
Art direction and styling: Gan Yew Chin, assisted by Natalie Khoo
Videography: Felix Khu
Hair and grooming: Ling Chong
Photos and video shot on location at Alila Bangsar, Kuala Lumpur