Hidden away at WOLO Hotel, Bukit Bintang's latest restaurant brings together the best of French cuisine at a multi-faceted hideaway where you can just sit and watch the city go by.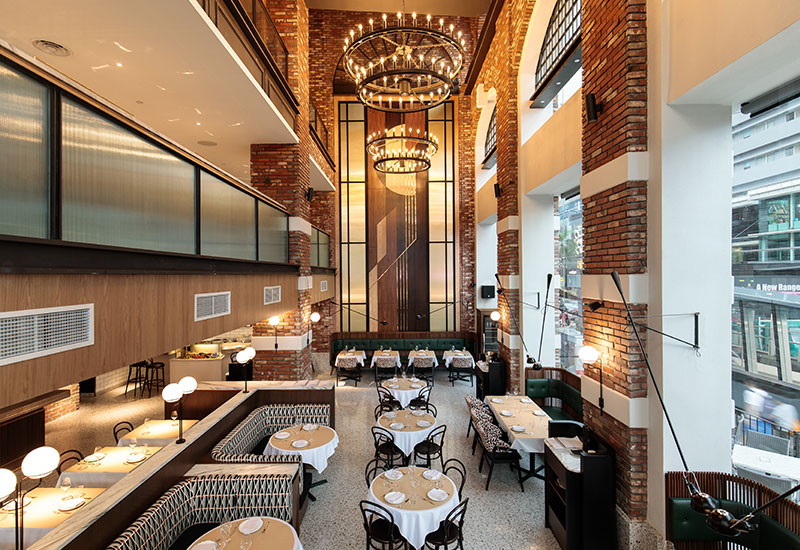 Brasserie Fritz's vast space is occupied by a restaurant, bakery, seafood bar, and two bars.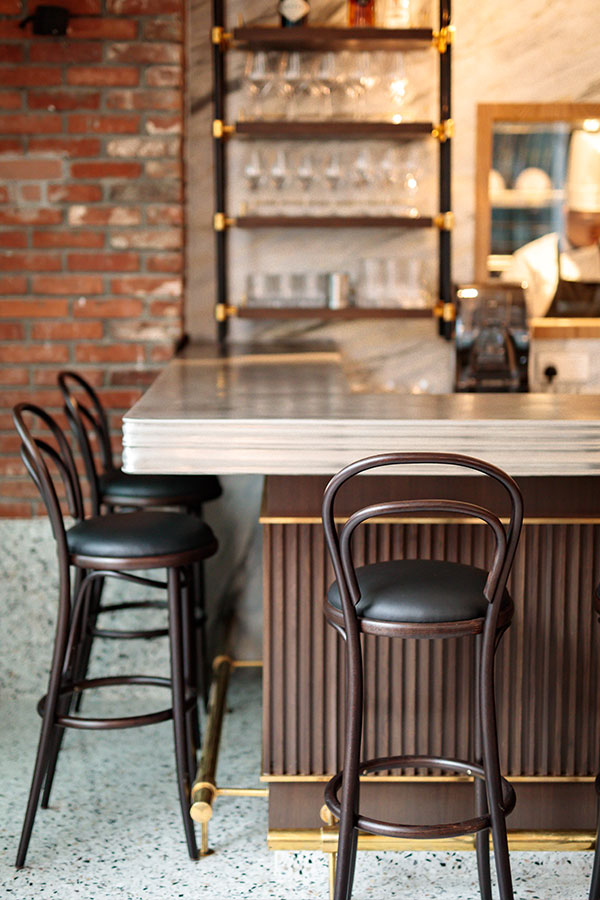 The ground-floor bar features an authentic brasserie bar top made of Royal Selangor pewter.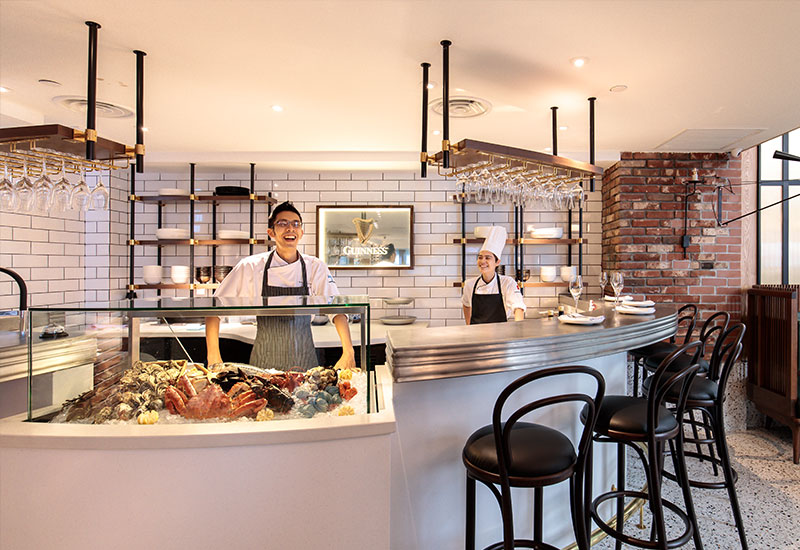 The seasonal Seafood Counter serves up a nautical party with the Fritz Platter (RM 135) and Grand Fritz Platter (RM 210), including lobster, crab, mussels, clams, whelks, prawns, oysters and scallops.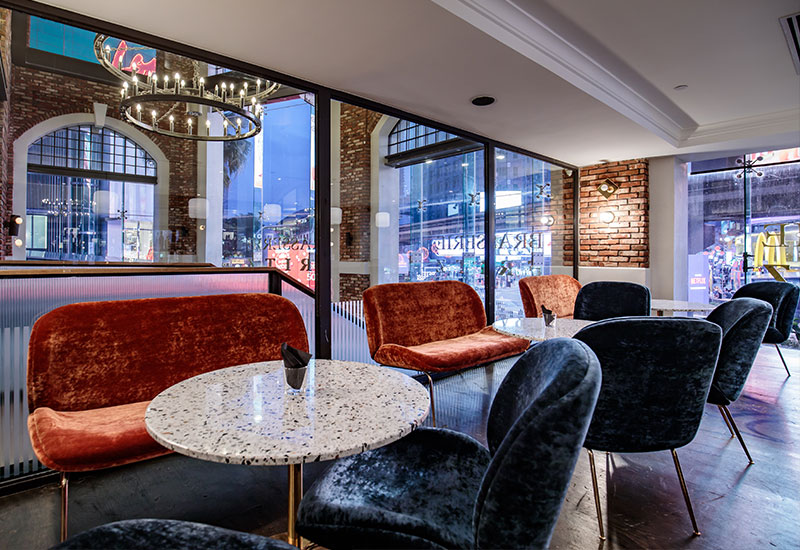 Tucked away for privacy, the mezzanine bar is where you'll find cocktails, beer, and wine during Happy Hour (RM 15++), from 4 to 8 pm. Complimentary bites are included.
(swipe left for more)
From the people behind Troika Sky Dining and Mr Chew's Chino Latino Bar comes a new French dining experience, right at the heart of Bukit Bintang.
Don't be surprised, though, if the high-ceilings dressed in hues of simple glamour feel nothing like the city centre. Inside Brasserie Fritz, your focus will be on French gastronomy – classic meats and seafood with a touch of modern experimentation, cocktails and cocoa, and wafts of fresh pastry from the boulangerie.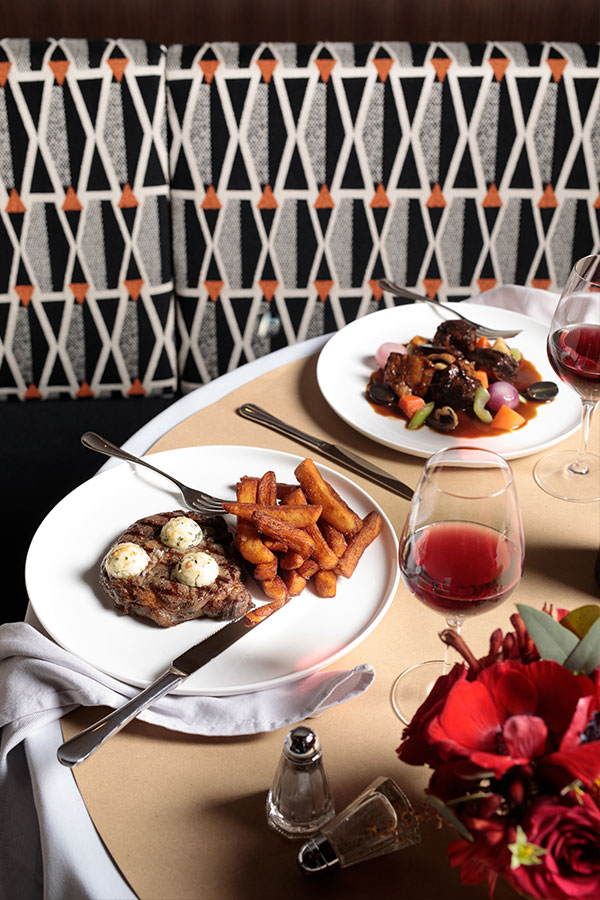 Brasserie Fritz opens bright and early with an enticing Melbourne-style breakfast menu, complete with Vittoria-bean coffee. What really catches the eye, though, is the Boozy Breakfast with a selection of Bloody Mary cocktails based on whisky, vodka, gin, and mezcal.
Its Little Plates present a variety of salads and seafood, lightly grilled or crispy. For an easy start, go with the vibrant seafood salad (RM 38) for its cocktail of squid, tiger prawn, beans, endive, cherry tomato, wakame, and sesame.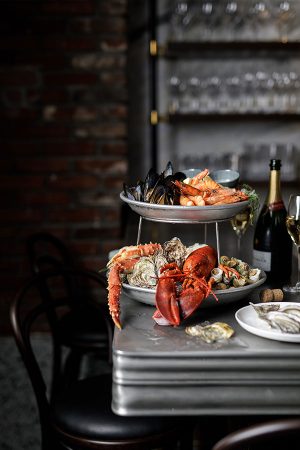 Hidden in plain sight at the back of the restaurant is its very own Seafood Counter. It's no surprise that our top picks for fresh bites came from here, including red snapper sashimi (RM 32), scallop carpaccio (RM 35), and prawn cocktail (RM 40).
Brasserie Fritz's stronghold is its seafood offering. This is evident not only in the appetisers, but mains too. A perfect example is the Dover Sole Meunière (RM 185), a light, buttery fish that shines alongside baby spinach and roast potatoes. Be sure to order this with a group because it can be shared comfortably by up to four.
As much as it values the traditional values of French cooking, the team here is not satisfied serving what can be found elsewhere. Consider that one of its biggest hits so far has been the fish and chips (RM 75) with an Indian twist. Cod fish is fried in thosai batter, complemented by tandoori-tinged, generous-cut chips and cucumber raita. Its a welcome confusion for the senses – crispy-soft, spicy-cold. We'd strictly recommend it to foodies with a knack for adventurous fusion.
Meat lovers are well taken care of here, too. Look for the group-friendly grilled prime rib adobo (RM 280), succulent in a rich marination, also perfect for groups. The duck confit (RM 62) features the prettiest mashed potato presentation this side of KL, while the lamb blanquette (RM 62) recalls the comfort of home (among the French, we presume) with mildly-creamy stew and rice pilaf.
If you prefer a straightforward compilation, the all-day, three-course Plat du Jour (plate of the day) set menu is decently-priced at RM 65 ++ for an appetiser, main, and dessert.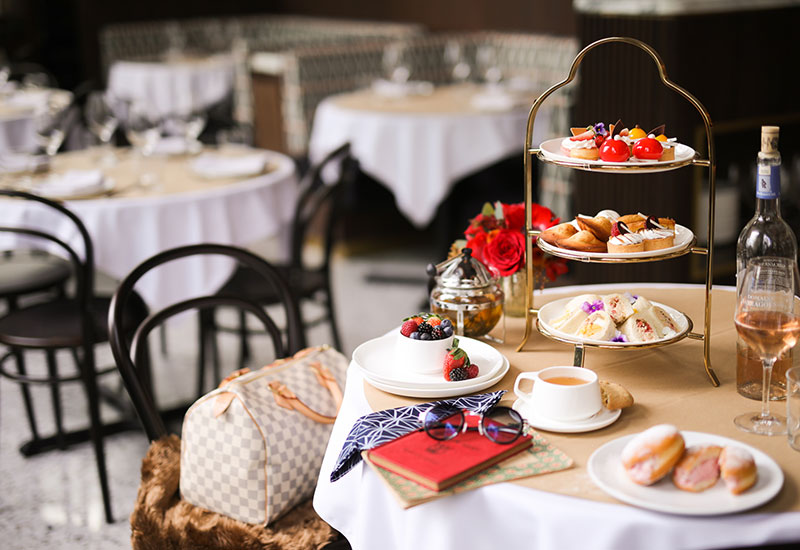 Boulangerie Fritz offers a taste of the pastry and cake Paris is so famed for. Freshly baked croissants, pain au chocolat, pastries and pies greet you as you step into the brasserie's heavy doors. The next time you're along Bukit Bintang, drop by for Berliners or stuffed donuts to experience the mini bakery for yourself.
Having an in-house bakery is also great for breads and rolls, which are made fresh every day.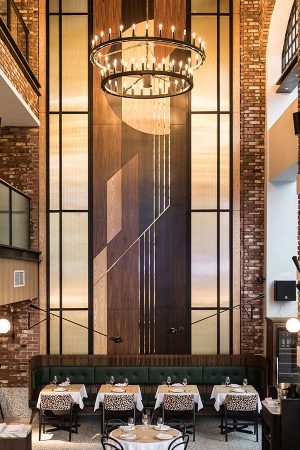 One Brasserie Fritz speciality you cannot miss is the potent, single-origin hot chocolate. Boasting up to 100% cocoa sourced from Brazil, Ecuador and Tanzania, these warm cups of goodness are unabashed in flavour and stingy on sugar or cream – just the way hot chocolate is best enjoyed.
Our standout choice is the homegrown 70% cocoa from Pahang. If you get tinges of whisky, that's because these beans were fermented in ex-Glenfiddich barrels. Now that's something that can tempt us almost as well as cocktails.
The diverse menu is completed with an array of sandwiches, as well as anytime food. The latter includes soup of the day (the mushroom soup is a must-try for its well-balanced flavours and consistency) and certain meat cuts.
Make your reservation now by filling up the form here. Call 03 4065 0876 for enquiries.
Address: Ground Floor, WOLO Hotel, Jalan Bukit Bintang, 55100 Kuala Lumpur
Opening hours: 7 am – 1 am
Images: Brasserie Fritz