It sports an open-worked dial framed by a composite material three times lighter than titanium, and that's not even the most impressive invention.
When Zenith introduced El Primero 50 years ago, it claimed the title of the world's highest-frequency self-winding movement. Then two years ago, Zenith Defy Lab changed the game with Zenith Oscillator – a high-tech replacement for the balance wheel, balance spring, and lever, which rendered 30 smaller components obsolete. It oscillated at 15 hertz – triple that of the El Primero. This technology was rare as it was impressive, and only a handful of Zenith Defy Lab pieces were ever made.
At Baselworld this year, though, Zenith heralded a commercial future for their prized innovation with the Zenith Defy Inventor. This landmark model coincides with El Primero's 50th anniversary celebration. It also marks the timeless artistry still to be found in the vast landscape of Swiss watchmaking.
Superpowers of silicon
The latest Zenith Oscillator is a single, slim mechanism made of mono-crystalline silicon. It's important to note that silicon is the bedrock of Zenith's ingenuity: the material's springy property makes it an optimum replacement to the conventional escapement set-up.
As a result, it now beats at an astounding 18 Hz, powered entirely by vibration. This is attributed to increased realiability, stability, and precision. Reliability is a product of decreased friction and deformity, while silicon's resistance to temperature and magnetic force empowers stability. Look closely and you'll spot the source of Zenith Defy Inventor's increased precision – an escape wheel made up of flexible blades. This is another horology first by the brand.
Engineering marvel on full display
Its entirely open-worked structure sets all moving and stationery parts on show for all. The 44-mm brushed titanium case outlines a unique bezel – the Aeronith, which is made from pure aluminium foam and stiffened with polymer. We have Zenith's word that is it the lightest composite of its kind (three times lighter than titanium) meaning it's not just pretty to look at.
While Aeronith was used more prominently in the entire Defy Lab case, we find that its subtle application in the Zenith Defy Inventor gives the model a refined-yet-rugged finish. It's got a lot to show, but does so in a quietly impressive manner that appeals to the modern gentleman.
Recommended: Eason Chan, Zenith ambassador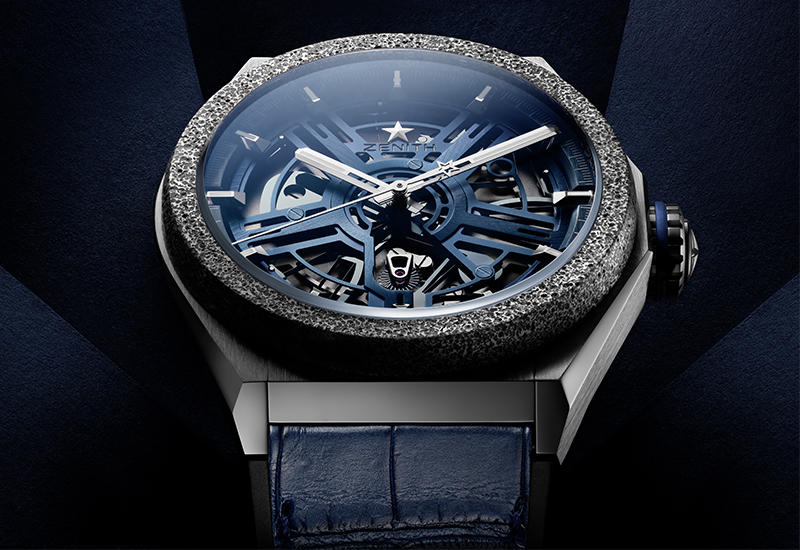 A star in its own right
The propeller blades form the Zenith five-point star to curious effect. Rhodium-plated hands move silently across its skeleton dial, the central seconds hand tipped by a miniature star of its own. Like the Defy Lab before it, Zenith Defy Inventor is chartering a new path in the progress of the house – but this time, it is being produced in the hundreds.
Though not a chronograph like its predecessor, its high-frequency oscillator works with a stop-seconds function to deliver accurate readings in a vision of blue and steel.
Zenith Defy Inventor comes in a black rubber strap with midnight blue alligator coating. It is priced at 18,900 CHF.
For more information on Zenith's Baselworld 2019 novelties, visit the official website.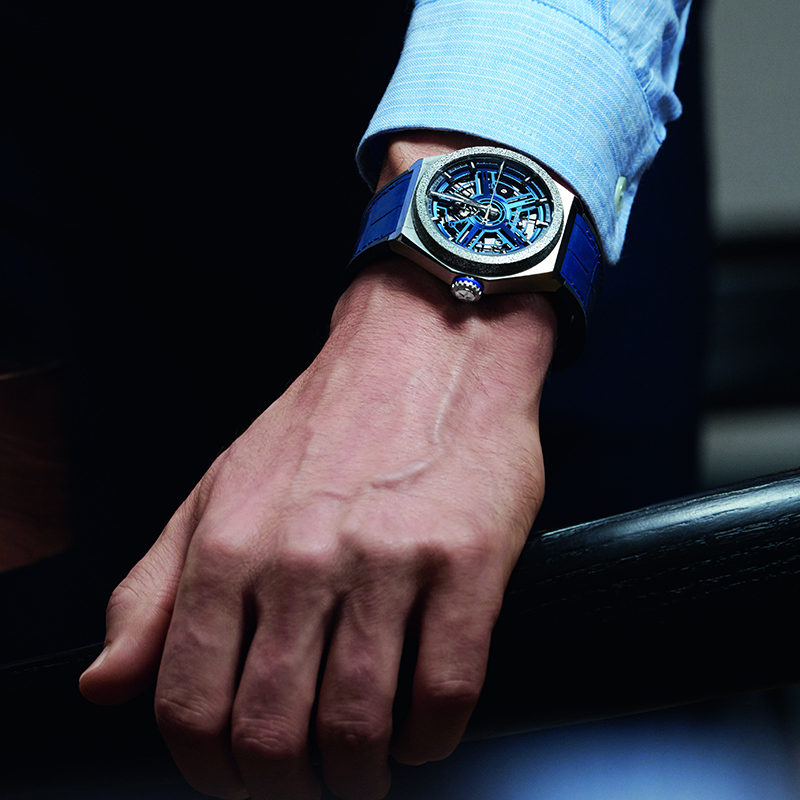 Images: Zenith