Next time you're lazy to play dress up, try one of these 5 effortless ways to pair your athleisure clothing, as inspired by our favourite style celebs.
Athleisure may have entered the fashion scene several years back, but it is by no means a trend of the past. Just look at the likes of Gigi Hadid, Kendall Jenner and Rita Ora who are often seen in sports bras, leggings or tracksuits on the streets during off-duty days – both then and now.
Aside from the trending factor, athleisure is extremely comfortable to move about in and even gives you a little push to head to the gym. So, the next time you're lazy to play dress up, try one of these 5 effortless ways to pair your athleisure clothing, as inspired by our favourite style celebs.
Jacket + Leggings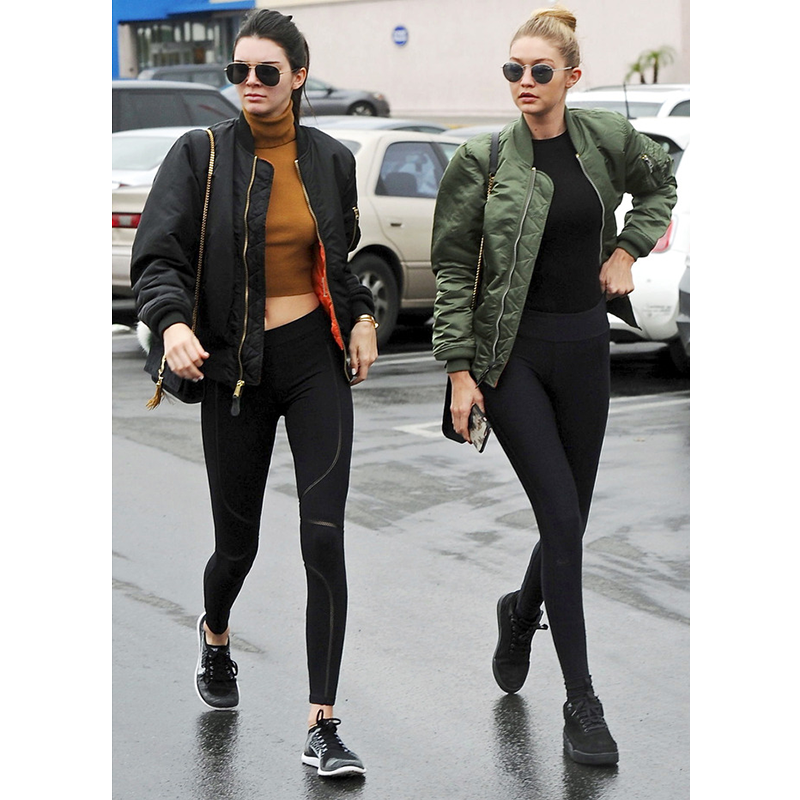 Kendall Jenner and Gigi Hadid sport bomber jackets with leggings and sneakers.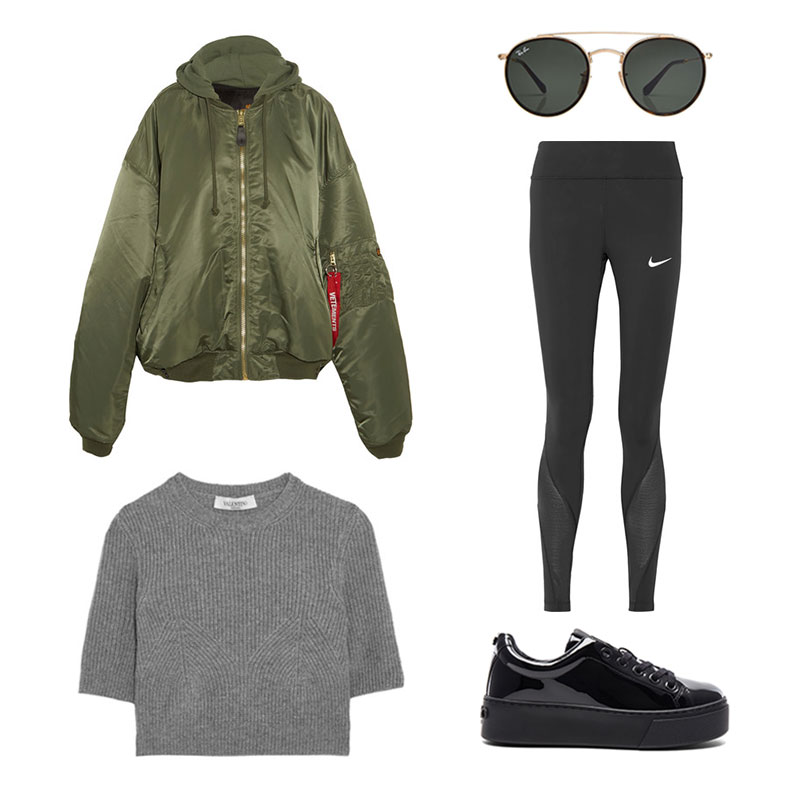 Get the look: Vetements + Alpha Industries oversized hooded reversible shell bomber jacket, Valentino cropped ribbed cashmere sweater, Rayban RB3647N Round Sunglasses, Nike Power Epic Lux mesh-paneled Dri-FIT stretch leggings, Kenzo K-lace platform sneakers in black.
Possibly the easiest way to looking good in athleisure is throwing on a jacket with your top and leggings, and it can be any type of jacket too – bombers, leather, denim, even faux fur.
Bodysuit + Tracksuit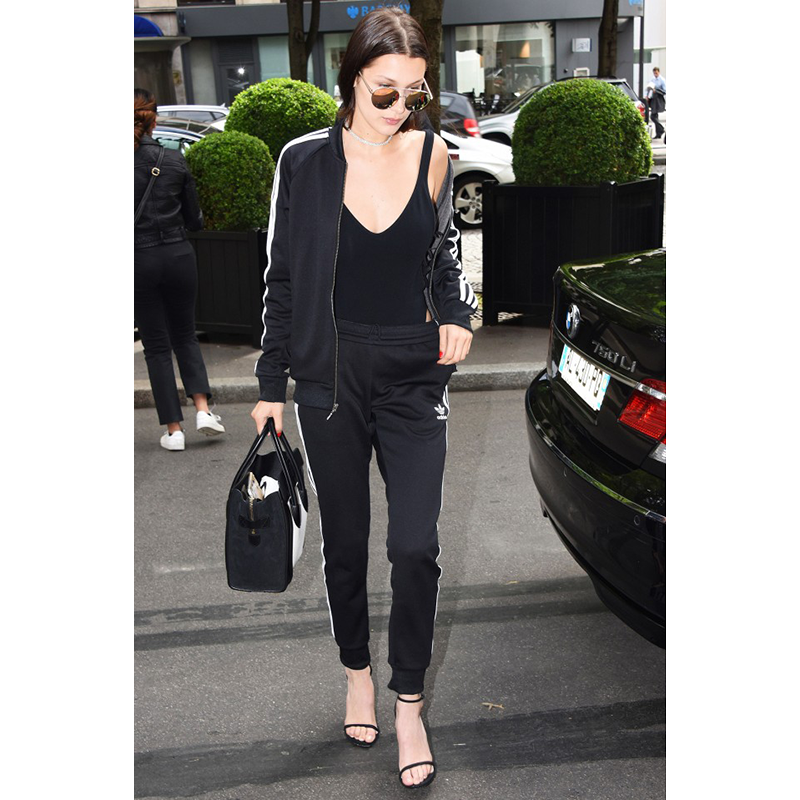 Bella Hadid wears a track suit and pants with her bodysuit.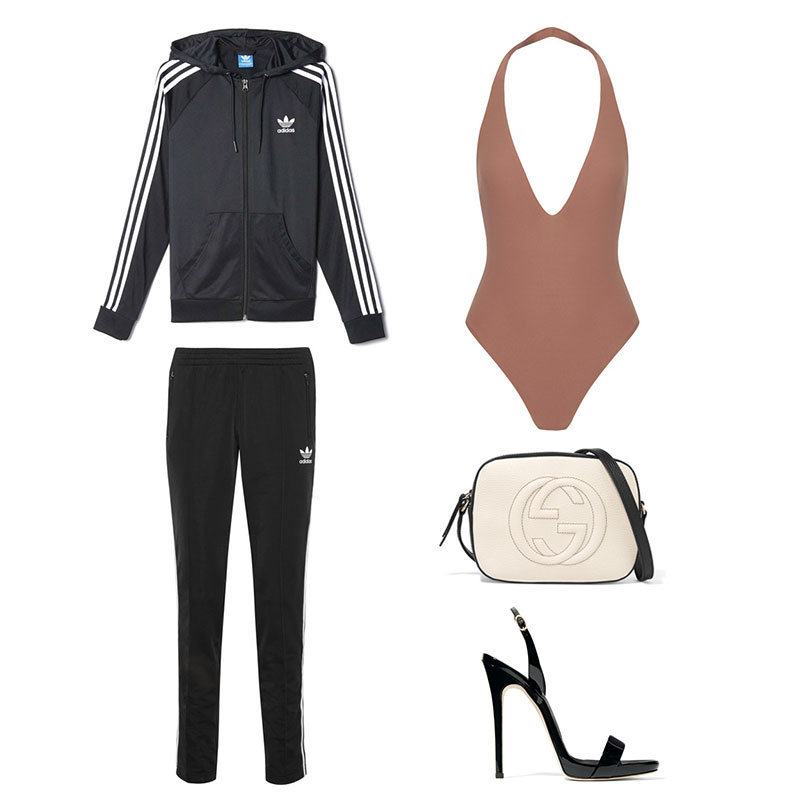 Get the look:Adidas Originals Women's Jacket, Adidas Originals Firebird satin-jersey track pants, Alix Hudson stretch-jersey halterneck bodysuit, Gucci Soho Disco textured-leather shoulder bag, Giuseppe Zanotti Sophie patent-leather slingback sandals.
Here's another way to pair your bodysuit, aside from wearing it with jeans and skirts: tracksuits! Alternatively, you can just wear it with track pants, minus the jacket on a sunny day out.
Statement tee + Sweatpants + Accessory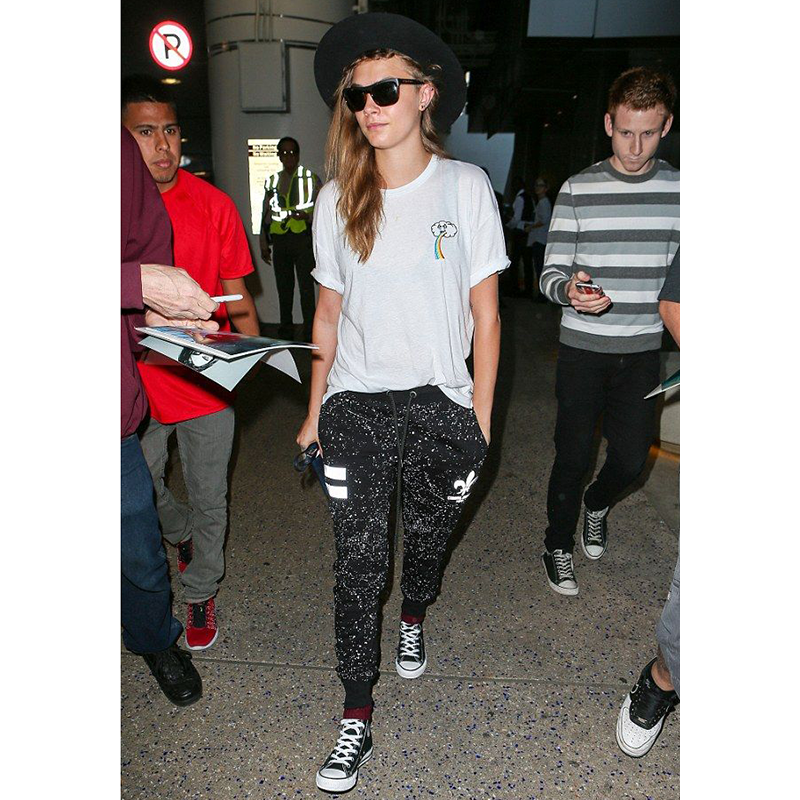 Cara Delevingne adds a cool touch to her classic T-shirt and sweatpants combo with a pair of sunnies and hat.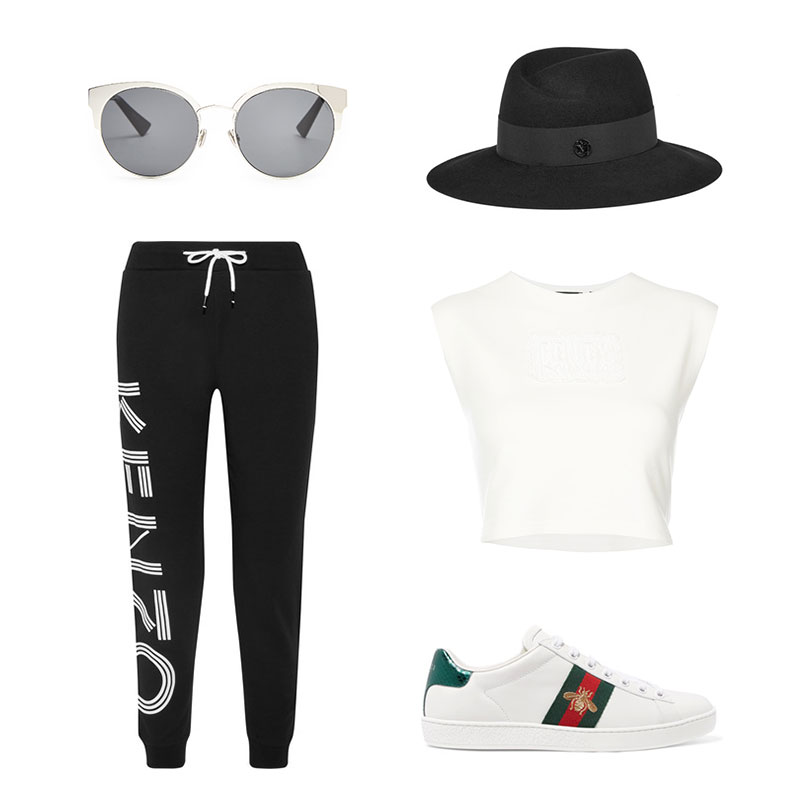 Get the look:Dior Diorama Cat-eye sunglasses, KENZO Printed cotton-jersey track pants, Maison Michel Virginie rabbit-felt fedora, Fenty X Puma crop tank, Gucci Ace watersnake-trimmed embroidered leather sneakers.
Pairing sweatpants with T-shirts is probably a no-brainer, but you can amp up the look with additional accessories, such as a pair of sunnies and a hat (like Cara Delevingne).
Sports Bra + Overcoat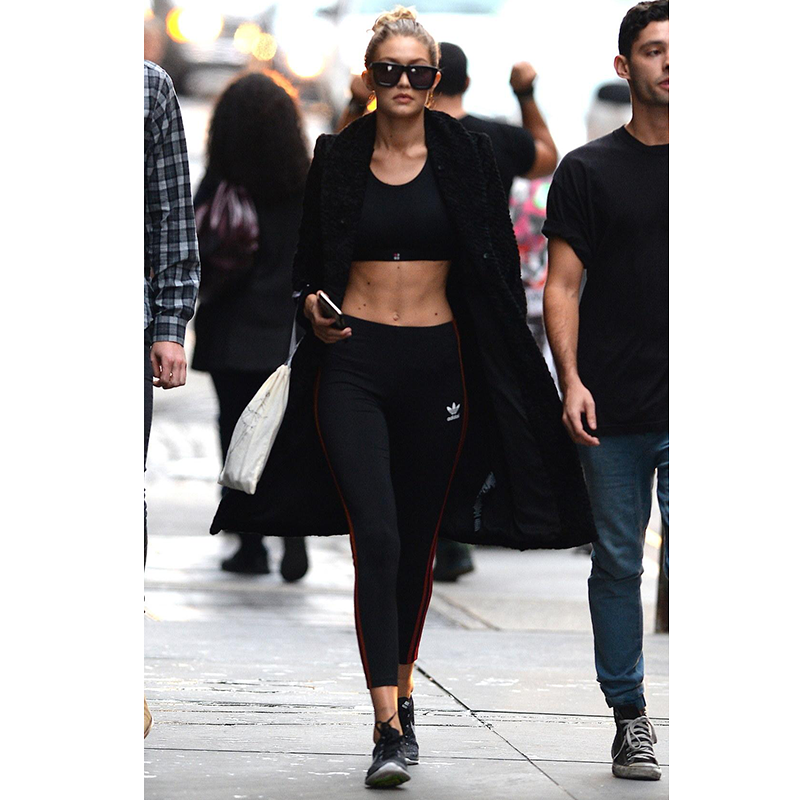 Gigi Hadid looks comfy and chic in her sports bra, track pants and coat.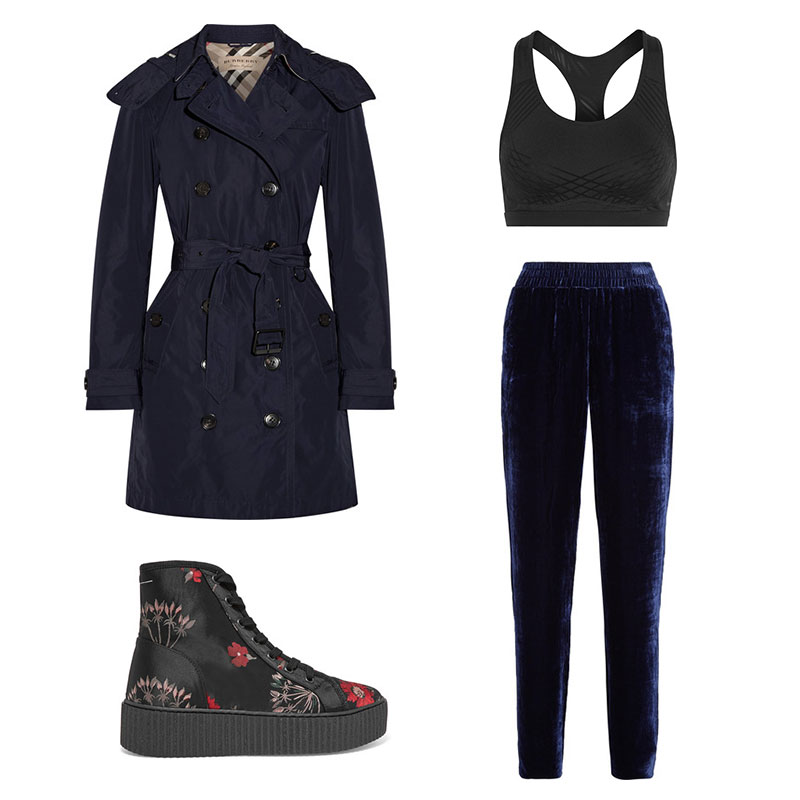 Get the look: Burberry Balmoral Packaway hooded shell trench coat, MM6 Marson Margiela Floral-jacquard high-top sneakers, Nike Pro Fierce stretch-jersey sports bra, Dion Lee velvet track pants.
Tone down a bold sports bra by wearing a coat or cardigan over it, then pair them with leggings, track pants or jeans and you're good to go.
Trackpants + Heels or Boots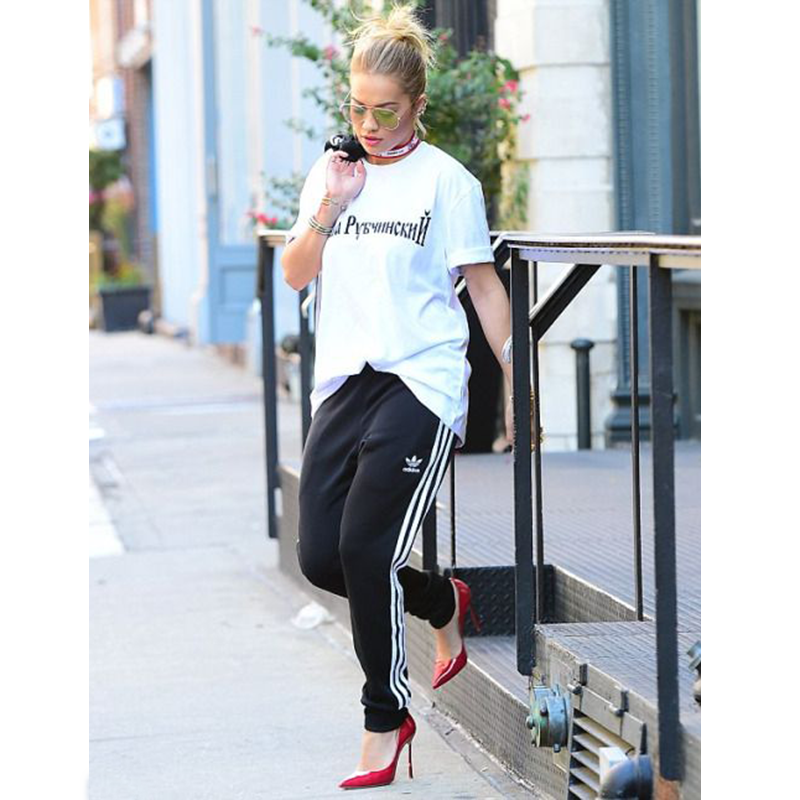 Rita Ora makes a fashion statement by pairing track pants with striking red heels.
Get the look: Marni Driver sunglasses in brown, Gucci Appliquéd printed cotton-jersey T-shirt, Jimmy Choo Romy patent-leather pumps.
Who says you can only wear flats or sneakers with athleisure pieces? Rita Ora and Selena Gomez wear them with heels and boots too, and we love how that adds a little femininity to an otherwise tomboy-ish look.
Images: Courtesy of Polyvore and Net-a-porter