You know the story and the people – now, take the experience one step further with the magic of music and movement.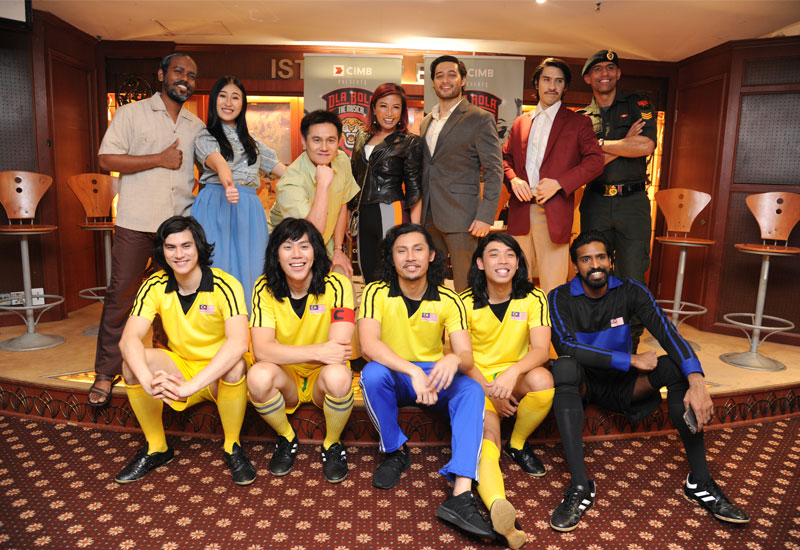 Buzzing in the KL arts scene right now is none other than Ola Bola The Musical, Tiara Jacquelina's directorial debut reimagining the 2016 hit movie. Infusing movement and music to the well-loved Malaysian tale was no small feat, but it was one the former Puteri Gunung Ledang felt immediately drawn to.
"The emotions in the movie were so strong that I felt this really needs to be experienced live. I saw many moments where, with music and a little stage magic, there is a possibility of going deeper into, and amplifying the emotions of each character. Music reinforces dramatic action, and evokes atmosphere and mood in ways that words alone cannot," Tiara explains.
That was all it took to get her to begin work on one of the largest-scale theatre productions Malaysia has seen. Here are 5 winning aspects of the show that will define your Ola Bola the Musical experience.
It was written in three weeks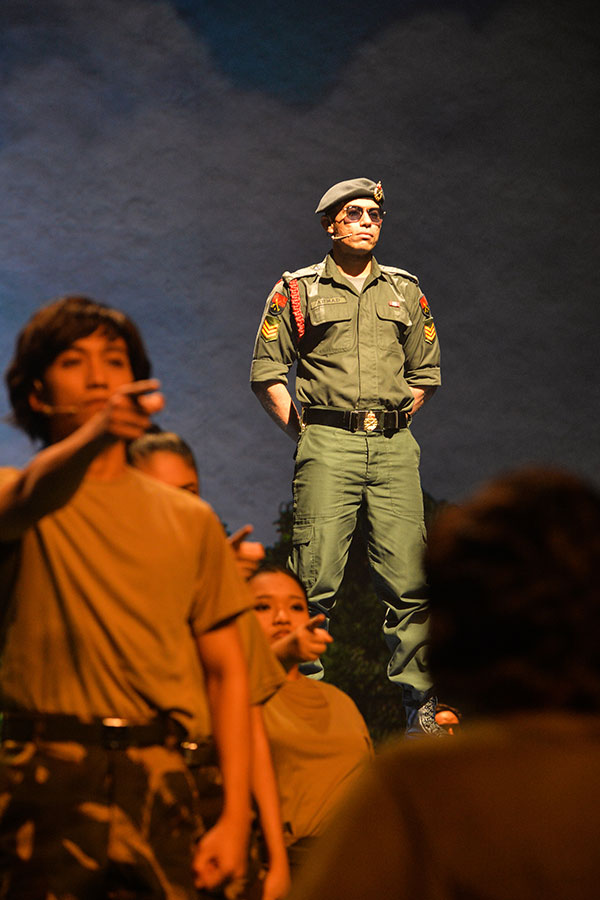 One year ago, Tiara set off to enlist Sabahan composer/ lyricist Mia Palencia in her latest musical project. Together with rapper Altimet, Ola Bola's musical tone was set under the direction of Duan of Seven Collared T-Shirt. Tiara tells of how her power team "set a record" by writing the music on the spot and on the go in just three weeks.
This resulted in a lively mix of hip hop, rock, and rap, infused with traditional Malaysian sounds transporting us to the early 80s. Where there was tension, a rap battle emerged; where there was trepidation or disappointment, a cathartic ballad.
Though primarily in English and Malay, the musical also includes Mandarin and Tamil, recapturing the essence of time and place on its adorable multi-functional sets.
One-of-a-kind football choreography
We were admittedly apprehensive about the recreation of football on stage, but with the help of award-winning choreographer Stephen Rahman-Hughes, the team delivered a slow-motion version of hip-hop choreography that was enthralling as it was calculated.
Hughes was dissatisfied with the portrayals of football he had seen on the West End, and so found a way to elevate the image of the game as it grows emotionally throughout the piece.
He draws parallels from the musical production against the Ola Bola movie , saying, "All these young guys from different backgrounds and philosophies heading for the same goal – that's what the movie was about for me. Seeing them work hard and grow together has been a beautiful experience."
A chance for fresh talent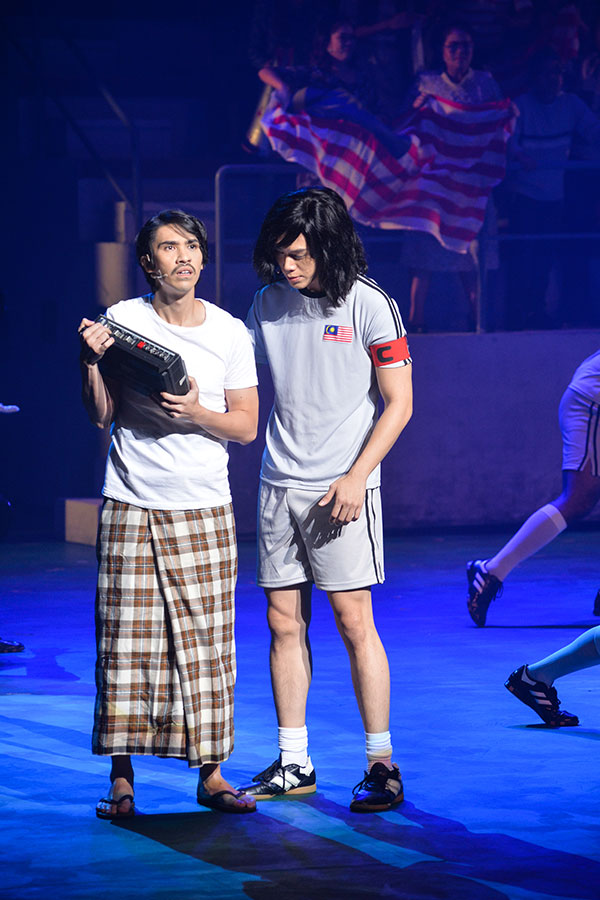 Ola Bola the Musical saw 200 people work together "like an army" – 74 of which were on stage. There was no room for error. It took nine months to gather the pieces, and three months of intensive daily rehearsals to make sure they fit right.
We saw several first-timers take the stage, including Brian Tan ('Tauke' Chow Kwok Keong), Melissa Ong (Chow Mei Ling), and Kai Chalmers (Eric), as well as Luqman Hafidz (Ali)  and Lim Jian Wen (Ah Chai) from the original movie cast. They were grilled on all things theatre for three months by coach Joanna Bessey, and guided, encouraged, and cared for by director Tiara.
"Not only is Tiara leading the Malaysian musical theatre scene, she is also setting the standard of looking after actors and building a team," attests Chalmers.
Pioneering digital elevation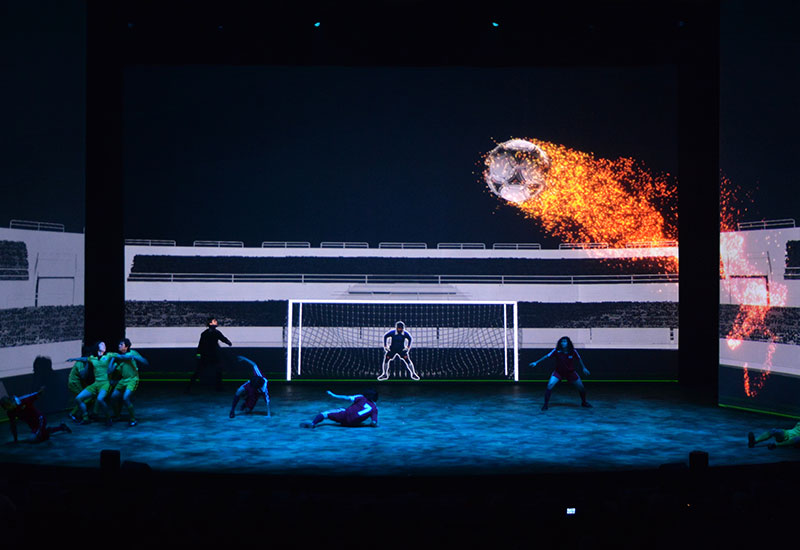 Recreating the energy of a 50,000-strong football stadium took something never before seen on the Malaysian stage – immersive digital visualisation. With a 180-degree projection on large LED screens, digital floor mapping, animated visualisation, and 360-degree sound and lighting, Ola Bola The Musical is paving the way for the digital live theatre experience.
This 3D animation elevated storytelling by enabling the team to land a helicopter at army base, perform football stunts, and play in a packed Stadium Merdeka. While Tiara admits there is room for improvement, this feat made it easier to translate the scale of the Ola Bola movie to musical theatre. The results are fascinating not just visually, but in their indication of a greater potential that is set to take local performing arts to the next level.
Refreshed hope in the Malaysian arts scene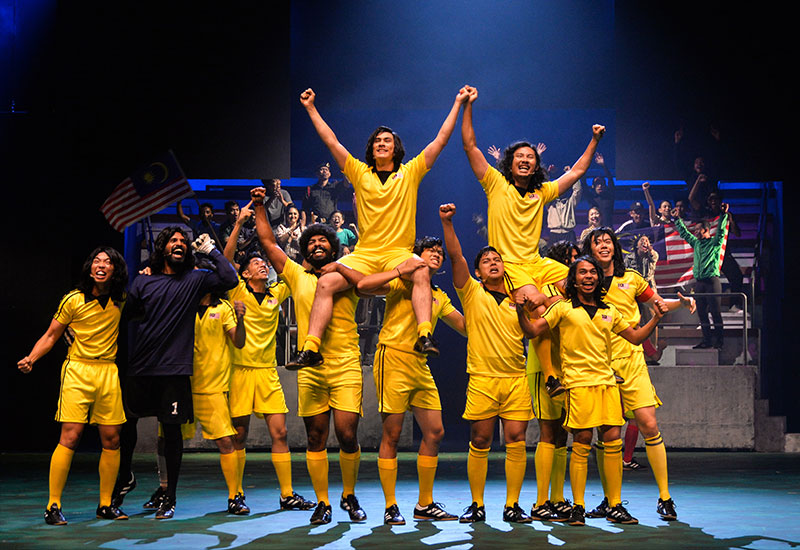 Having now seen what is possible on the Istana Budaya stage, veteran actor Douglas Lim (Mr Wong) truthfully jests that the quality of this production should raise the bar for Malaysian theatre artists.
Indeed, Tiara Jacquelina has taken the raw emotion of a national football movie and turned it into a funny, heartwarming, and captivating visual treat that will have you humming 'Setiap manusia mampu menjadi wira luar biasa' long after the curtains fall. That's a story worth telling a hundred times over, especially in song.
Catch Ola Bola The Musical by Enfiniti from now till March 11 at Istana Budaya. Book your tickets now and check out the official site for more.