At The Majapahit Restaurant & Bar, dining is a strictly casual, communal event made exciting with drinks and live music. Bonus: it's a pretty spot you'll want to share.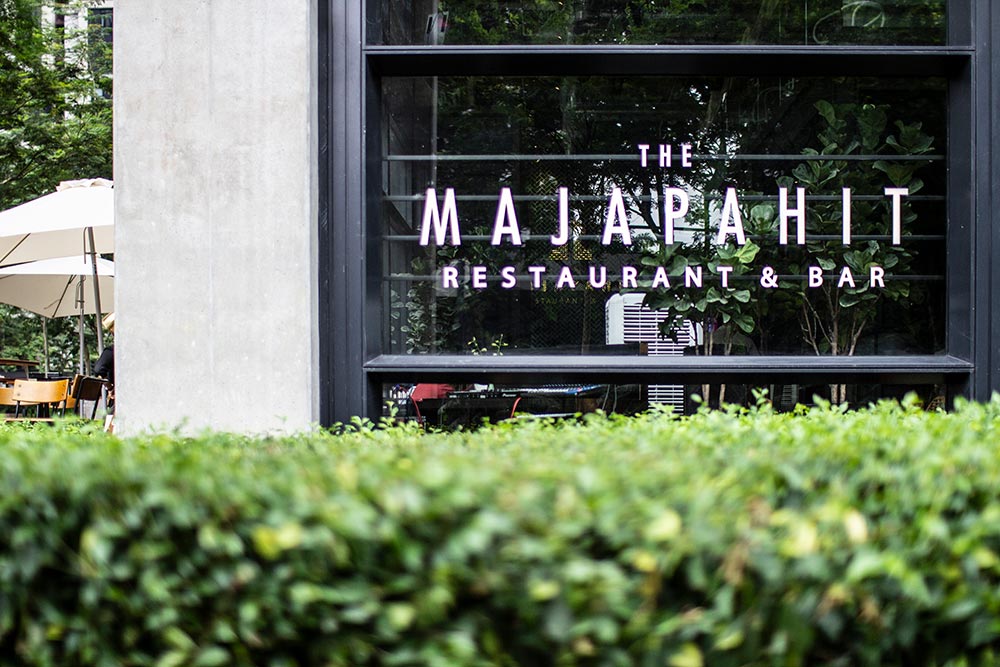 Long before this region was known as Southeast Asia, Malaysia, Indonesia, Thailand, Singapore, Brunei, Sulu, Philippines and East Timor formed the Majapahit Empire in its heyday. It is from this period in history that The Majapahit Restaurant & Bar derives its inspiration.
Describing its menu as "conquering the vivid and distinct cuisines of Southeast Asia", this newcomer at Arcoris Mont Kiara is set up to be more than a lunch-hour hound by day and drinking hole by night – although that is what it has fast become.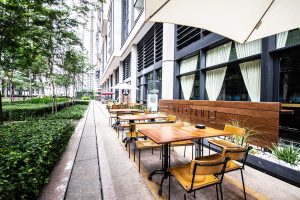 Its carefully arranged yet seemingly casual two-floor lot is draped in sparse hues of green, gold, and brown. Wood and rattan are highly favoured. You'll find its large ground floor filling up on weekdays, and the mezzanine floor light up come nightfall – especially if its booked out for a private party.
If you happen to come by on a breezy afternoon, take a seat outside. If it's a Friday or Saturday night, place yourself close to the DJ deck. Either way, you'll want to bring a few friends along.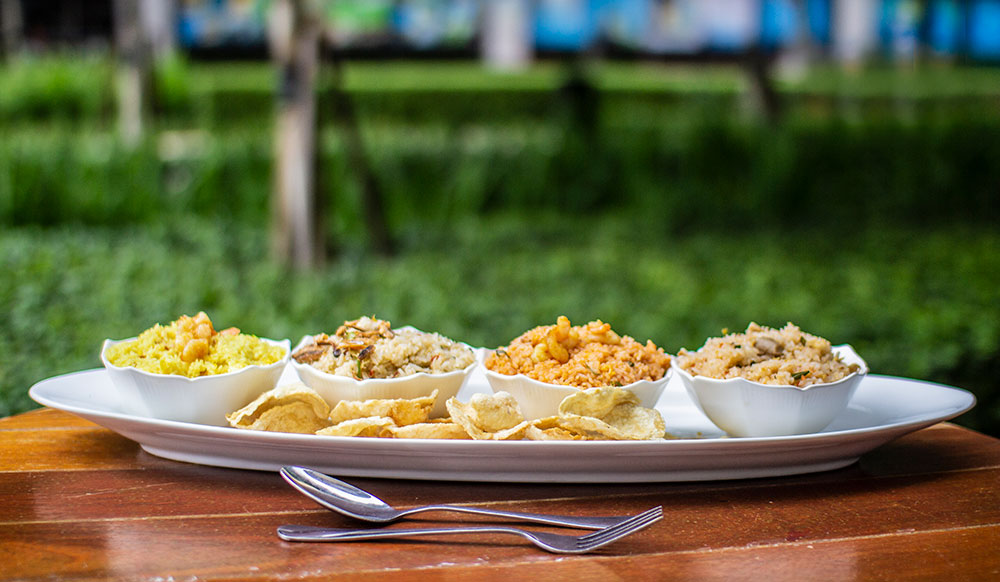 Dining is a communal event at The Majapahit, as evidenced by its platters and sea-pas (that's Sotheast Asian tapas) offerings. Dip your cassava crackers and chapati bread into the irresistible Curry Galore platter: an umami-focused journey across Thailand, Indonesia, and Malaysia.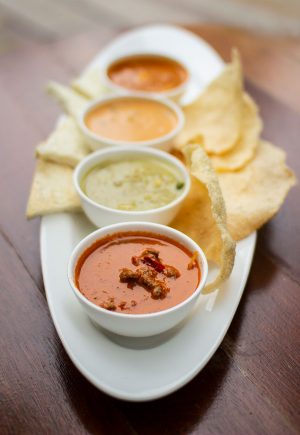 Thai red and green curries stole the show for us, but a palate inclined to milder spice would prefer the interesting Indonesian squid curry. All were enjoyed alongside The Maha Rice Royale (only because drinking curry isn't quite acceptable, socially).
We felt the fried rice foursome left much to be desired in terms of flavour, but it does present a sweet Thai pineapple fried rice that helps counter all that spice. We were told these traditional fried rice recipes, recreated in the kitchen of Chef Pak Isan Santibi, are traditionally pared down to let the other dishes shine.
If that is indeed the case, we're sure glad we focused on the delicious slow-cooked Padang style beef and coconut butter chicken.
In the former, the Australian-imported beef falls apart effortlessly at first bite, packing rich flavours and an aroma that could tempt a weak vegetarian. The latter chicken, on the other hand, is coated in thick, creamy butter sauce heightened with a tinge of coconut.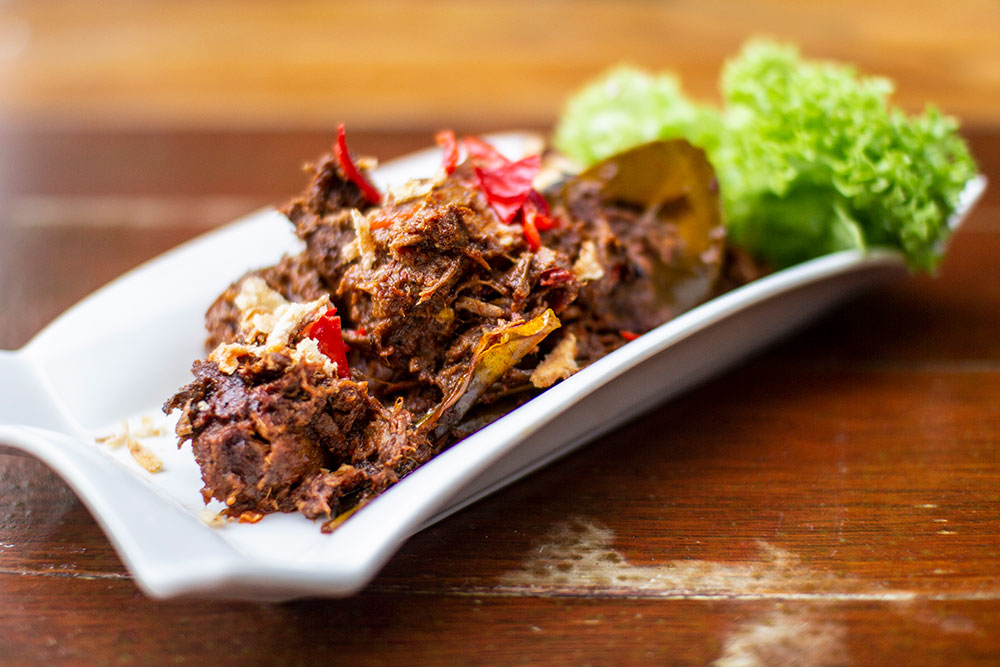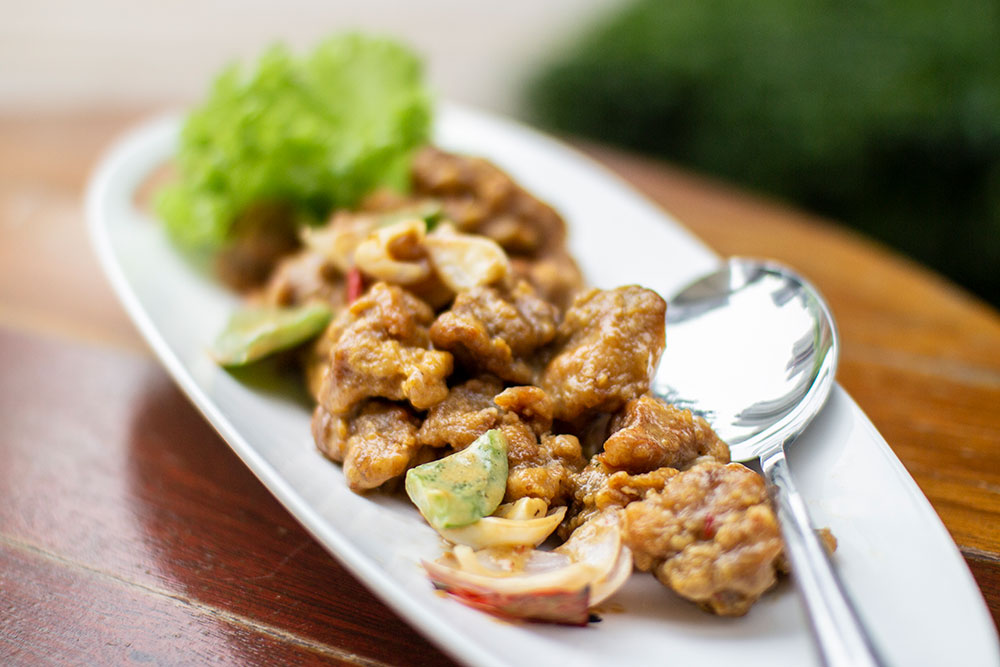 The Majapahit isn't one for pretense – it celebrates authenticity in abundance, and it isn't shy to do this across the menu. Doesn't hurt that its portions are a physical representation of a grandmother's insistence that you haven't eaten enough.
The delayed kick of its seafood tom yam is a shining testament to The Majapahit's creed. Its fiery character is brought to balance by sea bass, squid, and prawns swimming in the red soup.
Another staple we tried was the stir-fried morning glory with shrimp paste and prawn, known to Southeast Asians as kangkung belacan. As with most of the fare, it was well-seasoned and comforting enough to illicit memories of home. Generously-sized prawns help its case, too.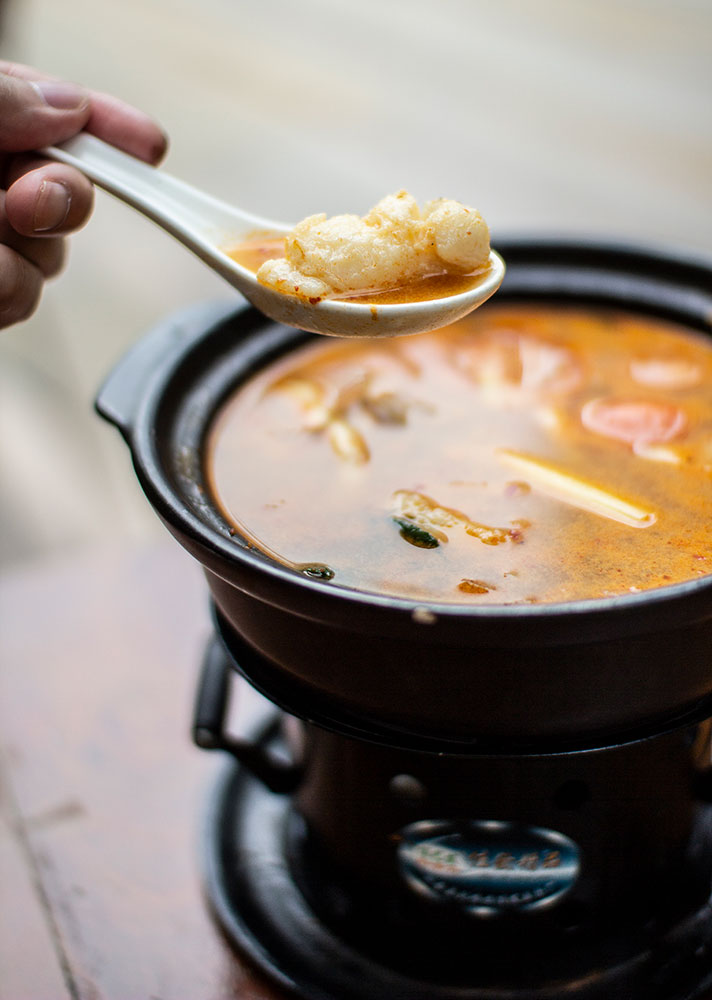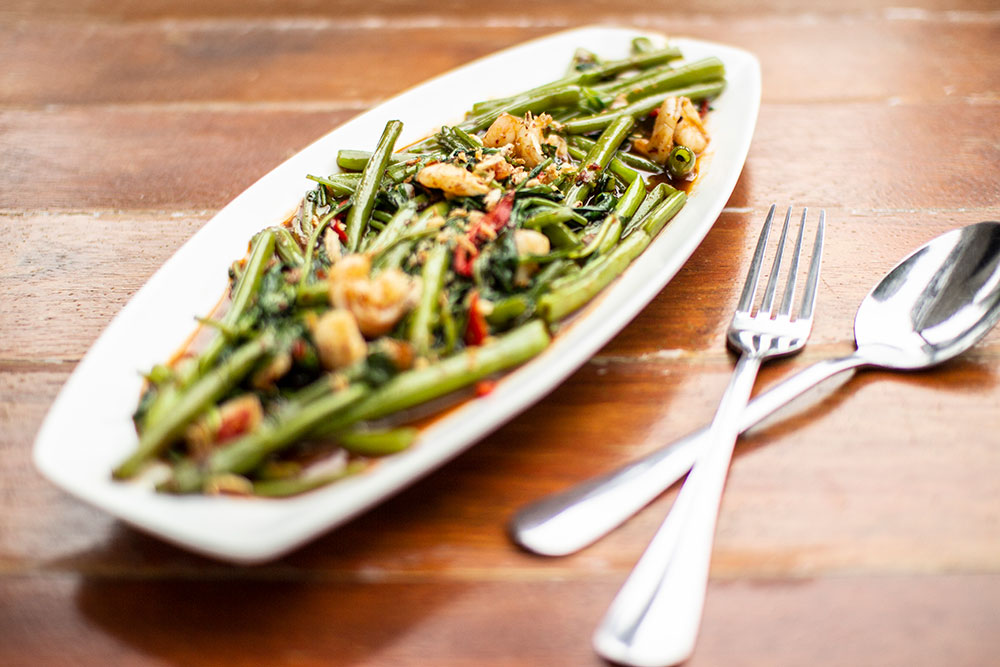 Here, you get to feast like an emperor and still drink like a fish – all-day happy hours are still in effect as an introductory treat. If its caffeine you crave, the Vietnamese drip coffee is a must-try alongside the unabashed seasoning and spice of The Majapahit's food.
Its the perfect spot to bring visiting friends who want a local culinary experience while still enjoying their beer, whisky, or wine in a friendly ambiance. Granted, as a fan of wine with rendang, this writer's opinion is fairly compromised in this respect.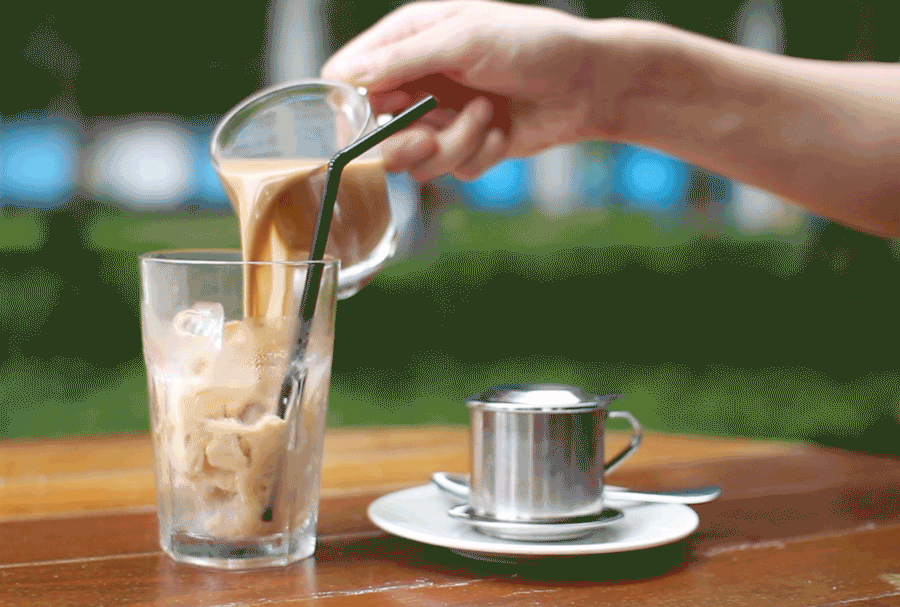 With live music every Friday and Saturday, and a Late Hour promo that encourages you to drink all the way past midnight, The Majapahit injects a dose of youth into recipes of old. We're hopeful its full menu will grow in complexity and ingenuity to fulfill the potential of its appealing urban space and sincere service. From what we gather, KL folks are ever-ready for a culinary conquering.
For reservations and enquiries, call 03 64117097 or check out the The Majapahit's Facebook page.
Address: Lot No. G8, G9 & G10, G Level, Arcoris Mont Kiara, No. 10, Jalan Kiara, Mont Kiara, 50480 Kuala Lumpur
Opening hours: 12 pm – 12.30 am (Sunday- Thursday), 12 pm to 1.30 am (Friday & Saturday)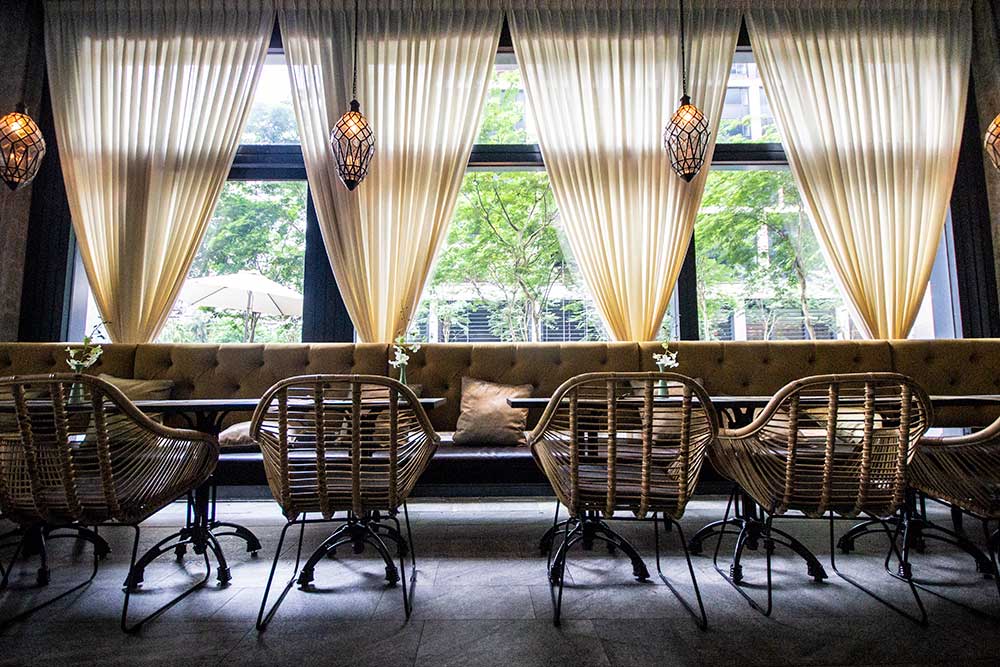 Photography: Gan Yew Chin