Those seeking a slice of luxury and privacy without the need for 101 facilities you probably won't use will find a sweet spot in The Kasturi.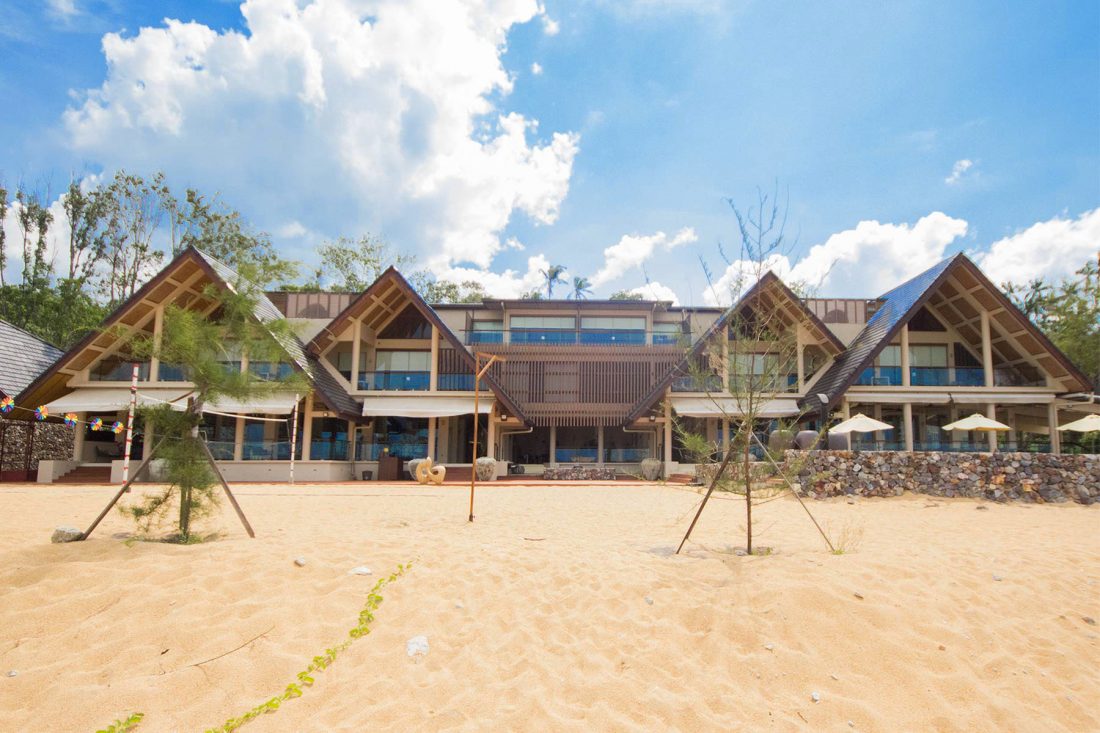 It's not difficult to think of places for a quick getaway in Malaysia. With our diverse topography of mountains, jungles, islands and beaches all within a day's reach, our country is truly more spectacular than we may give it credit for.
Though places like Malacca, Ipoh, Penang and Langkawi are the usual suspects for a short trip out of Kuala Lumpur, Cherating is one underrated destination that is worth your consideration. Fun fact: some have even alluded to it as an up-and-coming Bali.
Located just over three hours from Kuala Lumpur by car, the laid-back coastal town presents a host of accommodations for every type of traveller. Those seeking a slice of luxury and privacy without the need for 101 facilities you probably won't use will find a sweet spot in The Kasturi.
Embraced by land and sea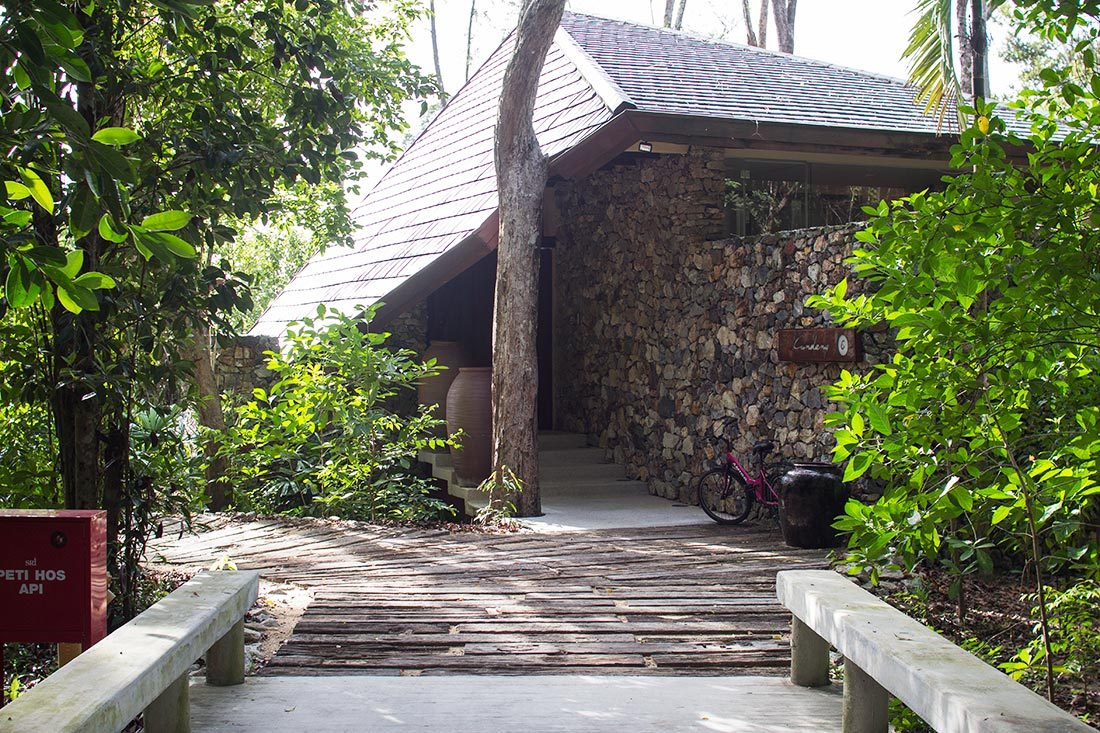 True to its tagline (see heading), the 30-acre resort is nestled amidst verdant forestry facing the vast South China Sea. Its strategic location along Pahang's Chendor Beach on the east coast of the peninsular gives rise to breath-taking views of the sunrise.
The beach stretches 800 metres long, with exclusive access to another 500 metres of soft, yellow sand towards the north leading to the estuary of Sungai Pak Siak. Although the resort was hit by a monsoon last year, a stone-wall has since been built along the coastline to withstand strong winds, doubling as a standpoint for fishing (stingrays are often among the catch). If you're lucky, you may even get to witness green turtles laying their eggs on the shore.
We didn't manage to catch turtle sightings during our stay, but we had the pleasure of passing a band of monkeys along the elevated pathways connecting the entire resort. According to the amicable resort staff, otters, sea eagles and fireflies are regularly spotted too.
Engulfed in serene privacy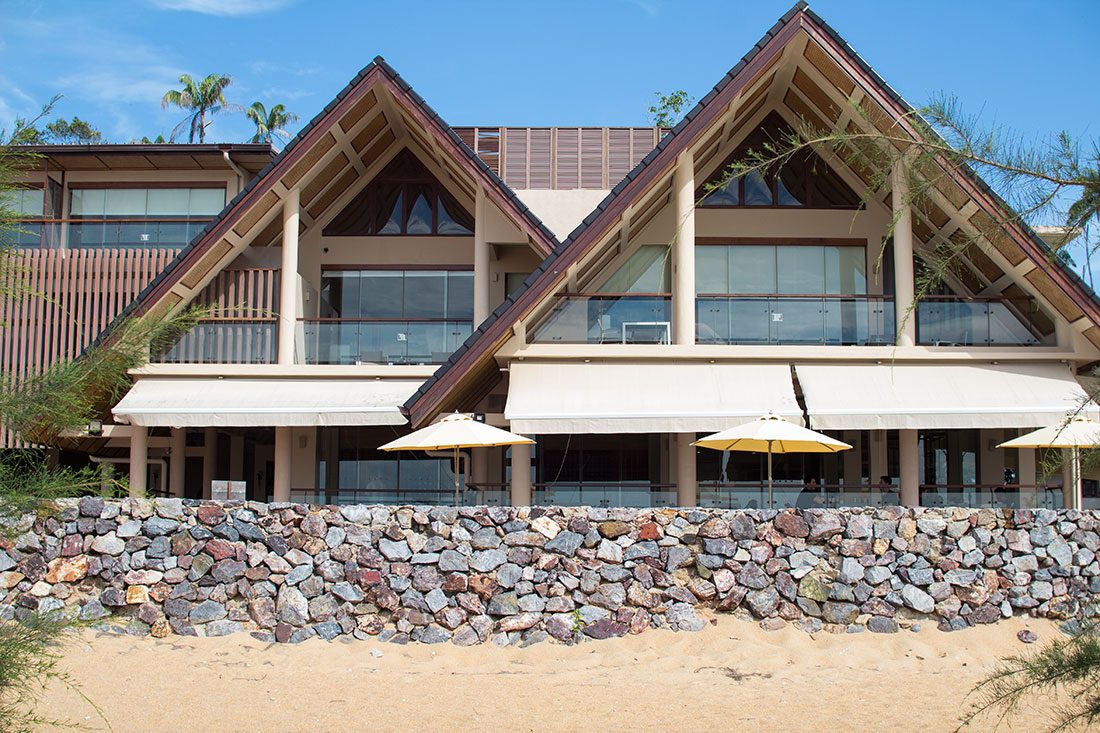 Developed by renowned local architect Hijjas Kasturi, the resort boasts modern expressions of traditional Malay architecture. A-frame roof structures, rubble walls, wooden windows and fixtures as well as terrazzo flooring are among the common features highlighting the design. As part of Kasturi's commitment to sustainability, these materials were actually reclaimed from old buildings and re-milled on site for labour-intensive construction.
Related: 7 luxe eco-friendly hotels and resorts around Malaysia
There are currently 24 lodgings available, including Beach Front Villas, Rooftop Penthouses, Ocean View Suites and Corner Studios. We hear a separate section of the resort is currently under construction, so this number may increase in the next five years to meet popular demand.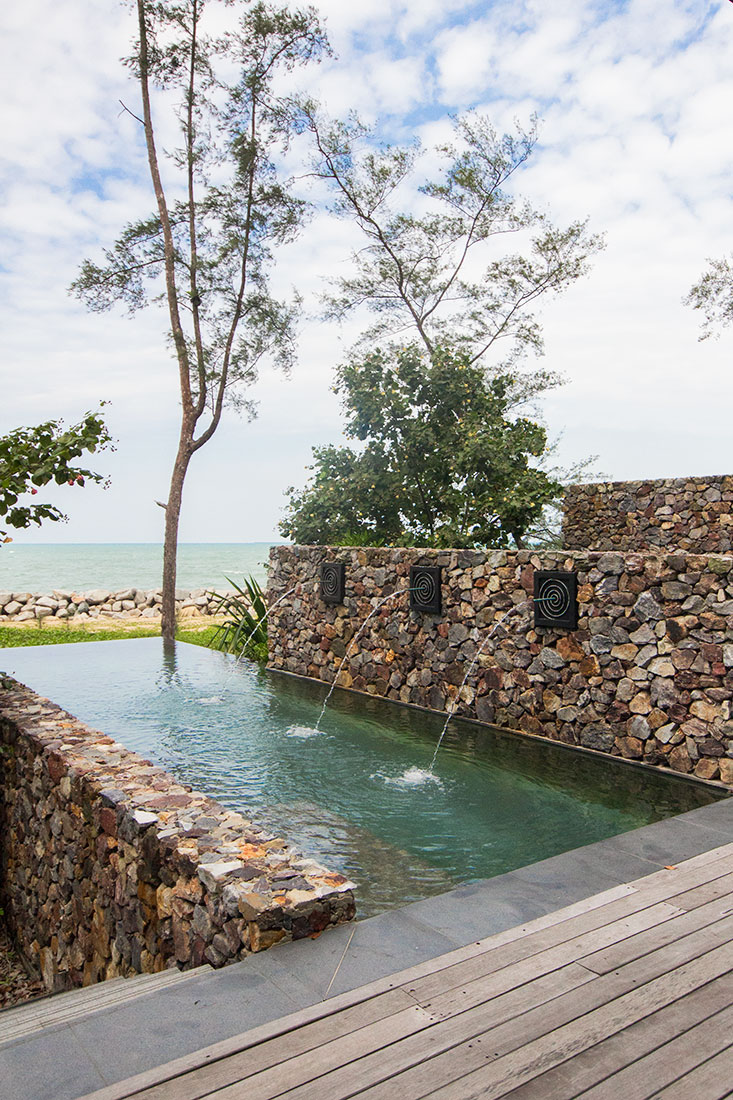 Since our Beach Front Villa was smack in the middle of the resort, we had convenient access to and from the main building whether through the lush forest or out front along the beach. Each villa comes with its own plunge pool that's fairly large enough for a leisurely swim. Next to it is a neat patio with deckchairs where we enjoyed complimentary drinks from the room's mini bar.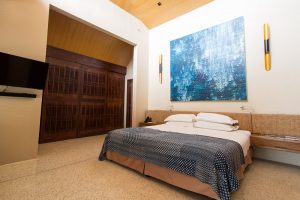 Inside, the first thing that our eyes fell upon was a cosy living area decorated with plush sofas and an off-white rug. Ample natural lighting shined through the floor-to-ceiling glass panels forming three of four walls of the room. A few short steps led up to the bedroom featuring an inviting king-sized bed, ample closet space, TV and a Bluetooth sound system. All the way in the back was a spacious bathroom – here's where it got more interesting.
If you've ever wondered what it's like to take a shower beneath the sky with the trees (and perhaps monkeys) as your audience, there's an outdoor shower for just that. Or if you'd rather enjoy the greenery from behind glass doors, you have the option of the indoor shower or bath tub. Mind you, even the toilet comes with forest views – now that adds a whole other meaning to the phrase 'nature calls'.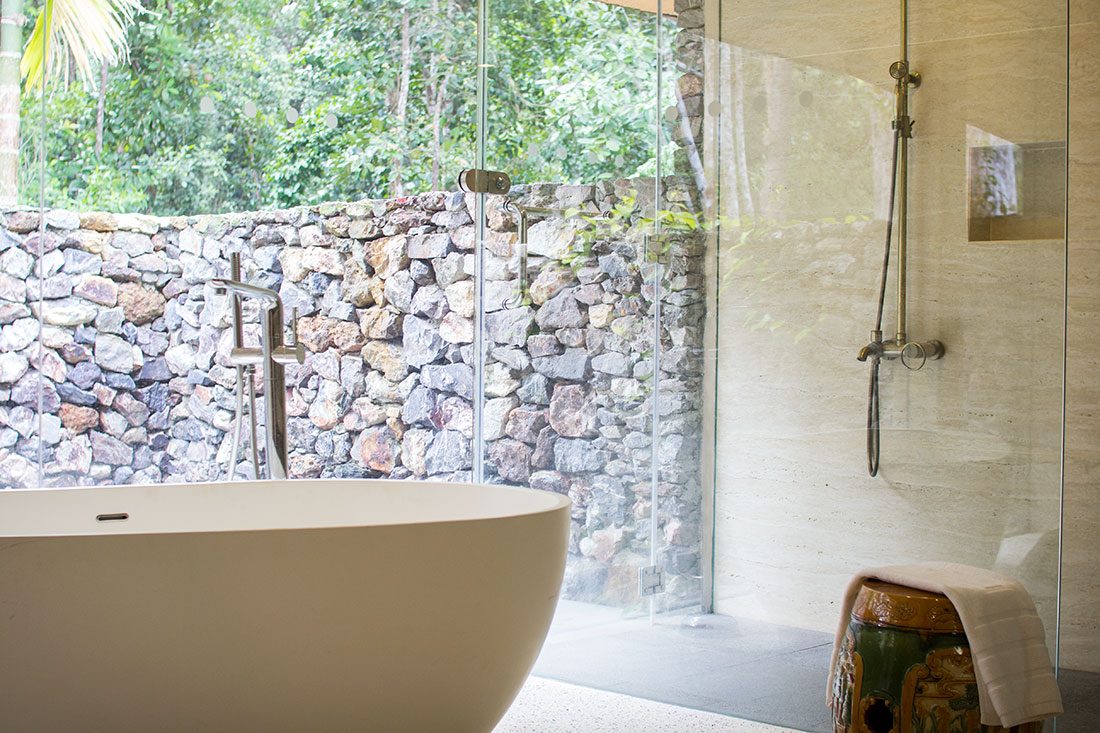 We faced a minor shortcoming with the basins, however, which seemed to drain water rather slowly. That aside, we appreciated the eco-friendly bathroom amenities from Tanamera – another testament to the resort's sustainable practices.
Engrossed in the art of doing nothing…or everything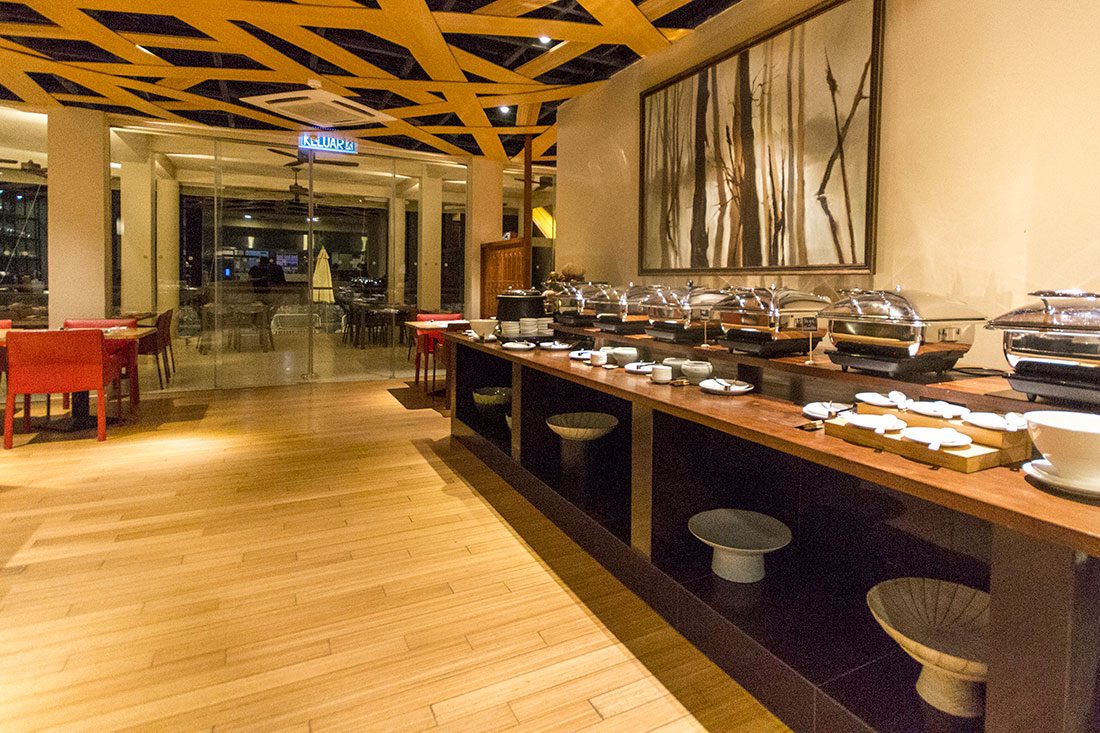 Our mealtimes were spent at Kenyang, the resort's all-day dining restaurant. Breakfast consisted of a continental buffet spread, which felt slightly underwhelming by 5-star standards. Lunch and dinner menus picked up where breakfast fell short, offering a decent variety of local and Western dishes so it didn't feel too scant of options for a one-night stay.
When it comes to facilities, the list isn't very extensive either. But from our experience, there's something refreshingly serene about that. It really strips a citygoer of the fast-paced lifestyle and its many distractions to come to peace with the art of doing nothing – if simply frolicking in the private pool till sunset counts as that. That said, you won't be bored to the point of restlessness.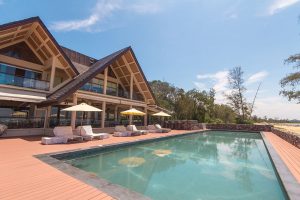 Aside from the obvious jog on the beach, you can cycle or ride a trishaw (these can be found lying around randomly) around the vicinity or squeeze a workout at the gym. There's also a pool deck located in the main building right in front of the restaurant terrace, and a beach volleyball court nearby. Family-friendly board games such as chess and carom are provided at the air-conditioned lounge area next to the bar.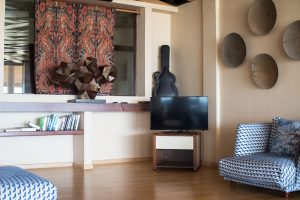 What's even more exciting is a trip to The Rimbun Dahan Turtle Hatchery, which can be arranged beforehand for a small fee. Visitors will be treated to an unforgettable experience of sending off baby turtles into the sea. Unfortunately for us, the limited spots were already taken up so we'd recommend checking with the staff on availability as soon as you can.
Alternatively, you can head to town to explore the vibrant cafes, restaurants and bars. Or if you're feeling more adventurous, you can book a mangrove or fishing tour with a local guide.
However you decide to spend your day, The Kasturi promises to rejuvenate the body and mind with its calming ambience when you return. It did for us.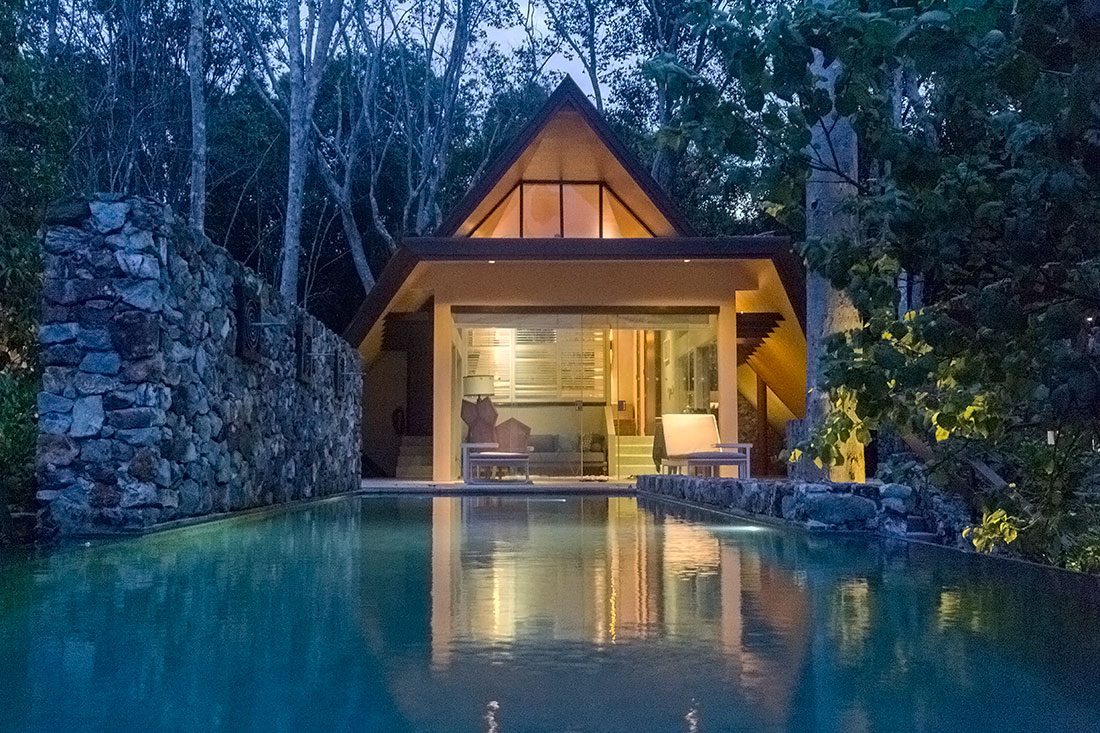 For more information on The Kasturi, visit the official website here.
You may also like: Tanjong Jara Resort – surrounded by nature, steeped in tradition
Photography: Natalie Khoo