Now nearing its 20th anniversary, The Ritz-Carlton, Kuala Lumpur is set to welcome guests
to its newly refurbished grounds as Koon Rho discovers over a weekend stay.
The Cobalt Room
To be truthful, I hadn't stayed at The Ritz-Carlton before but the pristine marble floors and the warm welcome from the receiving staff at the lobby were enough to sweep me off my feet.
Although having relaunched their new look half a year ago, I could still taste the glitz and glamour in the atmosphere from the transformation. It was more than just a renovation; The Ritz-Carlton KL  was now something people could call home, popular for its all-butler service that visitors, from celebrities to business and leisure travellers, could always rely on to keep up with their various demands and itineraries. I, for one, needed a pressing done within an hour for a wedding dinner that evening – which is on very short notice, I'll admit – and my butler, Grace, delivered right on time! In fact, they'll even see to unpacking and packing, shoeshine, car transfers, or organising the perfect itinerary for shopping, dining and entertainment, all for a flawless stay.
Before satisfying my anticipation for the room, I just had to take a peek into The Lobby Lounge, where its rich design and well-lit arena offered patrons the perfect respite to enjoy its signature afternoon tea. The delicious handcrafted cakes and pastries here is by award-winning Pastry Chef Tony Hoyle and they're served with a choice of over forty luxury teas from Ronnefeldt as well as the exclusive Ritz-Carlton, Kuala Lumpur Blend.

Spa Village                                                                                                 Room Interior
Sweet tooth satiated, I made my way to my room. Along the way was The Library, the hotel's latest pride in dining. whether it was steak you're looking for, a quiet conversation or a cigar, this would be the place to be with its wooden panels and classy interior. It also stocks a wide selection of vintage cognac, whisky and fine wines, giving food and drink connoisseurs the perfect ambience to savour meals at their own pace.
My one-bedroom suite was everything that The Ritz-Carlton brand stood for – a 730-square feet space with a separate closet room, a powder room, two television sets (yes, two!) and the very vital and comfortable bed. This is complemented by a master bath complete with a regal bathtub fit for a king.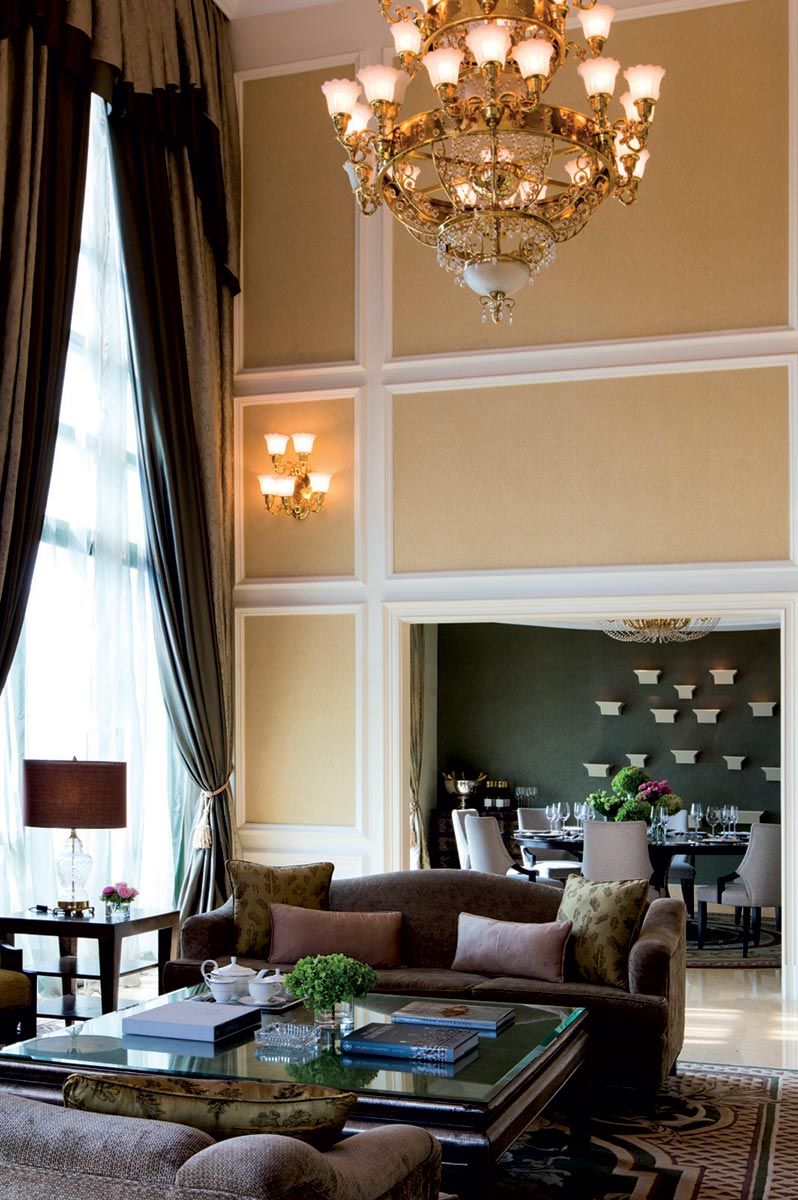 The room's plush temptations couldn't stop me from making a stop to the hotel's Spa Village Kuala Lumpur. What intrigued me the most on the menu was the two-hour long Campur-Campur massage, an age-old treatment that combined the best of Malay massage techniques and herbal foot steaming. What's more, the ingredients that were to be used is all-natural — I'm sure most of us like the sound of pandan, lemongrass, musk lime, cinnamon, clove and basil!
I was a little intimidated by the fact that I would be baring my naked self to a stranger at first, but the lady was ever so friendly and patient with my requests. Many times throughout the massage, I found myself drifting in and out of sleep.
The next day was no less pleasurable as I was escorted to The Cobalt Room, an elegant and expansive space that laid out a sumptuous breakfast buffet. There were cold cuts, salad, roti canai, omelettes, cereal and everything under the sun. The best thing of it all, they had lovely, crunchy cherries that were in season! I was also torn – I also wanted a taste of the dim sum at Li Yen, the hotel's award-winning Cantonese restaurant and one of the country's favourite spots for a Chinese brunch.
The Smoke Room
All in all, The Ritz-Carlton, Kuala Lumpur was a cosy escape to luxury that lived up every inch to its name. Between its excellent service, uncompromised facilities and top-notch food, you are promised an unforgettable stay. So come, new and returning guests of The Ritz-Carlton, Kuala Lumpur, a luxurious weekend awaits…