Terrasse Café & Bistro is just one flight of steps above a shop lot in Section 17, Petaling Jaya, and you will enter a spacious, sun-lit abode.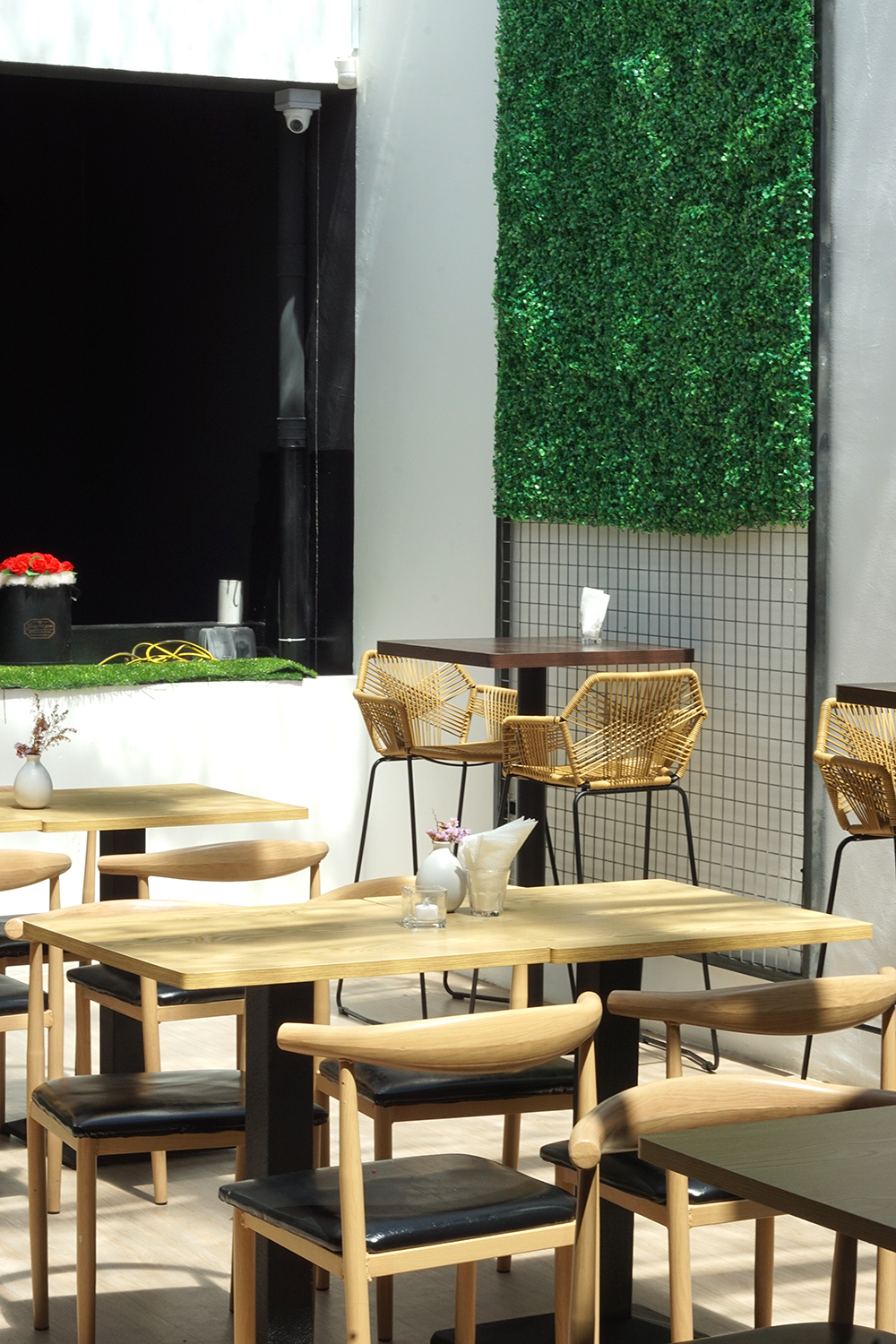 There's a new café on the block… and the best part is, it even moonlights as a cocktail bar. From its stylish interior to wide selection of beverages (both alcoholic and otherwise), this may be the establishment to keep on your list these coming holidays or any other time.
We paid a visit to Terrasse Café & Bistro recently to sample some of the signature drinks and dishes, just in time for you to take a date to this weekend.
Streams of sunlight set the mood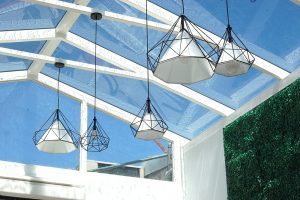 The first thing one would notice upon entering Terrasse Café & Bistro is its ambience. Just one flight of steps above a shop lot in Section 17, Petaling Jaya, and you will enter a spacious, sun-lit abode. Streaming through a glass-panelled sun roof is unyielding sunlight that creates  a warm and natural energy that envelopes the café.
As your eyes drop down on the centre of the space, a wall of greenery on the right side of the cafe catches your attention, adding to the natural vibes that this space offers.
Water streams from the top of the sun roof, creating shadows of ripples across the café's furniture below. The humidity from the sunlight does remind you of the relentless Kuala Lumpur heat, but in a good way.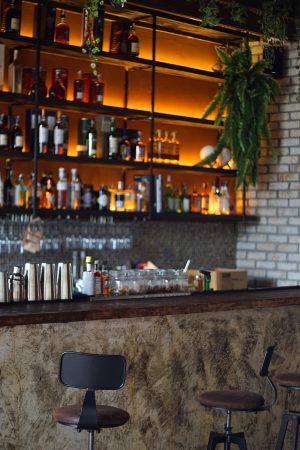 Off to the left side of the café are seats hidden in the cooler and shadier part of this second floor establishment, for those who shy away from too much sunlight.
Setting the bar high
And we cannot forget one of the important parts of Terrasse….its bar. A wooden bar top is preceded by warmly lit rows of alcohols and mixers, to be used for when the café becomes a bistro at night. The bar has plants hanging from its corners, further accents of the natural ambience that this cafe and bistro offers.
Drinks to tease the eyes and the palate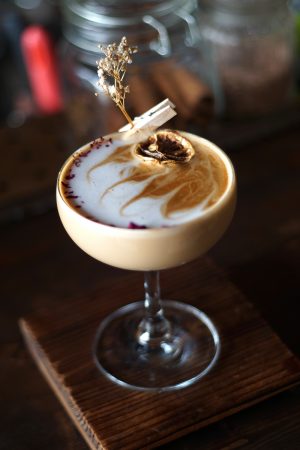 And now, we get to the meat of the issue,  that is the food and drinks. We sampled a few signature beverages from Terrasse's drinks menu, beginning with this specially designed coffee cocktail (or coff-tail, as the management like to nickname it), which is simple a latte dressed up in a fancy cocktail dress. You might be surprised to learn that this coffee cocktail is actually served warm.
The next coffee-related beverage comes in the form of the lavender-coloured sweet potato latte. As the name suggests, there is indeed sweet potato inside this latte. Real sweet potatoes are used for this recipe, which are grated into a fine powder and made with the latte, creating this gorgeous colour.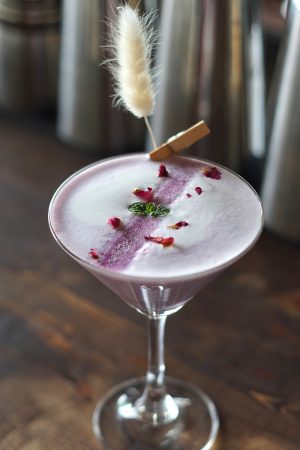 Its flavour is sweet and pleasant, the coffee and sweet potato flavour mesh very well together, creating a unique and naturally sweet concoction. A recommended try!
Main course, anyone?
After some coffee cocktails, we were all primed and ready for some main courses from Terrasse's dinner menu. Terrasse specializes in casual, home-style French cuisine, so our first dish on the culinary journey was none other than Duck Confit. The duck is usually marinated in duck fat for three days prior to being cooked in the oven at a low temperate and then being grilled – to create the crispy outer skin.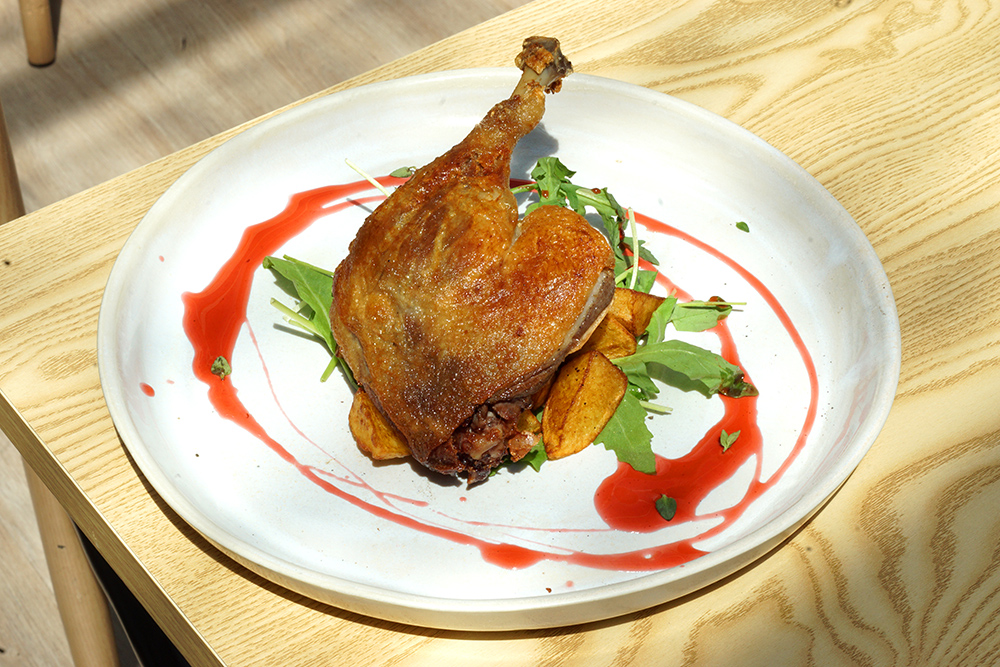 The flavour of the duck came through beautifully, and it was perfectly seasoned. The duck was moist, and simply fell off the bone, while the outer skin was incredibly crisp and added a wonderful texture to the meat.
The potatoes in this dish were also cooked in duck fat and were very well fried and seasoned. Meanwhile, the bed of arugula drizzled with balsamic vinegar did well to balance to saltiness of the duck. The red sauce, which was made with strawberries, raspberries, blueberries and wine, added a much-needed sweetness to the dish, therefore rounding up the wide flavour profile this Duck Confit. Overall, excellently prepared, succulent duck dish.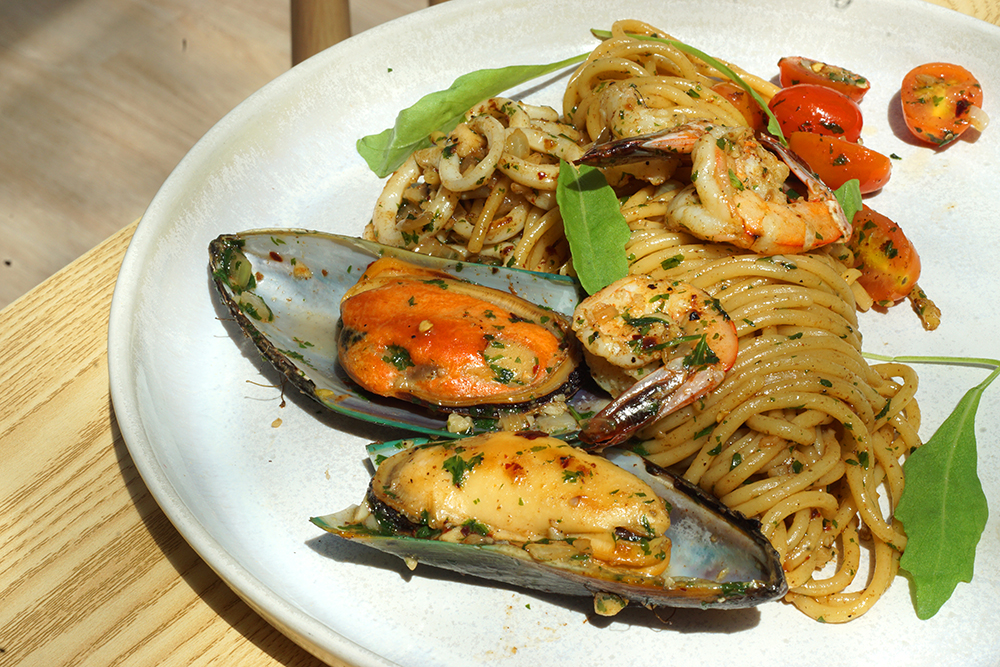 Next, we sampled Terrasse's seafood pasta, a simple aglio olio with seafood, featuring prawns, mussles, and squid. This pasta packed some flavour, however in our opinion, was outshined by the Duck Confit. However, not at all a disappointment and still a tasty option for pasta lovers out there.  Cooked with garlic, olive oil and parsley, it was simple, yet effective.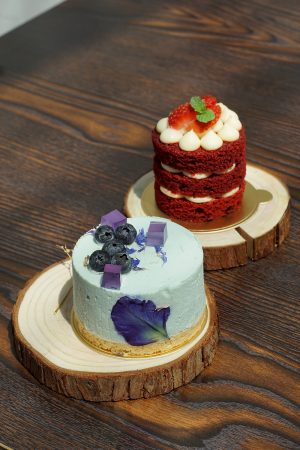 There is always room for dessert (and cocktails!)
After sampling some of the main courses, the next stop on the culinary train took us to none other than desserts.
The cakes at Terrasse are all made using natural ingredients, without any preservatives. We sampled the blueberry cheesecake and the red velvet, both of which were delicious. The cheesecake was fluffy, light, and packed with a pronounced yet delicate cheesy flavour, with background notes of blueberry. The biscuit base was in perfect proportion to the cheese, creating a wonderful medley of flavours for the palate.
Meanwhile, the red velvet was moist, and the cake-to-cream-cheese ratio was perfectly proportioned. The sweetness of the cake balanced extremely well with the tartness of the cream cheese, and we could not get enough.
Of course, we could not leave Terrasse's café and bistro without trying a cocktail…
One of the signature cocktails on the menu is none other than Ich Vermiss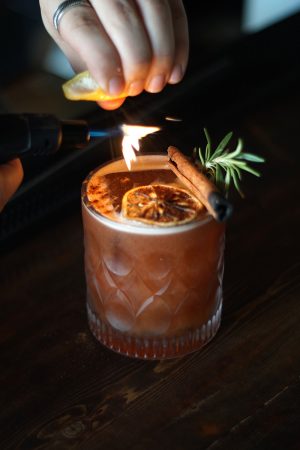 Dich, which means "I miss you" in German. This cocktail is a mixture of Cointreau, Italy vinegar, Angostura bitters, orange, lime, rosemary, and egg white. A delightful mix of warm and earthy flavours, this cocktail leaves you wanting more. It is refreshing and zesty, with warm and soothing aftertaste that lingers on the tongue and throat. A good cocktail to end an evening… or begin one.
The next time you are in Section 17, stop by Terrasse Café and Bistro and grab yourself some food and drinks and enjoy the inviting ambience.
Terrasse Cafe and Bistro is located at No. 622A, Level 1, Jalan 17/8, Seksyen 17, 46400 Petaling Jaya, Selangor. Their opening hours are from 11am -1am between Tuesdays and Saturdays, and 12pm – 1am on Sundays. They are closed on Mondays. 
Visit their Facebook page here for more information or to reserve a table.