Here are the highlights from some of our favourite SS20 men's runways so far, including Ermenegildo Zegna, Fendi and Versace.
Spring/Summer 2020 menswear has taken over New York, Milan and London Fashion Week all this month, making its final rounds at Paris right now.
Brands have progressively evolved fashion runways into more than just a stage for ready-to-wear scrutiny so far, consciously inciting conversations reflective of today's political and social climate whether through the show's materialisation or the collection itself. Topics such as inclusivity and industry waste were underscored, even as refreshing sartorial pieces made their way into our mental wishlist.
Here are the highlights from some of our favourite SS20 men's runways so far, including Ermenegildo Zegna, Fendi and Versace.
Ermenegildo Zegna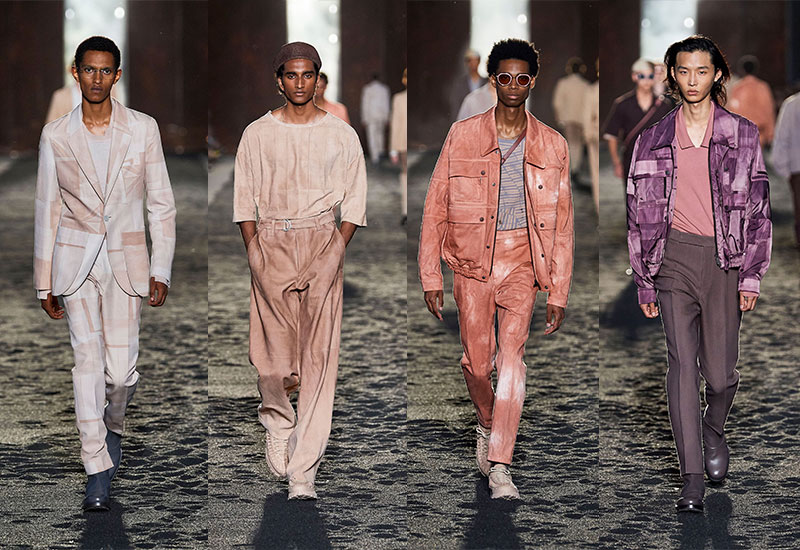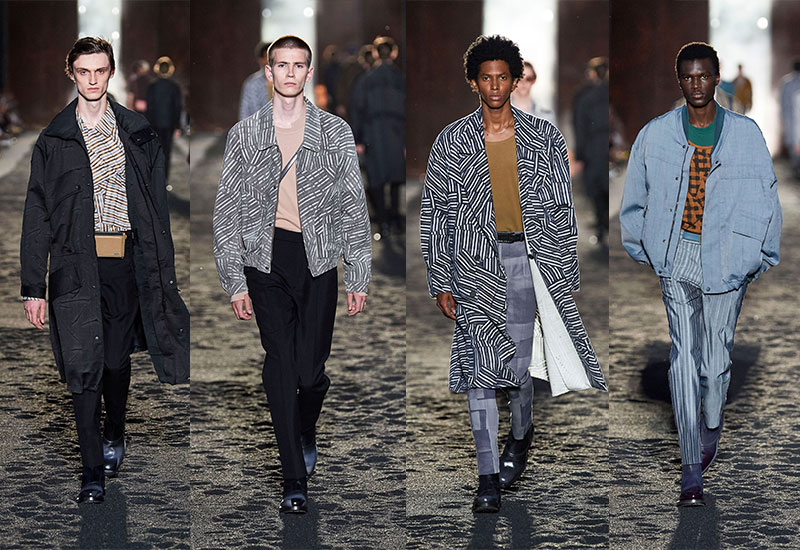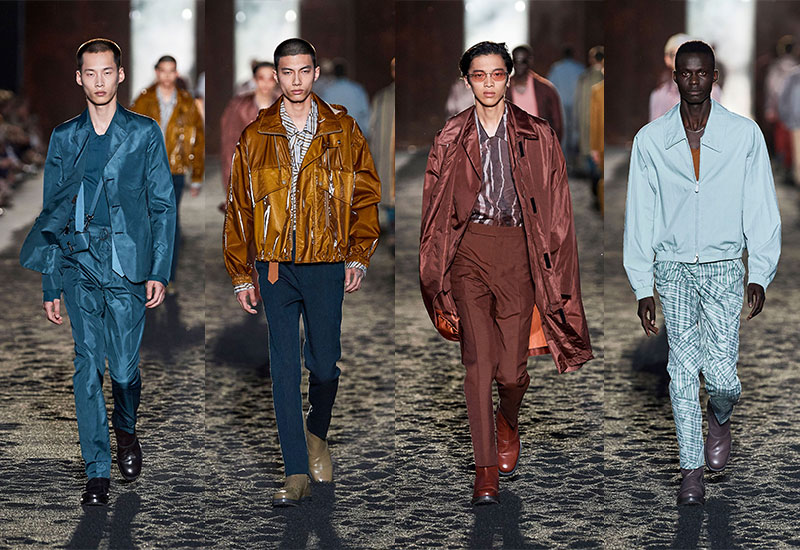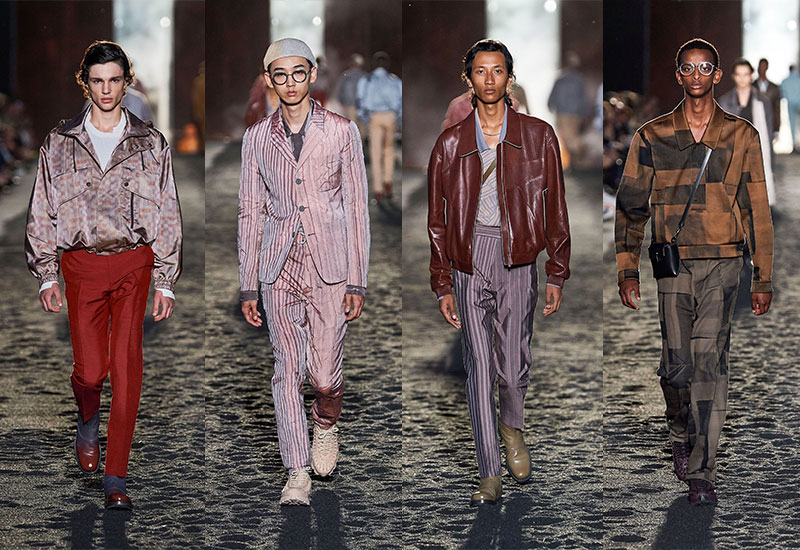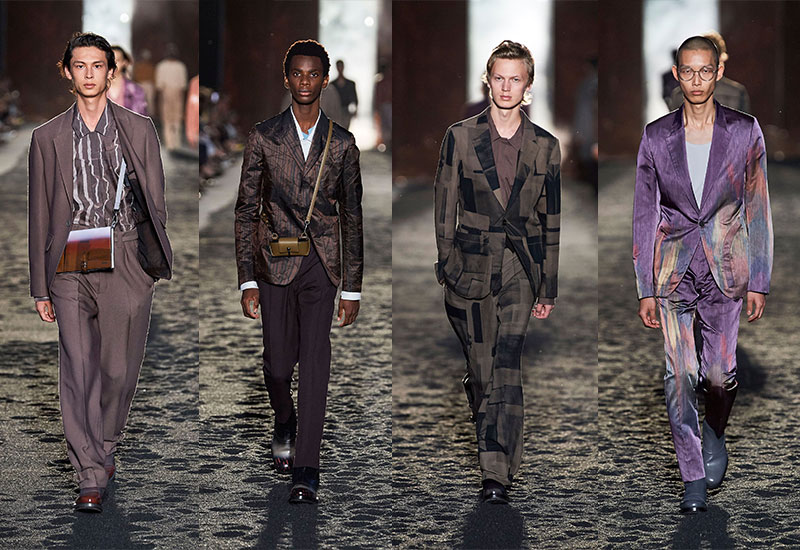 (swipe left for more photos) 
A desolate iron mill that once hosted Area Flack – from which came the raw materials that fuelled much of Lombardy's economic boom – formed the set of Ermenegildo Zegna's show. But it's not just the history of the immense site that bore significance, it's also its future potential as a health and science hub as reimagined by Milanosesto.
The same notion of reverting waste into opportunity is echoed in the house's collection, which incorporates progressive new fabrics made from existing textiles. The resulting #UseTheExisting collection comprises of rewoven wool suits, sartorial jackets, sporty trousers and light-fabric knits. A mix of mineral hues of cement, steel and carbon as well earthy tones of brass, rust, red blaze, sand and matt gold paint the collection's palette, tying in the industrial concept with a sense of modern sensibility.
Fendi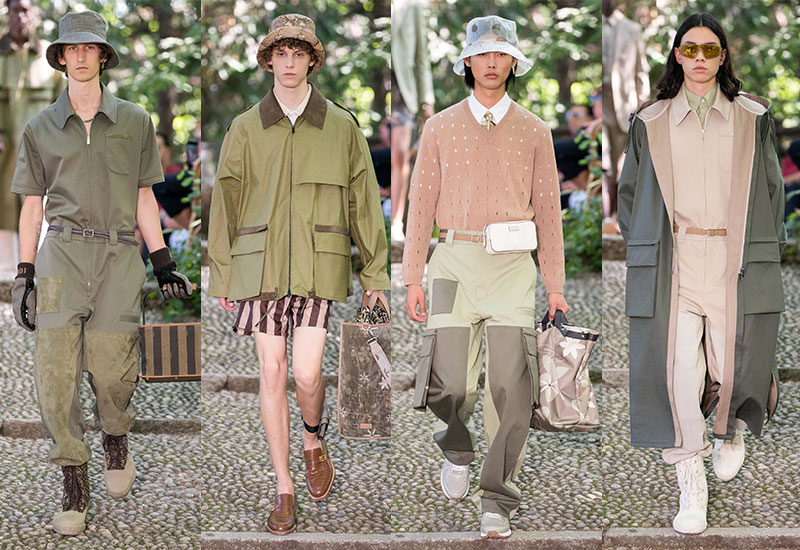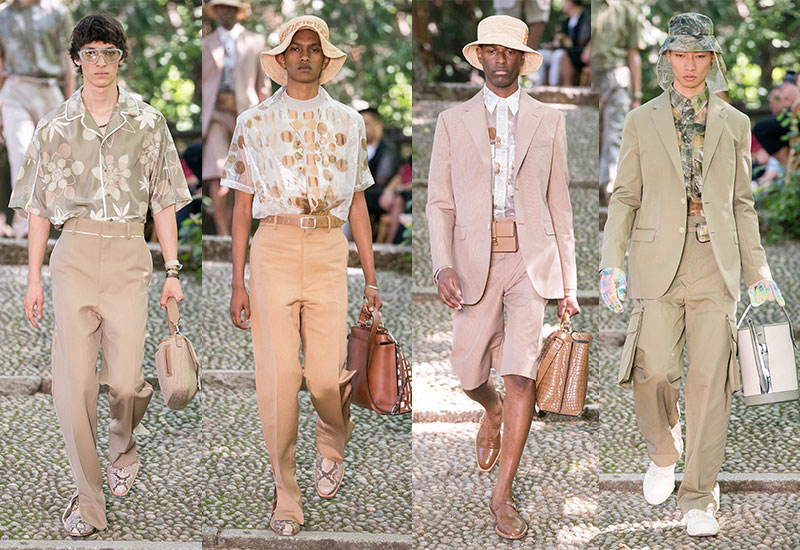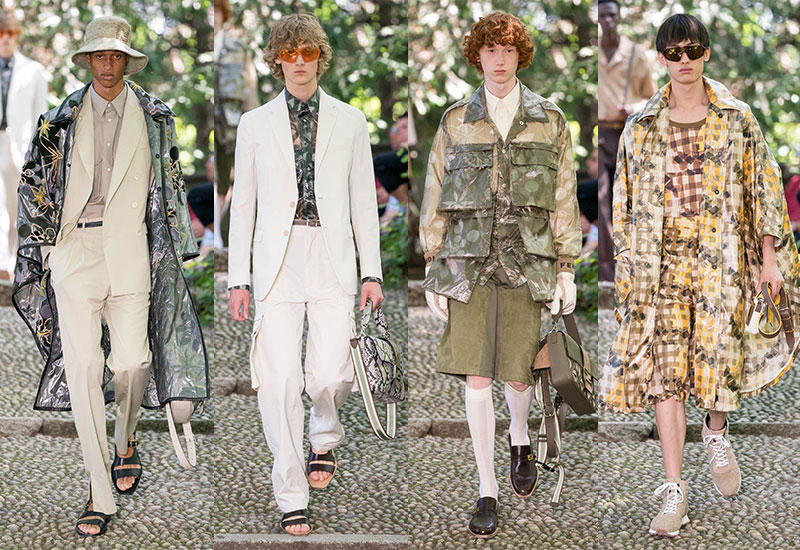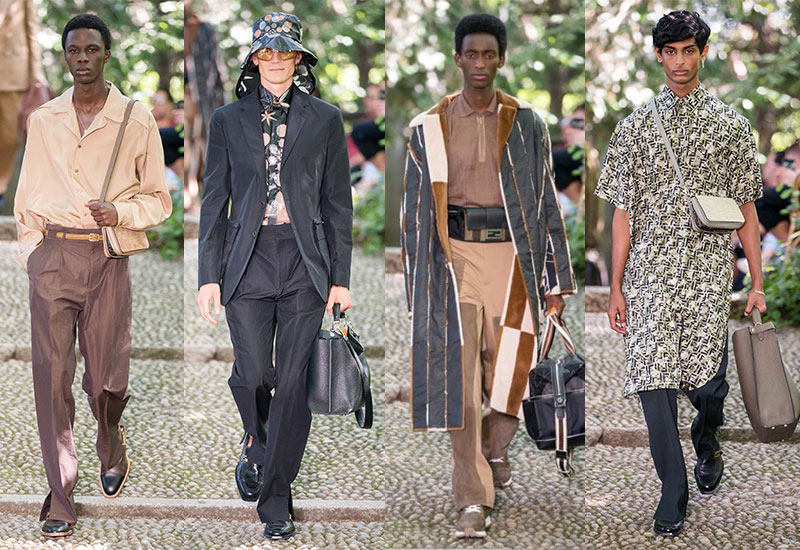 (swipe left for more photos) 
Hosted at the ethereal gardens of Milan's Villa Reale, Fendi's SS20 show evoked the wonders of horticulture both on set and through the collection's codes. If creative director Silvia Venturini Fendi would be likened to the gardener behind the botanical-inspired pieces, then film director Luca Guadagnino would be the fertiliser behind the film-influenced flourishes in this season's guest collaboration.
The two creatives germinated seeds of olive overalls and utilitarian trousers, leaf- and floral-print shirts, jackets and vests as well as cut-out knitwear, cloaks and accessories suggesting garden trellises. Yet, you don't need to have a green finger to appreciate the aesthetics of this collection; there's something about nature that makes it feel refreshingly authentic in a world that's increasingly synthetic.
Versace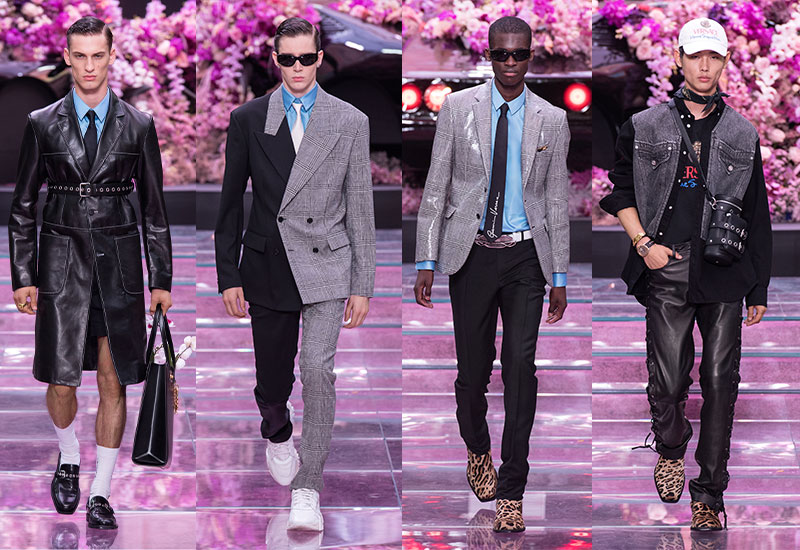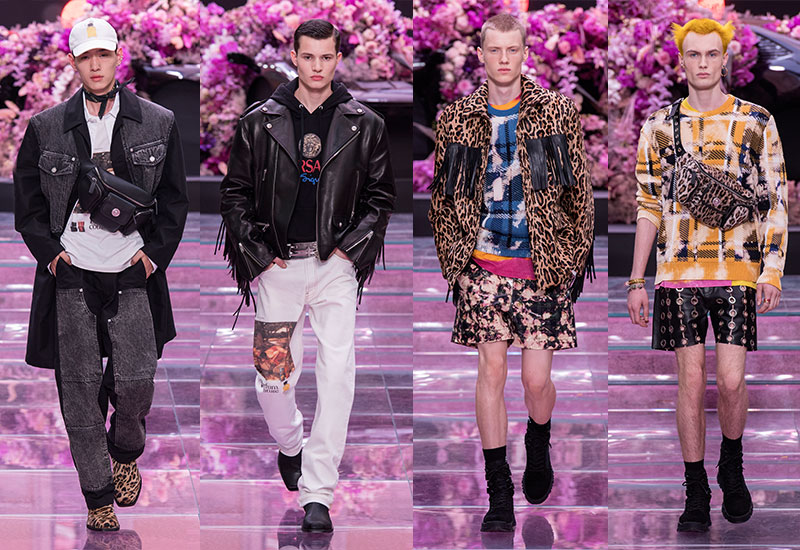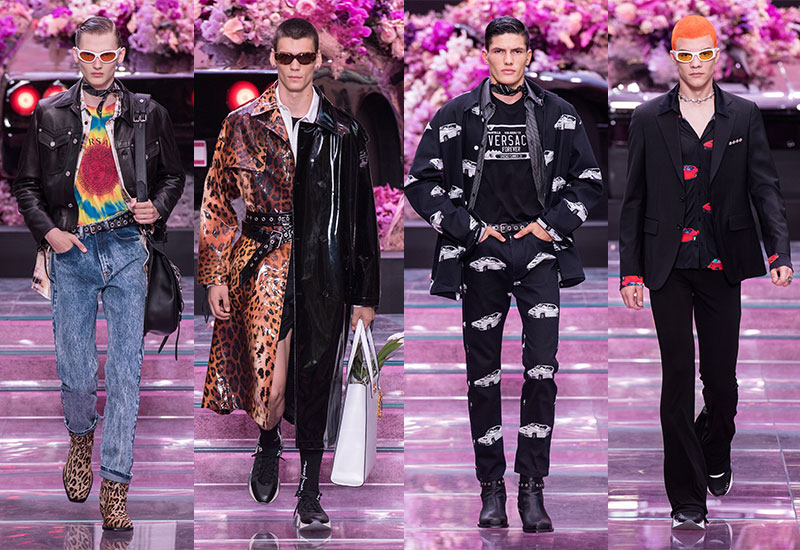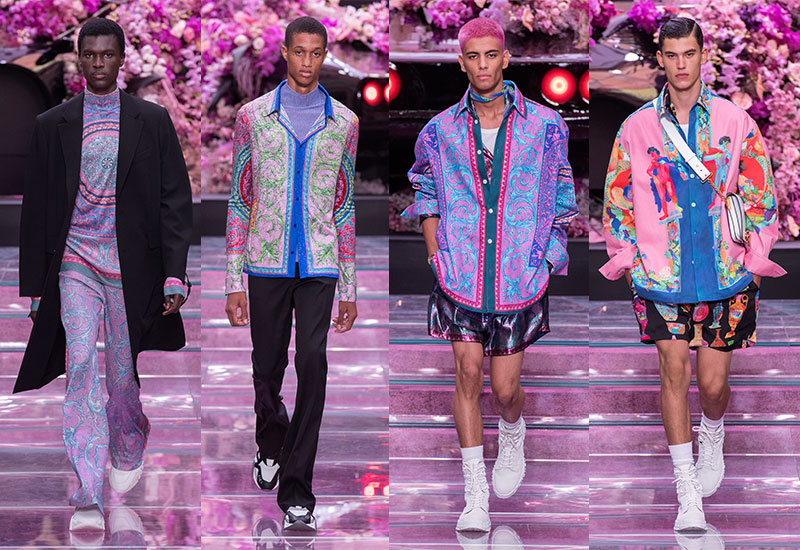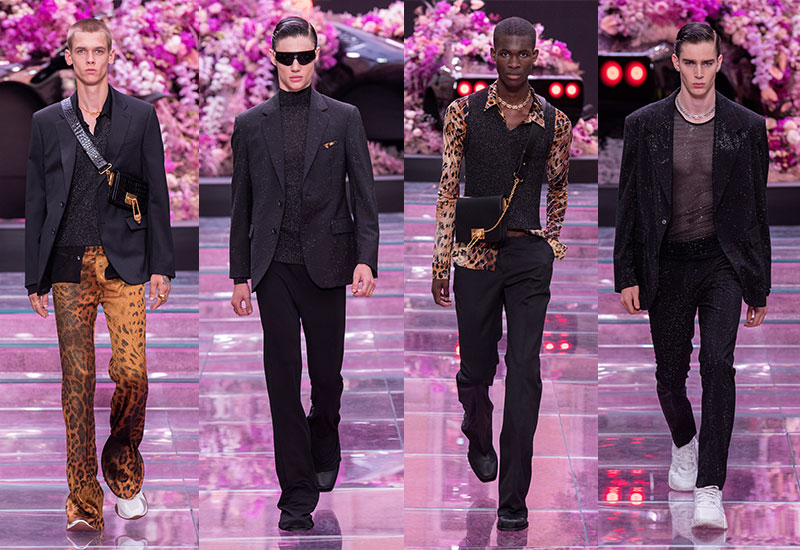 (swipe left for more photos) 
In the midst of inclusivity campaigns and gender fluidity talks, Versace takes its latest menswear collection beyond the stereotypes of traditional masculinity. Referencing the journey of a man coming of age and finding his footing in the world, the collection evokes a youthful spirit through iconic house codes, colourful prints (especially race cars) and tailored oversized silhouettes.
There are playful power suits in contrasting prints and textures, fringed leather jackets, pop-motif silk shirts and dark denimwear highlighting the house's signature maximalist style. Versace iconography further colour the pieces in a nod to the '90s British band Prodigy that is often attributed to the rave movement. Here is a collection made for the self-assured, modern man embracing his freedom to express himself unapologetically.
Photos courtesy of respective brands