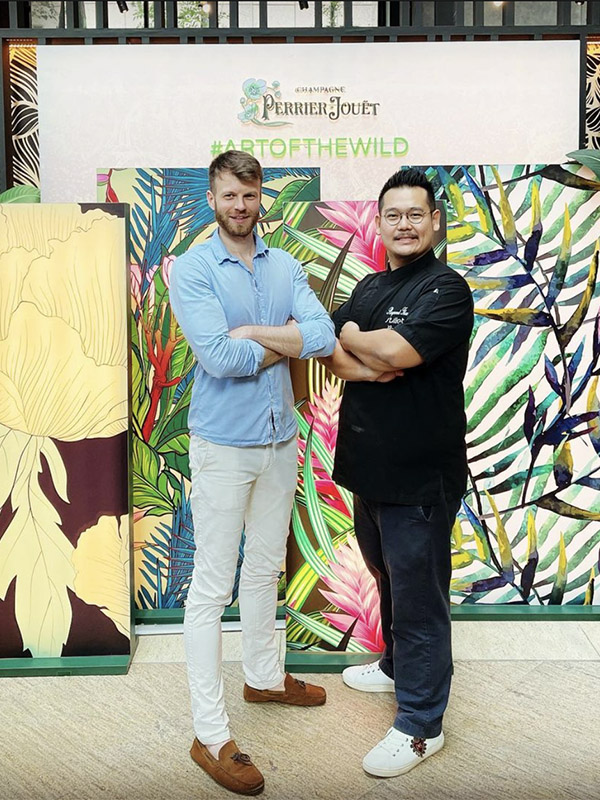 It was some 20 years ago, but Chef Raymond Tham fondly recalls that Spring was his favourite season during his years living in the UK. "The arrival of Spring brings happy faces, daffodils and bluebells blooming after a long and dark winter. It's a season to celebrate," he smiles at the distant yet dear memory.
The recollection underpins his creations for the newly launched Spring-Summer 2021 menu at Skillet at 163, in which floral influences are evident – both in terms of palate and presentation. To add to the celebration and cheer, Raymond and the team behind the restaurant has collaborated with Perrier Jouët (a champagne house particularly known for its floral leanings) for an exclusive pairing menu toasting to the new season and with it, new beginnings.
Perhaps it's still too soon to say, but with the vaccines rolling out after months of bad news and staying grounded, we could use a champagne and fine dining pairing as an excuse to get out and celebrate. Let the feasting begin.
Amuse bouche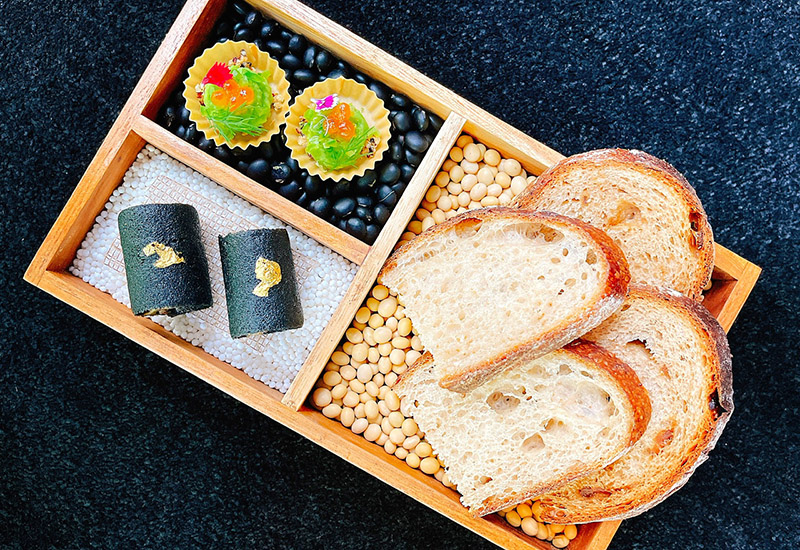 A wooden box of cannoli, ratatouille, sourdough and longan bread arrives first to whet our appetite. It is served alongside truffle and mushroom butter by KARLS group (which owns Skillet and its sister restaurant, Beta) – one of the better butters we've had in town. We reach for the mini ratatouille first, presenting fresh, juicy layers of bell pepper, cucumber and tomato in the shape of a flower to mark the keyword of the day (read: floral); before biting into the cannoli to be rewarded with the umami-ness of dried mussels within its delicate shell.
As for drinks, we start off with the Perrier-Jouët Grand Brut. The fresh, vibrant cuvée presents balanced floral and fruity aromas that pair especially well with the strong oceanic flavours of the mussels.
Appetisers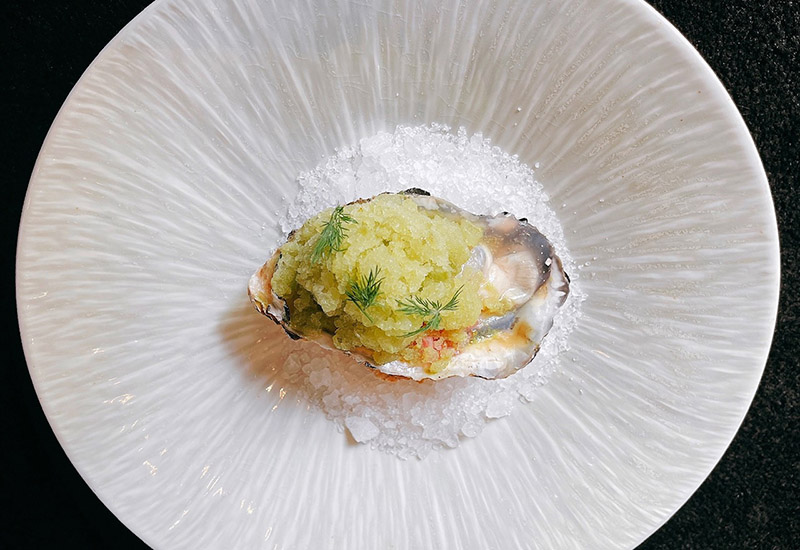 First up for appetisers is a generous helping of Miyagi Oyster, accompanied by a local twist: kedondong (ambarella) granite. Unfortunately, due to this writer's adverse reaction to oysters, I am served with avocadoes instead of the mollusc. Not quite an equal substitute, but it still manages to capture the essence of the dish with the creaminess of the avocado balancing the invigorating flavours of kedondong. Pickled radish adds a nice bite and conjures fond memories of one of our favourite dishes from Beta.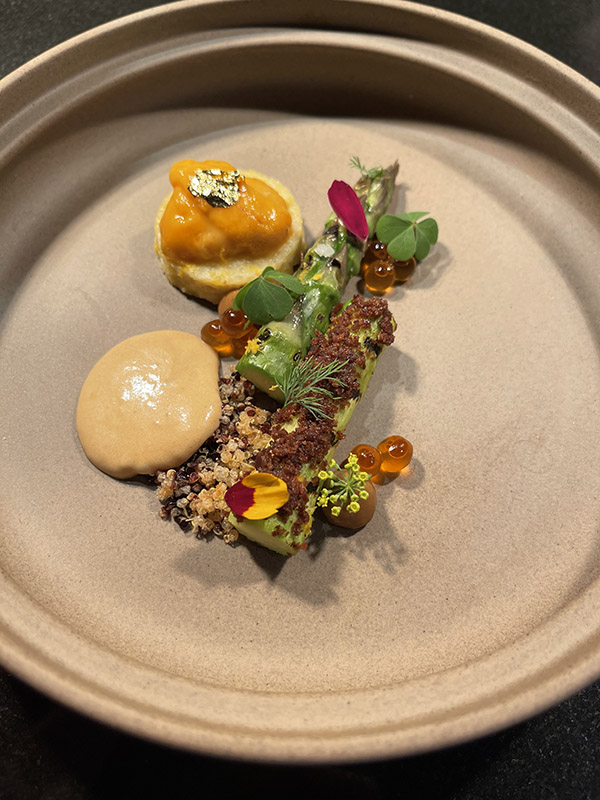 Next is an Asparagus dish that instantly impresses with its artistic plating. Fresh and crunchy, the vegetable is complemented with sweet and savoury aromas from smoked koji. Creamy polenta and crispy duck bacon add texture and dimension to the dish, ticking all the right boxes to make this unassuming plate thoroughly enjoyable.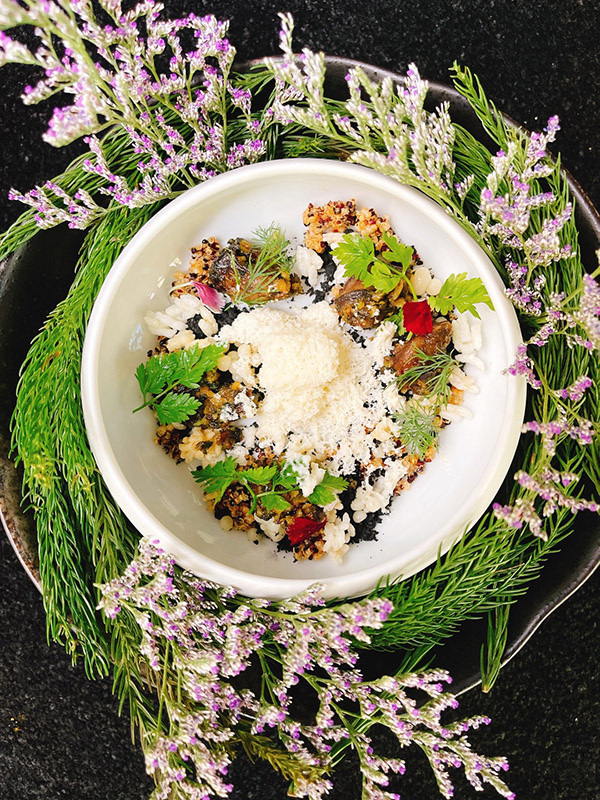 Things continue to pick up as we tuck into a bowl (or should we say nest?) of escargot next. Each ingredient in the dish corresponds to a specific element of a snail garden: the parmesan snow represents soil, the yoghurt caviar represents snail eggs, and of course, there's the escargots. Accompanied with kulim sauce, every bite packs a punch of earthy, nutty flavours that makes this dish an astounding hit.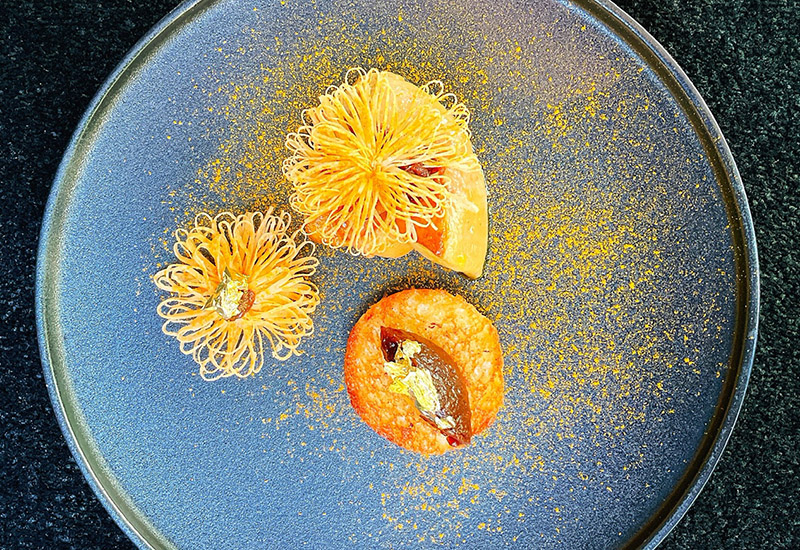 Foie gras fans will relish our fourth and final appetiser, interestingly dubbed Sunflower. The name is inspired by one of Van Gogh's most famous paintings, which Chef Raymond attempts to reinterpret using pastry skin that's skillfully cut to resemble the flower. Presentation aside, a serving of longan compote and jus helps to cut through the liver, balancing its buttery fat with sweet, fruity notes. Speckles of madras curry add a very subtle, agreeable spice to the mix.
Main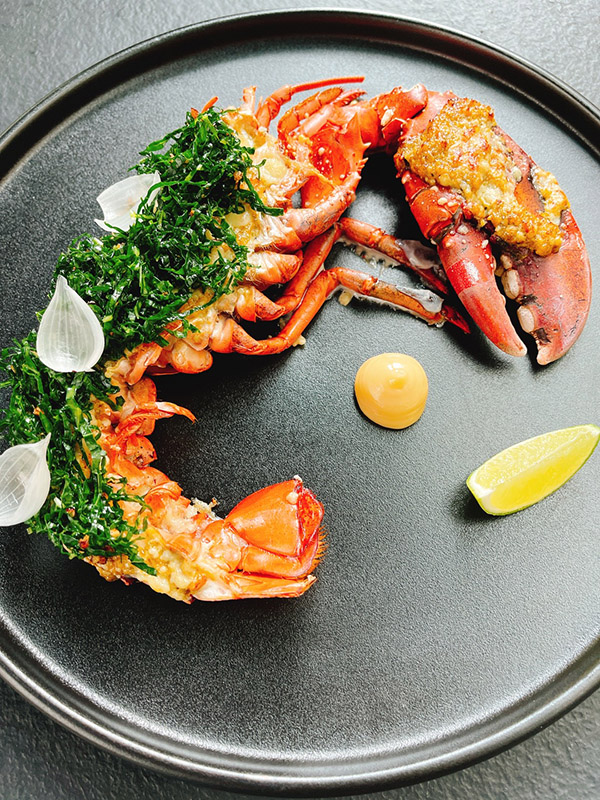 There are two options for main: Canadian Lobster or Japanese Omi Beef Striploin A5. We opt for the former, thinking it'll be lighter on the stomach for our less-than-copious appetite, only to be (pleasantly) surprised by the sizeable portion that arrives. Plus, it's served with kale from Cameron Highlands, crustacean aioli, and toasted quinoa, with a side of potato dauphinois – making for a meal on its own.
Yet, we find ourselves nearly emptying the shell of its contents, which speaks for itself. The lobster is fresh and chewy, but not rubbery, and the aioli lifts its flavours with hints of spice and acidity. Equally complex is the Perrier-Jouët Blason Rosé, offering intense bubbles and rich, fruity aromas that resonate well with the profile of our main.
Dessert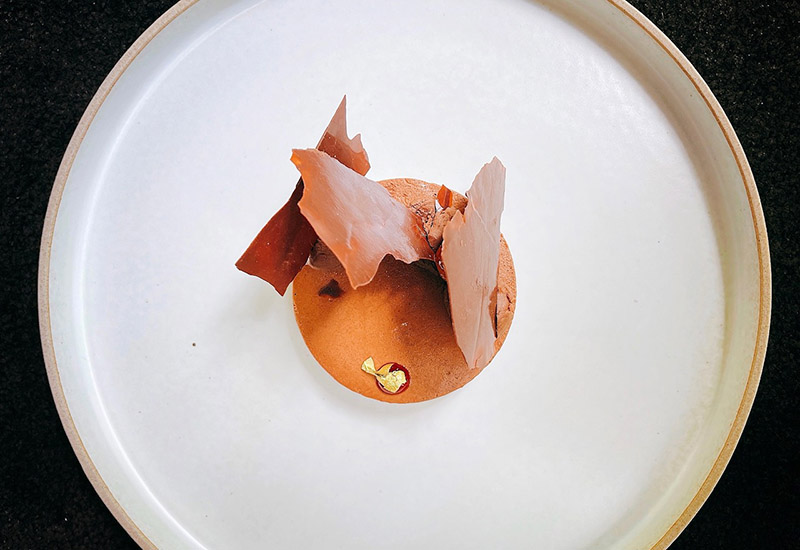 Dessert is often a highlight at Skillet, since Chef Raymond had cut his teeth in pastry art. This Mocha dessert certainly lives up to the chef's reputation, underscoring his specialty in chocolate with smooth, creamy Belgian chocolate and clever toppings of salted caramel macadamia. Neither too dense nor too rich, it does away with the cliched "sweet ending" – a welcome change for one with a penchant for savoury smacks like yours truly. Coupled with a glass of Martell Cordon Bleu, it's the kind of ending to a very well-curated menu that leaves us in very good spirits.
With that, we say cheers to the end of a wonderful meal and the beginning of spring!
Skillet's Spring-Summer 2021 menu is now available for dine-ins. For reservations and enquiries, call +603 21812426 or log on to the official website here.
Location: Ground Floor, Cormar Suites, No. 10, Jalan Perak, 50450 Kuala Lumpur
Opening hours: 12.00pm – 3.00pm (lunch); 6.00pm – 11.00pm (dinner) daily
Photos courtesy of Skillet at 163