Here's our step-by-step review of the One Doc 4-step Pico Laser treatment, featuring the most advanced pico laser equipment in the country.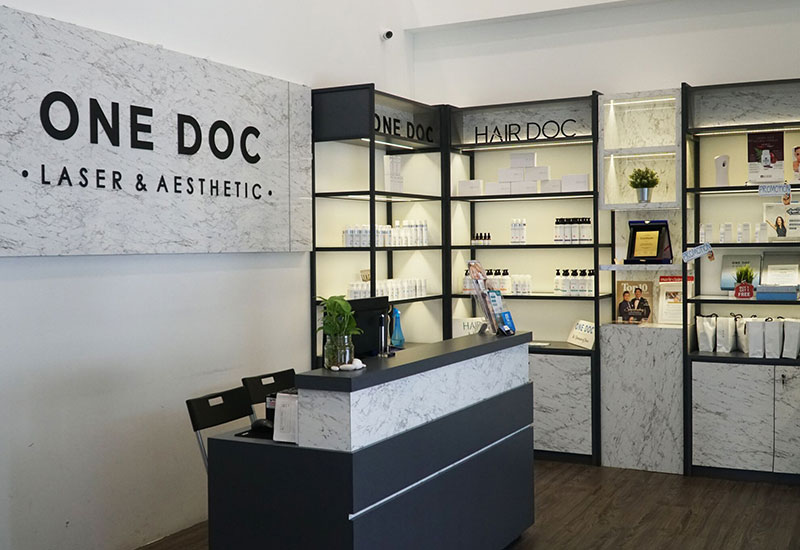 Laser facial treatments aren't new to beauty clinics. Modern, less-invasive lasers such as the pulsed-dye laser have been around for at least a decade, while more intensive treatments like carbon dioxide lasers (which are also used to treat skin cancer) date back much longer.
Despite that, there's still some reservations and misconceptions among the general public on the process (read: pain and side effects) of laser treatments. If you're one to fall under this category, we have first-hand experience that it's not as intimidating as it sounds.
Here's our step-by-step review of the One Doc 4-step Pico Laser treatment, featuring the most advanced pico laser equipment in the country.
Read later: Everything you need to know about laser facial treatments
Step 1: Hydrofacial
To improve the efficacy of the treatment and maximise results, the treatment should be performed on clean skin. Hence, the first step involves a hydrofacial cleanse to remove dirt, impurities and bacteria on the skin's surface.
For some (like yours truly), this may also require a manual extraction process, especially if you have congested skin. With it being our first ever extraction (another intimidating treatment we have put off in favour of milder facials…until now), it turned out we had rather clogged pores. On hindsight, this was the most painful part of the entire process, but it did help tremendously with clearing our whiteheads, blackheads and excess sebum which could potentially cause acne.
The hydrofacial itself was much gentler, during which the therapist used a handheld device to cleanse and exfoliate the skin via a painless vacuum suction. A vortex-like concoction of hyaluronic acid, antioxidants and peptides is then delivered into the skin for hydration and protection. Once completed, the therapist proceeded to apply a numbing cream to prepare us for the laser treatment.
Step 2: Pico laser treatment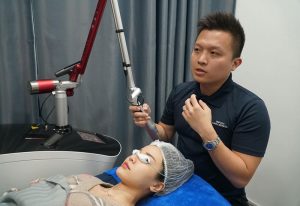 After waiting about 20 minutes for the cream to take effect, we move on to the second step. Under the careful hands of One Doc Chief Executive Officer Dr. Michael Ong, we were given two different laser therapies of varying levels.
To get us accustomed to the laser experience, he started off with a lower-level hand piece out of six types that come with the Picocare 450 device, which boasts the fastest 'gold standard' pulse duration in the market. This step was targeted at brightening and improving skin tone. Though it wasn't a painless procedure, the needle-prick like sensations were quite bearable.
A few minutes later, he switched to a higher-level hand piece targeted at minimising pores and pigmentation as well as inducing collagen remodelling. We discovered then that the stronger setting also meant more pain, especially at areas where the skin is thinner. Still, it had nothing on the extraction we had gone through earlier and by the end of it, the pricks were but a mental note for this review. In fact, we were in and out of the designated pico laser treatment room in less than 10 minutes.
Step 3: OMEGA light healing treatment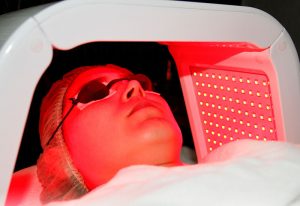 We spent the next 15 minutes or so taking a power nap while the OMEGA light healing treatment worked its wonders. Designed to reduce pigmentation as well as redness and inflammation, this red-light emitting therapy helps to stimulate skin repair and cell growth.
Step 4: Hyaluronic acid mask
Finally, the process is completed with the usual skincare steps of applying serum followed by a hyaluronic acid mask. The cooling sensation helps to further calm any redness or tenderness on the skin, even as potent ingredients deliver a layer of hydration and moisture to seal the effects of the treatment. Our therapist topped it off with sunscreen and we were ready to head back to work 90 minutes after we walked into the clinic.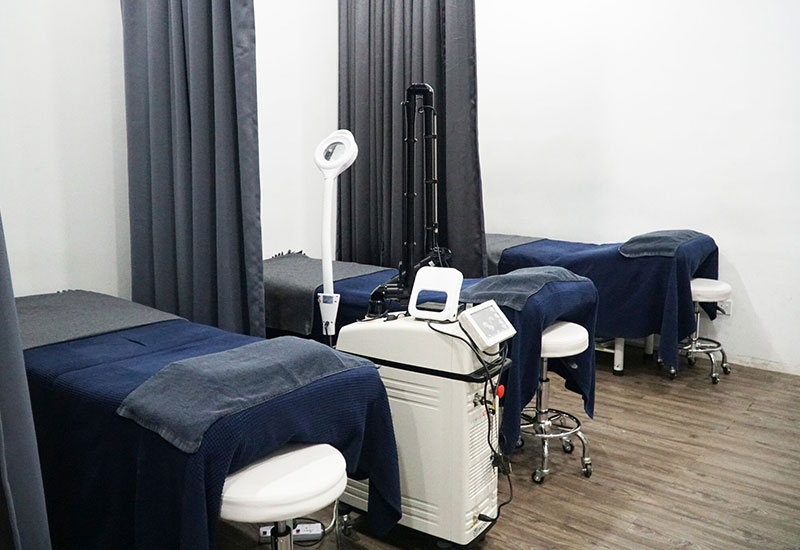 See also: 10 face masks to combat your specific skincare needs
Results and post-treatment care
Immediately after the treatment, we noticed that the appearance of our pores were smaller and significantly decongested, leaving our skin texture more refined. A few stubborn pimples remained, but signs of old acne scars were diminished. Our skin tone was also brighter and more radiant than before, although parts of our face, especially around the nose and cheeks, were still slightly red.
The redness faded to a pink after a few hours and that subsided just over a day later. (Disclaimer: this may differ according to your skin condition prior to treatment, but it shouldn't last more than a few days). True to its claim, there was little to no down-time post-treatment.
Although it only takes one treatment to see a difference, our therapist recommends returning regularly for the best results. For longer-lasting benefits, it's also advised to hold off applying makeup for a few days.
---
One Doc currently offers multiple One Doc Pico Laser treatment packages for different skin conditions, including a first trial promotion for its One Doc Pico Laser Toning (RM399) and One Doc 4-Step Pico Laser Facial (RM699). Suitable treatments will be recommended after a brief consultation.
For more information or to find a One Doc clinic near you, log on to the official website here. To request for a consultation, call 018 2100886.