Vintage meters of the land, sea and sky take on new life through several collections by this modern horologer.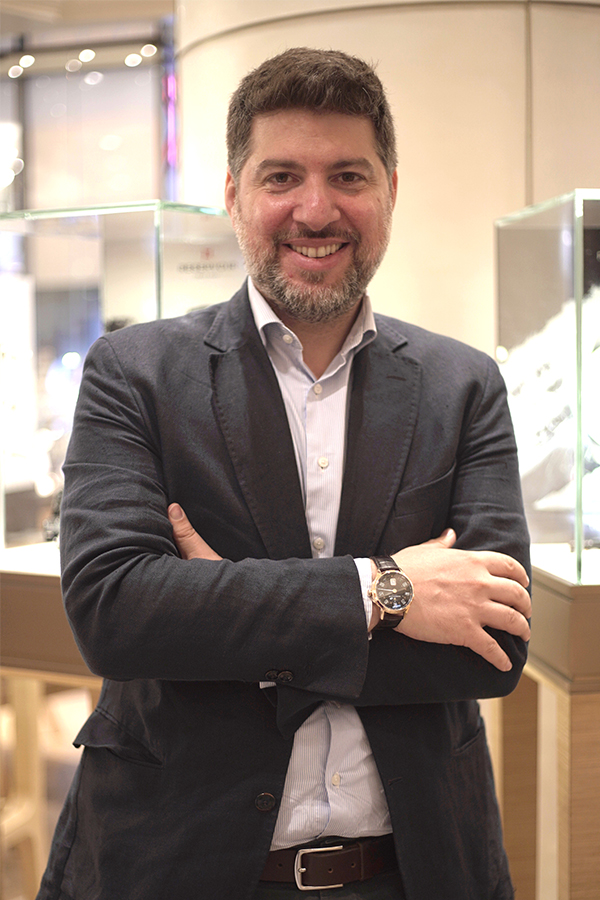 Set in Paris but manufactured in La Chaux-deFonds, Reservoir was ideated by one man with a passion: François Moreau. Having spent 25 years in the banking industry, his long-lasting love of watches and meters merged in a plan to create unique yet accessible vintage-inspired pieces for modern gentlemen.
Moreau's plan begin to materialise after meeting François Nakkachdji, who was fresh off a long stint with Rolex. "When he talked about the project, I could see his vision from the start," Nakkachdji recalls. He was attracted not only Reservoir's unique design ethos, but the market price positioning.
Three years after that fateful meeting, Reservoir is growing worldwide as a value-for-money brand with all the makings of a classic. Combining their knowledge of finance, international marketing and distribution, Reservoir's four main partners are spearheading a horology start-up of sorts – and Malaysia is latest in its Asian expansion.
"We love meters and vintage items, so it's part of the brand DNA," François explains. "When you enter a luxury car today, you don't have meters anymore, it's all digital. It was very interesting for us to pay homage to the first measuring instrument – there is an inherent nostalgia to that."
Modern models of meters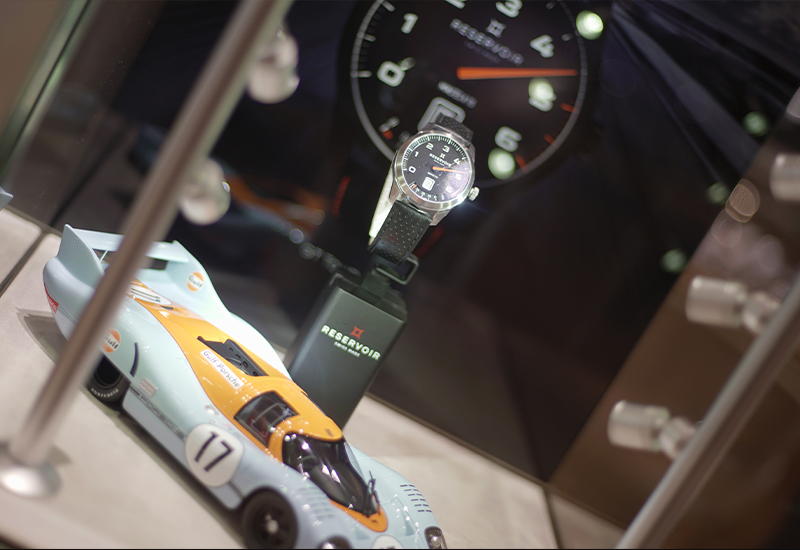 Inspired by meters of the automobile, aeronautic and marine worlds, each Reservoir tells time unlike any other Swiss watch. This unique display is a combination of the jumping hour (like an odometer), retrograde minute (resembling a needle counter over specified ranges) and power reserve indicator functions (designed after a gas tank indicator).
Even Reservoir's emblem is derived from the shape of gas jerrycans in 1930's war aircraft. Herein lies the radical twist that characterizes these watches as a modern classic.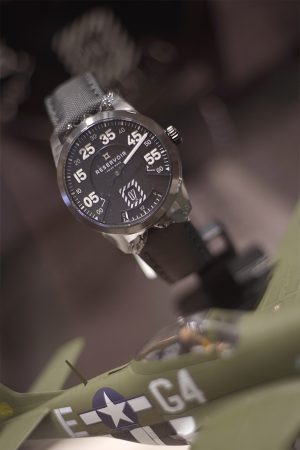 "We promote the luxury of intensity, instead of the luxury of eternity that most Swiss watch brands offer," says François. In other words, Reservoir embodies a bold authenticity that calls for appreciation in every present moment, instead of the future.
This factor seems to resonate with younger watch lovers, especially those looking for fresh design and appeal. "Reservoir is a good proposal for millennials," François agrees, "especially those who recognise that they want to own a mechanical watch, but something different from their father's."
So far,  the brand has released four thematic collections: Supercharged, GT Tour, Longbridge and Airfight. Supercharged is inspired by classic British cars, with a power reserve resembling a fuel gauge. GT Tour is an ode to racing, its display not unlike a rev engine meter. GT Tour pieces come in stainless steel, PVD, or carbon straps, as well as a complimentary NATO strap that takes its sporty appeal up a notch.
Longbridge takes after the iconic Mini Cooper of the 60's, down to the solitary ruby and sapphire stones that represent beam and 'check engine' lights. Airfight represented Reservoir's maiden flight into the world of aviation. These nifty complications can be traced to the ETA 2824 movement, which is developed  by Telos in Switzerland.
Exploring new depths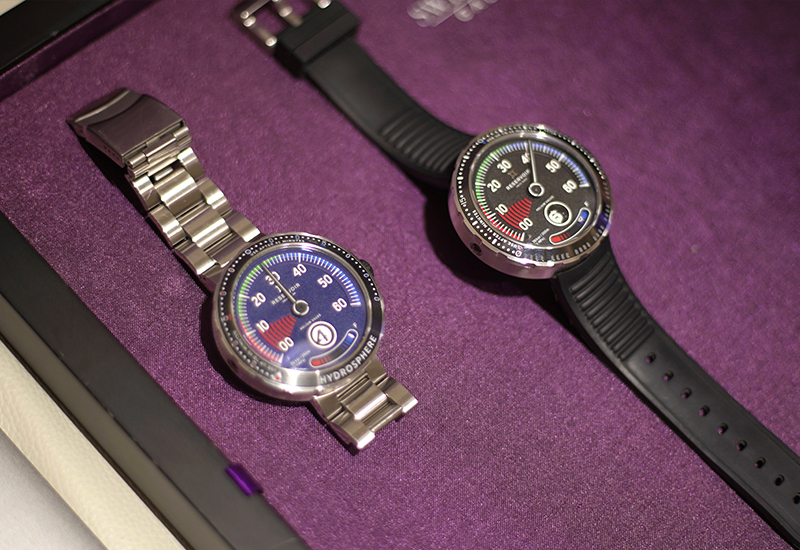 Reservoir participated in Baselworld for the third time this year. It was a momentous occasion, too, with the debut of the Hydrosphere – the brand's first diving watch. At first glance, we pick up on its resemblance to scuba diving pressure gauges. There is a single, solid needle on the display, and a unidirectional rotating bezel with double scale (for optimum reading of dive-decompression levels).
On top of that, the usage of magnifying glass in the hour window and Superluminova coating on the hands ensure divers can read with ease. There is also a helium valve that decompresses the watch casing by releasing the gas during deep dives. Reservoir Hydrosphere is waterproof for up to 250 metres, providing security, functionality and confidence – all vital for divers.
Having displayed variety and technical innovation in its nascence, where does Reservoir go from here? François assures that the brand has several collections in its reserve, including new complications. He says, "We will only launch one new collection in the coming 3 to 4 years, so that the market can appreciate each collection as it finds its space in the Reservoir environment."
RESERVOIR Longbridge Club Rose Gold
RESERVOIR Longbridge Club Rose Gold
The 41.5mm case of this latest watch is crafted 18-carat rose gold. A complementary burnished brown alligator strap evokes saddlery of 30's English clubs. Inside, Reservoir's 124-piece module is built on the ETA 2824-2 caliber. Baselworld 2019's precious metal collection also features palladium on the Longbridge Nightfall.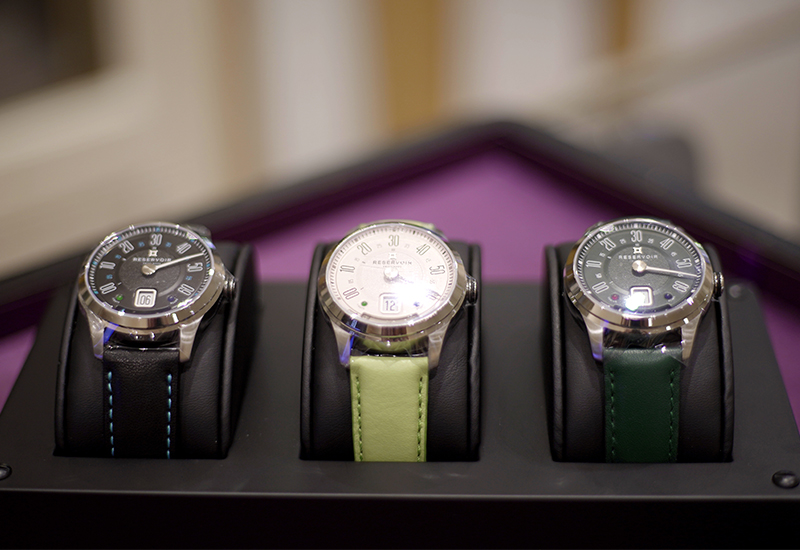 Among other Longbridge models are the Longbridge Lady (centre) in an elegant cream colour. Longbridge British Racing (right) was shortlisted for the Challenge award at GPHG 2018, which is considered the Oscars of watchmaking.
(swipe left)
Reservoir is now available at Swiss Watch Gallery Pavilion Kuala Lumpur and Southkey Johor Baru. Check out the official websites for details and appointments.
Images: Koo Hon Chun & Anson Siau
Featured image: Reservoir Supercharged Sport Red Zone & Reservoir Tiefenmesser Sea Hornet