Titled 'The Suit (But Different)', Paul Smith's SS24 collection took centre stage at Paris Fashion Week in which the British designer delved into the realm of tailoring in a refreshing and playful manner. The collection pays homage to the suit, a timeless symbol of menswear, while simultaneously subverting traditional tropes and incorporating influences from workwear and military uniforms. Classic tailoring references from the 70s to today are a rich source of inspiration throughout the collection in creating a youthful perspective in menswear fashion.
True to its title, the collection presents fluid silhouettes with a spectrum of precision, trim cuts in classic suiting fabrics and billowy, exaggerated shapes in lighter-weight casual materials. A military-meets-mod mood dominates the collection, with workwear and utility-inspired shapes and detailing such as tab waists and wider lapels seen on suit jackets, stitched carpenter-style trousers and six-button double-breasted jackets.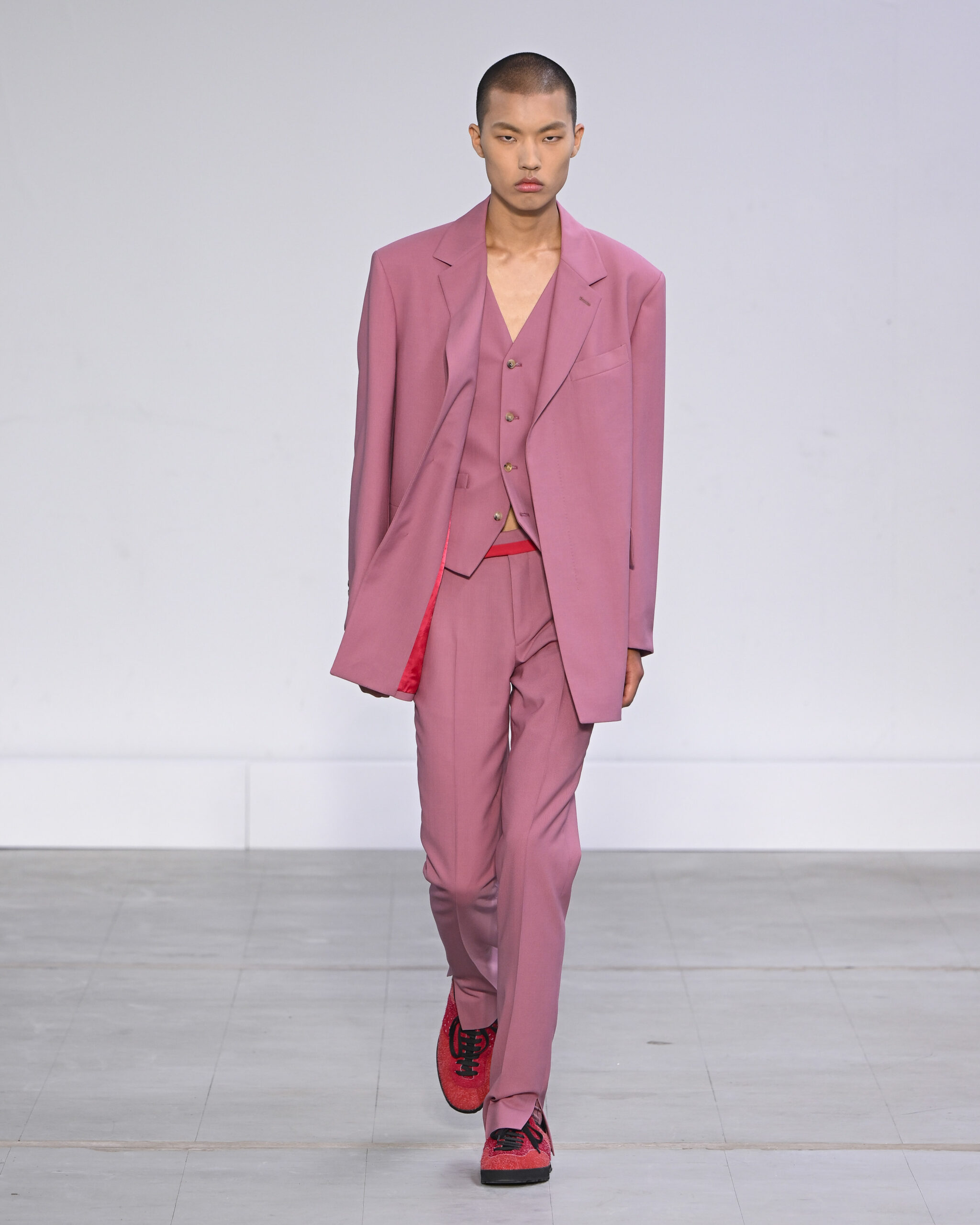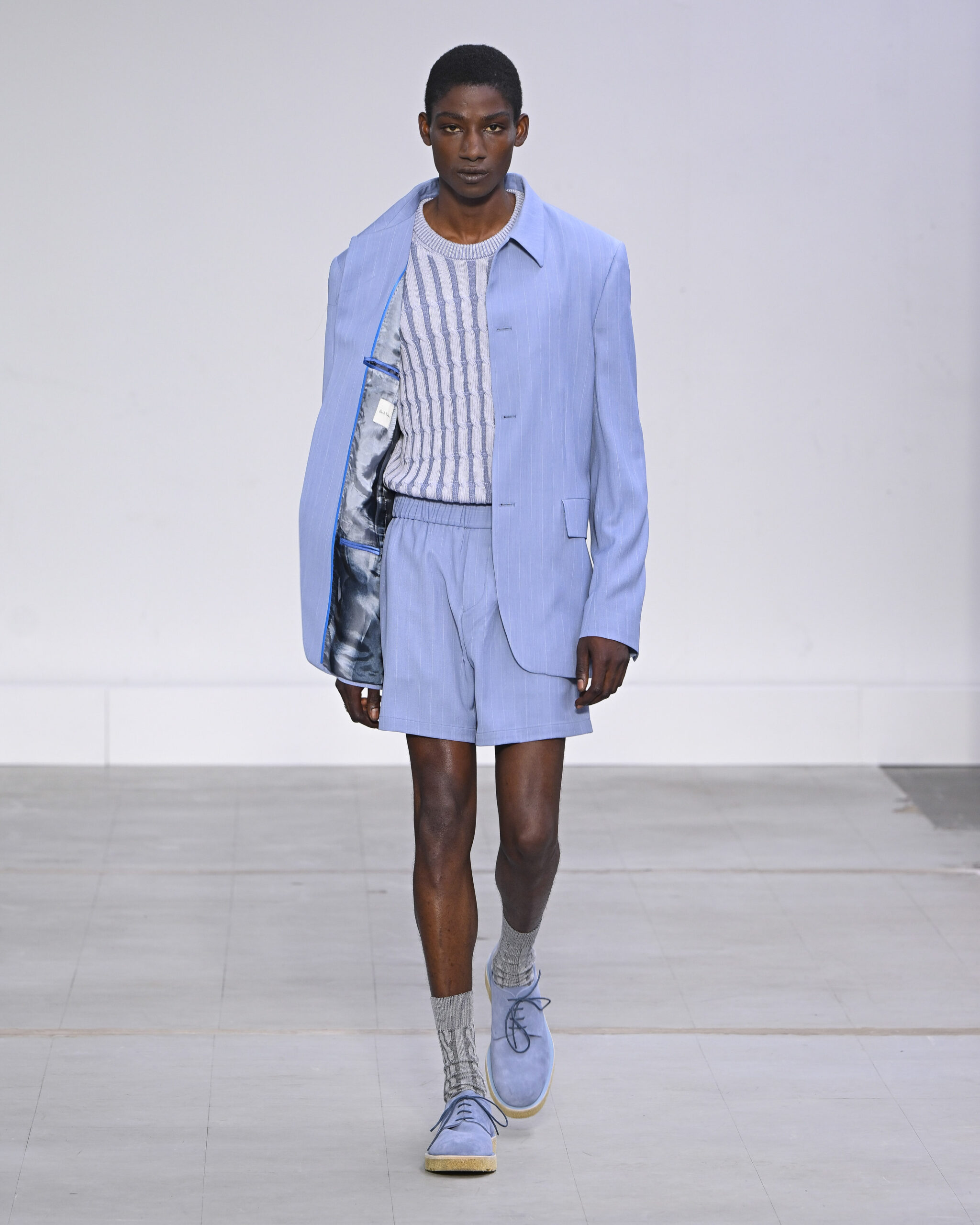 While emphasising the artistry and expertise of tailoring, Paul Smith's collection doesn't shy away from his signature sense of playfulness. The concept of the 'Breakfast Suit' is introduced where tailored and classic striped boxer shorts are artfully paired with traditional suiting and workwear jackets. Relaxed, pyjama-inspired looks are skillfully styled with matching ties, while the 'Canadian Tuxedo' featuring a denim trucker jacket and barrel-fit jeans showcased Smith's confidence in challenging menswear conventions.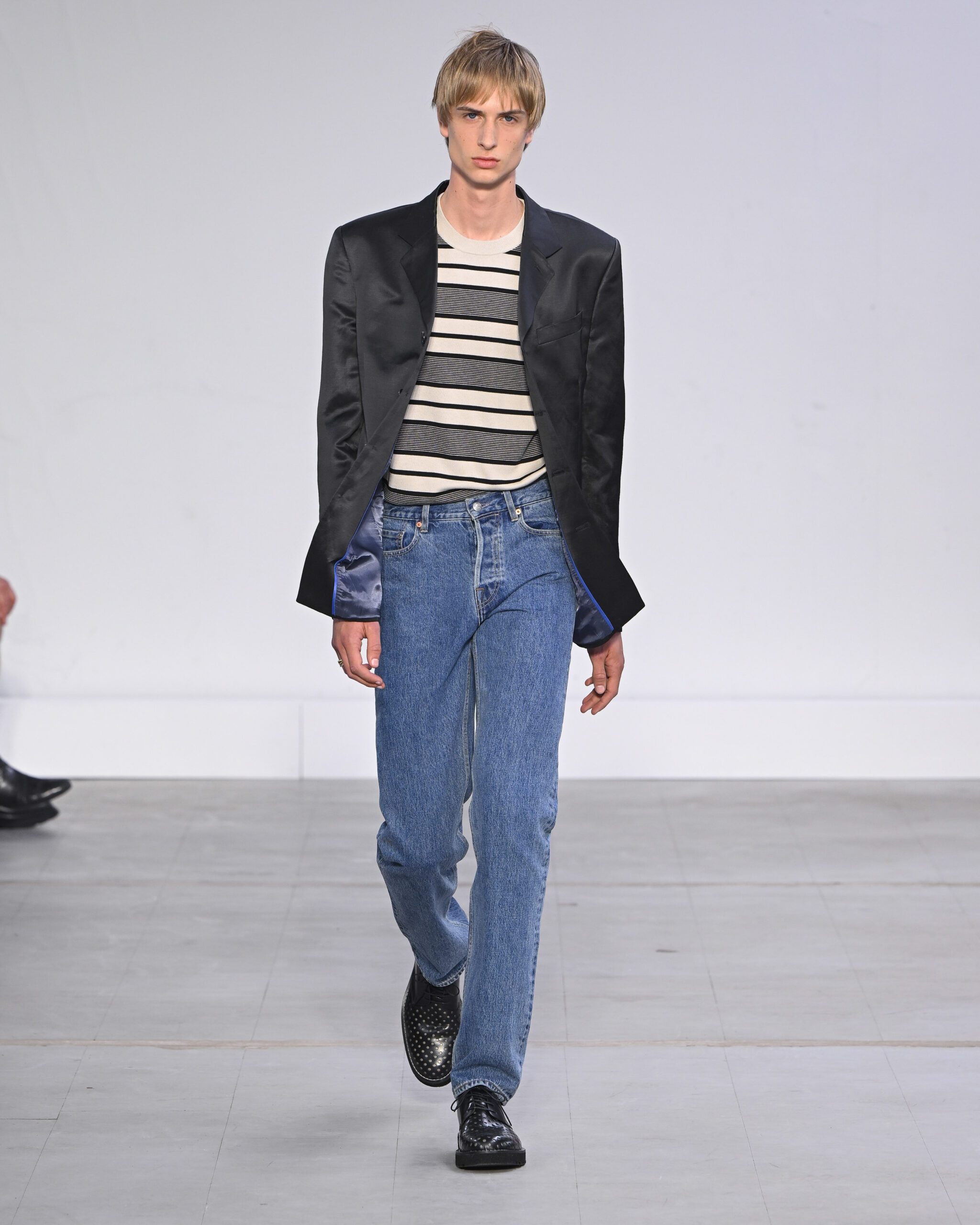 Pinstripes, herringbone suede and polka dots are the recurring motifs, adding a touch of classic sophistication to the contemporary designs. In a subtle nod to Smith's passion for cycling, footwear styles such as Derby shoes and sneakers are constructed with perforations reminiscent of vintage cycling shoes, infusing the collection with a sense of nostalgia and personal connection.
The whole collection is cast in a palette inspired by a single frame from the film Lawrence of Arabia, with pops of red serving as punctuation marks of colour amongst sandy neutrals, cool charcoals, rich blacks, and soft blues. Fabrics offer lightweight interpretations of classic suiting in puppytooth and pinstriped cloths as well as slub satin, cotton canvas, and textured knits.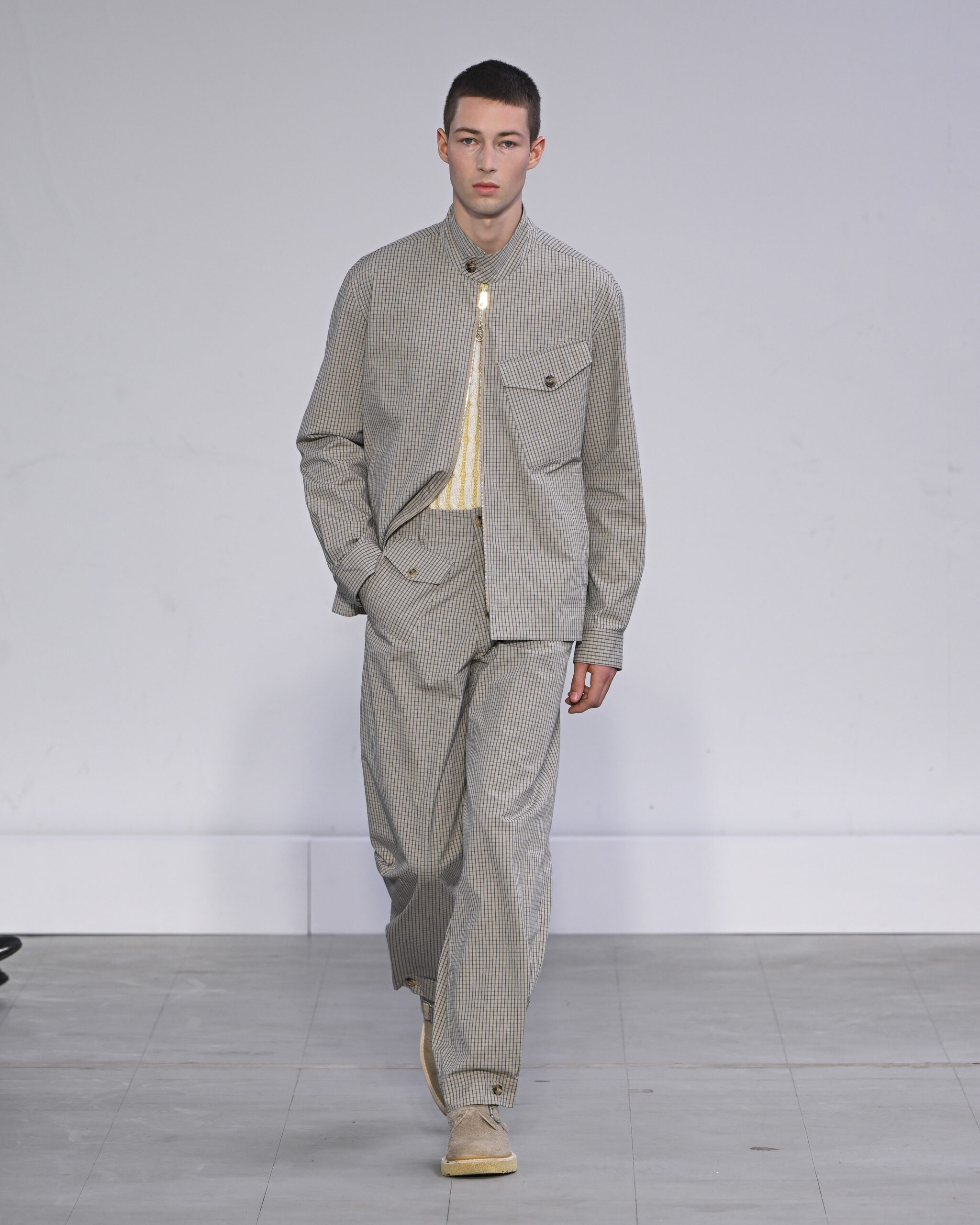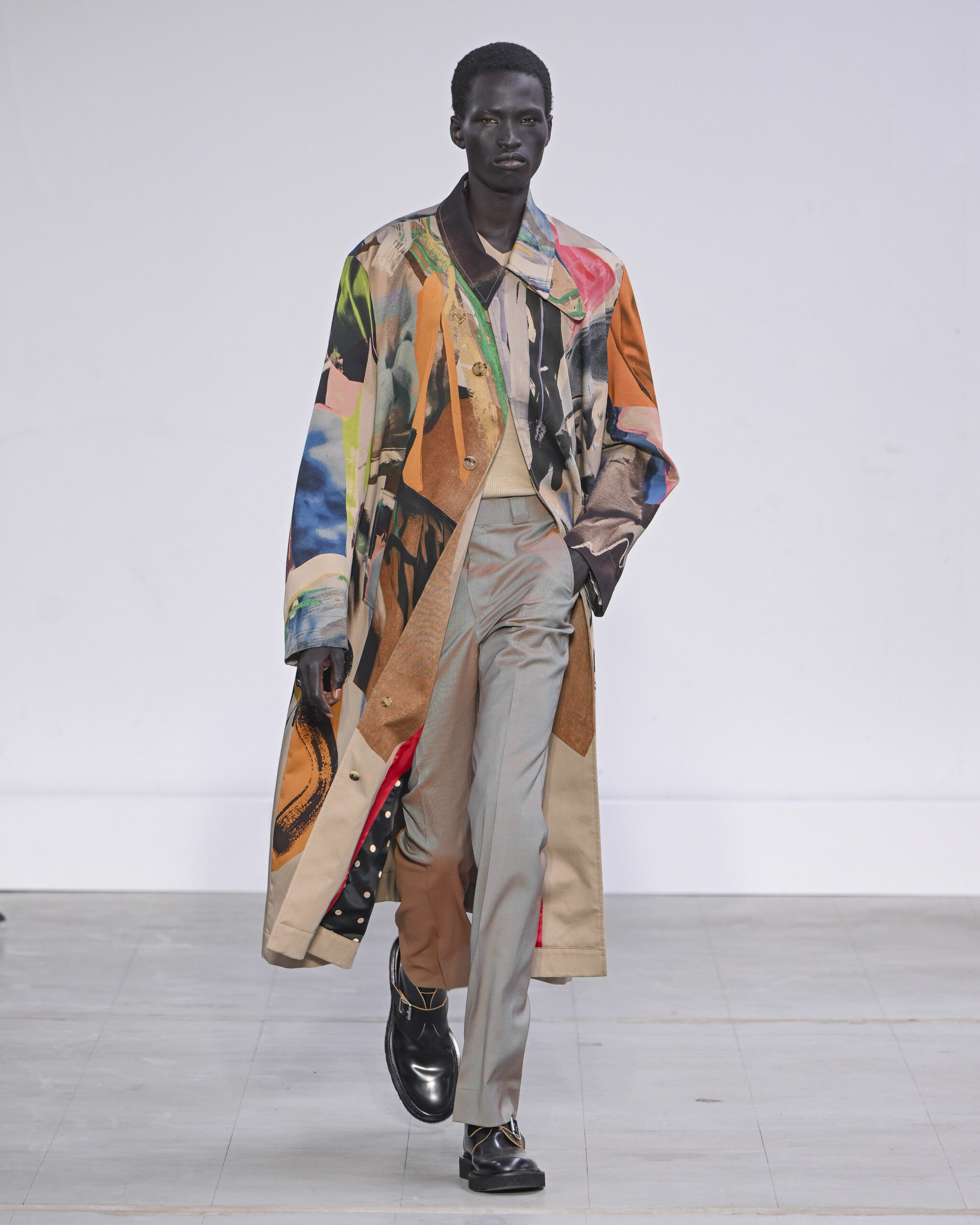 "Tailoring is so often thought of as such a serious business, but I've always been keen to show people how much fun you can have with it – especially now," said Smith. "So, while this show is an homage to suits and tailoring as an art and form of craft – one that requires a huge amount of skill and expertise – it's also about putting humour and joy back into smart dressing."
Photos by Paul Smith.