Here are the most eye-catching mooncake boxes worth the bucks and calories this Mid-Autumn Festival.
The annual Mid-Autumn Festival is just a month away, which means now is the best time to start shopping for your favourite mooncake boxes!
Taking cue from last year's prettiest boxes, more hotels have come up with new, innovative designs that are perfect for gifting. Whether you're buying one for yourself, your family, your friends or your business partners, here are the most eye-catching mooncake boxes worth the bucks and calories.
Pullman Kuala Lumpur Bangsar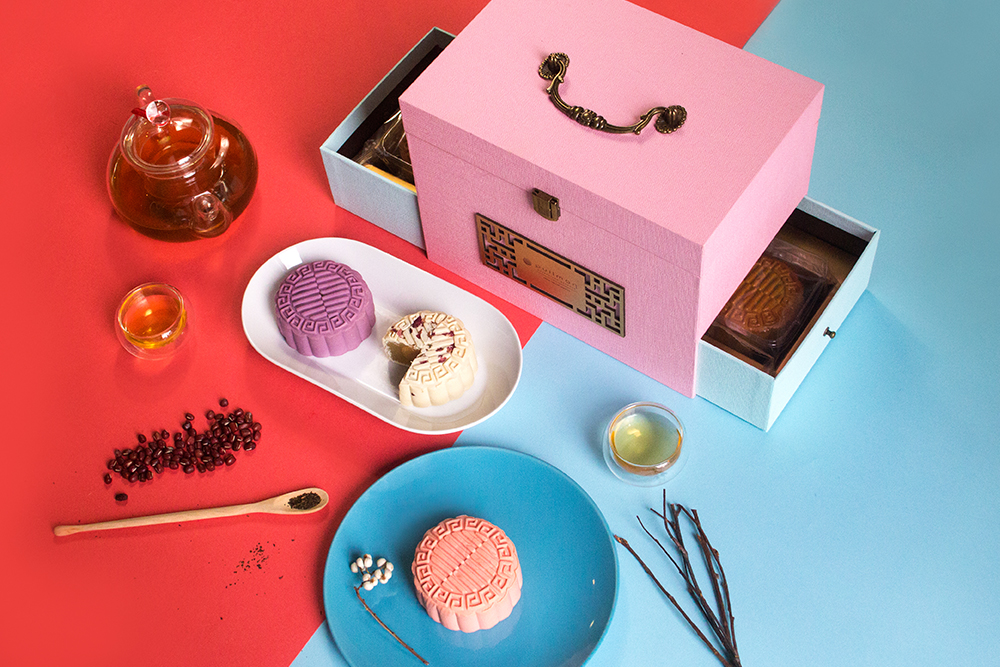 Pullman Limited Edition 2019 box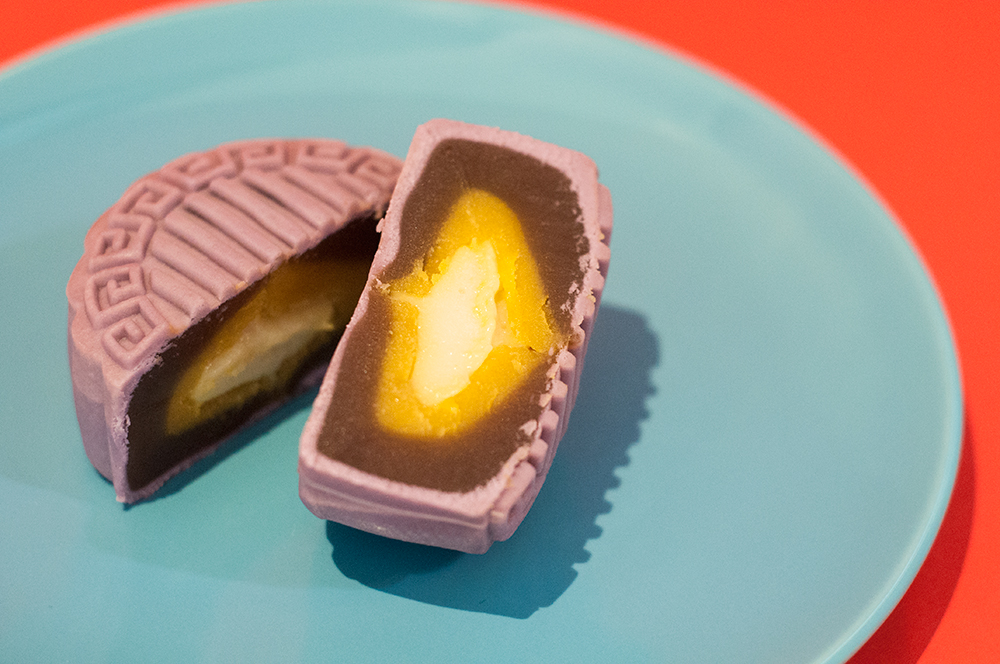 Violet Harmony (Taro, Sweet Potato & Mung Bean)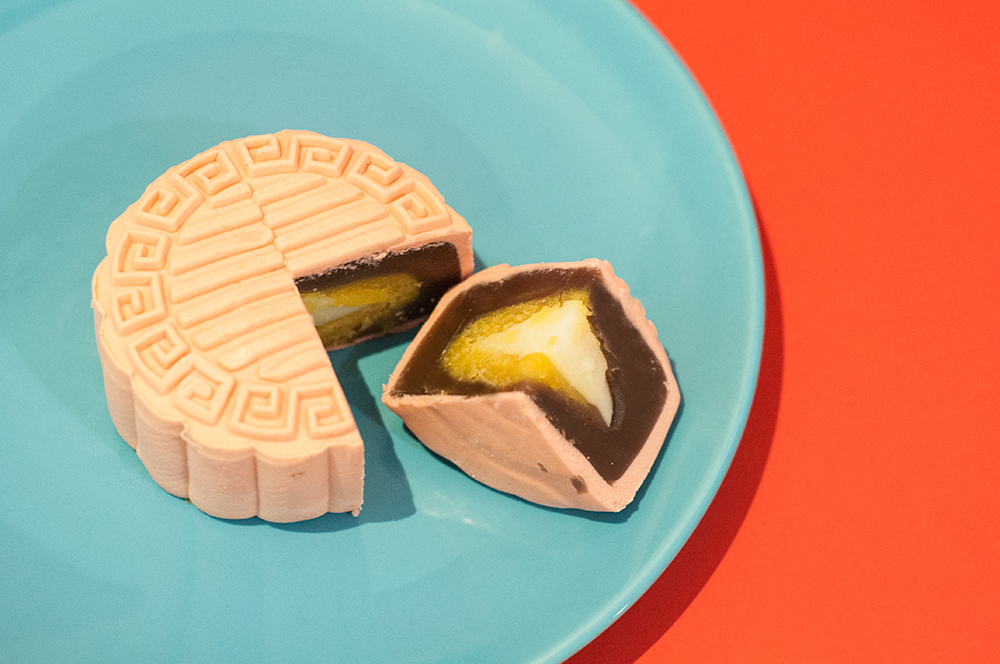 Scarlet Snow (Honey, Lotus & Pomegranate)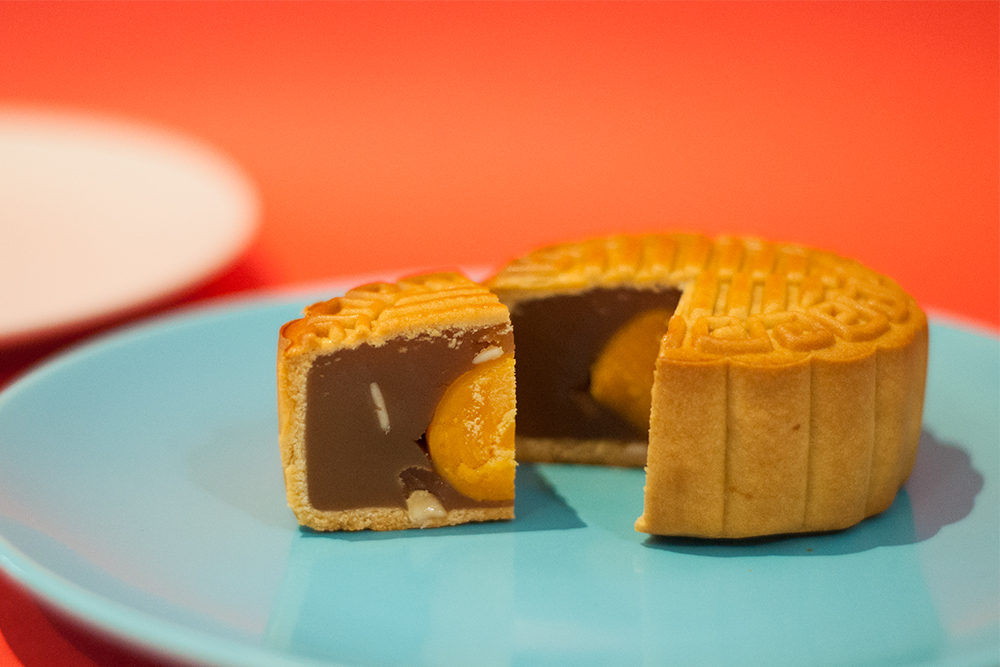 Pure Lotus (Single Yolk)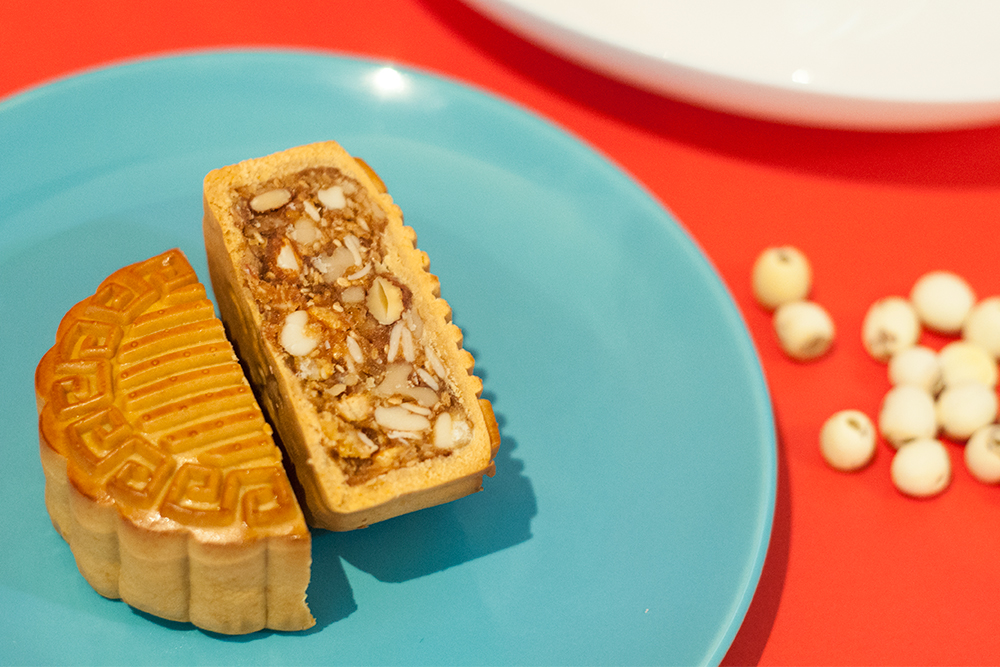 Mixed Nuts
(swipe left for more)
Since two is better than one, Pullman KL is offering two classy mooncake boxes this year – the Pullman Limited Edition 2019 (pink and blue) and Pullman Treasure Series (grey and green). Why settle for one box when you can have one each For Him and For Her? Each box comes with four classic baked mooncakes, delicately handcrafted with the finest ingredients by the hotel's pastry artisan. Choose from 10 traditional and original specialty mooncakes, including Lotus Paste, Pandan Delight, Scarlet Snow (Honey, Lotus & Pomegranate) and Hana Kisses (Apricot, Baked Taro and Mung Bean), to name a few.
What's more, you can stand to win a complimentary stay at the hotel and Hi-Tea Buffet vouchers by joining the Buy, Snap and Win Instagram contest running from now until 13th September. To find out more, check out their e-brochure here. To purchase the mooncakes (priced at RM138nett per box or RM35nett per piece), call 03-2298 1888 extension 3400/3402 or email H7962-FB@accor.com/H7962-FB2@accor.com. Available from July 16 to September 13, 2019 at the hotel's Oriental Chinese Cuisine restaurant and lobby. W dineatpullman.com
Shangri-La Kuala Lumpur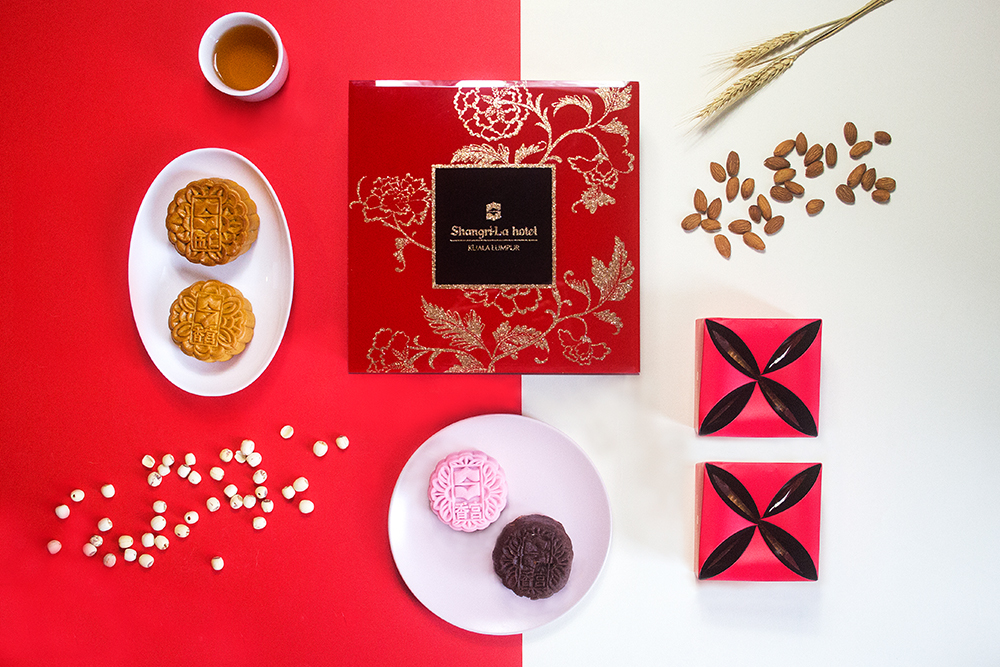 Shangri-La Kuala Lumpur Shang Glamour box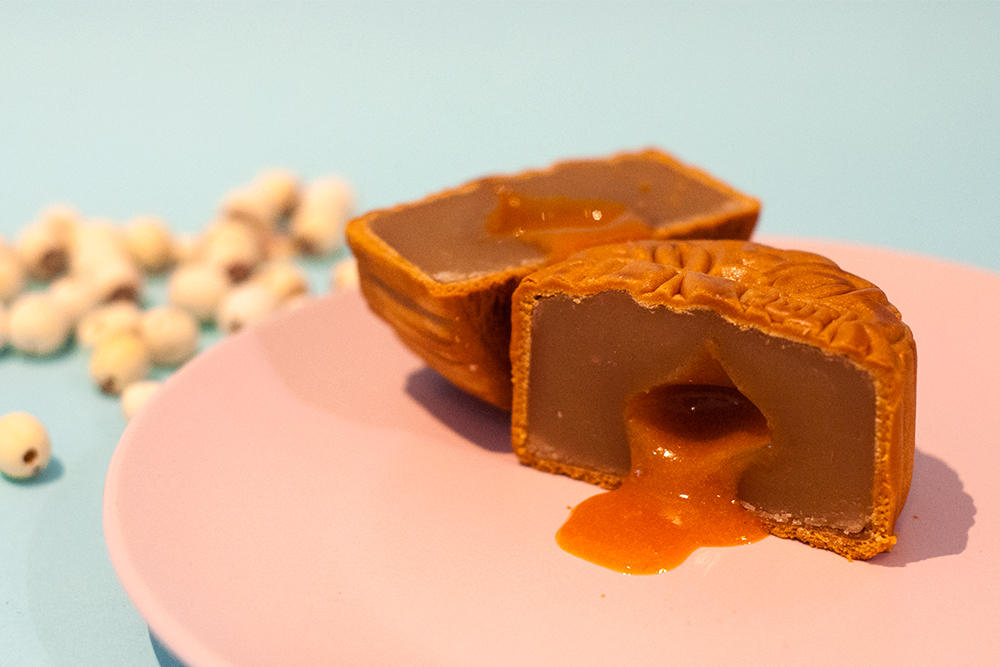 White Lotus Seed Paste with Lava Salted Egg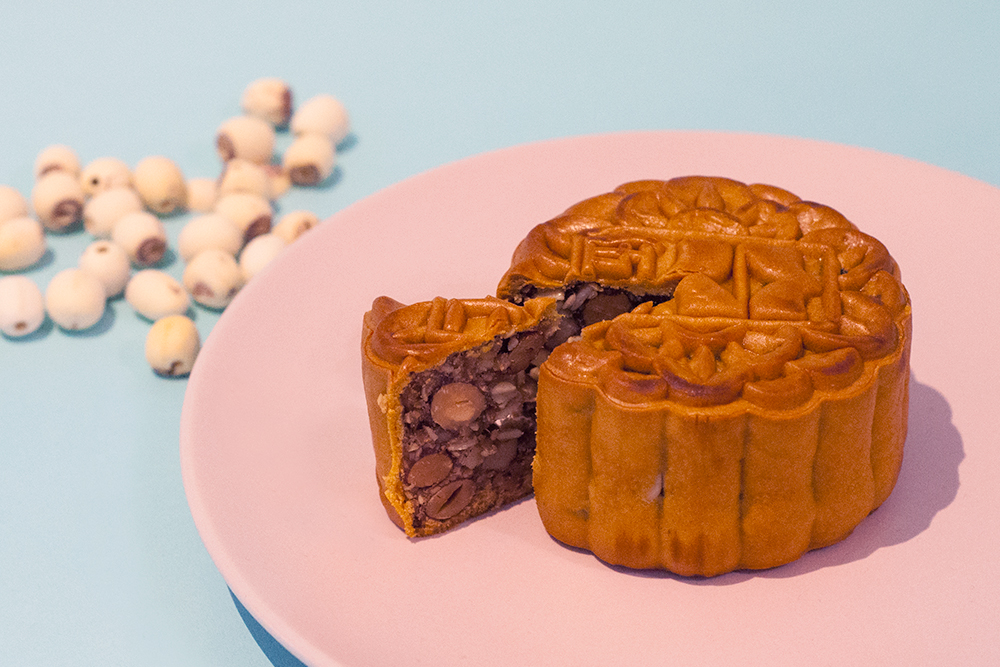 Assorted Nuts & Sun-dried Fruits
Red Bean Paste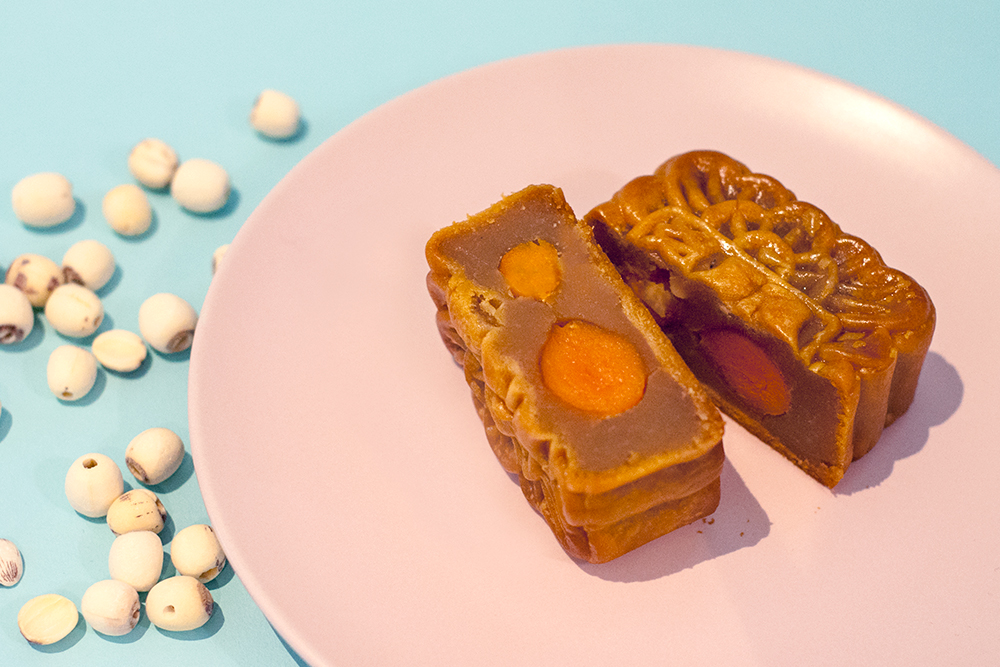 Lotus Seed Paste With Double Yolk
(swipe left for more)
Tradition doesn't necessarily mean traditional in the old-fashion sense of the word. Shangri-La KL's popular Shang Palace proves that by marrying the Chinese cultural celebration with contemporary interpretations, embodied in the culturally-inspired yet modern premium (gold) and signature (red) gift boxes. Themed Shang Glamour, the hotel's mooncake selection comprises of both traditional baked favourites like White Lotus Seed Paste with Lava Salted Egg and snow skin assortments like Ping Pei Durian and Ping Pei Custard with Bird's Nest.
The mooncake gift boxes can be customised with a corporate logo or company name for a minimum purchase of 50 boxes and above in a single receipt. Prices vary according to type of mooncake and/or gift box. Available at the hotel's Mooncake Counter as well as Mid Valley Megamall from August 22 to September 13. For more information or to purchase the mooncakes, call 03-2074 3900. W shangri-la-specials.com
W Kuala Lumpur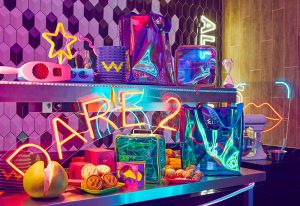 For the first time ever, W Kuala Lumpur has teamed up with Melinda Looi to create a mooncake gift set that celebrates the season in the trendiest, quirkiest way. The full set consists of an opalescent square pouch large enough to fit four mooncake boxes of your choice, a paper lantern, a booklet detailing Mid-Autumn Festival traditions as well as a reusable holographic tote bag. Talk about eating decadent mooncakes, preserving tradition and saving the earth – all while still staying in trend!
Available from August 1 to September 12, 2019 at W Kuala Lumpur and from August 23 to September 12, 2019 at Pavilion KL's Mid-Autumn Festival showcase. For more information or to purchase the mooncake gift set (priced at RM198nett per set), please drop by W Kuala Lumpur, email bf.wkualalumpur@whotels.com or contact 012 347 9088.
Hilton Kuala Lumpur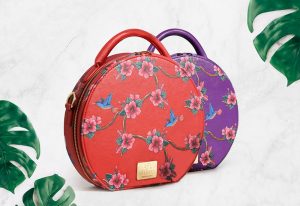 After a successful collaboration with Khoon Hooi last year, Hilton KL is back with another designer mooncake box cum handbag, this time with local shoe designer Christy Ng. Drawing inspiration from our national flower – the hibiscus, the 2019 "Tropical Allure" Designer Boxes are available in two colourways, Crimson Red and Royal Purple. Priced at RM168 per gift set, each box can also be carried by the handle as a bag or transformed into a cross-body bag with an addition of a strap. Among the mooncake flavours available include Baked Red Bean Paste with Almond Flakes and Snow Skin with Pure Premium Musang King Durian.
For more information or to purchase the mooncake boxes, click here. W life.hiltonkl.com
Mandarin Oriental, Kuala Lumpur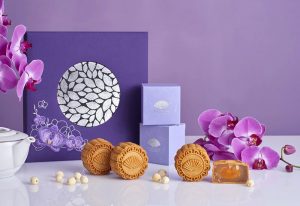 Another collaboration sees Mandarin Oriental KL and artist Samantha Cheah, fondly known as Yue Yue, working together to design a symbolic mooncake box featuring orchid motifs and intricate embroidery. The orchids represent love and friendship, whilst the purple hues represent royalty and admiration. Meanwhile, the hotel's iconic fan logo creates the illusion of a full moon – an emblem of the Mid-Autumn festival. But the attractive design doesn't stop at the box; even the mooncakes – including traditional baked, snow skin, chocolate and special edition varieties – are a decadent sight.
For more information or to purchase the mooncake box, visit the 'Mooncakes by Mandarin Oriental' desk at the Lobby from 9am to 9pm daily, the Online Gourmet Shop, contact Lai Po Heen at +60(3) 2179 8885 or email mokullpoheen@mohg.com.  W mandarinorientalshop.com
The Westin Kuala Lumpur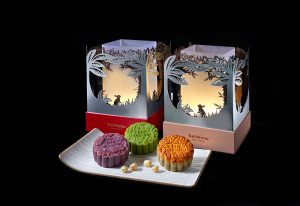 Paying homage to the old-world charm of lunar celebrations that highlight the Mid-Autumn Festival, Five Sen5es at The Westin KL presents the bespoke 'Yue Fantasy' box. Inspired by the legend of the Jade Rabbit, the gift boxes come in red and rose gold, symbolising classic elegance and modern innovation respectively. The boxes are also incorporated with a set of Bluetooth speakers, allowing you to play your favourite tunes while savouring the delicious mooncakes. Choose from eight different varieties, such as the all-time favourite Black Sesame Single Yolk and Pandan Mung Bean Single Yolk.
Prices start at RM118nett for a set of four mooncakes in a Classic Westin Box, RM138nett for a set of four in a Premium LED Light Box and RM178nett for a set of four in a YUÈ Fantasy Box. Available from August 1 to September 18, 2019. For more information or to purchase a box, call Westin Dining at 03-2773 8495 or email westindining@westin.com.
The St Regis Kuala Lumpur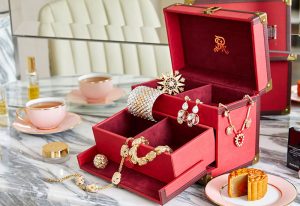 As per tradition, The St Regis Kuala Lumpur's 2019 mooncake box resembles a vintage trunk – an ode to the hotel's founder, John Jacob Astor IV's love of travel. This year, however, it comes in three striking red iterations, including a Limited Edition Swarovski®️ Super Mooncake Trunk adorned in 307 dazzling Swarovski crystals – perfect for housing your jewellery! Each trunk comes with four classic baked mooncakes in a classic white lotus seed paste with single yolk and signature 6.5 inch super mooncake with 8 yolks, with prices ranging from RM180 to RM380.
For more information or to purchase a box, call 03-2727 6696, email dining.kualalumpur@stregis.com or drop by the hotel.
Sheraton Petaling Jaya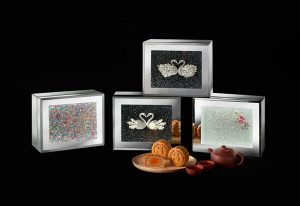 Following the high demand of its mooncake boxes last year, Sheraton Petaling Jaya has come up with four new bejewelled LED Light Box designs, aptly dubbed 'Mid-Autumn Jewels'. Take your pick from the Swan Crystal, Swan Pearl, Butterfly and Rainbow Stones box, each housing four distinctive baked mooncake flavours including Red Bean with Melon Seed and White Lotus with Single Yolk.
Prices start at RM 26nett for individual mooncakes and RM 168nett for the gift box set (including 4 mooncakes). Available from July 22 until September 13, 2019. For more information or to purchase a box, contact 03 7622 8888 or email sheraton.petalingjaya@sheraton.com.
Featured images photographed by Anson Siau