The Mid Autumn Festival, a time-honoured tradition in Chinese culture, is celebrated by observing the full moon on the 15th day of the 8th month. This year, the festivities take place on 29 September 2023, and offer a wonderful opportunity for families and friends to come together over delicious mooncakes and tea. 
For those in KL who have yet to purchase their mooncakes, fear not! We have compiled a list of the best places to score some exceptional mooncakes before they fly off the shelves.
1. The RuMa Hotel & Residences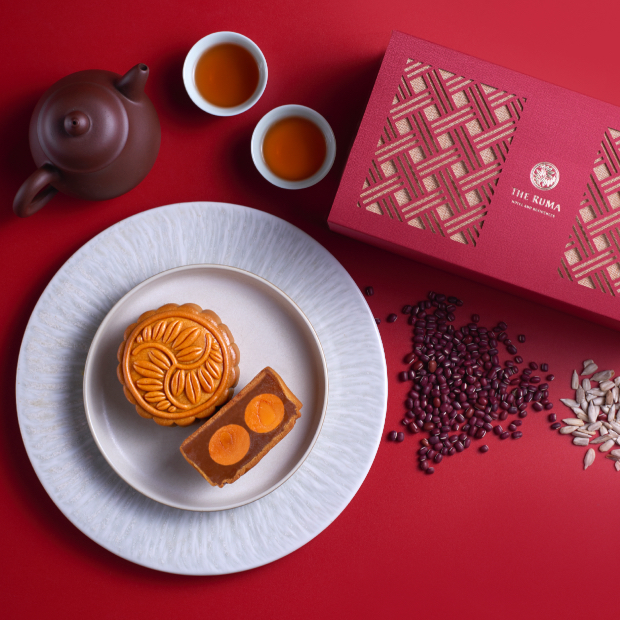 The RuMa Hotel's Mid Autumn Festival celebrations exude an air of sophistication and elegance, as exemplified by their tastefully designed mooncake packaging for 2023. Encased in a modest wooden crate, adorned with a striking red paper cover intricately laser-cut with a lattice pattern reminiscent of the hotel's grand porte-cochere, each box contains two mooncakes of your preference, priced at RM128. Indulge in the timeless flavours of Red Bean Paste and White Lotus Paste; the refined luxury that the RuMa Hotel has to offer.
Buy The RuMa mooncakes here. 
2. Grand Hyatt Kuala Lumpur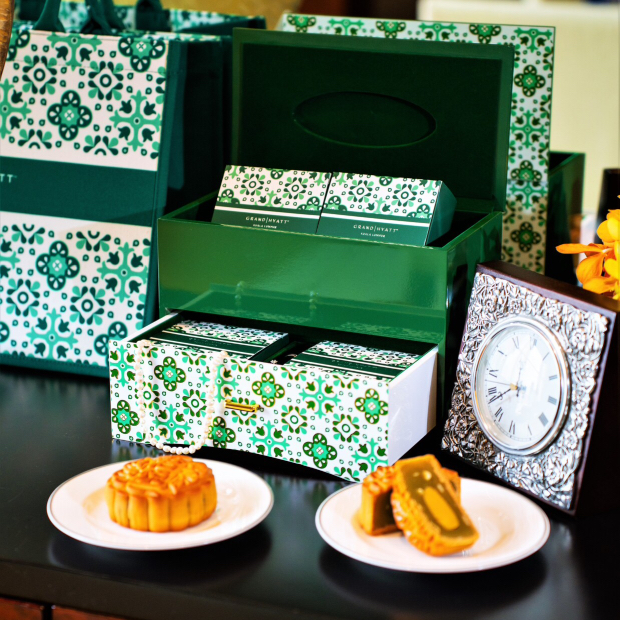 The Grand Hyatt Kuala Lumpur is proud to continue their tribute to Peranakan culture with this year's mooncake offerings. Not only are these mooncake boxes stunning, but they also serve a practical purpose as jewellery boxes and tissue containers. And with the added bonus of a matching tote bag and four delicious mooncakes, priced at RM288 for the blue box and MYR 248 for the red and green options, this is an unbeatable deal. 
Choose from a variety of mouth-watering flavours, including White Lotus, Red Bean, Jade Custard, and Jasmine Lychee. 
Buy Grand Hyatt mooncakes here. 
3. Shangri La Kuala Lumpur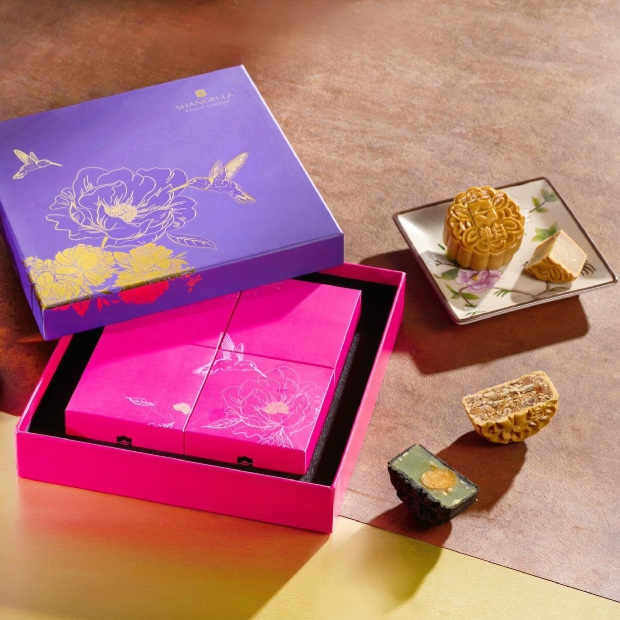 Shangri La's Ties That Bind campaign is back in full swing, and this year's mooncake offerings are centred around the beautiful and timeless theme of florals. Designed in stunning shades of lilac and magenta, the box is also adorned with a gold floral motif, which is sure to impress. 
Their mooncakes are housed in two drawers and are available to order in sets of four starting at RM138.40. Indulge in unique combinations like Black Sesame With Nutella and Coconut that are sure to delight your taste buds. 
Buy Shangri La mooncakes here. 
4. Sheraton Hotel Petaling Jaya 
Sheraton Petaling Jaya is thrilled to announce the release of their exclusive line of mooncakes for the Mid Autumn Festival. Choose from their stunning bouquet of blooms, including the Golden Blossoms set, Turquoise Blossoms set, Pink Blossoms set, and the limited-edition Floral Symphony set, starting RM148 per box. Each set comes in a unique custom box, featuring a different hue and contains two or four mooncakes of your choice, depending on your appetite. 
Buy Sheraton Hotel Petaling Jaya mooncakes here. 
5. St. Regis Kuala Lumpur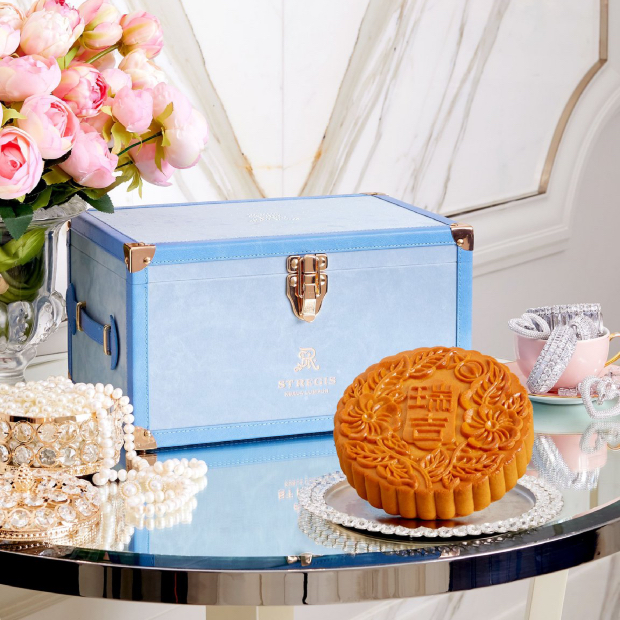 If you're seeking to infuse your boudoir with Old World glamour while indulging in the finest mooncakes in KL, look no further than the St Regis Kuala Lumpur. In partnership with renowned Austrian glass makers Swarovski, their bespoke powder blue trunks are adorned with velvet trimmings and encrusted with crystals, starting from RM339.62. The interior boasts a stunning blush pink hue, showcasing four delectable Lotus Seed Paste with Egg Yolk Mooncakes. 
Buy St. Regis mooncakes here. 
6. Sunway Resort Hotel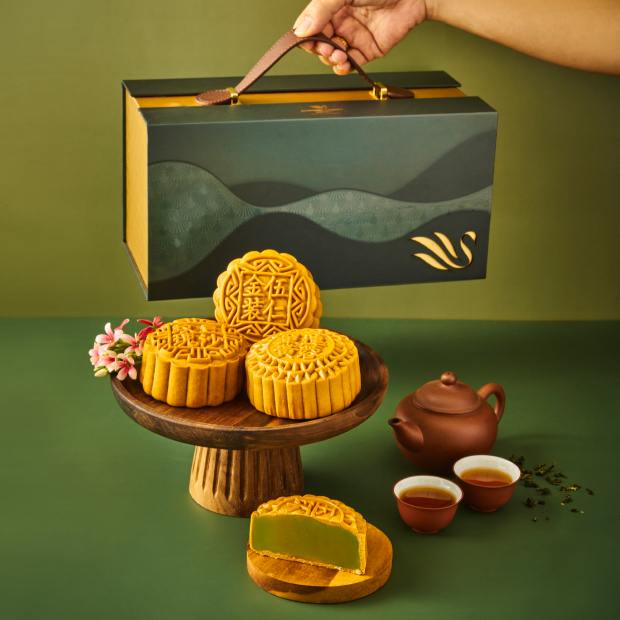 Indulge in the timeless and authentic mooncakes by Sunway Resort Hotel this Mid-Autumn Festival, as you gaze upon the celestial beauty of the moon. Encased in a luxurious forest green and gold drawer, these mooncakes come in four delectable flavours; White Lotus Paste with Egg Yolk, Pandan with Lotus Paste, Red Bean, and Mixed Nuts. Perfect for gifting to your loved ones and business associates, these mooncakes are available from 25th August to 29th September 2023, priced at an unbeatable MYR268 nett per box. 
Buy Sunway Resort Hotel mooncakes here. 
7. InterContinental Hotel Kuala Lumpur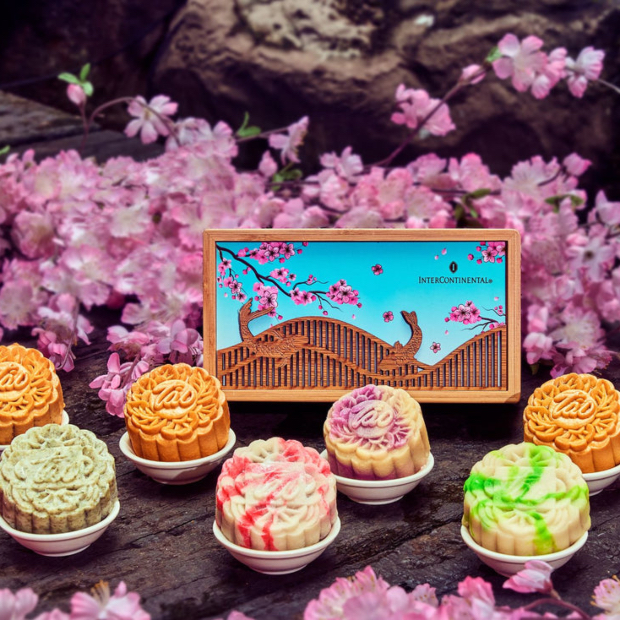 Attention all true mooncake lovers! You simply cannot afford to miss out on InterContinental Hotel Kuala Lumpur's Mid Autumn campaign this year. Titled Moonlit Garden the collection boasts stunning packaging featuring cherry blossoms and koi fish, intricately etched into sustainably sourced bamboo. 
Indulge in either the Moonlit Waters (set of two mooncakes from MYR 138) or the Moonlit Blossoms (set of four mooncakes from MYR 178), each with a delectable range of flavours including Roselle with Red Date Paste, Tangerine & Nuts, and Butterfly Pea Flower with Bird's Nest & White Lotus Paste. 
Buy InterContinental Hotel mooncakes here. 
8. W Hotel Kuala Lumpur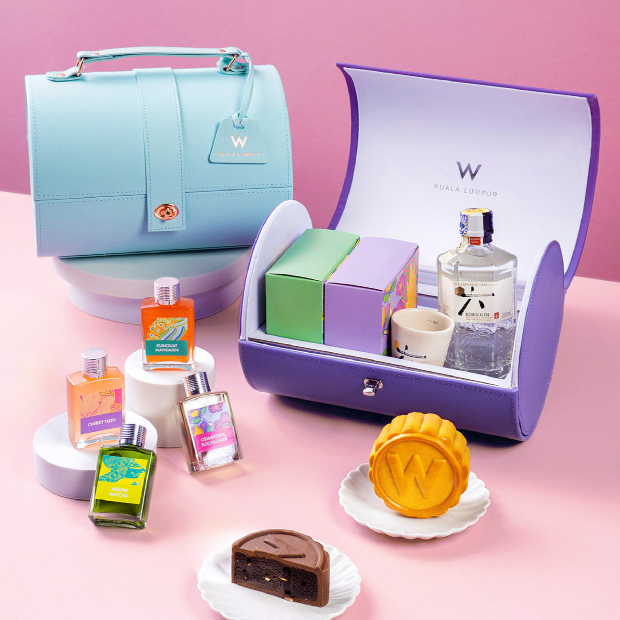 You'll be pleasantly surprised to find a box full of delectable mooncakes inside the stunning case! Yen Restaurant at W Hotel has launched a range of mooncakes with elevated and contemporary flavours such as Puer with Lychee, Seasalt Chocolate, and Lotus Seed Paste Double Yolk. The box is available in four sizes, starting at RM 268. For those who want to indulge, the Mixology Kit is available at RM 348, which includes two mooncakes and a bottle of Roku Gin.
Buy W Hotel mooncakes here.
9. Oh Cha Matcha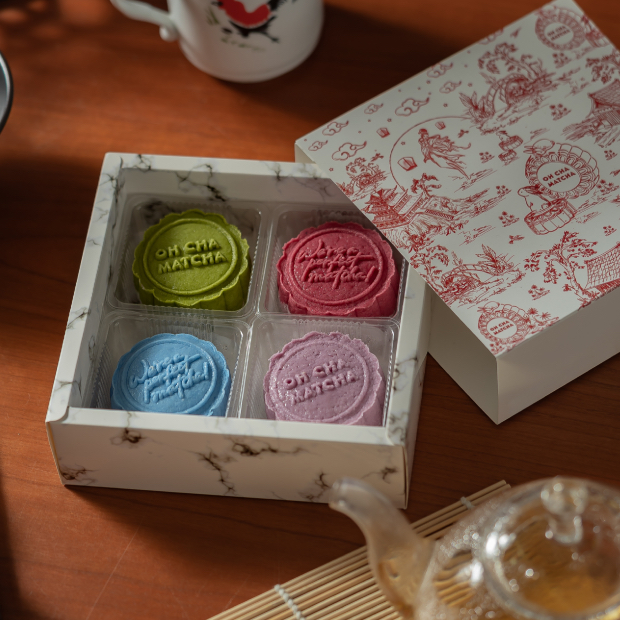 Oh Cha Matcha, the renowned matcha cafe that's synonymous with health-conscious offerings and innovative matcha creations, is proud to announce the launch of its Snow Skin Mooncakes for the third consecutive year. This year, they've taken things up a notch by presenting a unique blend of history and artistry through captivating red and white packaging that showcases enchanting tales from ancient Chinese folklore. 
Inside the beautifully designed packaging, you'll find four signature mooncake flavours: Matcha Mung Bean, Hojicha Mung Bean, Genmaicha Mung Bean, and Gyokuro Mung Bean. 
Buy Oh Cha Matcha mooncakes here. 
10. Oversea Restaurant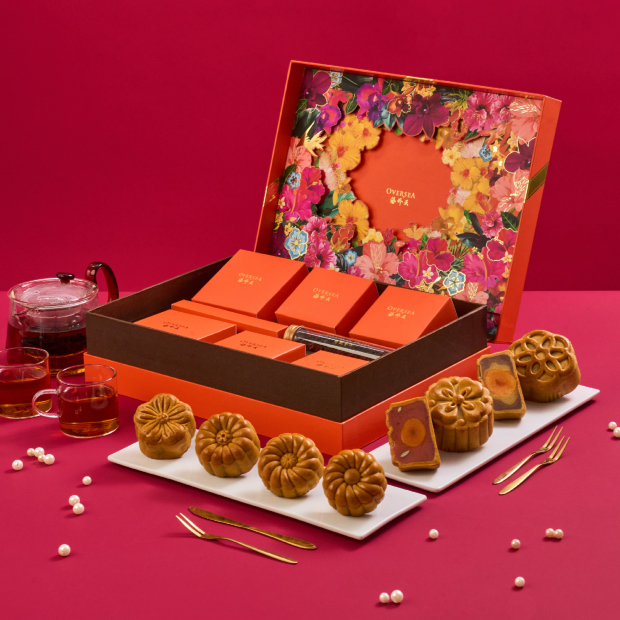 Get ready for the much-awaited mooncake season as the Mid-Autumn Festival approaches! And this year, Oversea Restaurant (Oversea) is taking it up a notch with their delectable lotus with four yolk mooncakes. Encased in a shiny golden-brown square-sized mooncake, the exquisite blend of four irresistible Yolks, Ground Lotus Seeds, and Sesame Seeds will undoubtedly leave you craving for more. 
Buy Oversea Restaurant here.