We're a weekend away from commemorating our country's 64th Independence Day, and while we're still unable to go all out on the celebrations, Malaysians can still ring in the festivities by tapping into our inherent love for food. And if you're among those who are still wary about dining out during this time, you can still honour the occasion and our food culture by simply ordering in this Merdeka.
Below, you'll find a list of hotels and restaurants who are presenting their own spin on Merdeka-inspired menus – with some even extending their offerings until Malaysia Day in September. With contemporary takes on local cuisine to nostalgic, classic favourites, who says you can't have a spirited Merdeka celebration at home?
Mandarin Oriental Kuala Lumpur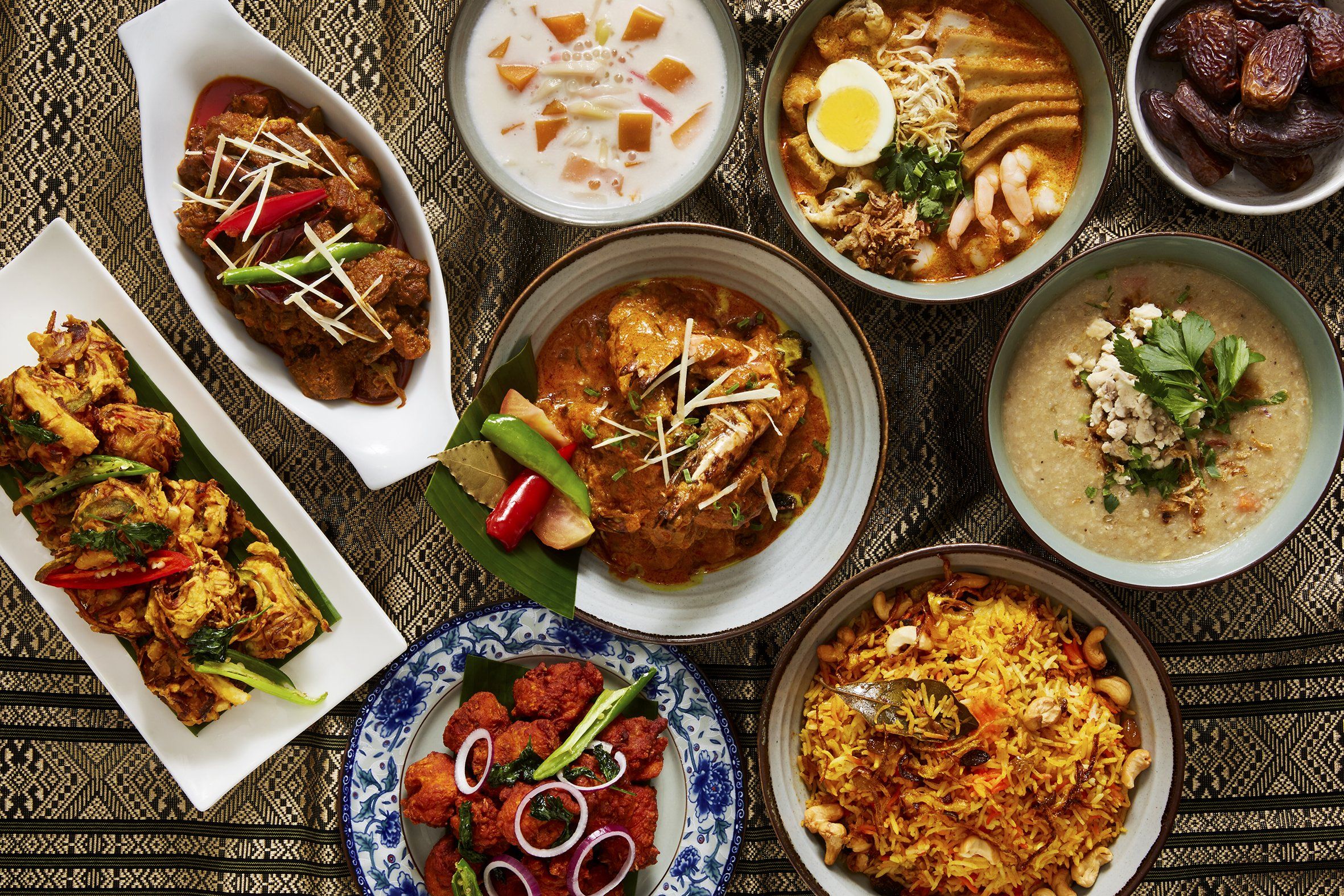 A specially curated menu featuring over 10 local dishes, the Merdeka Day Set Menu by Mandarin Oriental Kuala Lumpur can be arranged to feed you and your significant other, or up to 12 if you're planning some Merdeka gifting or feeding your whole family. The menu consists of flavourful dishes such as Kofta Kambing, Pepes Ayam, Ikan Masak Merah, Sayur Goreng Berhias, and an assortment of Nyonya kuih.
Available from 28 August – 16 September, starting from RM376 (RM188 per person). Pickups and deliveries can be made online.
What better way to celebrate the many cultures of Malaysia and its independence by digging into an indulgent, flavourful feast? Shangri-La Kuala Lumpur brings their Merdeka buffet to you with the Family Feast – which serves up to 4 persons, including 1 Appetiser Set, 1 Vegetable Set, 3 Main Courses, and 1 Dessert Set. W're definitely eyeing the Fried Tiger Prawn with Salt and Pepper Spices, Daging Rendang & Nasi Minyak, Saag Gosht and Naan Bread, and Ayam Masak Biryani & Biryani Rice.
Available for takeaways and deliveries at RM380 per set, orders can be made from now until 31 August. Place your orders online, by calling +603 2074 3900 or WhatsApp at +6019 390 2257.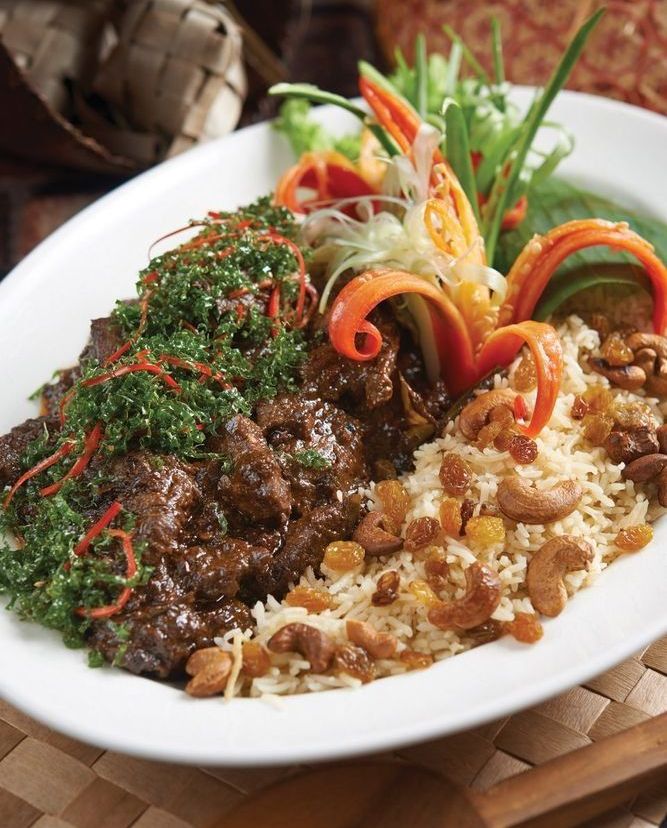 For a nostalgic Merdeka experience that reminds you of home, Le Meridien Kuala Lumpur is offering a variety of sets menus that brings classic Malay dishes to your home.Think Kerabu Ayam Berempah, Aneka Sayuran Popiah dan Sengkuan Manis Gulung, Kerabu Udang Panggang Jintan, and Acar Rampai Sayuran. You can also go the extra mile on your nasi lemak by getting Chef Budiman's Next Level version, which comes served with an indulgetn Sabah Lobster Sambal. And if you're looking for a fun activity for the kids, there's also the Jalur Gemilang DIY Cup Cake Party Set, which gives you all the fixings for making your own festive cupcakes – complete with an edible Jalur Gemilang flag topper.
Available for takeaways and deliveries from now until 16 September, orders can be made online here, by calling +6012 215 8782 or email at dining.lmkl@lemeridien.com
The St Regis Kuala Lumpur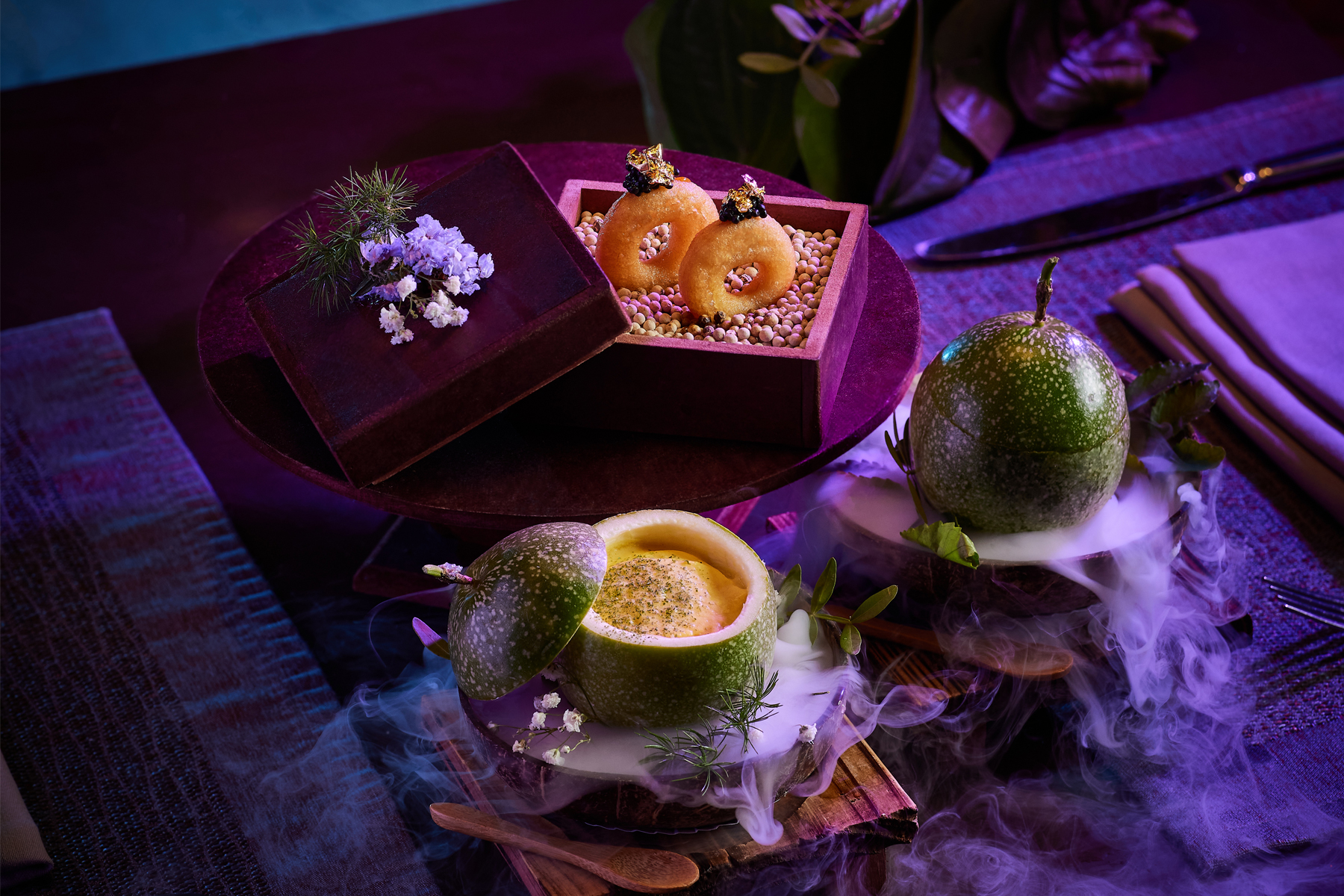 Inspired by the rites of passage and traditional rituals in Malay weddings, The St Regis KL heritage menu makes a comeback this Merdeka with a menu that celebrates Malaysia's gastronomic ingredients, flavours, and legacy. Featuring dishes that bring symbolic meaning to the bride, groom, as well as their family and guests, the set tells a story of a wedding dinner through six-courses, including The Courtship (Merisik Snack), The Proposal (Meminang Amuse-bouche), The Engagement (Bertunang Appetiser Kelantan Squid Salad), The Wedding (Akad Nikah Mains), and The Receiption (Bersanding Dessert).
Available on 31 August as well as 2, 10, and 16 September at The Brasserie, Malaysiaku: A Reimagined Malay Heritage Menu – Of Rites & Rituals is priced at RM388+ per person. For more information, call +603 2727 6666 or email dining.kualalumpur@stregis.com
As for takeaways and deliveries, 24-hour pre-order is required, and only available from 1 -15 September (except for 2nd and 10th September), with pick-up times from 12pm – 10pm. Orders can also be made on Beep.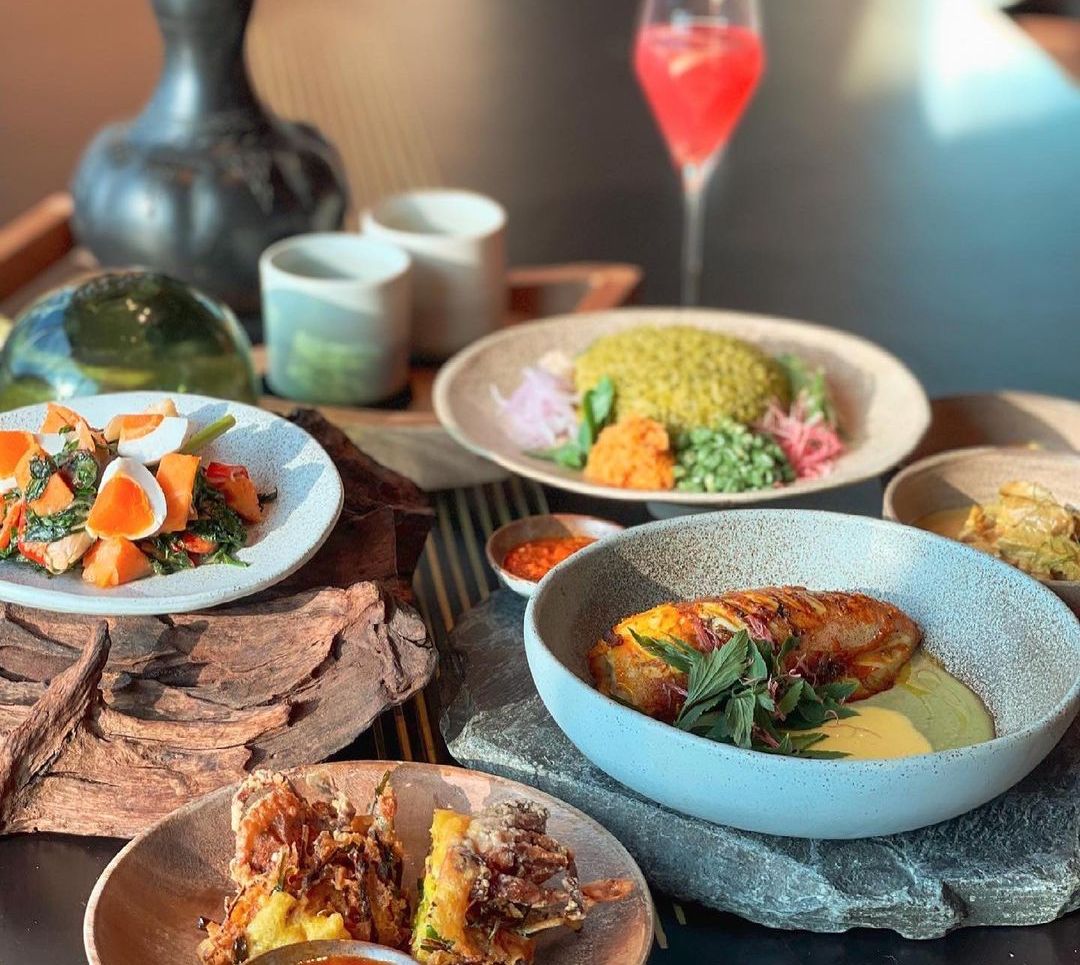 If you're looking to explore the many flavours of Malay cuisine with an innovative twist, Chef Darren Teoh of Dewakan brings his expertise, focus on simplicity, and locally-sourced ingredients to the Dewakan Hidang menus. Perfect for this year's Merdeka's celebrations that serves two, each set features a selection of dishes that celebrates traditional Malay cooking and classic Malay culture.
Available for takeaways and deliveries, DM the restaurant here or WhatsApp them here for more information and order enquiries.
For this year's celebrations, Li Damansara Jaya has created its Merdeka FamiLi Meal based around the humble Satay. The menu takes inspiration from the elements and flavours typically associated with the delicious meat skewers, but with a modern twist. Dishes include slow-cooked pork shoulder (marinated in peanut chilli sauce), Cucumber Pineapple Salad with Fish Sauce Vinaigrette, Charred Langit Nasi Impit, and Langit Glutinous Rice Seri Muka. Add-on Li's box of homemade kuih muih and you've got a stunning Malaysian feast for 2-3 persons.
Available from now until 16 September, the FamiLi Meal requires a 3-Day pre-order. Takeaways and deliveries can be arranged via DM on Instagram or calling 011 23 66 5358.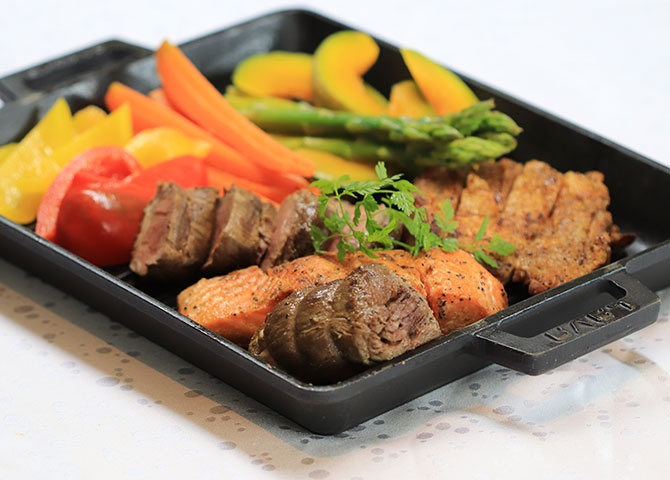 Make this year's Merdeka a fun one that actively involves your family or partner with Element Kuala Lumpur's DIY Merdeka BBQ Set. The set serves two, and includes Chicken Thighs made with a special homemade dry-rub, Dill and Garlic Salmon Fillet, Herb-Marinated Beef Steak, Asian-Spiced Lamb Steak, Assorted Grilled Vegetables, and a duo of pepper and chimichurri sauces. For an additional RM88 nett, you can also procure a bottle of a red or white house wine, or four bottles of Tiger beer.
Available from now until 16 September from 12pm – 5pm at RM198 nett, a 24-hour pre-order is required. Orders can be made by calling TRACE at 03 2771 3388 ext 3351, or WhatsApp at +6010 267 0338.
Sheraton Petaling Jaya Hotel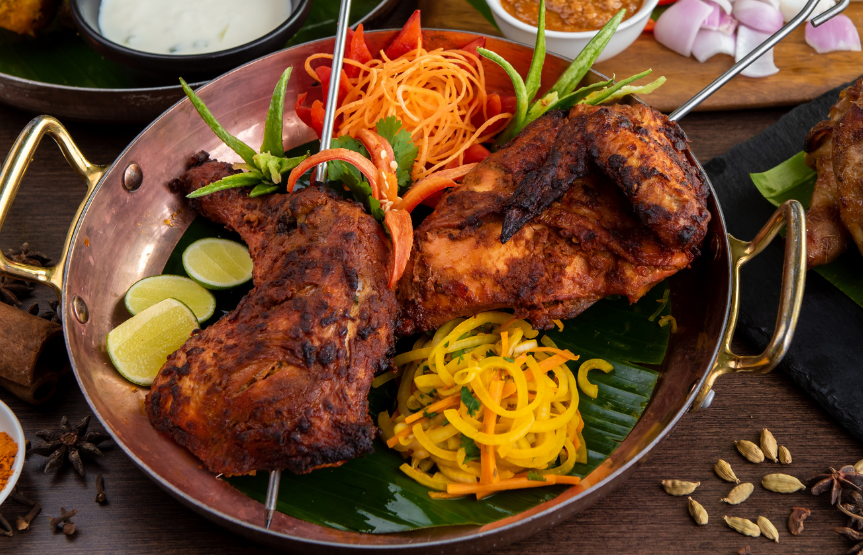 Made for a household of 4-5 persons, Sheraton Petaling Jaya Hotel is helping you rediscover your love for Malaysian cuisine with a menu featuring signature local dishes, including five types of main courses, appetisers, and desserts. Expect nostalgic favourites such as Rojak Buah, Kerabu Sotong, Chicken Tandoori, Gulai Kambing, Nyona-style Assam Prawn, Nasi Briyani, Chinese Deep-Fried fish fillet with buttercream sauce, and chilled almond bean curd with sweet longan.
Available from now until 19 September at RM298, a 24-hour pre-order is required. Takeaways and deliveries are available from now until 19 September (only between Fridays to Sundays, including Merdeka Day and Malaysia Day). Orders can be made by calling +603 7622 8888, via WhatsApp at +017 228 6098, or online.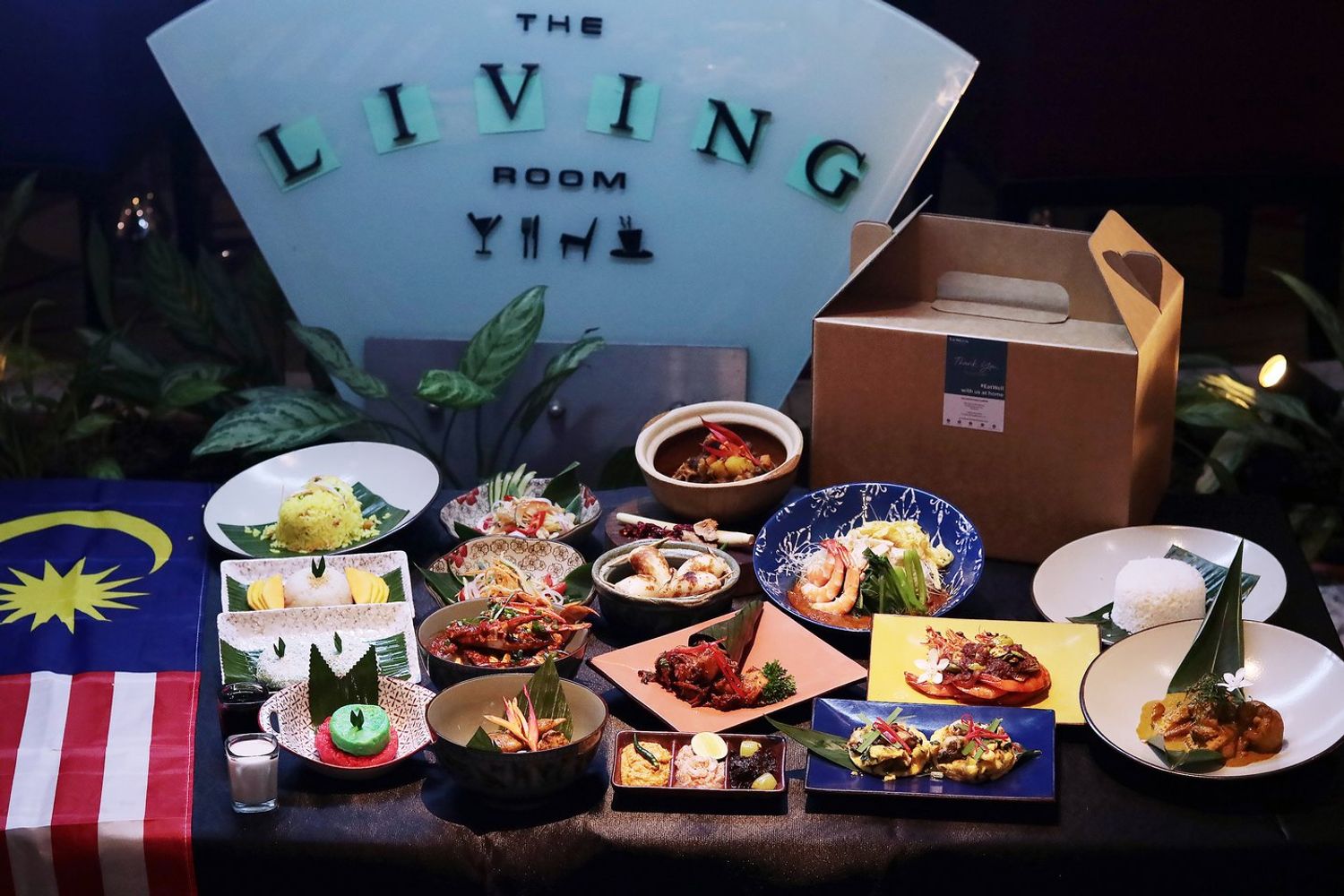 While we're unable to cross borders at the moment, we can still explore what other Malaysian states and territories have to offer from the comfort of our homes with the Merdeka Flying Feast by Westin KL's The Living Room. The menu is made for two, which includes highlights such as Georgetown Chili Crabs, Ketupat Sotong, Lompat Tikam Air Gula, and Udang Petai. Complete the meal with the very necessary, spicy accoutrements such as Cencaluk Muara Melaka, Sambal Hitam Belimbing Buloh Kuala Lipis, and Sambal Tempoyak Ipoh.
Available on 30 and 31 August for RM198, takeaways and deliveries can be made by calling +603 2772 8015, WhatsApp at +012 305 1715, via e-mail at westindining@westin.com, or online.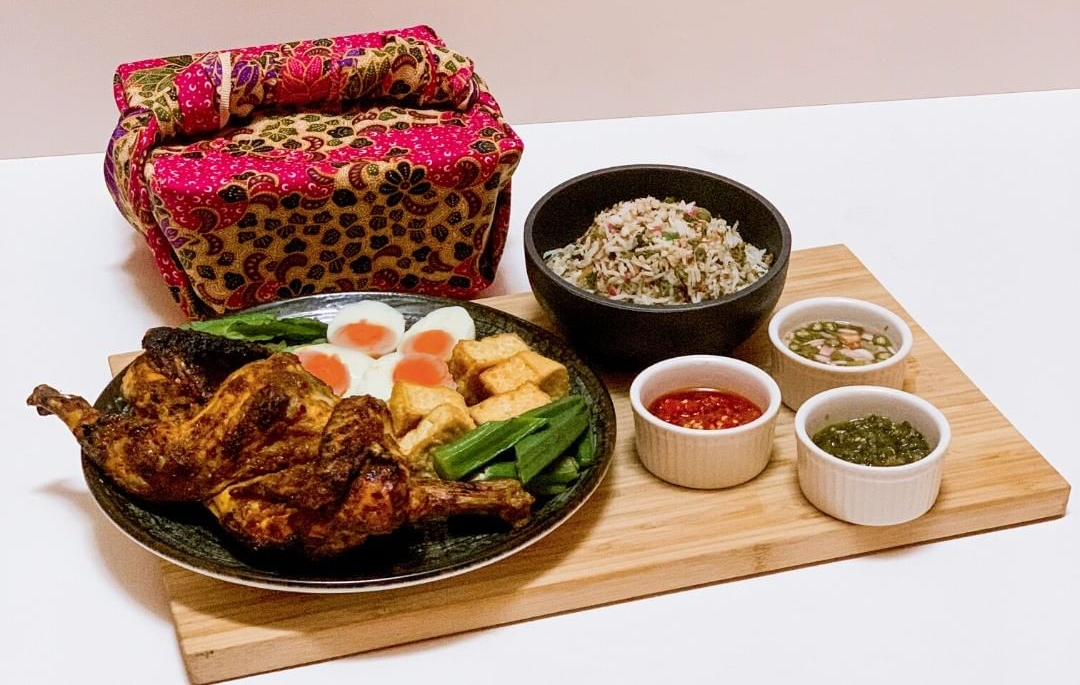 With Merdeka just around the corner, The Chow Kit by Ormond Hotels is introducing this year's Merdeka Special, which sees their take on classic Malaysian dishes. Perfect for two or more persons, highlights include Ayam Percik Nasi Ulam, Crispy Grouper Nasi Ulam, and Ayam Kampung Emas Nasi Ulam.
Available from now until 31 August, takeaways and deliveries can be made online.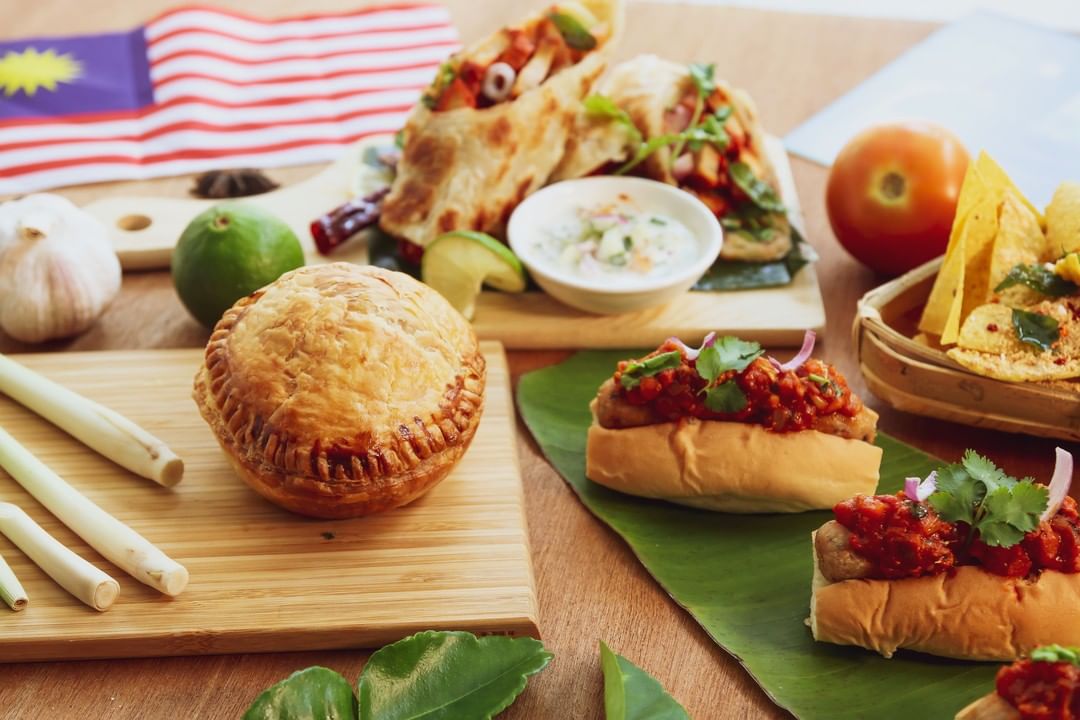 Traditional flavours meet modern-day cravings with Aloft Kuala Lumpur Sentral's Makan Makan Malaysia menu, where familiar local dishes are reimagined into five contemporary dishes that will satisfy even the fussiest tastebuds. These include Cheesy Tandoori Prata, Chicken Rendang Pie, Mini Curry-infused Coney Dogs, Crispy Nachos with Salted Egg Sprinkles, and Purple Sweet Potato Sago & Sweet Potato Dumplings in Coconut Milk.
Available for takeaways and deliveries at RM68+ per set, orders can be placed from now until 16 September. Orders can be made by calling +603 2723 1154 or email at kulal.b&f@alofthotels.com
New World Petaling Jaya Hotel
To really turn up the celebrations, New World Petaling Jaya Hotel has come up with its #CelebrateMalaysia Feast and Truly Malaysian Afternoon Tea for all your at-home festivities. The former features singular culture sets such as Malay Family Set, Chinese Family Set, and Indian Family Set. For more variety and a true celebration of Malaysia, the #CelebrateMalaysia Set brings together all three cultures into one majestic spread. If you're keen for something cosier and sweeter, the Truly Malaysian Afternoon Tea is the perfect set for two, comprising of locally-inspired treats, tidbits, snacks, and desserts to satisfy your sweet tooth.
Available for takeaways and deliveries from 28 – 31 August, the sets require a one-day preorder. Call or WhatsApp 012 390 9949 or 010 2163 810 to place your orders. View the full menus here.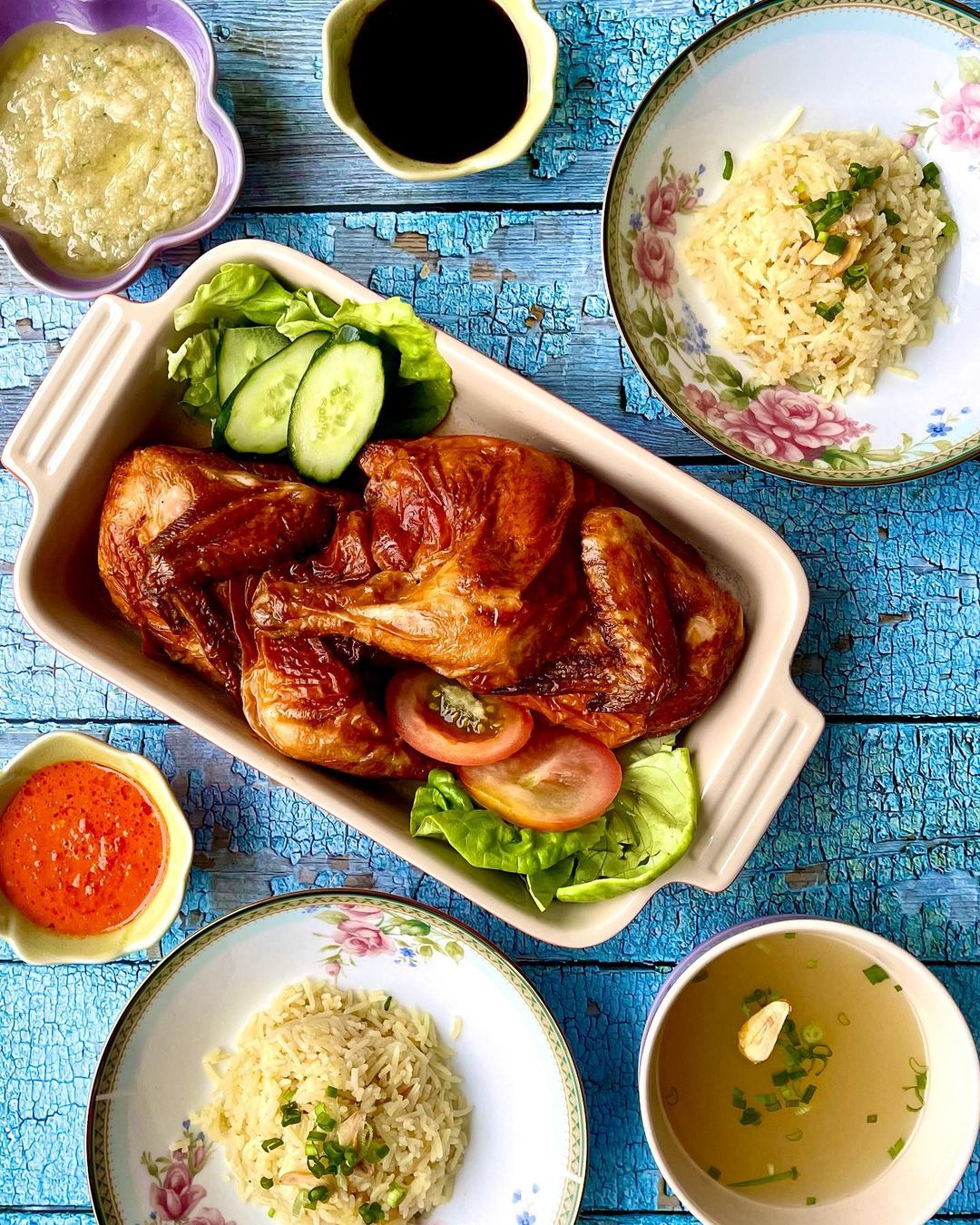 For a family-style feast with homey, familiar flavours, De.Wan by Chef Wan is offering a special Merdeka menu featuring his take on the good ol' chicken rice. Included in the 4-pax menu is a Whole Roasted Chicken, Aromatic Chicken Rice Balls, Clear Chicken Soup, and a trio of sauces to complete the meal. You can also complement your Merdeka feast with the Buy 1 Free 1 Merdeka promotions, featuring products such as Daging Rendang Selangor and De.Wan's signature Sambal Hitam Belimbing.
The Merdeka promotions ends on 31st August, but the Merdeka Special Chicken Rice set is available for delivery from 30 August – 1 September at RM98+. Takeaways and deliveries can be made online.