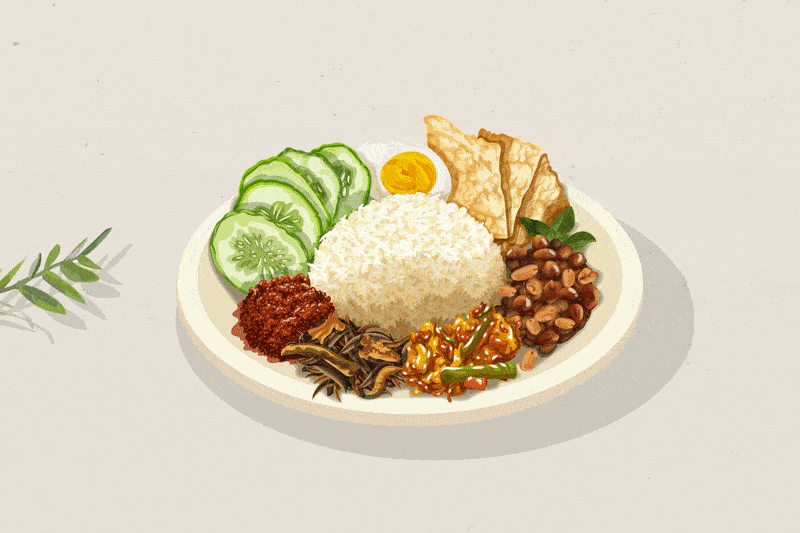 The nasi lemak is a very special dish to every Malaysian's heart.
It's delicious fuel for the day in the mornings; it's a pick-me-up in the middle of the day; it's a supper salve for late night cravings. It can be served in simple pared down packets of banana leaf by the side of the street or topped laden with curried meats and specialty vegetables for special occasions.
Nothing is as versatile, popular, inclusive, diverse and hits the spot quite like the nasi lemak no matter where you go in all parts of Malaysia.
The mere sight of the dish is synonymous with Malaysia as a nation, even if one is not of the knowledge that it is our country's national dish. Palatially, aesthetically, complementally, this is why the nasi lemak is the perfect embodiment of Malaysia on a plate.
It is made of many things coming together
A good nasi lemak is made of many things of equally diverse flavour profiles coming together. Fragrant rice enriched with coconut milk and little knots of pandan leaves is lent a punch with spicy sambal, grounded with roasted peanuts, salted with deep-fried ikan bilis, cooled down with cucumber slices and given extra bite with half an egg.
Just like the people and places of Malaysia, it is colourful, made up of many components and presents multiple layers once everything is mixed together for a big, satisfying mouthful.
Also just like the people and places of Malaysia, it has immense potential to become more. KL-ites love their nasi lemak with a side of fried chicken or beef rendang; Penangites do not hesitate to add sambal sotong or cockles alongside a dollop of achar; Malaccans serve their own Peranakan spin with Devil's Curry of the Portuguese alongside some kangkung.
Have it however you want with as many additions as you fancy, but its essence does not change. It's a good portion of "fatty rice" that never fails to deliver. In fact, it just keeps on giving.
It gets better with time and contributions
While it has roots from Malay and Indonesian cooking, one of the reasons for its popularity today is how it can be found in stalls of owners from any background, made by the hands and recipes of equally varied people.
Wikipedia cites nasi lemak's first mention as being from the book 'The Circumstance of Malay Life', written by Sir Richard Olof Winstedt, that recognises it as a Malay dish that quickly got popularised as a breakfast food. Over the years, Malaysians know that it has grown from breakfast food to all-day staple, with equally as many evolutions.
Each transformation renders it better – the Malay nasi lemak will forever be the OG packet of spice and satisfaction; the Chinese nasi lemak comes with additional ingredients that makes it more indulgent; the Indian nasi lemak introduces a whole new world of spices that only adds to its appeal.
Unlike most traditional foods that are best in the hands of their original creators – let's not kid ourselves, no one does rendang like the Malays, bak kut teh like the Chinese nor banana leaf rice like the Indians – the nasi lemak has this magic that transforms and betters itself with new additions.
One can say it is a reflection of our country, a place where progress and transformation leads to more fruition and benefits through the coming together of different hands.
What's in a name
Translated to the unfamiliar, the nasi lemak is an intimidating dish with an unfortunate literal name of "fatty rice". To the familiar, it's not lemak as in fatty, as much as it is lemak as in rich and intense, thanks to fragrant coconut milk.
Malaysians love rich foods that are big in flavour, high in satisfaction and great in satiation. The nasi lemak checks all that and more, while accurately representing us as one big colourful, delicious, multi-layered, ever-evolving nation.
There may be other forms of nasi lemak in other nations – each equally as satisfying in their own versions, too – but for Malaysia, we are nasi lemak on a plate, accounted for in all the spicy, salty, sweet and crunchy.
(Cover Image: Anson Siau)