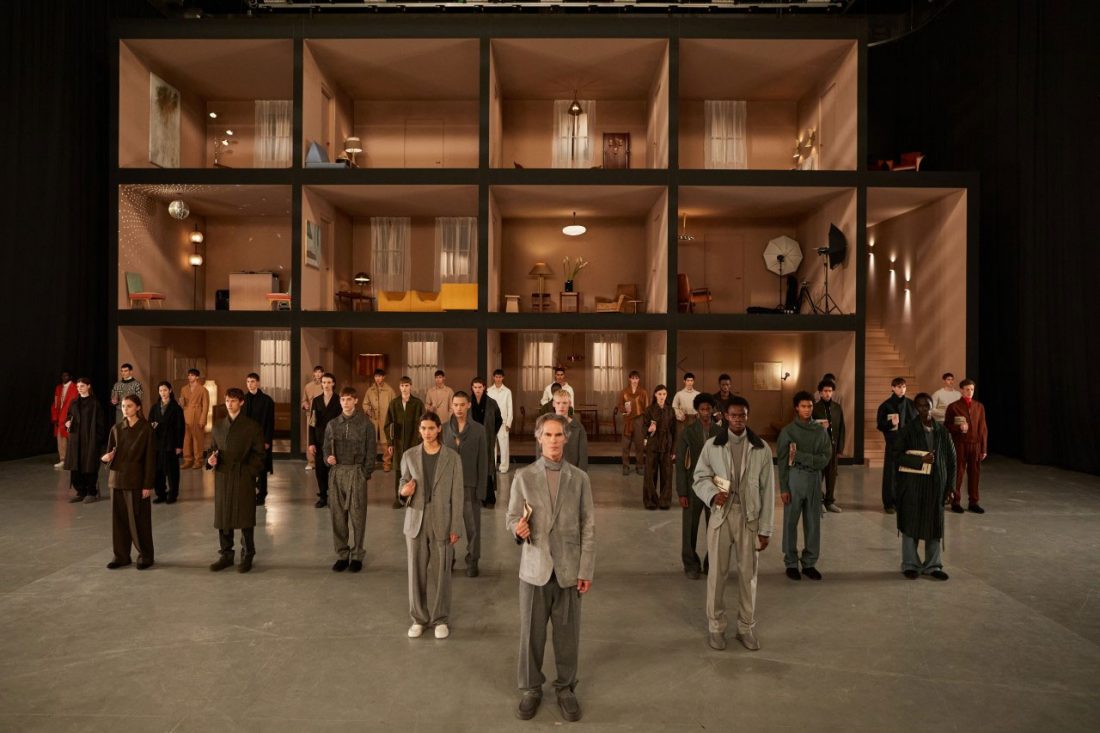 W
hile menswear shows often lack the glamour and flamboyance of their women's counterparts, they more than make up for it with pragmatic proposals that nonetheless excite with elements of the hyper conceptual.
The Fall/Winter 2021 lineup meets all the above expectations served on a delicious plate of phygital shows, proof of adaptability by brands in the age of a pandemic.
Behold our favourites sifted from all the high fashion and high concepts.
Louis Vuitton
The collection investigates the unconscious biases instilled in our collective psyche by the archaic norms of society. Predetermined perceptions, they imbue our outlooks with manmade myths connected to the genetics of people, ideas and art. Men's Artistic Director Virgil Abloh employs fashion as a tool to change those preconceptions: keep the codes, but change the values. What do you want to be when you grow up? As children, our dreams and aspirations are personifified by archetypes: the Artist, the Salesman, the Architect, the Drifter. Familiar characters in everyday society, they are inseparably defined by their uniforms: the dress codes we associate with professions, lifestyles and knowledge. From head to toe, our minds are inherently trained to outline an archetypical wardrobe to help us identify the character of an individual. Often, these characters are tied to societal presumptions of cultural background, gender, and sexuality.
Dior
For Fall-Winter 2021, Kim Jones chose to collaborate with Scottish-born, Trinidad-based artist Peter Doig, highly regarded as one of the most singular painters of the last three decades. Together, they reinvented ceremonial wear, a veritable living link to heritage, in silhouettes inspired by the house's haute couture savoir-faire and infused with the British artist's bewitching universe. His paintings are transposed onto the pieces, which morph into white canvases punctuated with virtuoso embroidery, jacquards and vibrantly hued prints. A series of hats designed by Stephen Jones are also enhanced with hand-produced illustrations from the artist, evoking the symbols of his imagination alongside Dior emblems. The collection is a bold celebration of the passionate, captivating dialogue between art and fashion.
Ermenegildo Zegna
Zegna presents its collection as a film featuring fluid camera movements and uncontrived passages from inside to outside to offer a visual narrative full of sudden surprises and ruptures. Glimpses of a metropolis and the insides of an ideal building flow smoothly as models cross rooms, paths and ambiances until THE (RE)SET finally unveils its meta meaning, the set being in fact the theatrical place where the filming happens. Ease and personality are the bywords: the reimagined suit, either loose or with a blazer tailored close to the body, is not a uniform, but a way of being oneself. It can be as supple as being cut entirely in knitted cashmere or jacquard, and is worn with loose turtlenecks or zip-up tops in place of a shirt. Volumes are relaxed for the dropped shouldered jackets and the shirt jackets matched with full trousers, for the belted coats, the blousons and the double front jumpers. 
Loewe
Loewe presents a collage of dream-like fictional characters, where cutting and rearranging becomes an act of editing and inventing. Creative director Jonathan Anderson keeps the expression dry and the spirit light, with clean silhouettes and precise cuts. Tribute is paid to the work of artist Joe Brainard through prints and jacquards that run over garments and accessories, but it is also celebrated as a method and mindset: collage. T-shirts and jumpers are multiplied into triplets; sheets with artworks are printed bluntly onto the front and lapels of a blazer. A detour amongst the tropes, the clichés even, of iconic subcultures unfolds. Different elements are sliced, dissected, distorted, dried up and then assembled again in subversive disorder: the stripy jumpers of grunge, the humongous trousers and wallabees of rave, the bondage stovepipes and mohair knits of punk, the shaggy shearling of hippies, the black of beatniks and the duffel coats of mods. The classicism of the trenchcoat and plain utilitarianism of the peacoat are also subverted. The angularity and bright colors of new wave polish everything off with a bang.
Fendi
Silvia Venturini Fendi designs an optimistic adventure framed within a game of illusions. A cinematic sequence directed by the Italian artist Nico Vascellari sets the scene for 'What Is Normal Today ft. Silvia' – an exclusive dance-pop track composed by Not Waving. Appearing inside an immersive 360° mirrored tunnel, models are infinitely multiplied whilst entirely alone, as a maze of suspended doorways is framed in coloured neon beneath the pulsating ceiling of a futuristic music video. The result is an unabashed celebration of color and light, and a universal message of solidarity and connection in Surreal times. A jewel palette sees emerald, vermillion, saffron, orange, fuchsia, cobalt and periwinkle color-blocked against black, camel and charcoal, as linings, inlays and slashed seams flash with contrasting textures and shades. Throughout the collection, multifunctionality and form unite in reversible workwear and relaxed outerwear silhouettes. Belted overcoat and trench shapes in cashmere flannel, satin, striped fur and shearling are infused with a cozy peignoir attitude, and piped pajama hemlines bring the indoors out and the outdoors in. Diagonal quilting inflates all manner of silk jacquard separates from a shawl collar lounge coat to pullovers, shirt jackets and bermuda shorts in a luxuriant expression of cocooning comfort, and 'inside-out' tailoring features deconstructed panels that expose padded FF logo linings. The conventions of ribbed and cable knitting are reimagined as long johns, cardigan scarves, mitten cuffs, and a wrapped 'sleeve' neck sweater for a weird and wonderful take on the 'new normal'.
Prada
 The Prada Fall/Winter 2021 Menswear collection by Miuccia Prada and Raf Simons takes as its basis an intimate and personal wish for contact, our urge to exchange and relate. The foundation of all is the individual: the human body, and its freedom. The need to feel, the pleasure of tactility, results in a panoply of surface texture and textile. Echoing the notion of sensory stimulation, geometric-patterned jacquard knits and leathers are combined with re-nylon, bouclé tweeds and classic pinstripe wool suiting, in both traditional and unanticipated colors. The interplay is projected outwards, to the sequence of rooms the models navigate through the show. Each excites the senses: backdrops brilliantly-hued, the models' isolated passages underscored by an original electronic soundtrack by Plastikman aka Richie Hawtin. Devised by Rem Koolhaas and AMO, the show's 'non-spaces' are defined by panes of marble, resin, plaster and faux fur. Inviting and seductive, they can pretend to be both interior and exterior, hard and soft, warm and cold: simultaneously both and neither, they allow absolute freedom of interpretation and expression. 
Paul Smith
Paul Smith takes us on a journey through the subcultures that have signposted his career, remixing icons of British clothing design for a new generation. 2020 provided a unique moment of reflection for Paul Smith, with his landmark 50th anniversary celebrations followed by the imposed introspection of lockdown. 2021 offers the opportunity to reset and rethink, resulting in remixed versions of some Paul Smith classics. Key pieces nod to different subcultural moments that have influenced Paul over the last five decades of design. Tartan tailoring brings to mind 1970s ska, Terry Hall and The Specials. Generously proportioned wool coats, sheepskins and a modern take on the donkey jacket speak to 1980s new wave romanticism. Mohair knits are part punk, part preppy, while playing to Paul Smith's great strength: stripes. Silk pajamas are confidently displayed, mixing a hint of 1970s psychedelia with the WFH mood of life in 2021. These individual references are confidently thrown together to create an eclectic "Best Of" album – a collection of rediscovered classics repackaged for a new generation.