For the first time in 14 years, MB&F have created a 3D masterpiece with feminine elegance in mind – and it is magnificent as it is discreet.
Maximilian Büsser & Friends have always been full of surprises. Given the opportunity to get up-close with its latest Legacy Machine, we receive our first surprise turning the watch around: its case-back is entirely occupied by a stunning rotor shaped like the sun.
MB&F chief communications officer Charris Yadigaroglou acknowledges this in full candour. "It's something we like isn't it, the surprise element?" he smiles. "Whether it's the hyperspace shield on the HM6 or the little astronaut on Destination Moon – very often, there's that little element of surprise that is not really necessary, but it brings a smile."
In fact, it was a surprise announcement by Max Büsser that set in motion the production of their first women's watch: MB&F LM FlyingT. "I wanted LM FlyingT to possess the epitome of femininity as reflected by the women in my life, particularly my mother," Max reflects. "It had to combine supreme elegance with tremendous vitality."
Inside the dome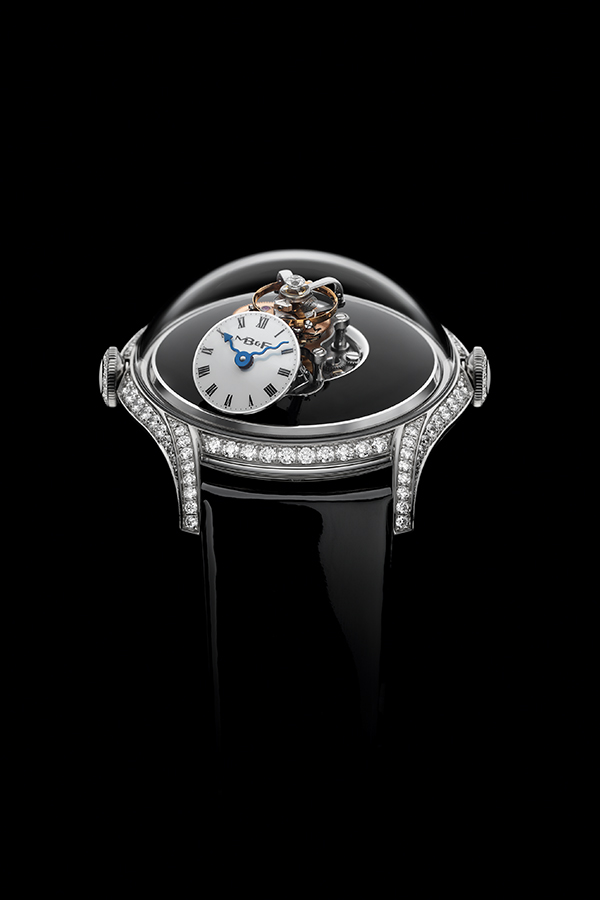 Black lacquer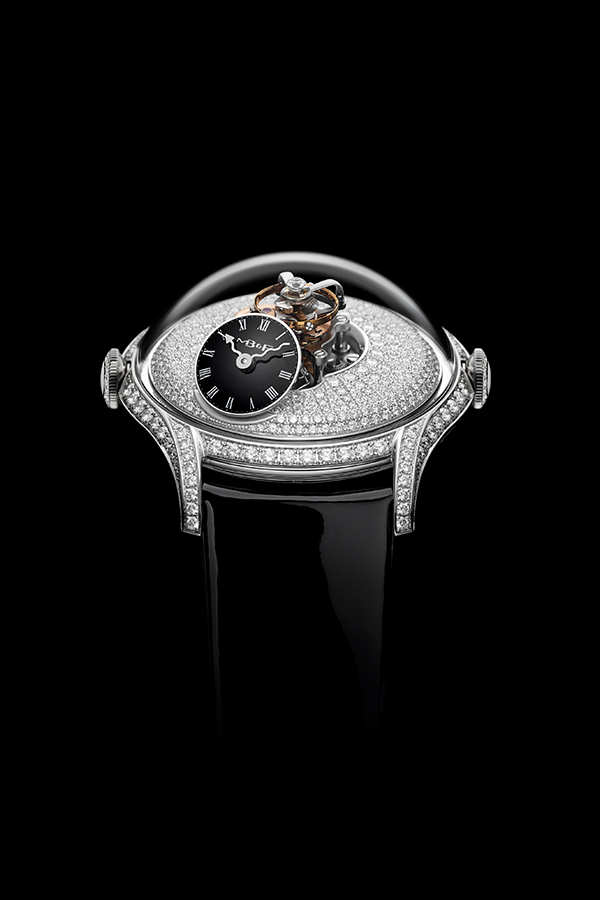 Brilliant-cut diamonds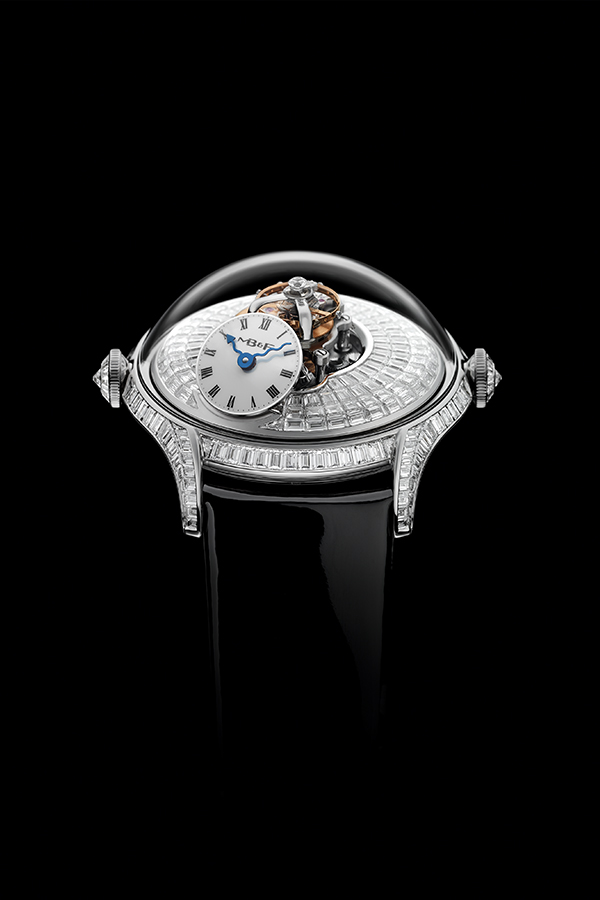 Baguette-cut diamonds
(swipe left for more)
It took four years to assemble the right friends, create a prototype, then refine it for production. One of the key characters in this process was master gem-setter Giuseppe Di Stefano. He created two alternatives to the diamond-bezeled base model: you can have your dial set with brilliant-cut or baguette-cut diamonds. MB&F was so set in its quest for creating a women's watch that it followed convention for once – a lady's watch needs some bling, after all.
Regardless,  LM FlyingT is a three-dimensional masterpiece oozing with symbolism and style. It's defined by a round white gold case in a sapphire crystal dome. To create this elegant dome, MB&F slimmed down the lugs of the Legacy Machine case, emphasizing its curves and deep bevels. At 38.5mm, we're looking at the smallest watch case in the brand's repertoire.
The dial plate betrays a subtle curve and a full gander of the flying tourbillon. Max alludes its column-like structure to women being the pillar of humanity. "If the women in our lives are pillars that ground us, we simply revolve around them," Charris elaborates.
Time is yours alone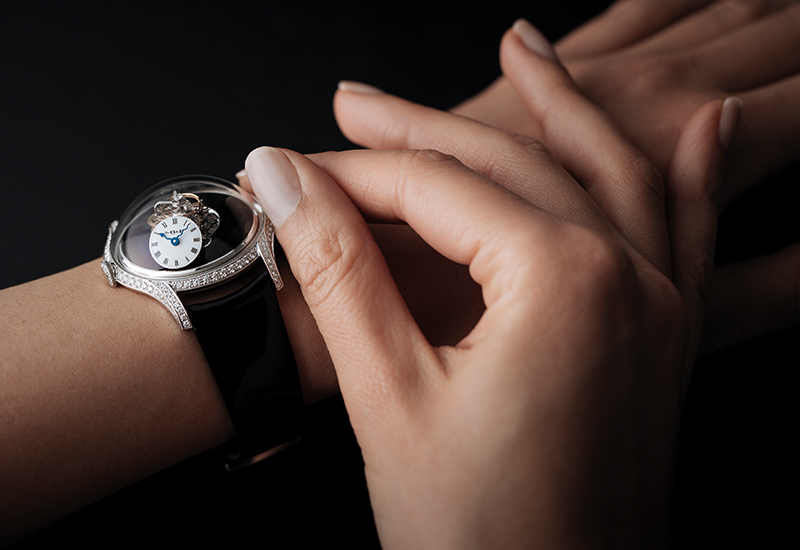 Asymmetry is a major design theme in the FlyingT. For starters, consider the miniature time display at 7 o'clock with blued serpentine hands. Why is it inclined at a 50° tilt? "This is the first watch we're creating for someone else, not ourselves – therefore we offer that time to that person," Charris explains. "When the watch is on your wrist, the time is just for you, no one else."
To keep time precise, MB&F employed conical gears to transmit torque from one plane to another, refining technology from the Horological Machine 6 (HM6) and HM9.
Flashback: MB&F LM Split Escapement arrives in Malaysia
Of elegance & energy
"Every MB&F piece is different because we create new movements," Charris tells, explaining how MB&F drew from experience to create the FlyingT engine. A cinematic flying tourbillon beats at 2.5Hz right above the rest of the engine. Its cage boasts a single large diamond, rotating along with the tourbillon. The engine itself is made up of 280 components, together providing a 100-hour (four-day) power reserve.
After repeatedly failing to guess what women want in a watch, Max built based on two central concepts: elegance and energy. The 3D sun rotor at the opposite end may well be a product of this intuition. Its movement is the source of energy, and it may well pay tribute to the 'rays of sunshine' in Max's life. It's another subtle nod to the influence of feminine power in his life.
Like every piece that comes from our favourite rebel horologers, MB&F LM FlyingT draws ingenuity from its brash experimentation while building on intention. Charris promises it's full steam ahead for Max and friends in time to come: watches for men, women, or just about anyone with a curious spirit and imaginative mind.
As for us, we're holding out for a diamond-free bezel FlyingT. We hear it's already in the works.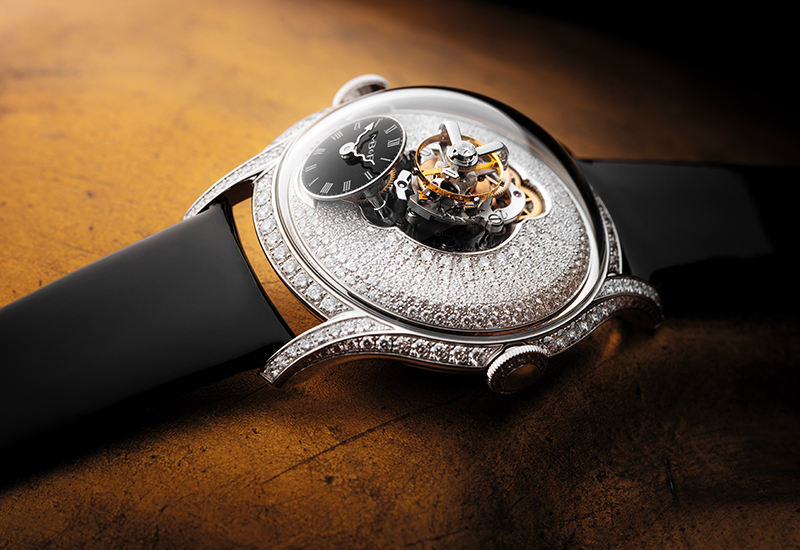 For more information, visit the official website. Prices for this model begin at 108,000 Swiss francs.
Images: The Hour Glass for MB&F