The fifth iteration of the Legacy Machine is here, this time characterised by a two-part heart. We discover just what makes it tick.
Maximillian Busser and Friends (MB&F) feed on curiosity. While Geneva's rule-bender is known for its sci-fi inspired Horology Machines, this year's release falls under the retrofuturistic Legacy Machines collection.
While Legacy Machines represent what MB&F would have done 100 years ago, they still capture the brand's innovative spirit with quintessential touches defying watchmaking norm.
This year's MB&F LM Split Escapement is a prime example of that.
"The escapement is really the heart of the movement. It is usually small, compact, and rather hidden away – we've taken the alternative route with a system that's much bigger, beating at a slower rate so you can see the action. The heart is the most beautiful part, so it's nice to be able to see what's going on," says Charris Yadigaroglou, chief communications officer of MB&F.
Indeed the most striking aspect of this Legacy Machine is its suspended balance wheel, spinning literally and metaphorically above everything else. It may seem to oscillate independently, but don't be fooled – this almost magical effect is a product of careful design, conceived by modern horology master Stephen McDonnell. Driving impulse is provided by the escapement's anchor and escape wheel, which are concealed almost 12 mm below and visible from the back of the dial.
In manual watches, the escapement releases mainspring energy in a series of regular controlled impulses. All components are packed tightly to minimise external disturbance. The split escapement is therefore a sharp departure from established watchmaking tradition – one a classic watchmaker would strongly advise against.
So why does MB&F do it?
The point is it's a machine, a little mechanical work of art.
"We don't do things quite like everyone else, I suppose," Charris replies with a laugh. "To us, it's not about performance or precision in telling the time – those are given. The point is it's a machine, a little mechanical work of art. That's what we like about watches."
Unlike previous Legacy Machines, the lever and escape wheel are missing from the watch's dial side. Since the impulse roller and jewel are fixed to a 11.78m balance staff under the dial, the escapement's swinging functionality relies on the stability of this staff. It's a good thing LM SE's chronometric integrity relies on precise engineering, controlling the balance inertia and arbour rigidity.
We previously saw the split escapement in 2015's LM Perpetual Calendar, but the perpetual calendar function rightfully stole the show then. With the latest Legacy Machine, the brilliant mechanism of its two-part heart receives the attention it deserves. LM SE also bears the organically-arched balance bridge found in LM Perpetual.
Take a closer look at the dial and you'll see a micro-textured frosted finish, a throwback to antique pocket watches all the fad a century ago. This special look is achieved by manually burnishing a metal surface with wire brush, a far cry from the hazardous chemical process applied on those pocket watches.
MB&F LM Split Escapement is a 72-piece collection, with 18 each in blue, ruthenium, red gold, and yellow gold. The model emerges from the covers of three years' development, each piece encased in 18K white gold with 3-bar water resistance.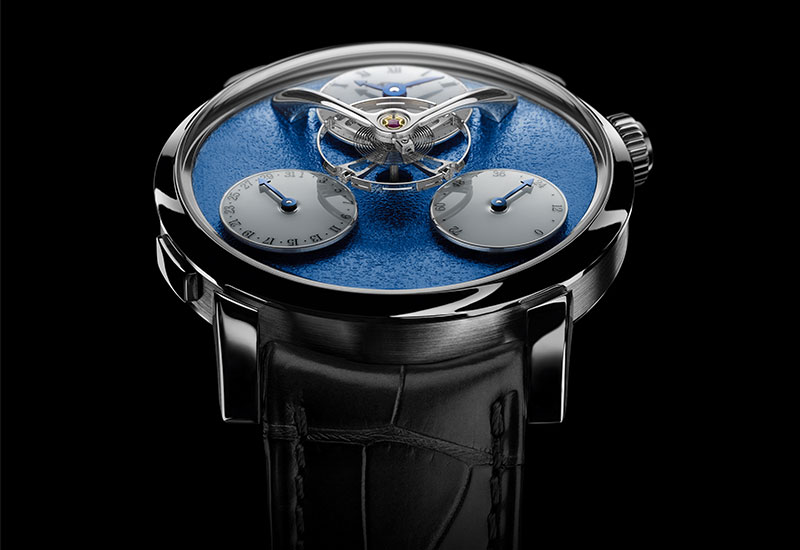 Looking at any of the Legacy Machines, it's clear to see the healthy dose of imaginative experimentation that characterises MB&F. The watchmaker's largest source of inspiration comes from childhood dreams – after all, Max and friends believe 'a creative adult is a child who survived'.
Perhaps this is why MB&F ignites the interest  of a diverse pool of clients – even digital vanguards of Silicon Valley, for that matter. Charris alludes this to be a counterpoint of sorts, "In a life that is so virtual, we need something that we can intuitively hear, understand, and feel."
Discover MB&F Legacy Machines here.
Blue
Blue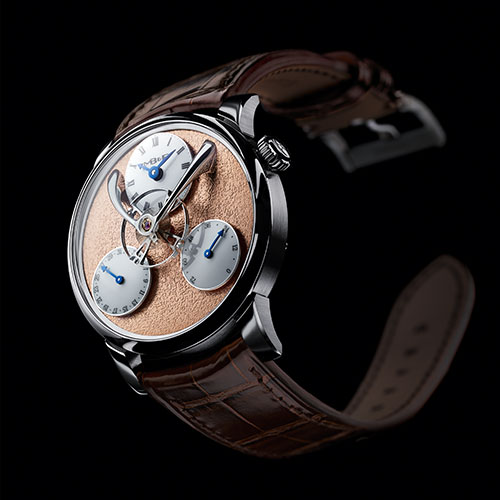 Red gold
Red gold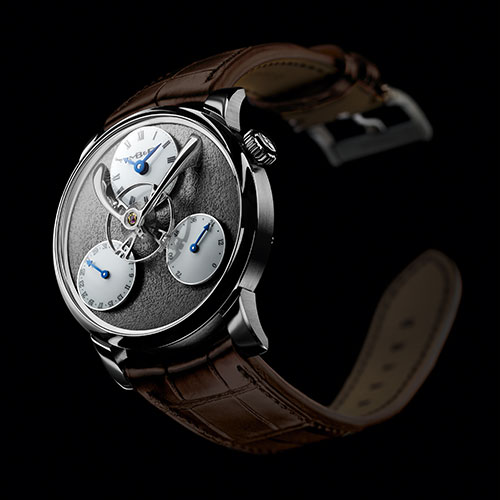 Ruthenium
Ruthenium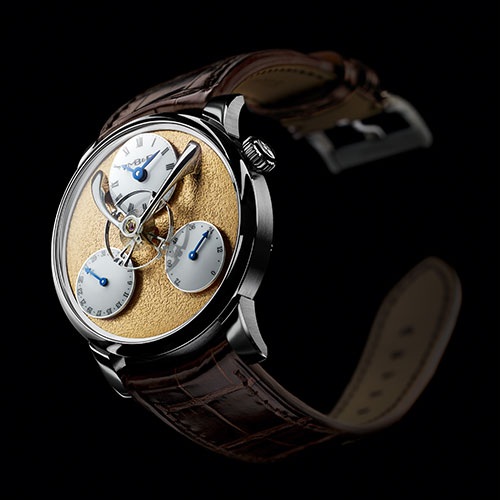 Yellow gold
Yellow gold
Images courtesy of The Hour Glass Malaysia.
Photography and videography: Gan Yew Chin