Guests can expect attention-grabbing interactions with their five senses throughout the meal.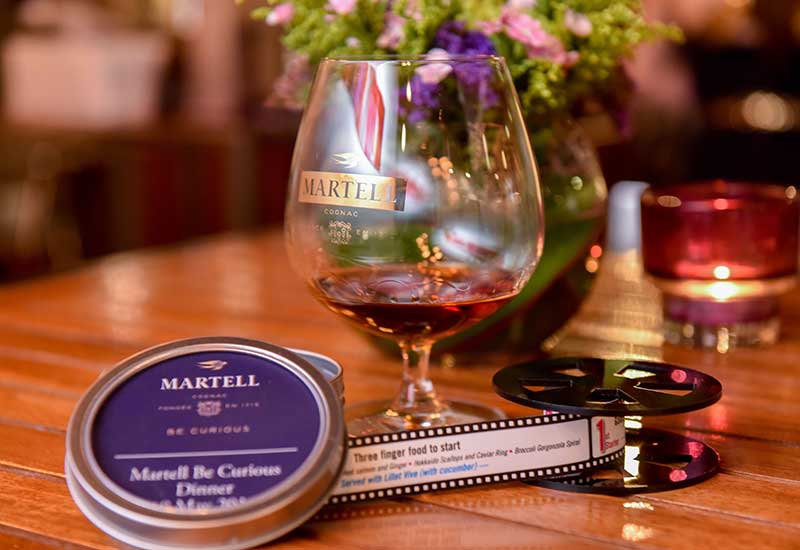 Once again, The House of Martell bids gourmands to Be Curious through a special collaboration with Chef Nathalie Arbefeuille of Nathalie's Gourmet Studio to present a first-of-its-kind, multi-sensory fine dining experience.
Served in a cinematic wonderland, the five-course dinner, paired with Martell's finest cognacs, promises an immersive "intersection of art, gastronomy, and cutting-edge technology". In other words, guests can expect attention-grabbing interactions with their five senses throughout the meal.
We have to admit, we were a tiny bit sceptical at the term multi-sensory. There must be a whole lot of gimmicks involved, we thought to ourselves. If you're half as doubtful as we were, hold your horses as we walked out of the exit "door to reality" quite impressed.
Allow us to share our account of this epicurean journey (we'll try not to spoil the fun of experiencing it yourself).
An intriguing welcome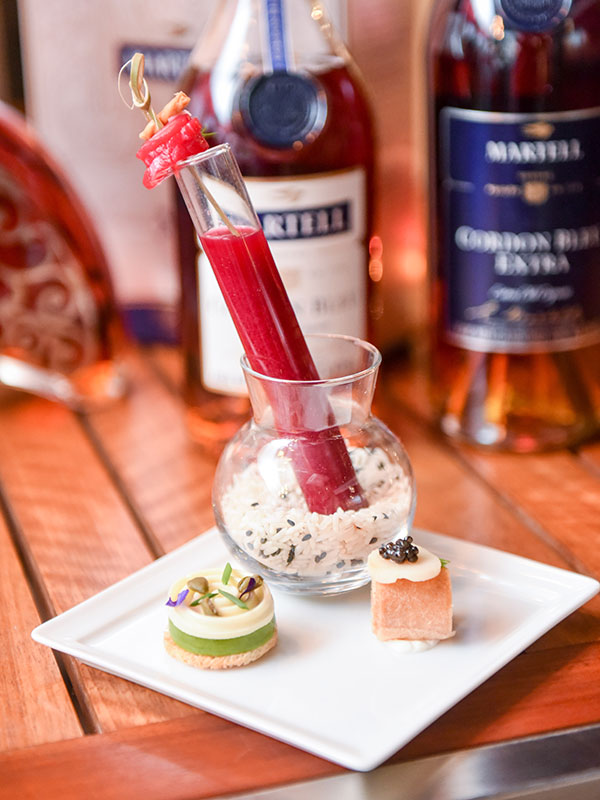 Before 'embarking', we are served three finger foods to prep our palate: red detox juice, pomegranate jelly, smoked salmon and ginger; Hokkaido scallops and caviar ring; and broccoli gorgonzola spiral.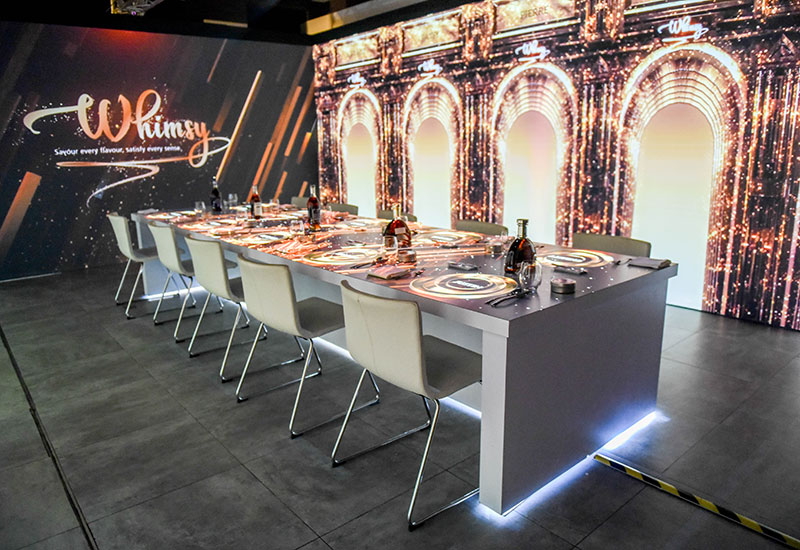 Upon entering the big box of imagination, we find the names of each guest projected on top of shining gold archways on the walls. The space is large enough to fit 10 diners comfortably, so don't worry if you're claustrophobic. Where first impressions are concerned, the grand welcome certainly got us intrigued for what's to come.
The Red Planet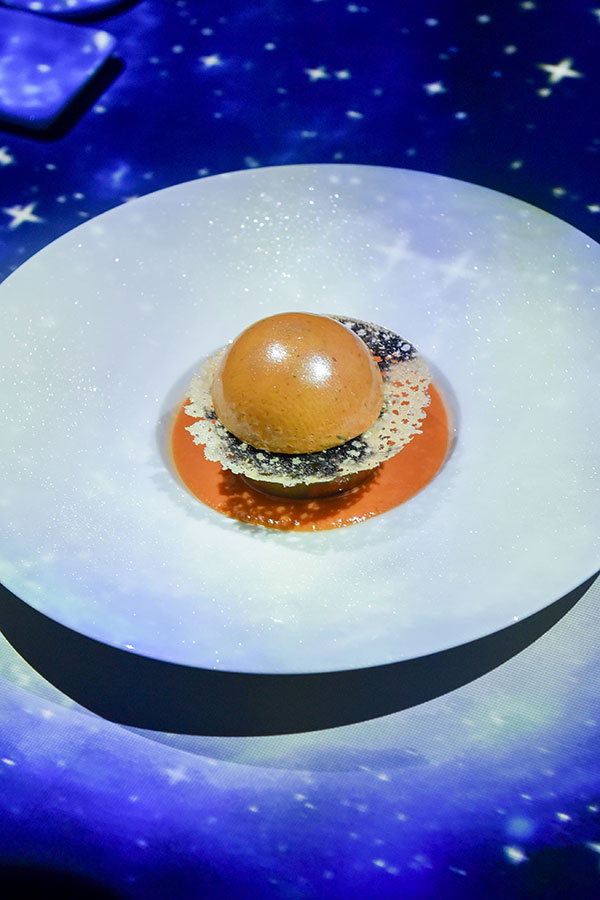 The real journey begins as the archways fade into a galaxy of stars, comets and supernovas all around us. Simultaneously, our first dish arrives in the form of an orange sphere with a thin wafer across its middle – resembling planet Saturn and its rings. Dubbed 'The Red Planet', the dish comprises Japanese momotaro tomatoes in three textures, rich basil pesto and mozzarella cream. To match its sharp and sweet flavours, we have a refreshing, citrus-based Martell VSOP Summit cocktail.
After our meal, we are handed an iPad for our first interaction with the theme of outer space: hovering the gadget over each zodiac projection on the table and walls reveals specific horoscope readings. We're not superstitious, but we find it clever to incorporate augmented reality into the dining experience, if not to see what the stars have aligned for us.
In the Woods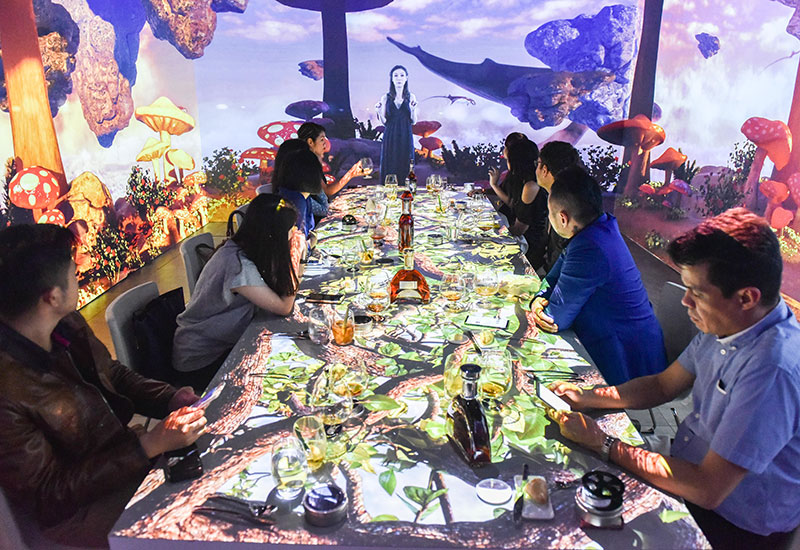 Galactic bodies then warp into an ethereal sky on the walls around us, whereas vines begin branching all over our table signalling the next course. We reconvene In the Woods in a realm akin to Alice in Wonderland – giant toadstools and all.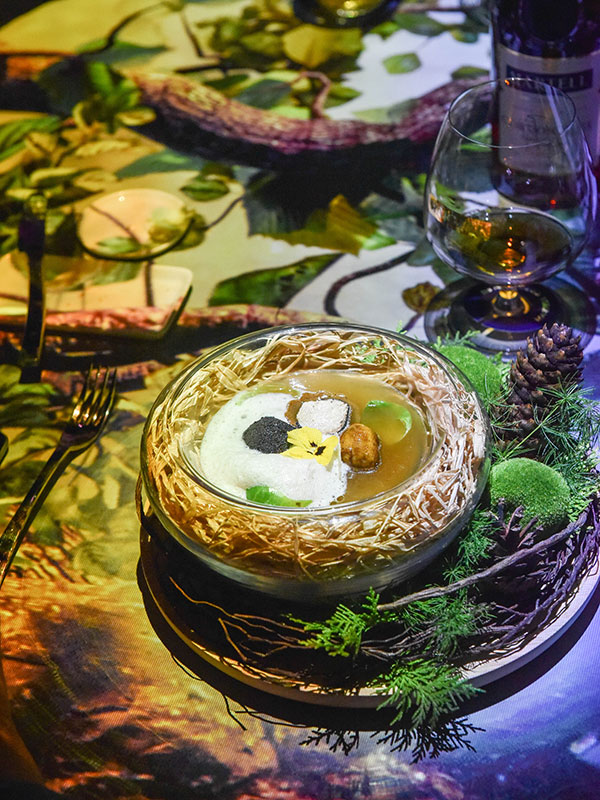 The presentation of our second starter is even more appealing than the first; featuring foie gras, artichokes, porcinis and shaved truffles, duck and truffle consommé served in a "bird's nest". Complementing the earthy flavours of our dish are the candied, fruity notes of Martell Cordon Bleu. A perfect match, in our opinion.
Chef Nathalie comes in right after we finish the course, calling our attention to what now appears like a surface of ice in front of us. We are told to break the ice by knocking on the table to welcome our next dish. And that led us to….
Under the Water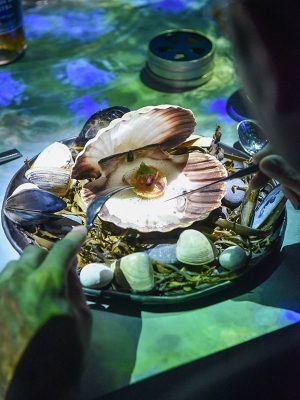 …a new aquatic domain. All kinds of sea creatures reel around us as we dive into our next dish, Under the Water. In its original shell, we find a caramelized Hokkaido scallop served alongside poached oyster and pearl cream, dieppoise sauce and mushroom mousseline. The burst of sweet and savoury seafood goodness in our mouth is more than delightful on its own, but finds an equal partner in the sweet notes of our Martell Cordon Bleu Extra. Another great match made in heav- no, the sea.
By now, we have had a number of interactions using our sense of sight, smell, taste and even touch (if we count breaking the ice earlier). What's left? Hearing, of course, and this is achieved by cheering on our main dish – literally, clapping and roaring for the dim "circus" backdrop to come to life.
Circus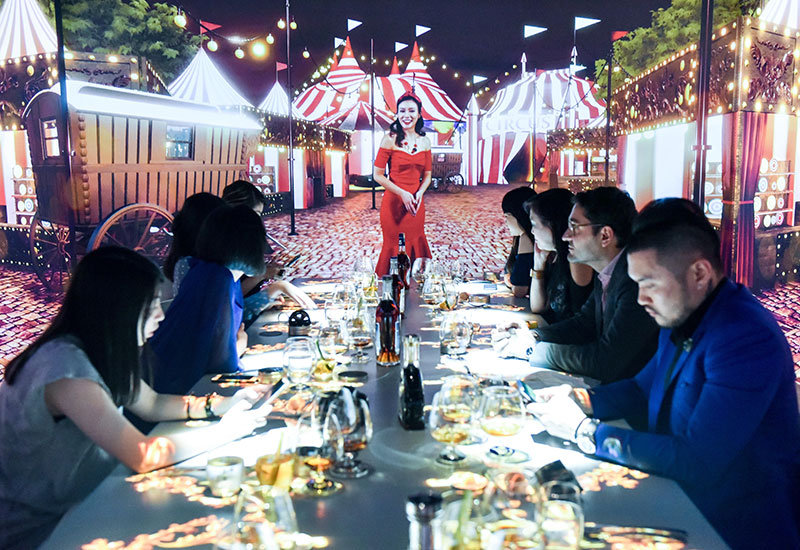 Once there's enough noise in the room, the lights of the circus turn on and merry music plays in the background.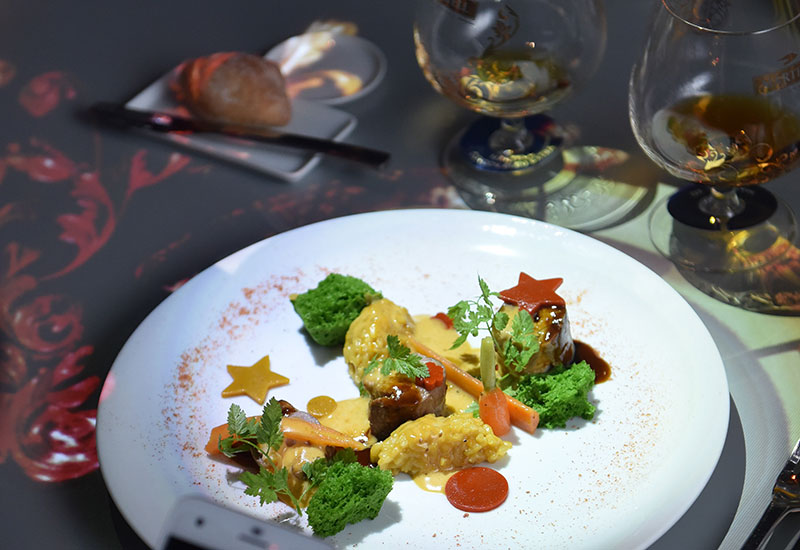 The main dish of veal comes served with paella flavoured risotto as well as herbs and capsicums in colourful shapes to reflect the mood all around. Bringing out the spiced, peppery flavours of the meat is a glass of Martell XO with its rich, intense aroma.
A wishful finale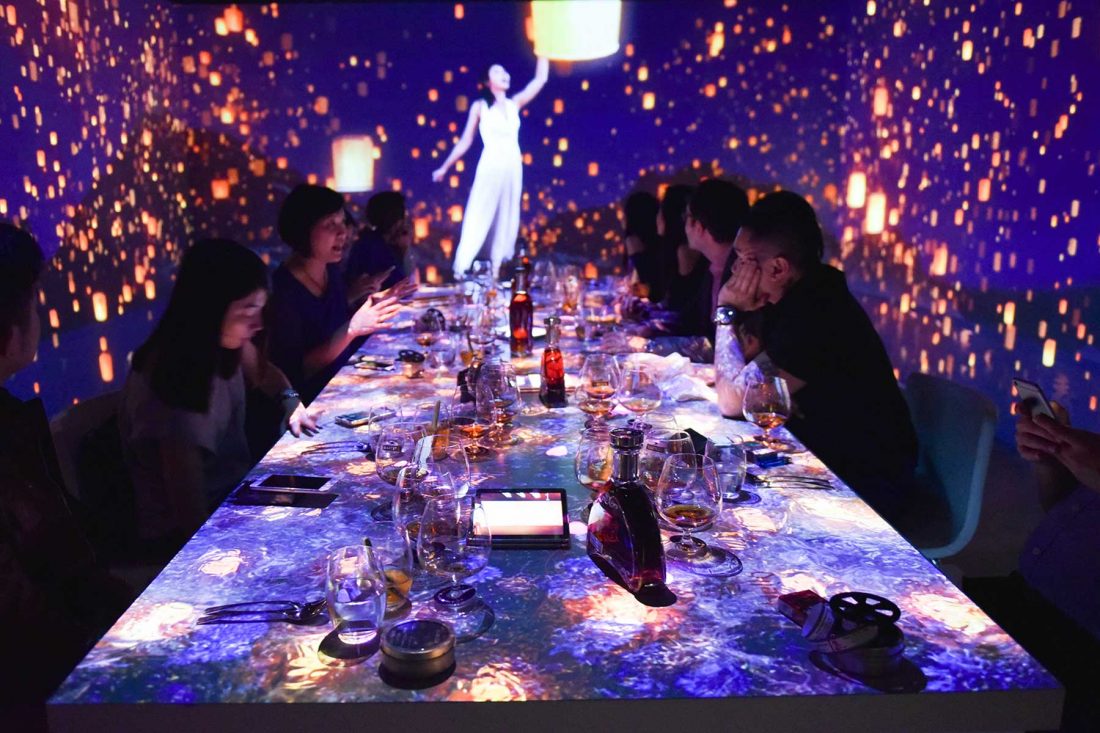 As the circus set gradually darkens into the night sky illuminated by wishing lanterns, the waiters return again with iPads. We are given the opportunity to write or draw our wishes on the iPad, which will then appear on the some of the projected lanterns (be careful what you wish for). We must say, it is quite a magical sight to behold despite being virtual – and strangely addictive for us to contribute wishes, too.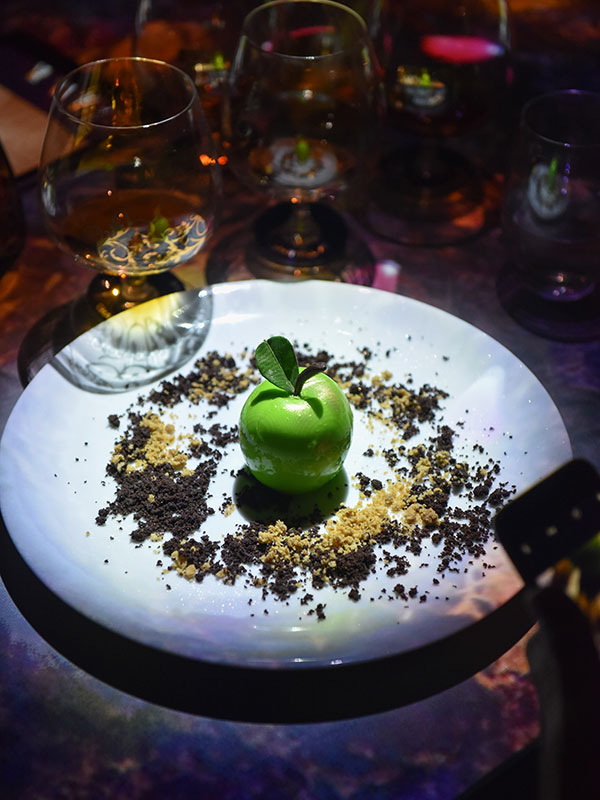 For our last dish, we have what Chef Nathalie calls the 'Make A Perfect Wish Apple'. Inspired by Snow White's fairytale, the apple is actually made with preserved lemon mousse, while inside it is a mix of fennel, green apple and dill coolant. When eaten with the ivory cocoa crust and crumbles, we get a well-balanced treat that's both bittersweet and citrusy. And the fragrant, honied aromas of the Martell Chanteloup Perspectiv is just the thing to top it off.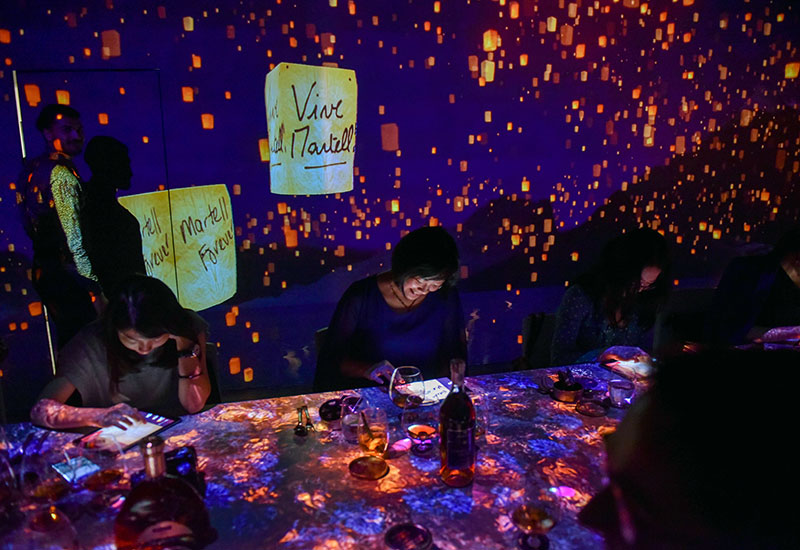 With all that, our doubts have vanished, our curiosity is satisfied and our imagination is renewed. Now, any other multi-sensory dining experience better match up to this.
For more information or to make a reservation, log on to Whimsy Malaysia's official website here.
---
Martell will be giving four (4) tickets to this 5-course dinner worth RM4,600 to lucky attendees of their upcoming 'Be Curious Mentoring Session' on 1st June 2018.
The session includes a guided appreciation of the cognacs with Brand Ambassador Pierre Boyer as well as a tasting of Martell's signature cognacs from the classic Martell VSOP to the smooth Martell Cordon Bleu and Cordon Bleu Extra, and the distinctive Martell XO. Tickets for this mentoring session are at RM90 per person and exclusive to only 20 pax.
For more information or to register for the Be Curious Mentoring Session, log on to the event website here.
Images: Courtesy of Martell