Available from 18 September to 24 November, the Five Elements dining concept features five distinctive 3-course menus based on the properties of each element.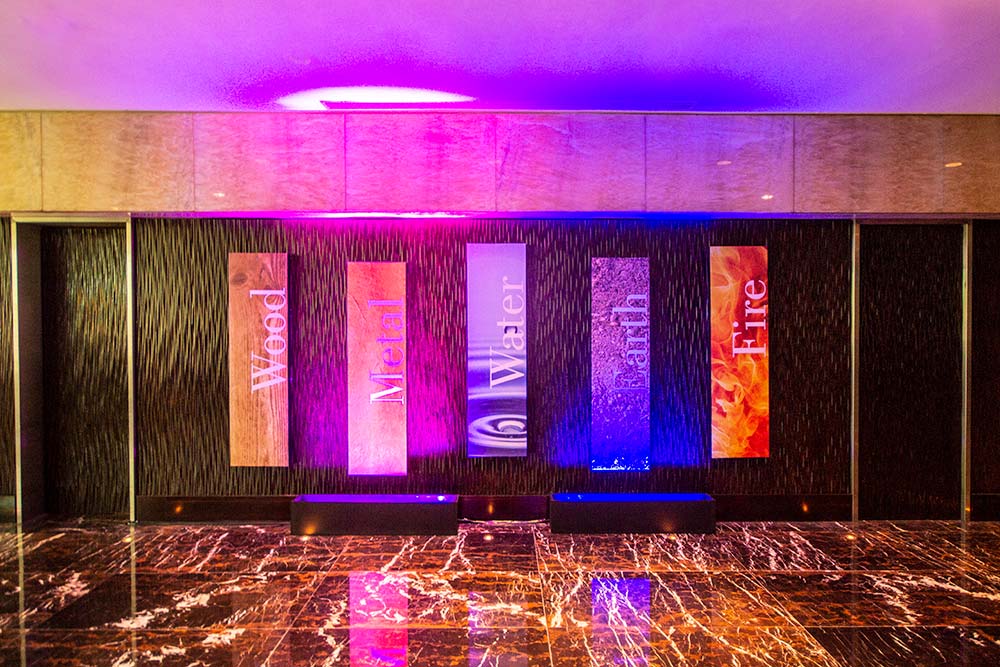 Wood, fire, metal, earth and water: which is your birth element? The answer is believed to speak volumes about your interactions with the universe, from your personality to your predispositions. Shangri-La Hotel, Kuala Lumpur's Executive Chef Olivier Pistre suggests that these elements extend to the dining experience, where ingredients can be cleverly paired to achieve a harmonious blend of flavours and body energies.
To bring this concept to life, Chef Olivier has curated an interactive dining experience at the hotel's French fine dining restaurant, Lafite, dubbed Five Elements.
Available from 18 September to 24 November, the Five Elements dining concept features five distinctive 3-course menus based on the properties of each element. Here's our experience for an idea of what to expect.
A world of elements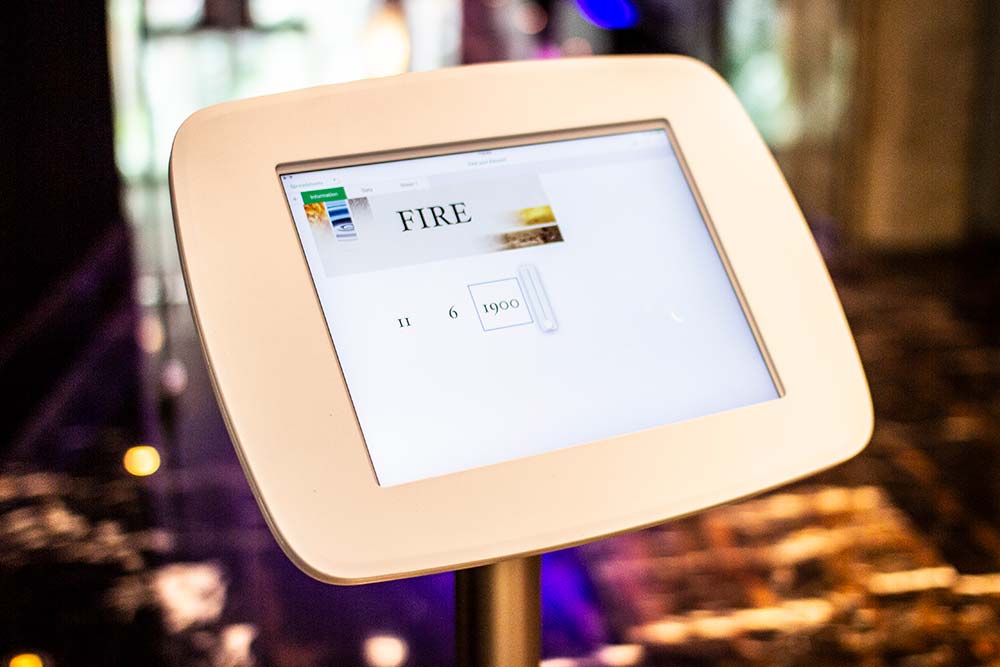 Before you are seated, you will be led to discover your element by keying in your birth date on a screen.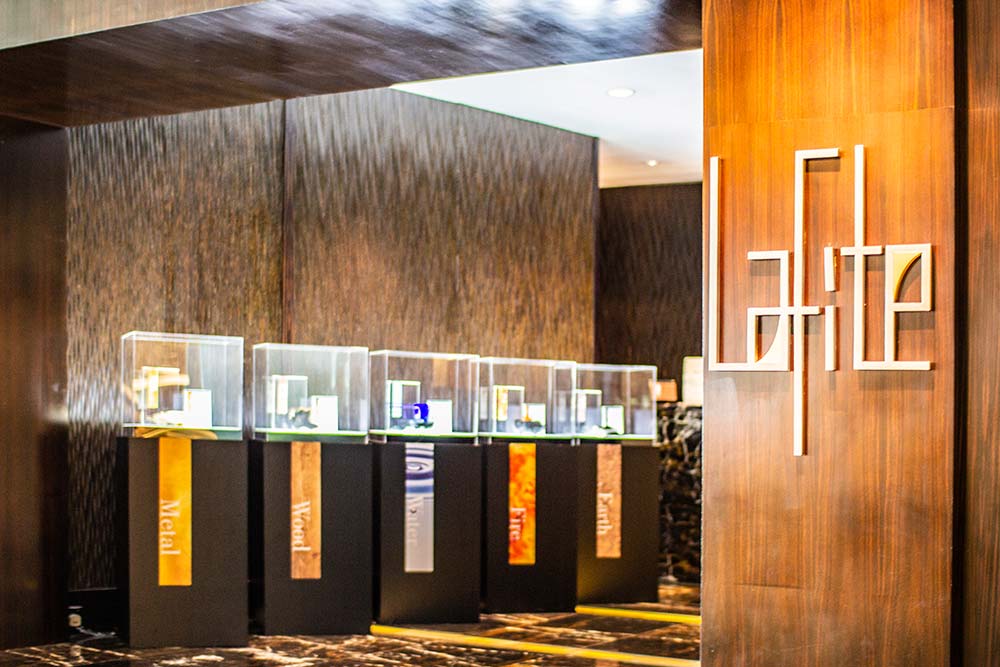 Upon finding out your element, you can read up a brief description of what each element means at the artistic totem stands near the entrance.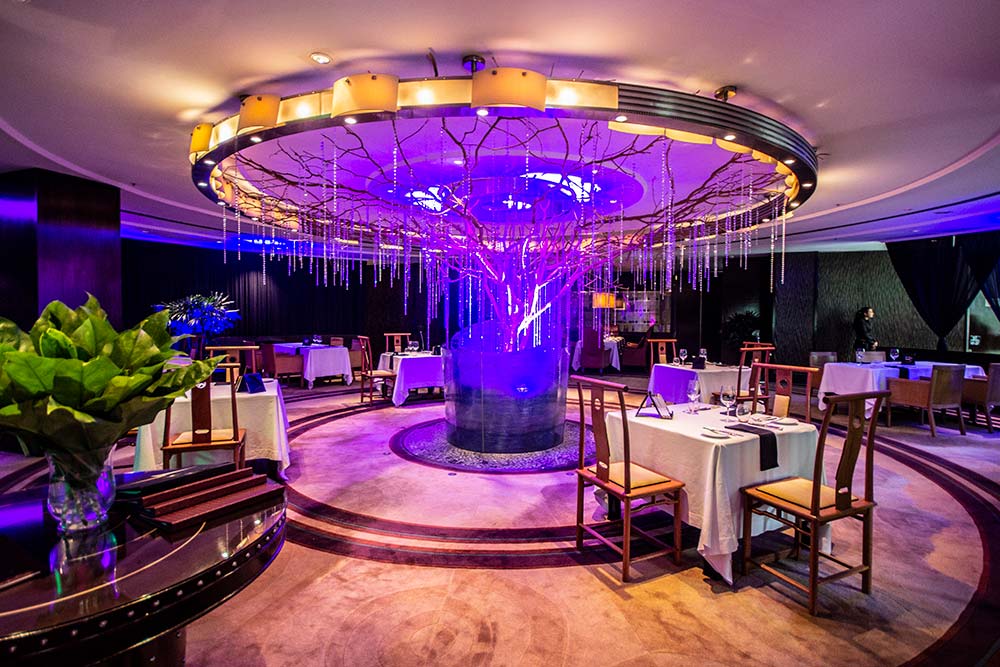 Now you're ready to be seated and enjoy the meal ahead!
(swipe left to see what comes next)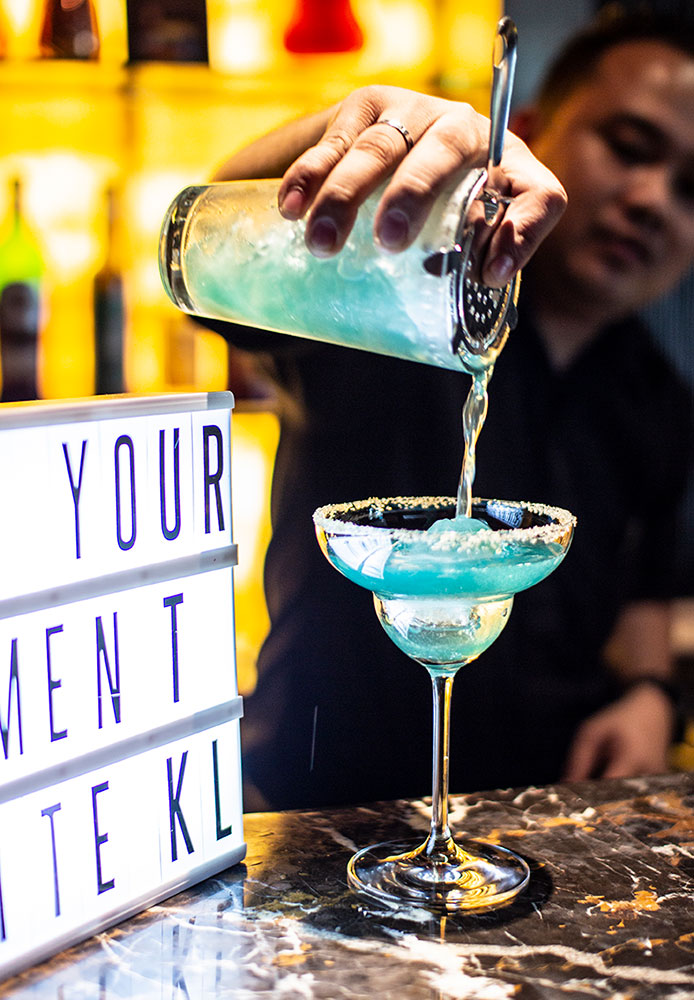 After discovering that our birth element is water, we start off with pre-meal cocktails. Staying true to ourselves, so to speak, we settle for the Water-inspired cocktail, Aguador – a mix of tequila, blue curacao, lime juice, sugar syrup, club soda and a herb-infused ice ball. The blue curacao gives our first drink its colour, fitting nicely with the theme. It's sweet, light and refreshing, and a welcome libation to kick off our lunch (who says it's too early?).
Feeling somewhat experimental, we try another cocktail, this time inspired by the Metal element. Named Metal Fizz, the concoction is a blend of Absolut Elyx vodka, dry white wine, elderflower cordial, freshly squeezed lemon juice and club soda. Arriving in an adorable rose-gold pineapple container, it leaves us with the taste of florals and a trail of zest on the palate.
In case you're curious, the Wood-inspired cocktail Negroniwood (Negroni with a Lafite twist) is a mix of gin, sweet vermouth, campari and Grand Marnier soaked wood chips; the Earth-inspired cocktail Planet Sazerac is a mix of rye whisky, absinthe, Peychand's bitters, sugar and sazerac; and the Fire-inspired cocktail Inferno is a mix of Jamaican rum, grapefruit, lime juice, sugar syrup and sambuca.
A play on senses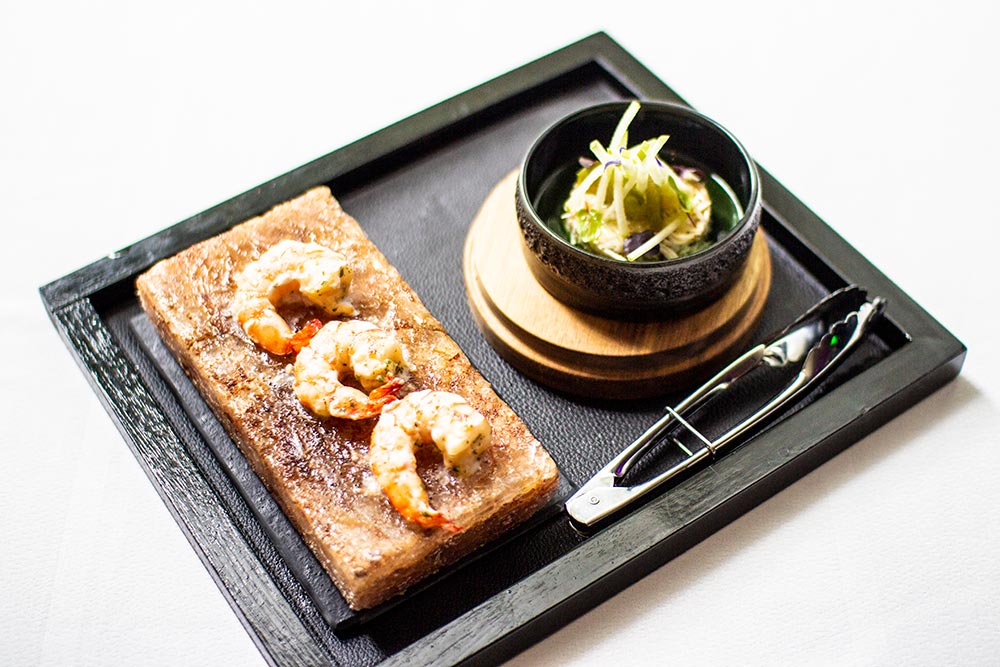 For our meal, we decide to play with Fire for a change (it's not necessary to stick to one element). Our starter is Marinated, Grilled Tiger Prawn with smoked celeriac and granny smith remoulade. The evoking of 'fire' is evident as soon as our dish arrives: the prawns are grilled before us on a salt block and their smokiness reaches our nose long before it touches our tongue. The salad balances the dish with a bit of tang for a brilliant opening dish overall.
Bonus: We also manage to sneak a bite of Escargot Cromesquis from the Wood menu. Served with Thai salad and spicy shrimp (tom yam goong), this starter offers more complexity in terms of flavour and consistency.  There's that crunchy-on-the-outside, buttery-on-the-inside texture from the croquettes. Then there's the hearty tom yam made in the form of a bubble that bursts with a pop in the mouth, completed with fresh nibbles of salad in between.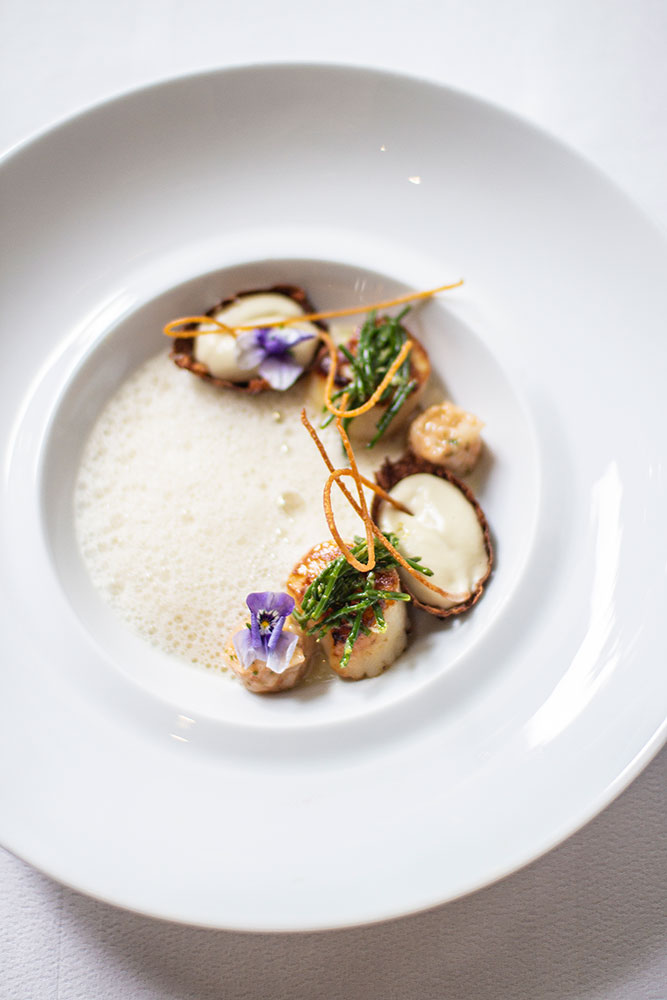 To get a better idea of which to recommend, we try both Fire mains of Rosemary Smoked Hokkaido Scallop and French Duck Breast & Foie Gras. The former is served with Sicilian gamberoni, pickleweed, sunchoke and shellfish sauce. What impresses us most is the sunchoke which adds a sweet nuttiness to the dish, and the sauce which uplifts the flavours of everything on the plate.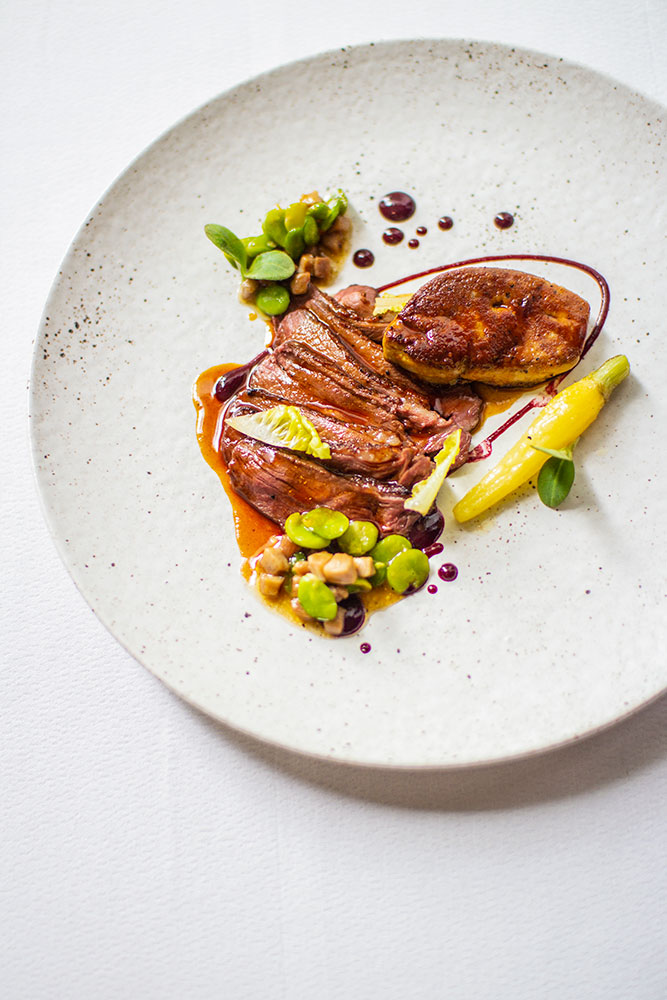 On the other hand, the latter proves heavier on the palate. The lettuce and baby carrots help to add to the dish's profile, but we can't help feeling it's still missing something to cut through the fattiness of the foie gras and balance out the strong flavours of the duck and its jus. It's a better choice to fill bigger appetites, though we'd pick the scallops for taste.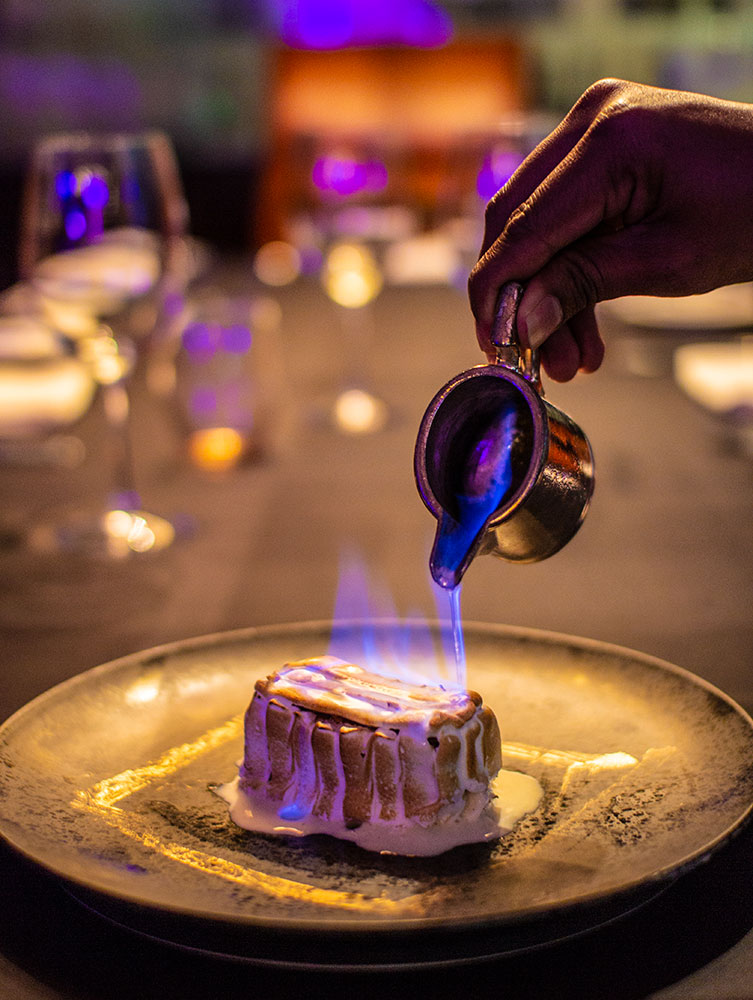 Dessert is where the element of fire is most clearly on show, as our waiter flambés our Omelette Norvégienne with rum before our eyes. Once the flame subsides, we dig into the caramelised puff pastry. The sweetness from the rum and pastry combines with the fragrance of vanilla ice cream under the shell for a delightful end to our meal.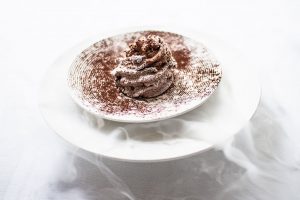 Bonus: Chocolate-lovers are sure to enjoy the Valrhona Manjari 64% Grand Cru Chocolate dessert from the Earth menu. The element is well-represented by the chocolate soil in the dish, which also adds a bit of crunch to the bittersweet mousse.
You may also like: Discover Martell's multi-sensorial journey at Nathalie's Gourmet Studio
For more information, log on to the official website here. For reservations and enquiries, call 03-2074 3900, email restaurantreservations.slkl@shangri-la.com.