Grill, seafood, hot pot or fusion? No matter your preferred Japanese cuisine, seasonal flavours await at The Table, Isetan with a glass of cold Kirin Ichiban beer.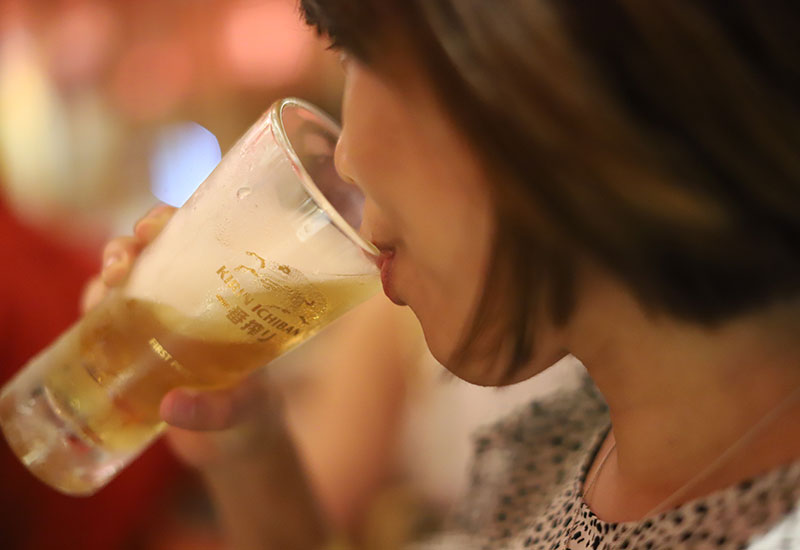 Good beer deserves good food to go with it.
This thought comes to mind while enjoying a frozen Kirin Ichiban at The Table, located on the fourth floor of Lot 10's mini Japan, Isetan. The smooth, rich flavour of this beer is the result of its unique brewing method called First Press. You guessed it – only the first press of the malt liquid is used, which gives the brew its pure and crisp properties sans the bitter aftertaste that puts many off beer.
We took a gastronomic journey through The Table's five restaurants for a taste of Japan with Kirin Ichiban, and were pleasantly surprised at the versatility of this golden brew.
Grill at Touan and Yakiniku Toraji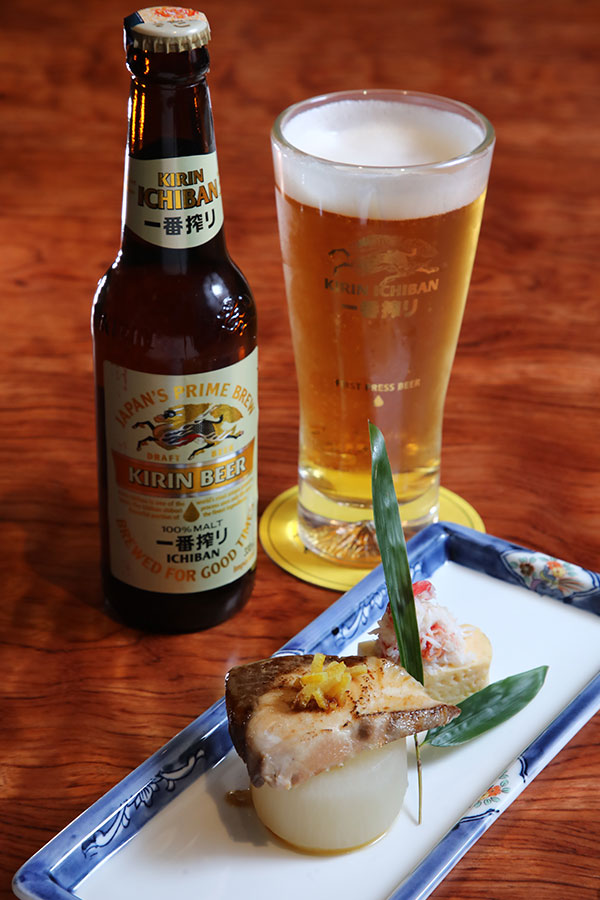 Japanese winter means fatty yellowtail, which is skillfully charcoal-grilled and marinated in sweet teriyaki sauce here at Touan. This sushi carries a hint of smokiness over the snow crab tamagoyaki, which is naturally sweet and blossoming in freshness.
These seafood flavours are complemented by the light Kirin Ichiban, which also goes well with a more hands-on grilling experience at Toraji. We had a hand at grilling our own Wagyu marbled A5 ribs, which served as a lesson in preparing premium-grade beef. A minute too long on the fire can turn the marble-smooth slices tough and chewy. The finest meat in Miyazaki is best enjoyed medium rare, bringing out fatty goodness that is beautifully neutralised by the beer.
Seafood at Tonkatsu Anzu
Scallops are another Japanese winter delight that must be experienced to believe. Giant Aomori scallops are given the trademark katsu treatment, resulting in a light and crispy batter hiding a burst of fresh flavour. There is absolutely zero guilt in enjoying this deep-fried delicacy. Squeeze a small slice of lemon to elevate it, and gulp it down with an equally-fresh Kirin Ichiban.
Hot pot at Toriden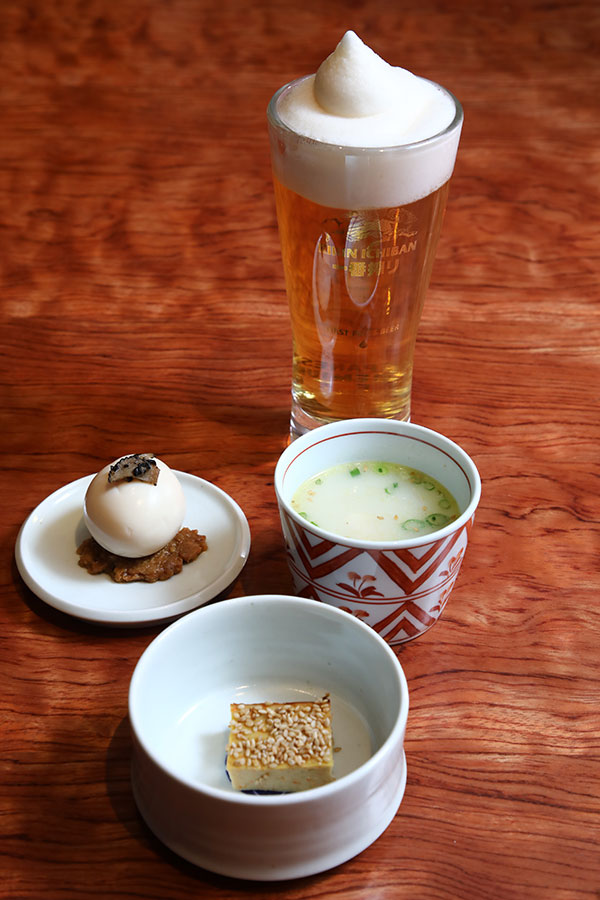 We'd call this trio a premium acquired taste, starting with a wholesome chicken broth that's slow-boiled for over six hours. As a result, the full flavour of  chicken is extracted along with its natural collagen. Even the dumpling holds more than meets the eye as it is filled with chicken gizzard and cabbage. Toriden tamago is a cold, soft-boiled egg with a deliciously runny yolk, oddly complementary to the chicken miso bed it sits on and black truffle on top. Then comes the Japanese flat chicken meatloaf matsukaze yaki, widely prepared during winter back in Japan with gobo (burdock root). These rich, bold flavours are the result of labourious preparation and attention to detail, drawing parallels with the cold beer we enjoyed.
Fusion at The Tokyo Restaurant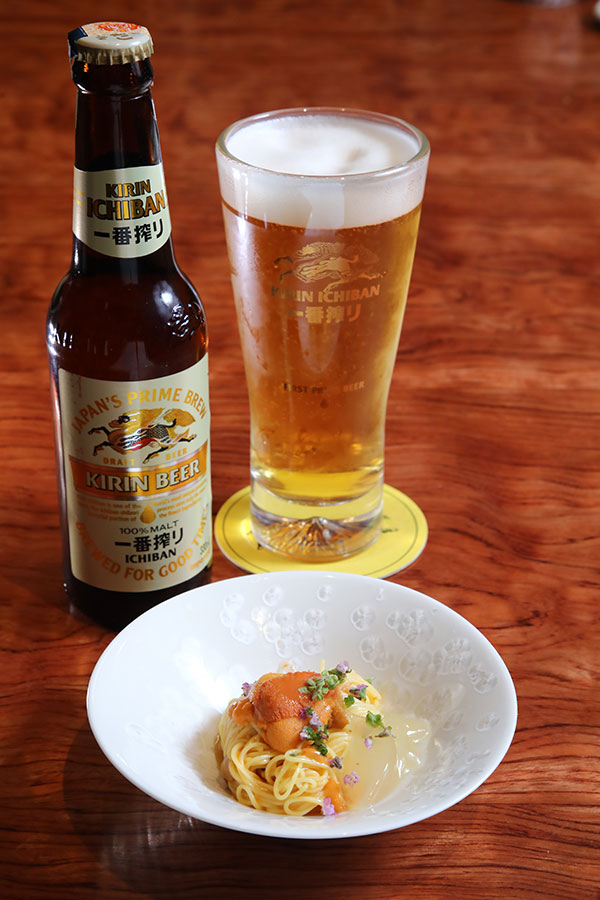 Japanese-Italian cuisine might not be something you encounter on the regular, which is enough reason to try this gelatin-like somen noodles. Served cold, it is coated with Shiso flowers, clam juice, ginger, and Bonito broth for a unique taste that goes well with the Hokkado-fresh sea urchin, a must-have winter delicacy. With this dish, we witness the duality of Kirin Ichiban's pairing potential – hot or cold, sweet or savoury, this beer is pleasant enough to last a five-stop gastronomic journey through the Land of the Rising Sun.
Let's not forget, this is also where you'll find the celebrated 6th Avenue cheesecake – talk of the town since The Table's opening.
Kirin is a mythical creature that is half dragon, half deer. It is a symbol of well-being and happiness, perfectly celebrated alongside the subtle, delicate Japanese fare on offer at The Table. If your interest and appetite are piqued, head over to The Table at Isetan Lot 10 to embark on this journey. Opening hours are 11 am to 3pm, and 6pm to 11pm.
To further explore tastes of Japan, visit Kirin Ichiban and The Table sites.
Images: Kirin Ichiban