Minute as these paintings may be, recreating them was no small feat.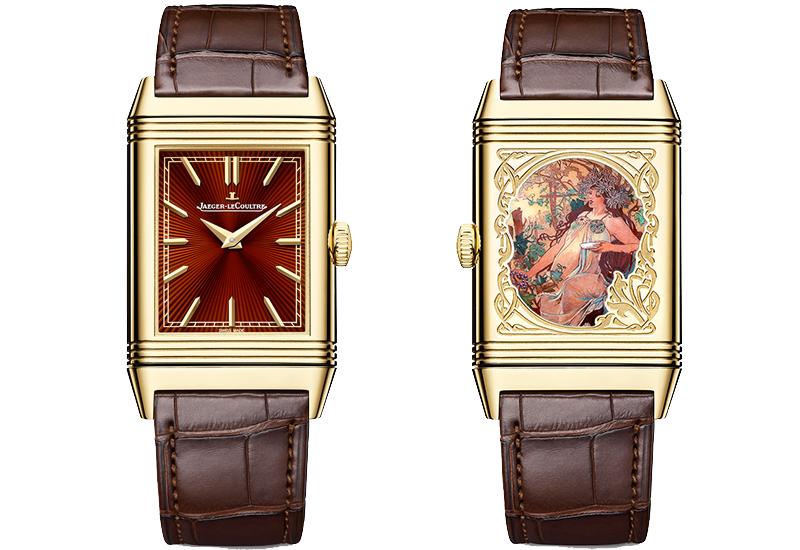 Czech artist Alfons Mucha's distinctive Art Nouveau interpretations of Paris has long been admired at Jaeger-LeCoultre. His paintings provided inspiration for Reverso "The Seasons" in 1996, Reverso "Precious Gemstones" in 1999, and Reverso "Clair de Lune" in 2001.
Now, the maison has released three new works of art paying tribute to the intricate artistry of this celebrated artist.
Jaeger-LeCoultre Reverso Tribute Enamel Mucha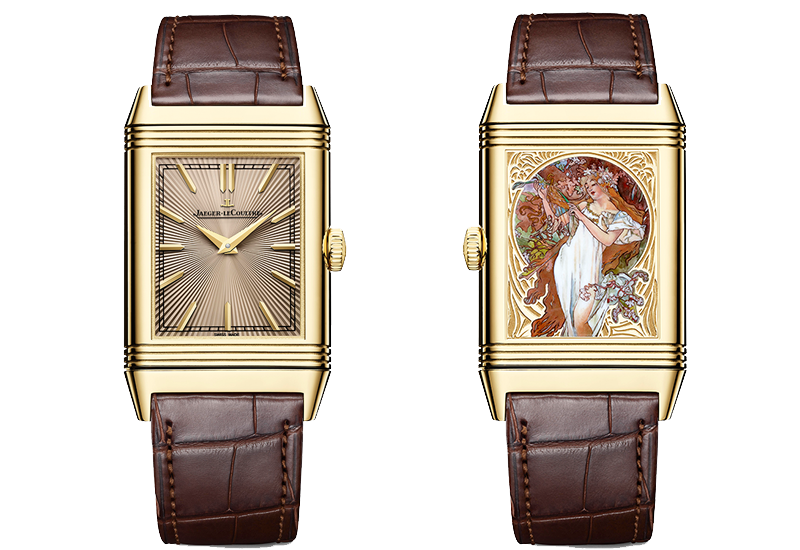 An exclusive collection that speaks of the value of art in horology (itself an expression of art), these new Reverso models were recreated by the steady hands of Jaeger-LeCoultre master painters.
An air of mystery surrounds the finely guillochéd front dials, given a translucent sheen with Grand Feu enamel. The latter involves multiple layers of enameling and firing at 800°C (Grand Feu meaning Big Fire), which gradually melts onto gold to reveal its tapered design. Flip the case, and you'll find another application of this classic enameling technique.
Born of hours of research, a wealth of complex artisanal skills, and a machine dating back over a century, these Jaeger-LeCoultre Reverso Tribute Enamel models are an ode to "The Seasons" – Mucha's 1896 decorative panel series.
Related: Grand feu, champlevé, cloisonné, and other dial enameling techniques explained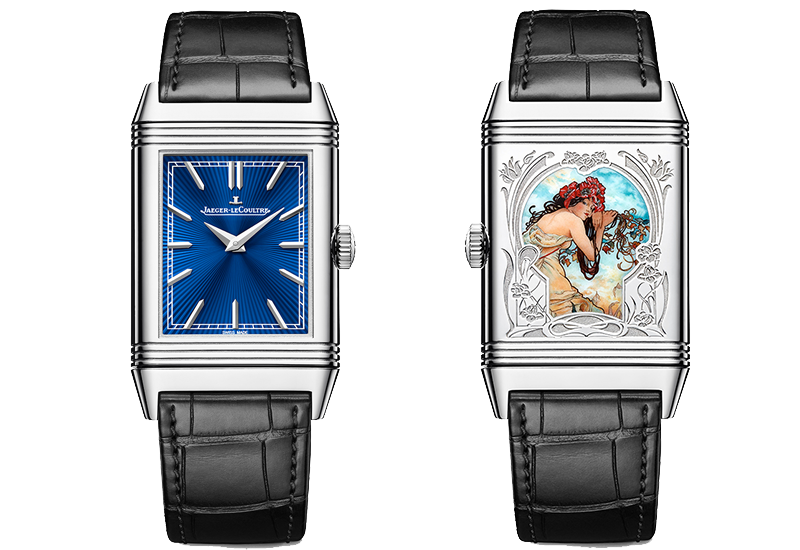 To achieve this, JLC artisans scaled the original painting of over a meter down to 3 cm², entirely by hand as they enameled. Recreating the paintings involved a certain measure of professionalism and experience, to anticipate what the colour will look like after firing in the grand oven. Then, each is polished before being assembled into its new home: the Jaeger-LeCoultre Reverso case.
Intricately hand-sculptured frames complete each miniature painting. This particular engraving great finesse as the chiseling only took place after enameling.
To quantify the effort in hours: engraving took 30 hours, while enameling was done over 70 hours. This brings the total to 100 hours of work per piece. It's clear each minute creation is no small feat – after all, this is 'Métiers Rares' we're talking about.
Jaeger-LeCoultre Reverso Tribute Enamel Mucha is available in three new designs, each limited to 8 pieces. For more, visit the official Jaeger-LeCoultre website.
Images: Jaeger-LeCoultre