Marking  Aquatimer's 50th anniversary, IWC Schaffhausen steps up its game with the combination of titanium and ceramic in an all-new material.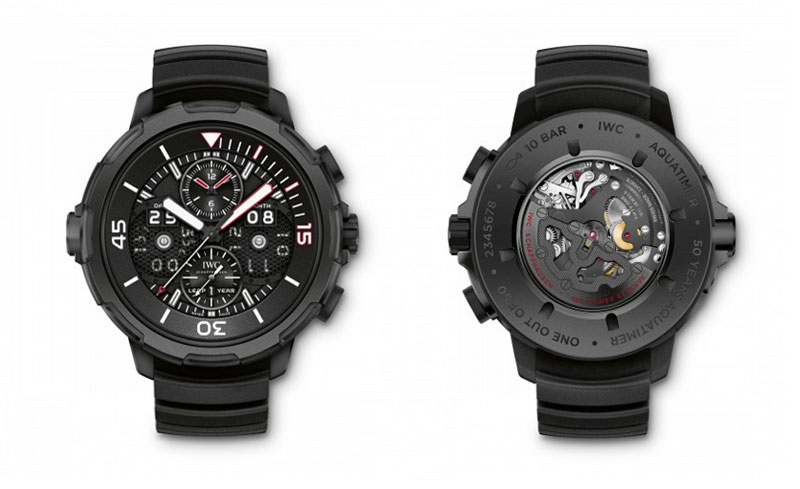 As a pioneer of diving timepieces, IWC Schaffhausen has a long-standing history in keeping time – both under the sea and on land. It has been five decades since the first game-changing Aquatimer, and now, the Swiss watch maker carries on its proud tradition of innovation with the world's first Ceratanium case.
What is Ceratanium?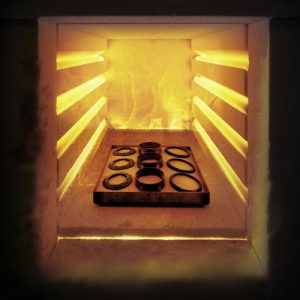 This innovative material is as light and unbreakable as titanium, but also as hard and scratch-resistant as ceramic. How's that for the best of both worlds?
According to Dr Lorenz Brunner of the Innovation & Pre-Development department, the team set out to create a dark material suitable for making a completely black watch. While they've experimented with ceramic and rubber-coated stainless steel, developers desired something that would afford greater manufacturing freedom than ceramic.
The fruits of their endeavours are presented in a modern day Aquatimer, with clasp, rotating bezel and case back ring made entirely of Ceratanium. It doesn't chip off like PVD coating, and isn't as complex to manufacture as ceramic.
"Now we need to wait and see how watch lovers react to it, but I assume we'll be using Ceratanium in the future for other models. It's suitable for any application where we need lightness, ruggedness, corrosion- resistance, hardness and a striking black colour," Dr Brunner commented.
Aquatimer Perpetual Calendar Digital Date-Month Edition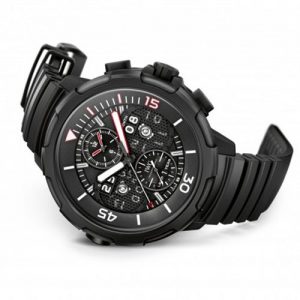 This striking, matte black piece comes with a digital perpetual calendar and chronograph function. With a high skin tolerance and water resistance of up to 10 bar, it is IWC's product of five years' expert attention and development.
It features a an external/internal rotating bezel for setting dive time, while the IWC SafeDive system ensures that the internal rotating bezel can only be adjusted when the external bezel is rotated in an anticlockwise direction. This ensures zero hour (the time at which the diver can return to surface without decompression stops) is not exceeded, even if the external bezel moves accidentally.
Only 50 pieces are available to celebrate Aquatimer turning 50. Check out the one-of-a-kind model at an IWC boutique near you from this month onward, priced at RM 220,688.
Images courtesy of IWC Schaffhausen.