We invest so much time, energy, and money into procuring some of our most coveted luxury items – be it a Hermès Birkin or a Chanel tweed that sometimes, we forget to take a closer look at some of the treasures our local artisans have to offer.
An ancient art form that has been practised for 2,000 years across Asia and parts of Africa, batik is one of the greatest and most underrated prides of Malaysia. Natural, fibrous fabrics that are destined to become articles of clothing go through the complex and meticulous process where wax-resist dyes are applied to whole fabric, before being submerged in colour and then removing the wax with boiling water. This process is repeated until the resulting design is achieved.
Admittedly, authentic batik is not an item of fast fashion, and can fetch a price tag that's higher than your usual everyday clothes. However, it's important to note that you're not just buying for a piece of patterned fabric – but also the artistry and the labour of highly skilled artisans that work to keep this heritage art alive.
But do you actually know if the batik you're purchasing is authentic? With a little help from local batik business The Batik Boutique, we've decoded the three ways to identify real batik and why it's worth the investment.
Whether you're wearing your batik on the right side, or inside out – an authentic batik piece should look similar, or the same on both sides of the fabric in terms of vibrancy. Hot wax is drawn with a canting tool or stamped with a batik block, and then hand-painted. The wax and dyes then penetrate the fabric, which results in a similar quality of vibrancy on both sides. As for machine-printed fabric, the inside would typically have a faded pattern on one side.
Real batik perfectly imperfect
The convenience of producing department store clothes is that their designs are printed on using machines, creating perfect and symmetrical patters on each article of clothing. With real batik, no two pieces will be exactly the same. Each pattern is hand-drawn or stamped, as well as dyed by hand, resulting in human inconsistencies across the patterns depending on the temperature of the wax, how much pressure was applied to the blocks, the precision of the artists, the dye recipe, and the amount of time it takes to dry.
Probably one of the crucial important elements in creating hand-made batik is the use of natural, fibrous fabrics such as linen, cotton, and silk – chosen for their breathability, luxurious comfort, and most importantly, their ability to absorb dyes.
While there are exceptions, imitation batik is, for the most part, printed onto synthetic materials. Despite being more economical for both the producer and the customer, these synthetic fibres are not able to hold the dyes properly in the batik dyeing process, resulting in a design that pales in comparison when it comes to lasting power.
The best way to identify what material the fabric is made from, you have to touch and feel the fabric. If it has a matte textures and feels like water could be absorbed easily, chances are that it's a natural fabric.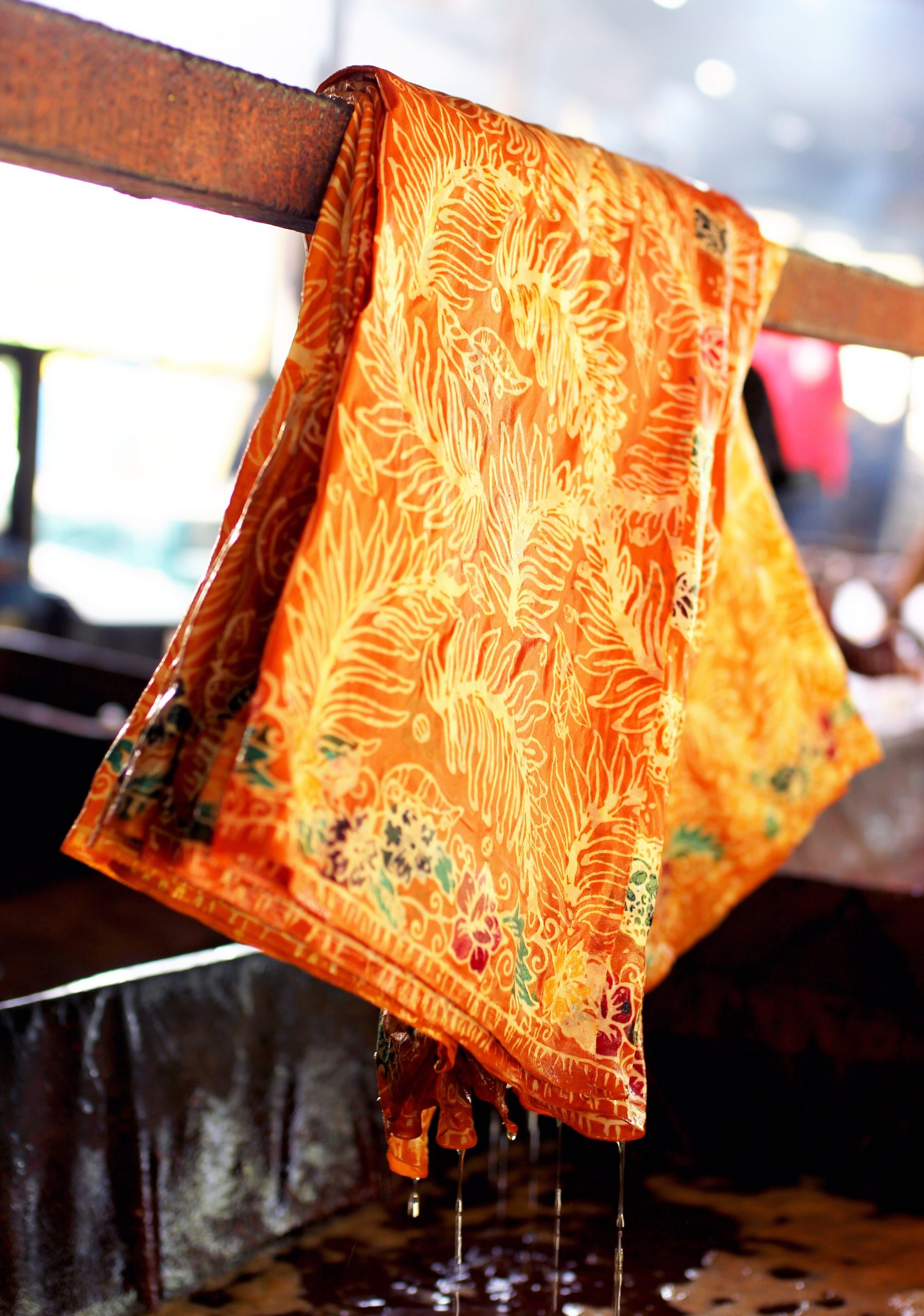 And while natural fabrics often cost more as a raw material, they are meant to be an investment in the long run – being friendlier towards environmental sustainability, while being more durable, breathable, and luxurious on the skin compared to synthetic fabrics. It also provides support to local artisans who hand-painted the batik pieces in order to preserve their craft.
At the end of the day, while machine-printed batik allows financial and physical flexibility for the masses who wish to own a piece of batik, as well as helps contribute to the appreciation of batik art, there's no comparing it to the real deal. Like any fine art, hand-crafted batik is infused with a personal quality and story that no machine will be able to replicate.
Companies like The Batik Boutique also play a part in empowering artisans and preserving the traditional art form by creating a demand for authentic, artisanal batik products, as well as batik art. By partnering with local batik artists across the nation, they can help provide the latter with a sustainable income, while bringing more attention to batik.
For those keen on picking up batik art, The Batik Boutique is offering a collection of DIY Batik Painting Kits that not only seek to connect people to the art form, but also serves as a therapeutic activity for the whole family – especially when we're homebound. Friends and family members may also schedule virtual batik painting workshops of varying group sizes. More information can be found by contacting them here or visiting their website.
Photos: The Batik Boutique