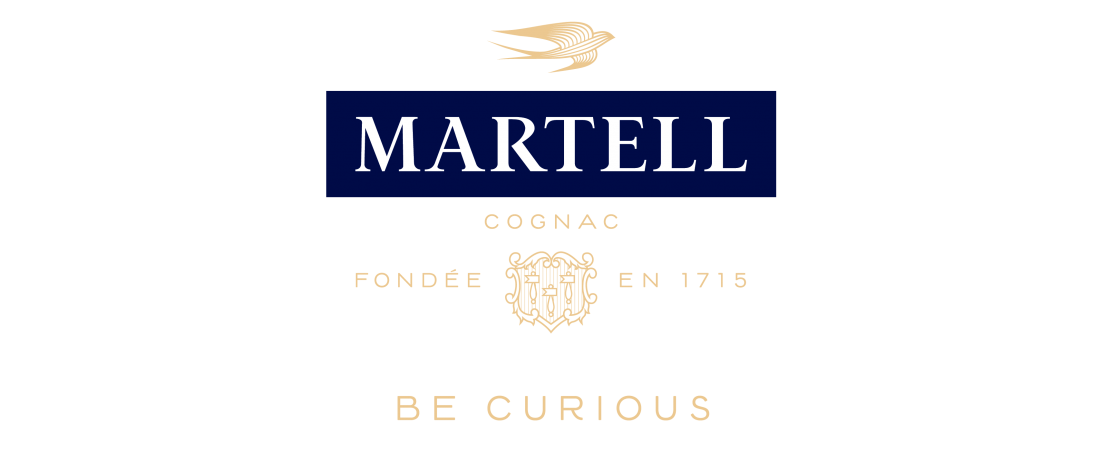 Set in the vibrant food hub that is DC Mall in Damansara Heights, the restaurant serves a playful fusion of Japanese cuisine with international references.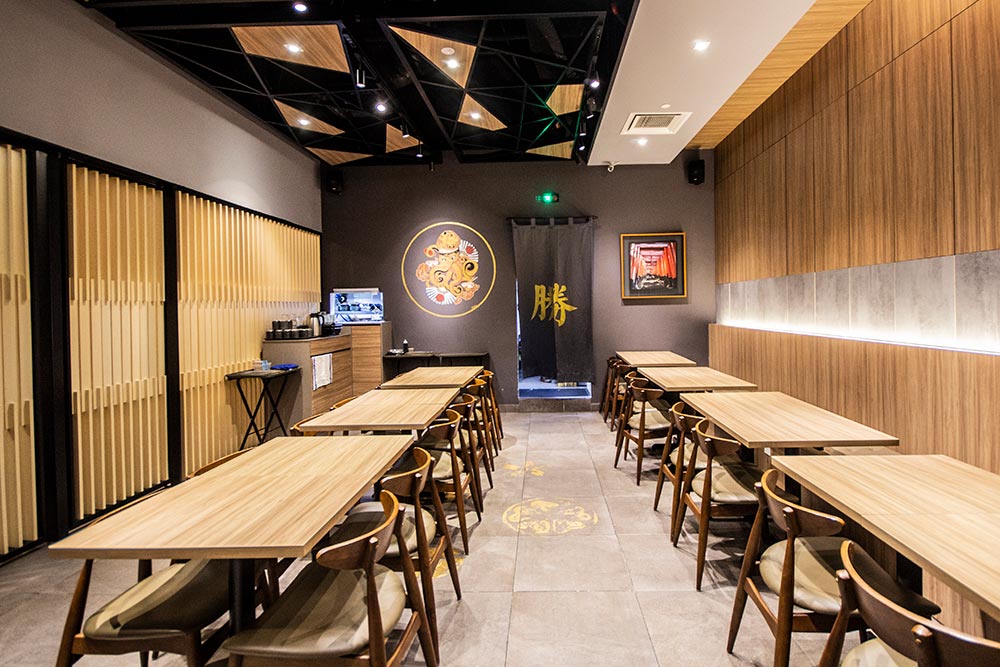 When Chef Danny Leow first decided to open his own restaurant, Japanese fusion establishments were few and far between in the local F&B scene. Consumers were often limited to traditional-leaning restaurants with a focus on sushi, sashimi and Japanese noodles or bento sets then. It was that realisation that spurred the Japanese-trained chef to try something out of the ordinary.
Cue Hisho Japanese Restaurant, a product of his genius founded just last year. Set in the vibrant food hub that is DC Mall in Damansara Heights, the restaurant serves a playful fusion of Japanese cuisine with international references.
Prior to that, Chef Danny had been awarded HAPA's Best Fusion Japanese Award in 2010 and MIGF's Best Chef Award 2012. Noting his finesse in that sphere, we pop by the restaurant to try its signature Chef Special Omakase Course one fine evening.
See also: 5 places to dine and wine in DC Mall
Feast for the eyes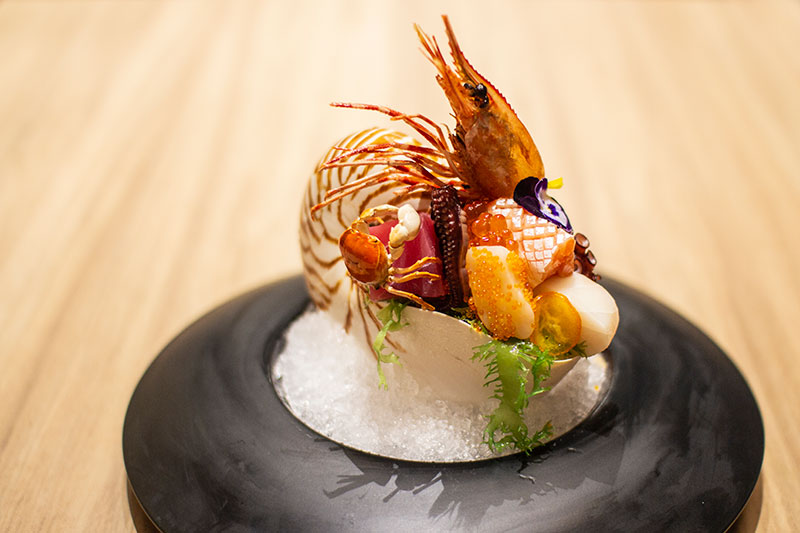 The first course immediately underscores Chef Danny's eye for plating. Resting atop the cavity of a large spiral shell (or seemingly clinging for dear life before ending up in our mouth) are generous cuts of Japan's seasonal offerings including salmon, tuna, prawn and octopus topped with bright pops of ikura and edible flowers. While a sashimi platter is almost expected of any Japanese restaurant, the eye-catching presentation here adds a fun factor to the dish.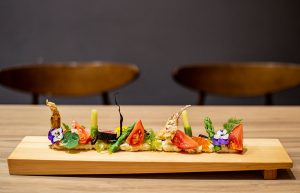 A mix of tuna hand roll, soft shell crab and deep-fried salmon skin sit on a bed of mash potatoes alongside fresh vegetables in our second course. Again, it's no less satisfying to behold than the first – a pleasure extending also to the palate. No ingredient is inferior; and to our surprise, the Japanese tomatoes leaves an impression as one of the sweetest we've ever had the pleasure of tasting.
We later find out that the award-winning chef has a habit of sketching his ideas out before finalising them for the menu. This allows him to curate the beautifully plated dishes that guests like ourselves feel compelled to post on social media.
Recommended video for you: Chef on Chef 2 Ep 2: Kikubari welcomes Chef Makoto Saito
Fusion on the palate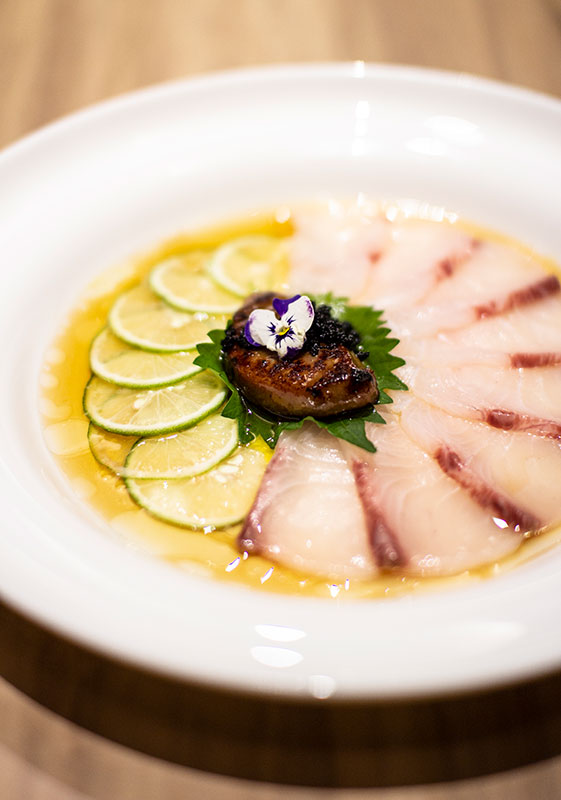 The following Hamachi Foie Gras Carpaccio dish highlights the restaurant's brand of quasi-Japanese cuisine with an Italian touch. We like how the yuzu dressing uplifts the flavours of both the yellowtail carpaccio and the foie gras, holding the balance of the dish together.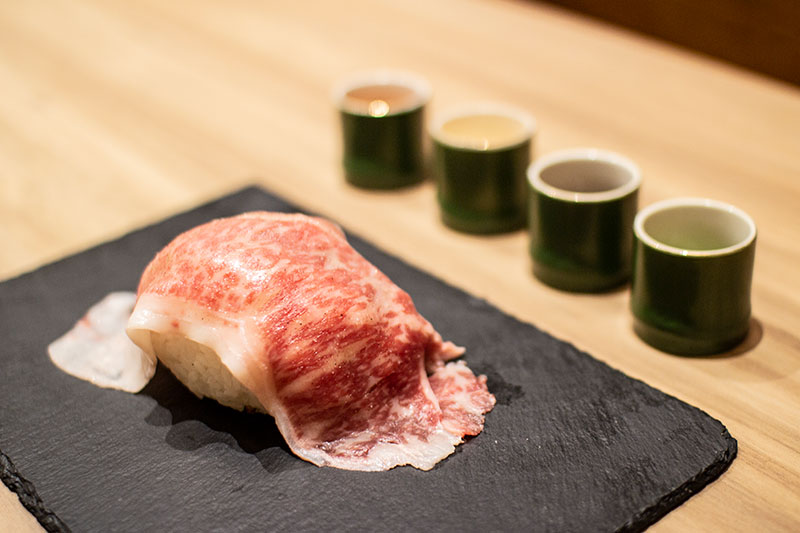 Chef Danny's special wagyu roll (swipe left to see how it is prepared)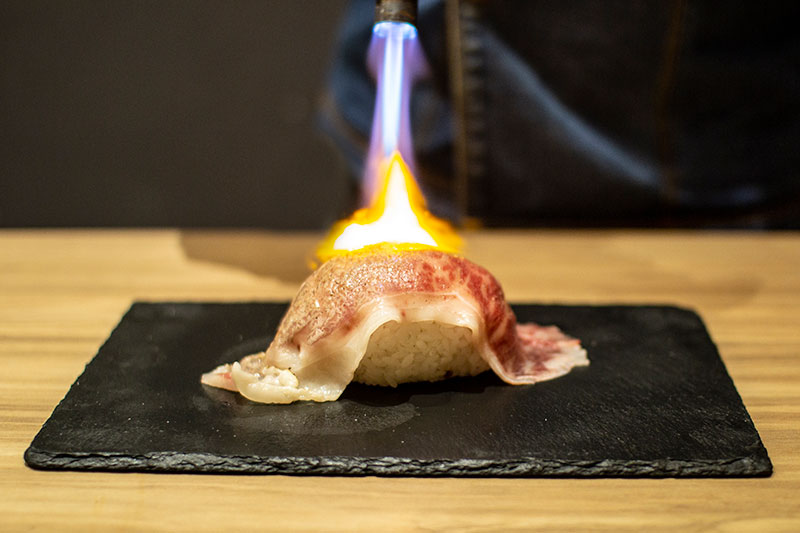 It is lightly torched to just the right shade of brown...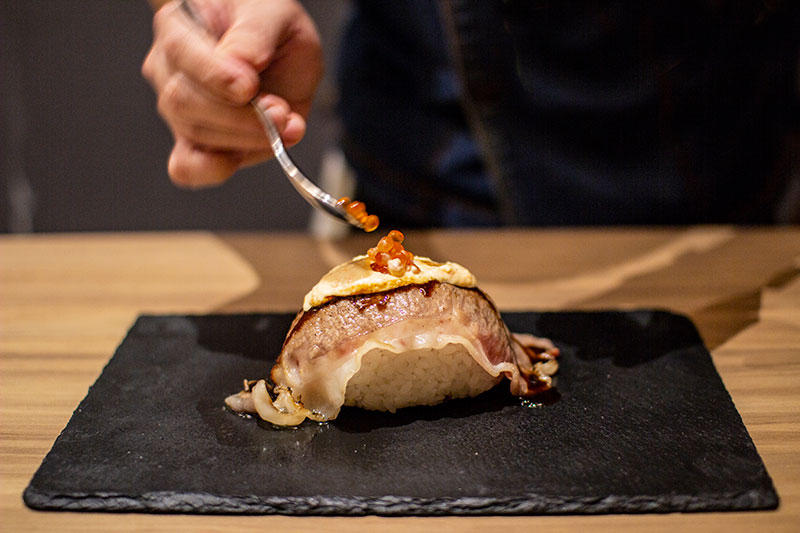 ...then topped with secret house-made sauce and ikura for extra oomph!
Chef Danny meets us at our table for the fourth course – his original interpretation of a giant wagyu roll. A torched thin but large slice of wagyu blankets a big ball of rice, which in turn, holds more bite-sized slices of wagyu in its centre. When mixed together with the special house-made sauce and ikura, we are rewarded with bursts of juicy, savoury and slightly sweet flavours.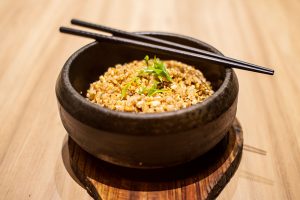 But the real crowd-favourite here finds us right at the end of our meal: Garlic Fried Rice served in Hot Stone Bowl. "Most people come here to try this dish," Chef Danny beams proudly as the bowl is set before us. It's no wonder why, as the simple blend of fragrant garlic, egg and oishii Japanese rice is just the comfort food we need at the end of a long day.
For reservations and enquiries, call 03 2011 2666, email enquiry@hisho-jap.com or log on to the official website here.
Location: Hisho Japanese Cuisine, L2-17 2nd Floor, DC Mall, Jalan Damanlela, Damansara Heights, 50490 Kuala Lumpur
Opening hours: Monday to Saturday – 11.30am to 3pm, 6pm to 10pm; Closed on Sundays
Photography: Gan Yew Chin