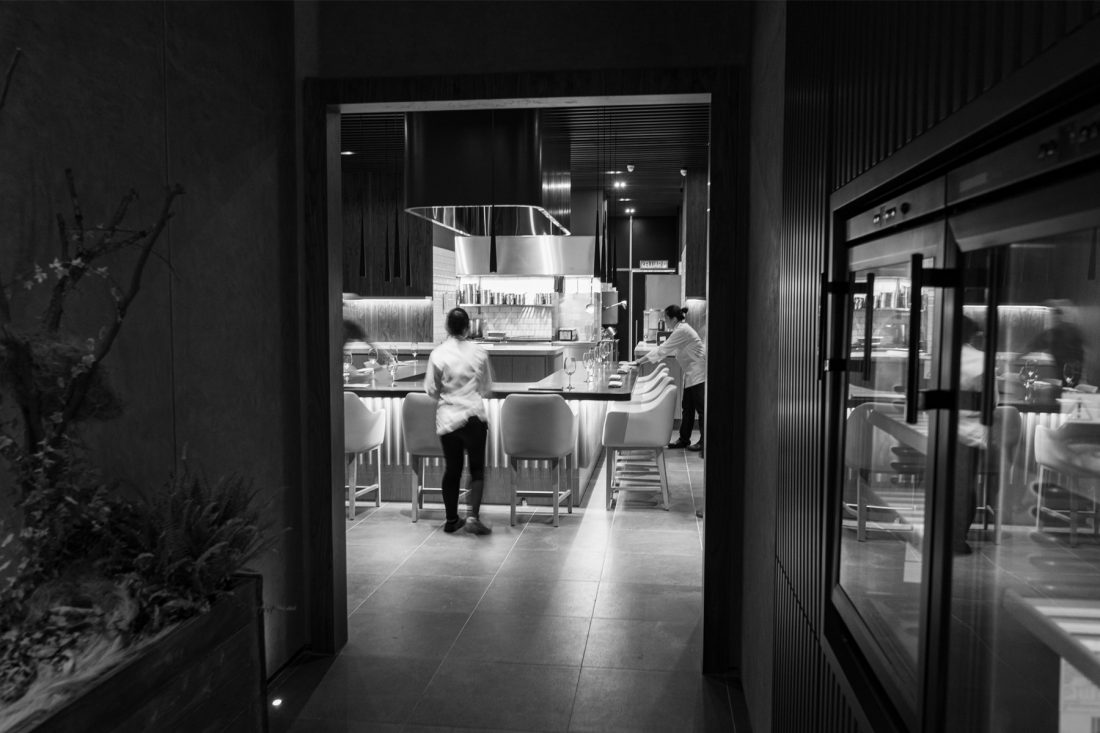 In a hidden nook at the exclusive Ritz-Carlton Residences KL, a small lit corridor has recently come to life with a wall of unassuming spotlighted paintings. One of the paintings, at a light push of the hand, reveals the latest dining concept from The Curate Group.
Meet hide, which follows in the tail of The Curate Group's previous restaurants that include Sushi Ryu, Sushi Den and Tenmasa.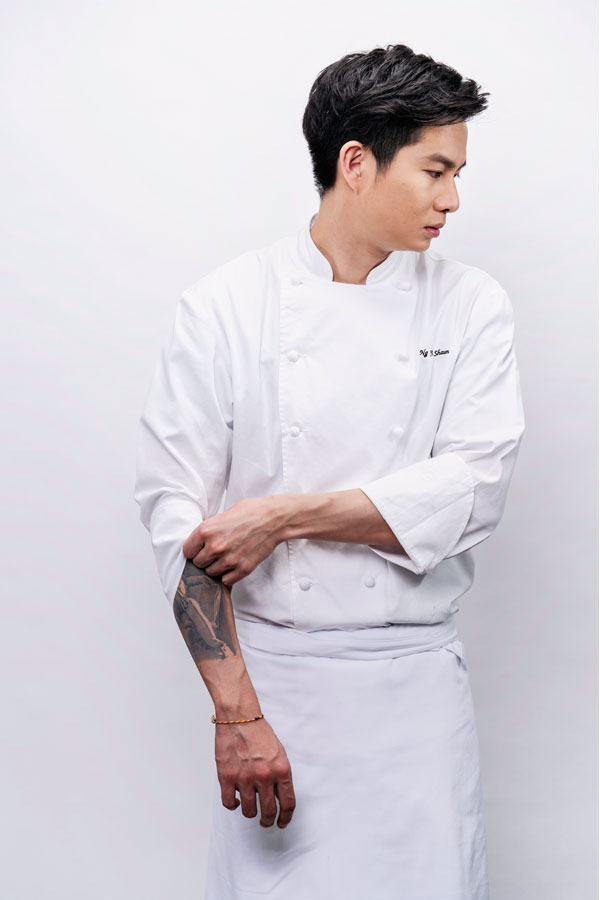 Like its elder siblings, hide is equally mellow on show but impactful in eminence. Reflective of the soft-spoken tattooed chef who helms it – Shaun Ng, who had recently returned from Michelin-starred Le Bernadin (NY) and Kato (LA) – it need not the glitz and glamour of other showy locations. It much rather sing its quiet song that is personified in its menu of modern dining drawing inspiration from global influences.
Enter and you're greeted with a fixture of foresty greens, where your amuse bouche awaits perched on a log. Walk past the corridor and you'll step into hide's intimate dining area centred around a raised counter around which only 13 seat at maximum.
Little else make up the restaurant, and it doesn't need it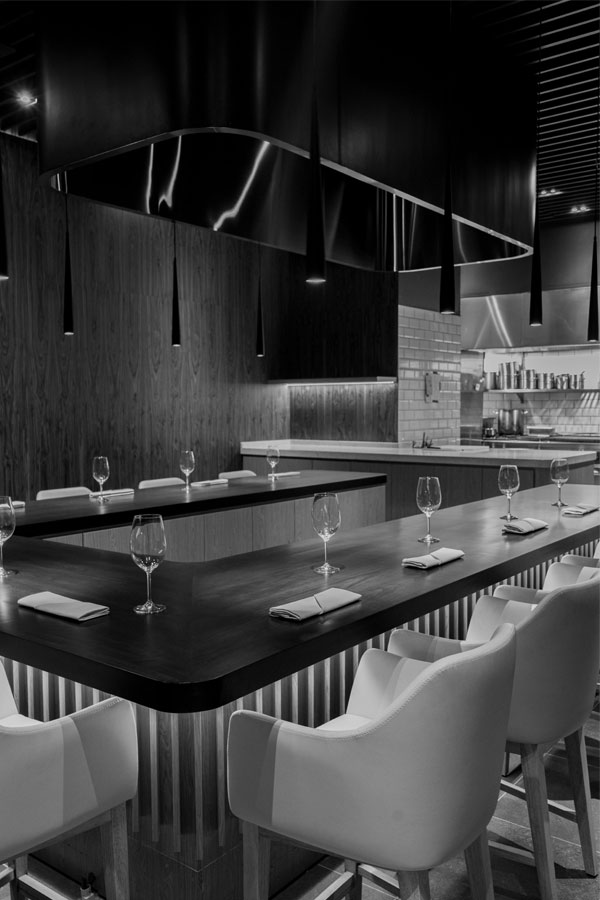 Lambent light, dark wood furniture and rose gold accented fixtures package the chef's table concept that runs the course of the night, complete with an open kitchen that's in full view of guests, separated not even by a pane of glass. This allows for a full spectatorship of food preparation, plating and ultimately serving, a show in itself given how the young team works so in sync, they almost dance a ballet number.
When the team steps back, the true show begins on the lips and eyes, best experienced with its 14-course tasting menu as we did.
A playful start
Get ready to eat with your eyes as much as your lips with beautiful plating that's playful and immaculately detailed. The T-Rex starter for example, sandwiches a teaspoon of cured ocean trout between two paper-thin brik pastry hand-cut into the shape of the tyrannosaurus. A light crisp gives way to succulent fish, which fattiness is brightened with a little lemon juice.
The narabi uni is also another almost impossible play on texture with generous sea urchin served atop a small airy potato pod. To achieve its lightness, two thin sheets of potato is treated with corn starch and egg white so as to puff up like a pillow in the deep fryer, for luxuriously snappish bed deserving of the uni it will hold.
The Shigoku oyster and red sea bream cured with kombu are testaments to Chef Shaun's dexterity with seafood – the former is lent an earthy brine from fermented daikon sauce for length of flavour while the latter benefits from sparkling freshness of persimmon vinegar, finger limes, compressed cucumber jalapeno and Marigold sprouts. It's almost like one's mouth took a cold shower in the summer with the freshest persimmon wash.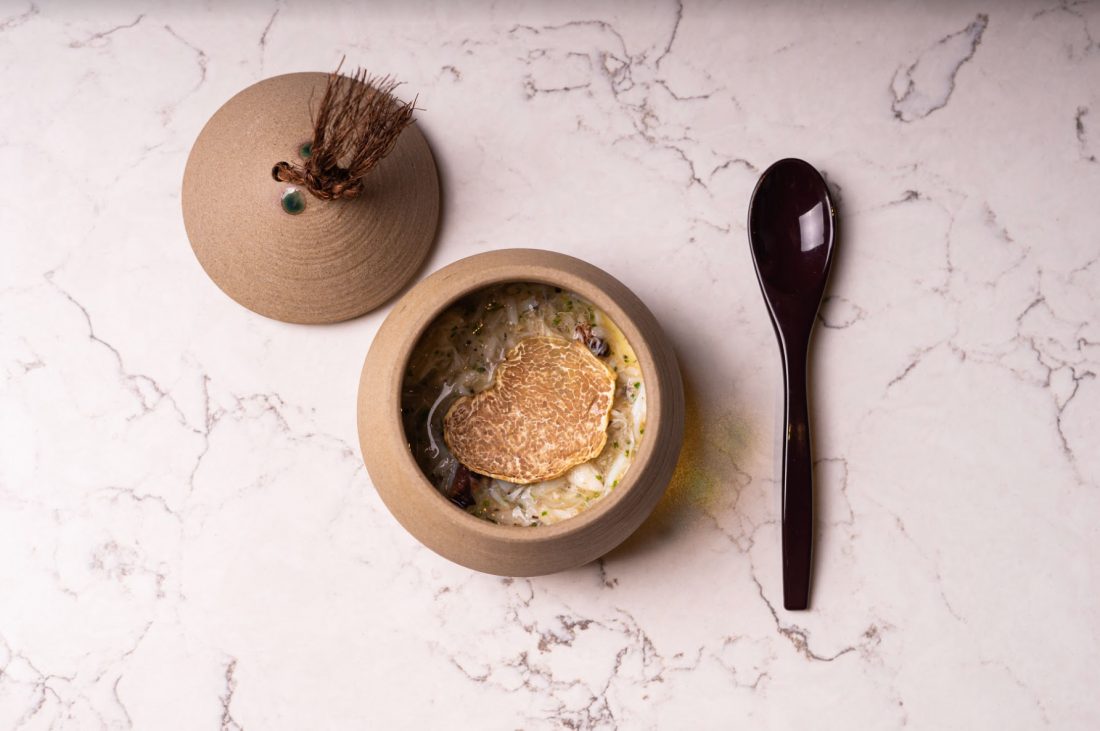 Mains that travel the world
If it's hard to pinpoint exactly what cuisine hide does, it's because Chef Shaun intended it that way. His menu traverses the globe, just like his cooking influences and choice of ingredients. Allow us to demonstrate.
The carb course comes in the form of a delightful truffle dadinho, a popular Brazilian snack. A brick of deep-fired tapioca sago appears formidable at first but a single bite proves it light and fluffy. Gouda and parmesan cheese flavour it for a sharp fragrance and the fresh slices of winter truffle add an unrivalled earthiness that pulls the whole carb-fat-salt trifactor beautifully together.
Chef Shaun's mud crab chawanmushi clearly borrows from Japan, but the egg custard comes refreshingly without any ikura. Instead, it banks on generous mud crab meat for sweetness and Chinese goji berry for an unconventional fruitiness. A dash of dashi and a slice of truffle once more close the flavour journey on a nice grounded note.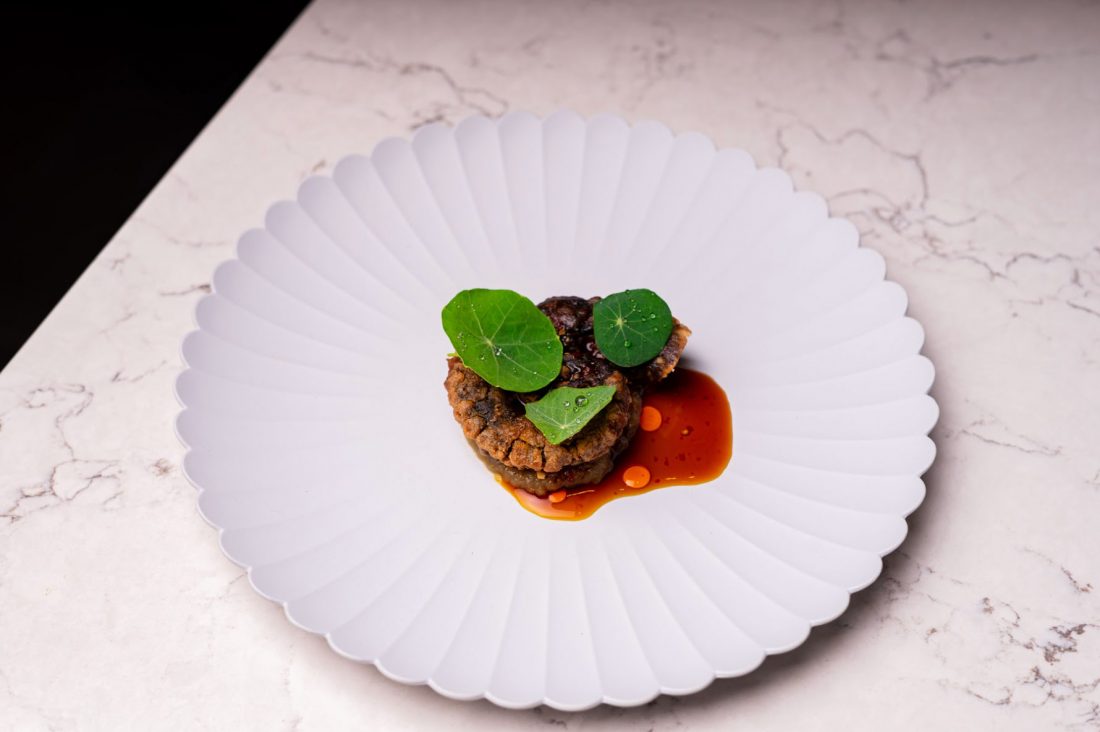 The octopus dish takes us to Spain with a whole tentacle of Galicean octopus that's braised for 24 hours for tenderness before coated in corn starch and deep fried for texture. Frozen beforehand to break down the proteins, it is no where near rubbery despite its long cooking time and presents satisfying bites with its accompanying smoked eggplant puree, fermented chilli oil and sweet sauce borrowed from the Taiwanese you yi geng, a sweet and sour quid and fish paste meat ball soup.
The fish dish is the best illustration of Chef Shaun's skills, we think. Black cod is lightly seared and served on a bed of koshikari Japanese rice, the flakey flesh of the sweet fish folding into the grains of rice almost like a warm hug with each spoonful. Conpoy panache veils it with a marine herbal dimension while pea tendrils lift flavours with a green freshness.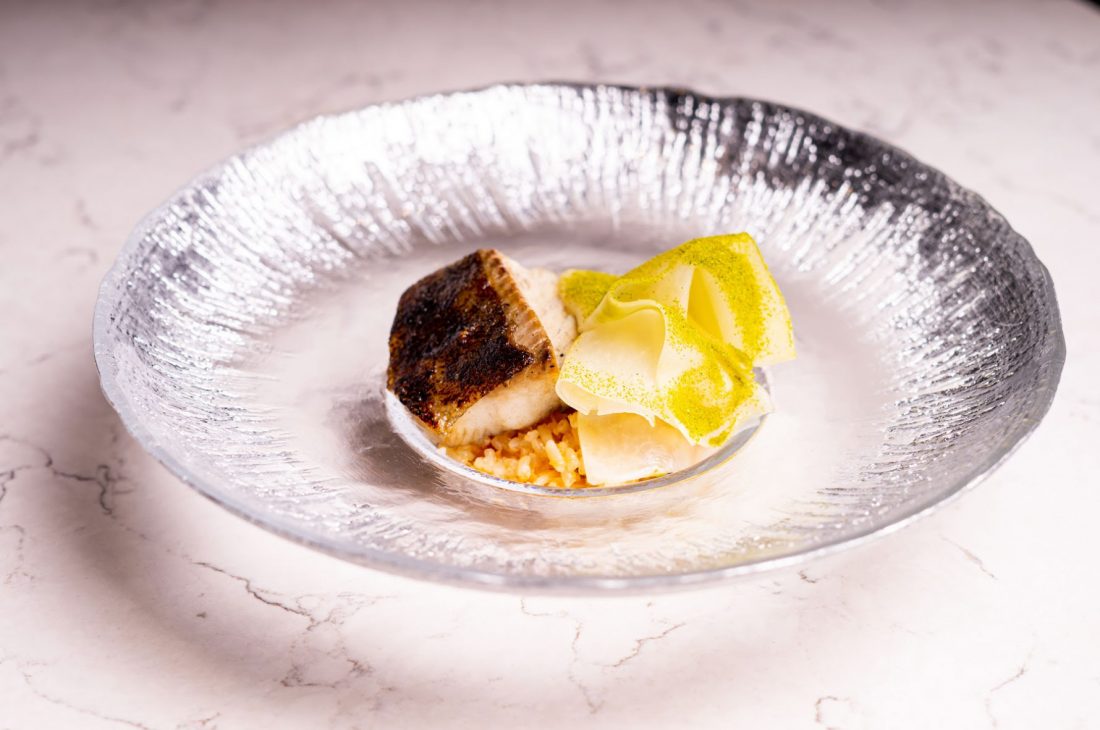 Unlike most places, Chef Shaun's duck dish is made with duck that's air-dried for 14 days instead of the typical seven, resulting in skin that almost crumbles in the mouth. Its light airiness is the perfect balance to the game of the duck meat, cooked to an ideal medium doneness and paired with squash puree, radish ceviche and duck jus. Voracious eaters have the option of adding on the Kagoshima A5 wagyu – grilled over binchotan charcoal, of course – as a supplementary dish, served with potato puree, caramelized onions, maitake mushrooms and beef jus.
Desserts both light and rich
The desserts at hide hold their own, cleverly moving from refreshing to creamy and then decadently rich.
The coconut ice cream comes with a bed of fresh coconut flesh and calamansi jelly for bite. Cured pineapple cubes take things to a mai tai level of flavour profile before a cookie tuille gives you something to crunch on.
The kueh kapit puts the banana front and centre with banana ice cream zested up with some lime and mint yoghurt. Fresh chunks of banana also lend some bite, as does a delicate sheet of honeycomb meringue sitting right on top.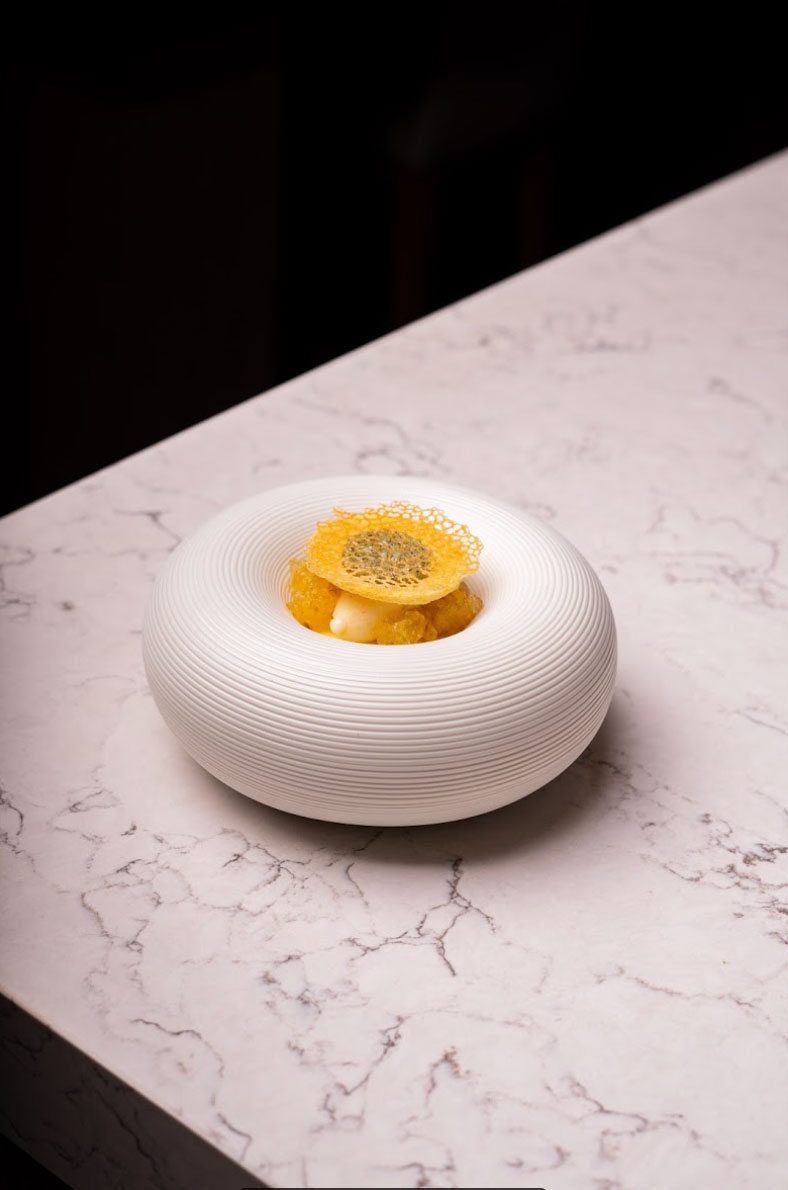 Classic chocolate makes an appearance as a chocolate and mixed berries glazed spongecake, served with cocoa nibs and chocolate ice cream. It is cold and hot, light and rich, the perfect sweet end of contradictions to a meal that's just as eclectic in inspiration and flavours.
hide brings what its name suggests – a string of hidden surprises from location to menu – and luckily, they are surprises that are delights to uncover the entire way.
hide's 14-course tasting menu is priced at RM650++ per person. The Kagoshima Wagyu is a supplementary add-on at RM168++. Wine pairing options are available at RM300 for 5 glasses of paired wines.
For more information or to make your reservations, visit hide's official Instagram page @hide.kl.