After a successful launch, the second edition of Graham Chronofighter's pin-up models pay tribute to the musical revolution of the 40s and 50s.
After last year's successful collection, the pin-up girls of Graham Chronofighter Vintage Nose Art Ltd have moved from their aviation origins of nose art, to four exciting models celebrating noise art: the soundtrack to post-WW2 revelry in the 40s and 50s.
Music has always been close to Graham's identity. Artists from Jamiroquai, Prodigy, Deep Purple, even AC/DC have been spotted with their own watches. We caught a glimpse of the latest collection ahead of Time Kulture Revolution, sitting down with Graham managing director, Patric Zingg.
One year on, how well did Graham Chronofighter Vintage Nose Art take off?
"They sold like that," Zingg snaps his finger, himself a colourful character comfortable with standing out. "People saw this difference, and it caused an instant wow factor."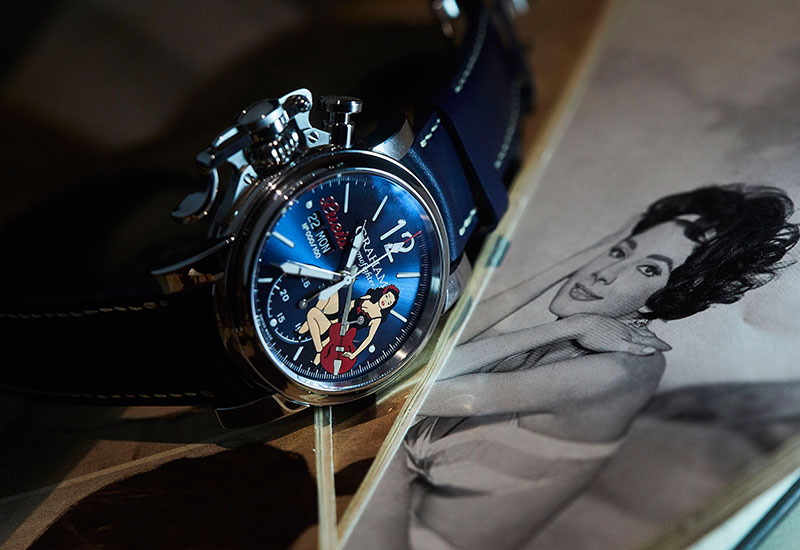 Though the history of the Graham Chronofighter's signature stop-start trigger is rather gloomy, pin-up art added an element of excitement in bleak times. "In the same way pin-up girls differentiated planes back then, they now set us apart in the industry," Zingg says.
Having sensual women painted on war planes didn't sit well with higher command, making it a small act of rebellion in a time of hardship. With nose art, Graham is emulating this "maverick, rock-and-roll approach", as Patric calls it. Its cheeky depictions paint a stroke of colour on an industry inclined to blacks, whites, and greys.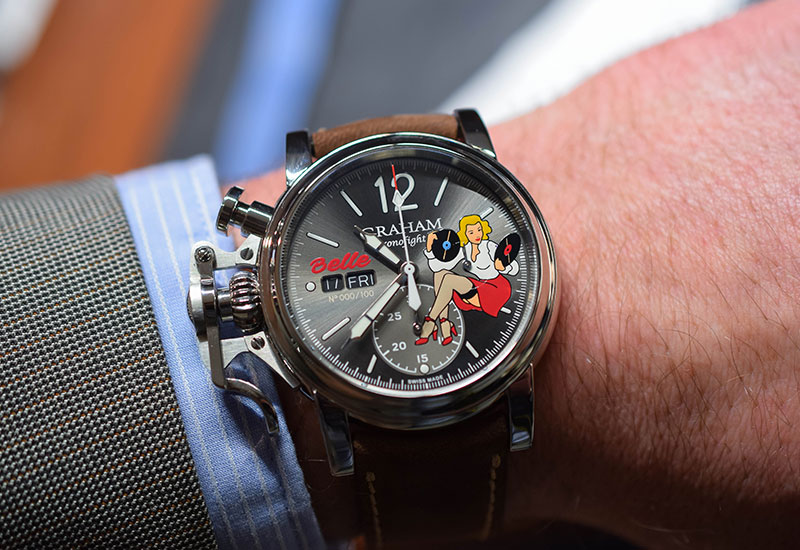 At 44 mm, the vintage automatic chronograph is a close, comfortable fit on the gentleman's wrist. It features a sunbrushed vintage dial with the pin-up girl's silhouette. Each model is dressed – coloured in, that is – by hand, which takes up to 30 minutes.
"Since they are hand-coloured, the quantity of colour isn't uniform. They have to be dried for eight hours – we can't just put them in an oven for an hour," Zingg explains. This time-consuming process hints at the exclusivity of the limited edition collection. Only 100 models were made.
These new watches are similar to last year's edition: 100 m water resistance, red-tipped chrono hand, and rhodiated minutes and seconds counters hands. Straps are available in brown, blue, or black calf leather.
Four glamorous ladies capture the spirit of freedom with feminine allure. Make your acquaintance: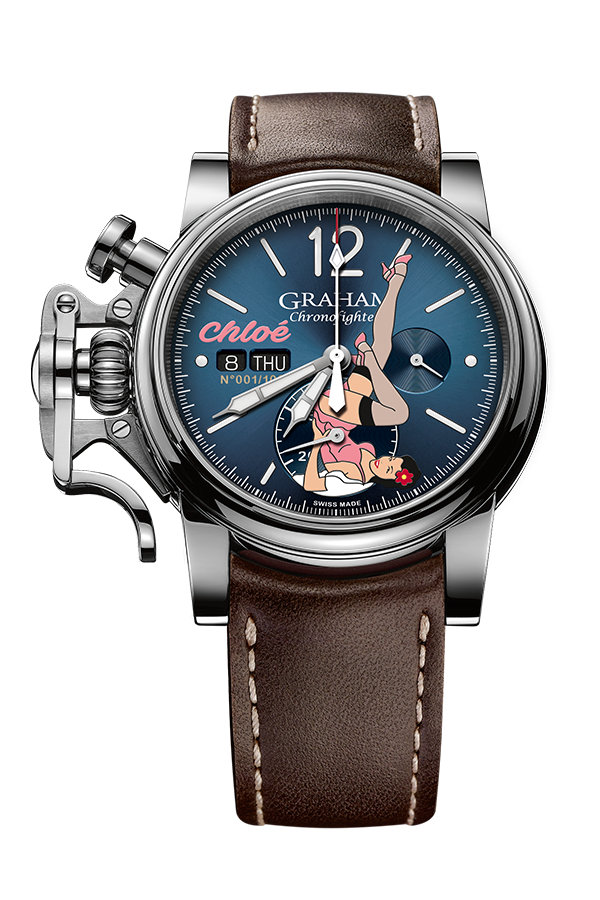 Chloé
Chloé
Cheeky cabaret dancer Chloe is giving us all the Moulin Rouge vibes in her pretty pink get-up.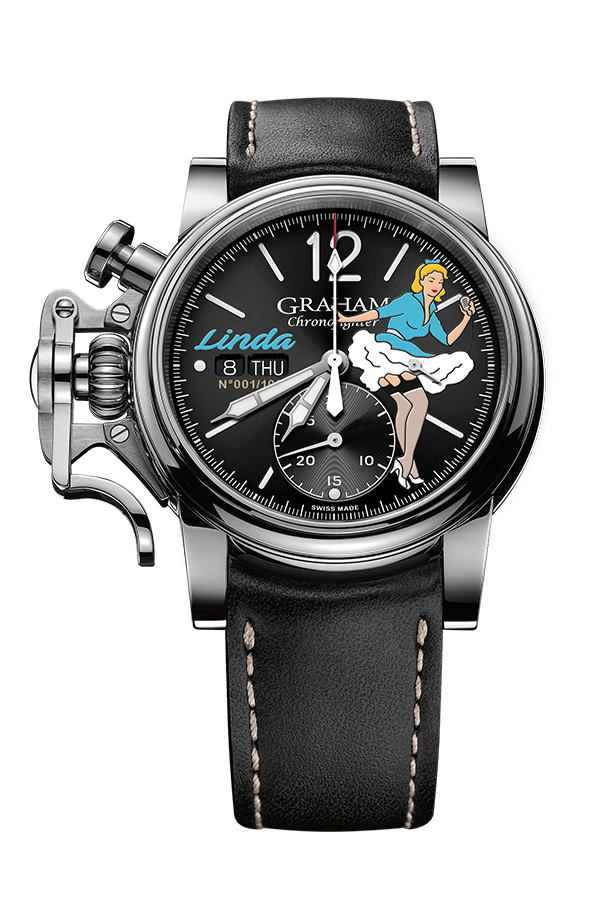 Linda
Linda
Can you guess which icon this carefree blonde songstress pays tribute to? Clue: that pose.
Lucia
Lucia
First she plucks her guitar to a flamenco tune, then she plucks your heart away.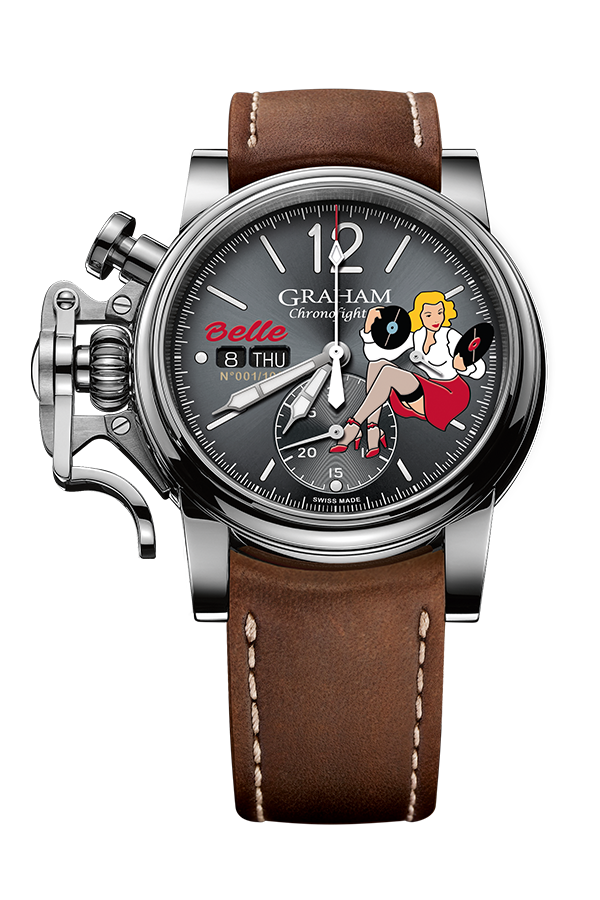 Belle
Belle
This lady in red was playing vinyls when they were cool the first time around.
(swipe left for more)
Explore the world of Graham on the official site.
Images: Graham & Swiss Watch Gallery