Model and AsNTM finalist Shikin Gomez shows how skincare can be quick yet efficient for when you're on-the-go. Watch and win Sephora products worth RM1,000!
Less than a week after her return from a gig in Mumbai, model and Asia's Next Top Model Cycle 5 finalist Shikin Gomez still looks as radiant as she does on runways – even minus the makeup. One can't blame us for feeling a little envious at how her skin looks so healthy despite her jet-setting lifestyle.
"I try to use products that give me extra hydration, especially when I'm travelling," she explains. "It's also important to use a really hydrating moisturiser at night if you sleep in an air-conditioned room like me."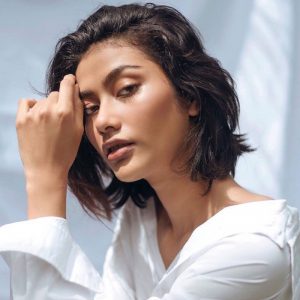 Although it's part of her job to wear makeup throughout the day (sometimes even having to remove and reapply different makeup looks for different engagements), her evening skincare routine is kept simple. She sticks with the basics: makeup remover, cleanser (double cleansing for good measure!), toner, moisturiser, lip scrub and lip balm; occasionally adding serum.
What's her lazy girl's trick to a quick skincare routine when she wants to hit the sack early?
"I always use two cotton pads for all my makeup removal steps (including toner) so it's fast. Two hands, two times faster – that's my hack," she says with a hearty laugh.
Watch how she gets unready after hours in the video above.
Follow Shikin Gomez on Instagram @shikingomez to keep up with the model's jet-setting lifestyle.
---
We are giving one (1) lucky reader the chance to win a Sephora goodie bag worth RM1,000 of skincare products.
To be in the running to win, just follow these simple steps:
Like FirstClasse Malaysia and Sephora Malaysia on Facebook
Follow @firstclassemalaysia, @sephoramy and @shikingomez on Instagram
Share this post on Facebook (make sure you set your visibility to Public)
Answer the questions below:
[This giveaway has ended]
This giveaway will end on Wednesday, December 19th, 2018. The winner will be announced on our Facebook page on Thursday, December 20th, 2018.
– This giveaway is open to readers residing in Malaysia except employees and the family members of FirstClasse Malaysia.
– Each reader is entitled to one submission only. Duplicate submissions will not be entertained.
– Submissions close at 11.59pm on Wednesday, December 19th, 2018.
– Please leave us with an email at which we can reach you. The prize will go to the next participant should the selected winner fail to respond within 48 hours.
– FirstClasse Malaysia reserves the right to change the rules & regulation without prior notice.
Photography: Gan Yew Chin
Videography: Natalie Khoo
Shot on location at Element Kuala Lumpur