Its name is a play on the Cantonese word '福 – fook', which means good fortune, but a look at the menu suggests other creative (read: sexual) innuendos.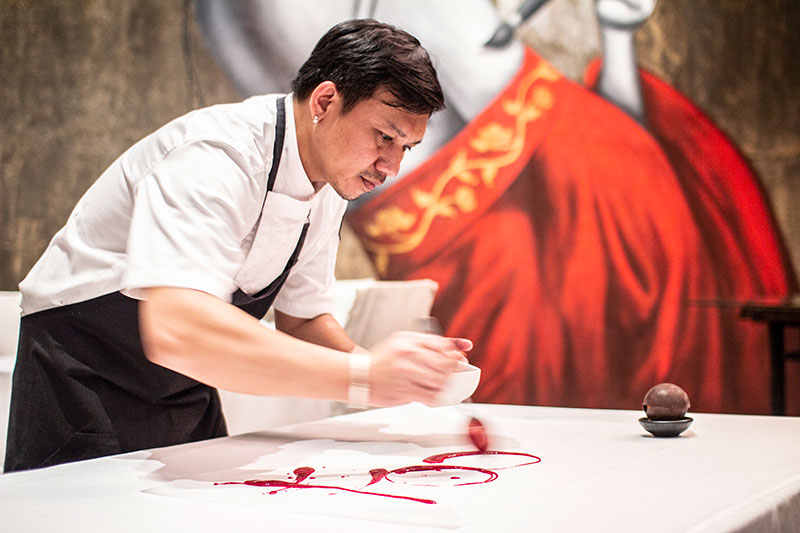 Modern Asian cuisine has been picking up locally in the past few years and we're all for it. The launch of new establishments offering the cuisine says it all. There's Yu by Ruyi for adorable and innovative dim sum delights; Mr Chew's Chino Latino for Asian fare with hints of Latin influences; and the internationally acclaimed CE LA VI for a mix of classic and contemporary Asian dishes served with a view.
Latest to join the expanding list is FOOK, offering tapas-style modern Asian dishes. The new brainchild of Tamarind Restaurants looks and feels rather distinct from its older sisters, Tamarind Springs and Tamarind Hill (located just next door), a factor we'll touch on later.
Its name is a play on the Cantonese word '福 – fook', which means good fortune, but a look at the menu suggests other creative (read: sexual) innuendos. On that note, this new kid on the Asian block is best appreciated with an open mind.
A space between old and new
Hidden away on a hilltop smack in the hub of Kuala Lumpur, FOOK is a juxtaposition of sights – it being set amidst lush foliage against the bustling city roads outside; in addition to boasting striking red and neon lights around the bar contrasting the classic giant chandeliers in adjacent dining spaces.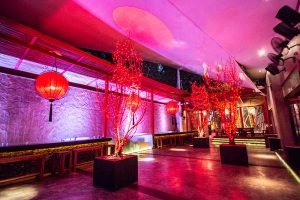 The entrance presents itself after walking up either one of two separate flights of stairs, one leading to the bar and the other closer to the dining area. This is a signature feature across Tamarind Restaurants, evoking a journey to a "world sans worries".
Inside the dining spaces, guests will find large, commanding murals of Asian women. Table seating favours a more traditional setup with a neutral, earthy palette, almost what you'd expect of a conventional fine-dining restaurant. Just opposite, the open kitchen offers glimpses of Chef Sombat Kokasembul working his culinary magic.
East-Asian inspired menu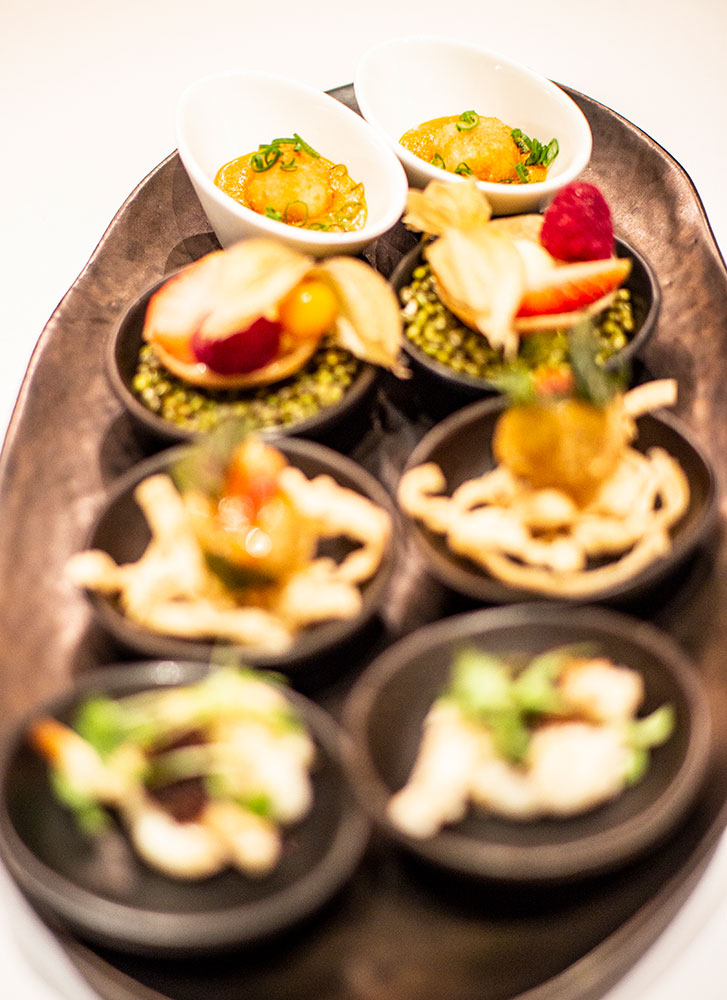 Though previously trained in Western-style cooking, Chef Sombat, who hails from Thailand, brings his interpretations of traditional Chinese, Japanese, Korean, and Southeast Asian dishes to the forefront at FOOK. True to Asian culture and cuisine, his creations are served in large plates or bite-sized portions meant for sharing.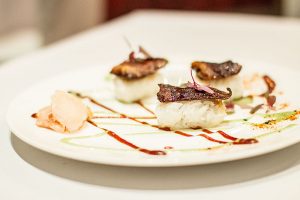 For appetisers (or "Foreplay" on the menu), the FOOK Platter warms up the appetite with a quad of cheese croquette, fruit tart, crab roll and lobster tail tapas. The F.U (Fake Unagi) Sushi adds a bit of fun at the table, where guests can attempt to guess what the main ingredient really is. We'll leave that for you to discover, but here's a hint: it's a type of fish known for its delicate texture and mildly sweet flavour. Its meat is also very versatile, hence why it tastes surprisingly like eel when grilled and dressed with unagi sauce.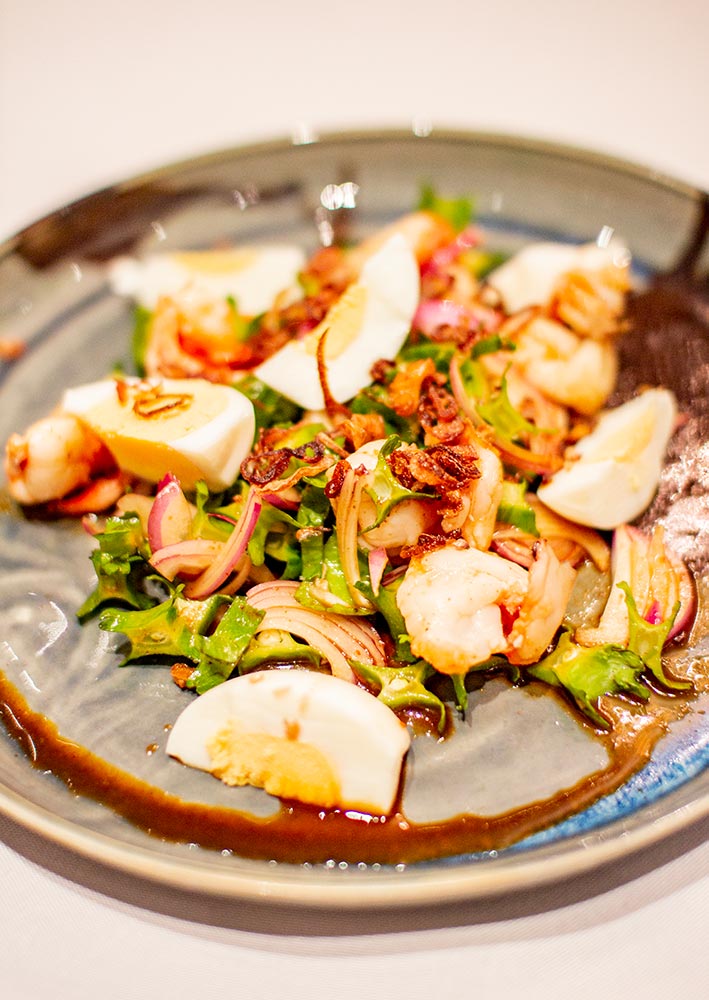 Next, we try the Winged Bean Salad, which is served with poached prawns, eggs, potatoes and tom yum dressing. The fried shallots and subtle spice from the dressing complements the winged beans well and the overall combination makes for an appetising, flavourful dish.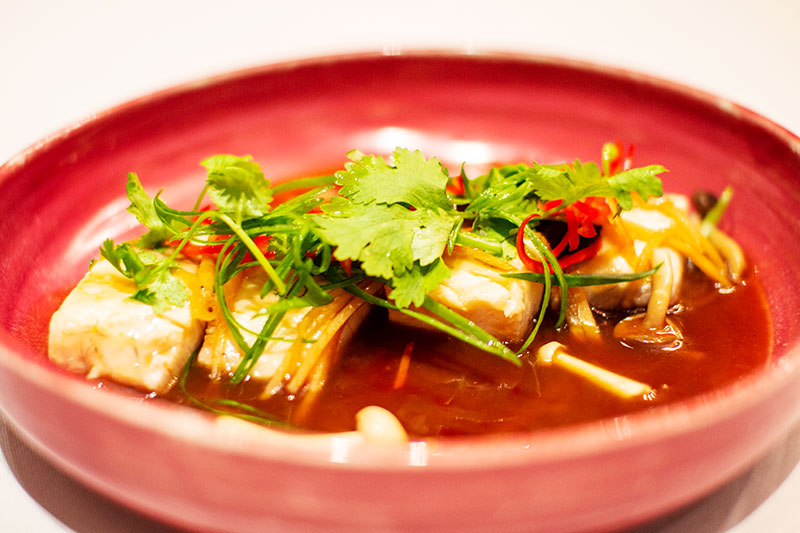 We skip the "Fook Me" section of the menu and opt for a dish off "Fook Yu" instead. In case you're wondering, both categories play on the words "mee" and "yu" which mean noodles and fish respectively in Cantonese. However, the kitchen sent the wrong order, so we end up with Cod Steamed with Ginger and Soy Sauce instead of grilled grouper with spicy Sichuan pepper. Service blunder aside, we find the dish quite average, leaving much to be desired.
Like the previous dish, the Smoked Beef Brisket in Charcoal Bun tastes rather one-dimensional but this is likely due to the fact that we removed the cilantro (not fans of the pungent herb). The meat portions are quite generous, however, we personally prefer different condiments and spices to enhance the game.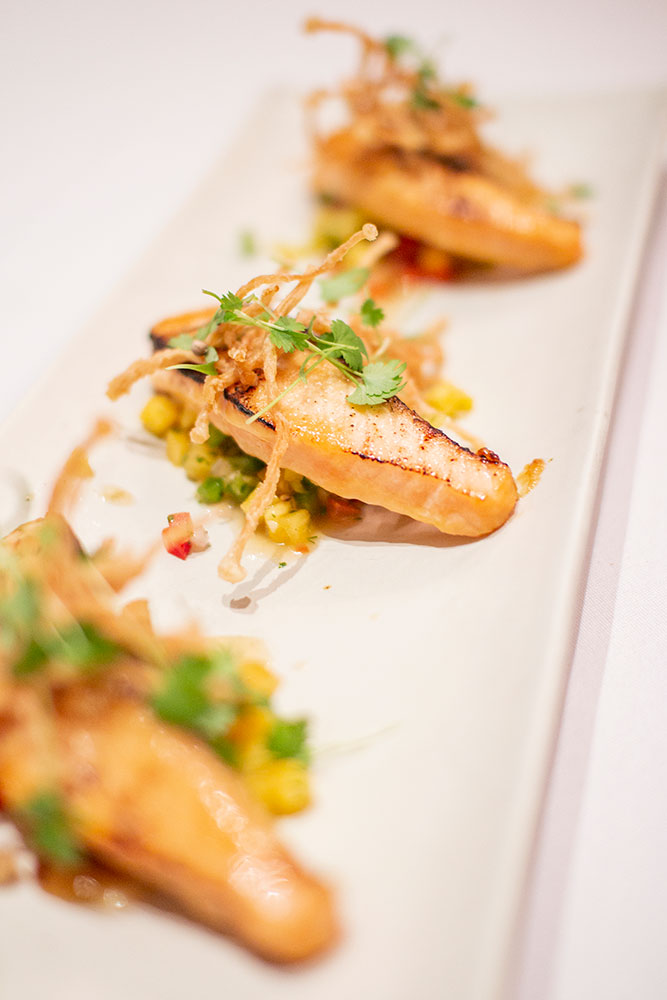 Our meal picks up with something from the "Sea Fook" list: Wood-Fired Oven Baked Salmon Miso. The dish greets our palate with fresh, tender salmon highlighted by a delightfully umami Japanese sauce. If in doubt of what to order, go with this.
One-of-a-kind desserts and cocktails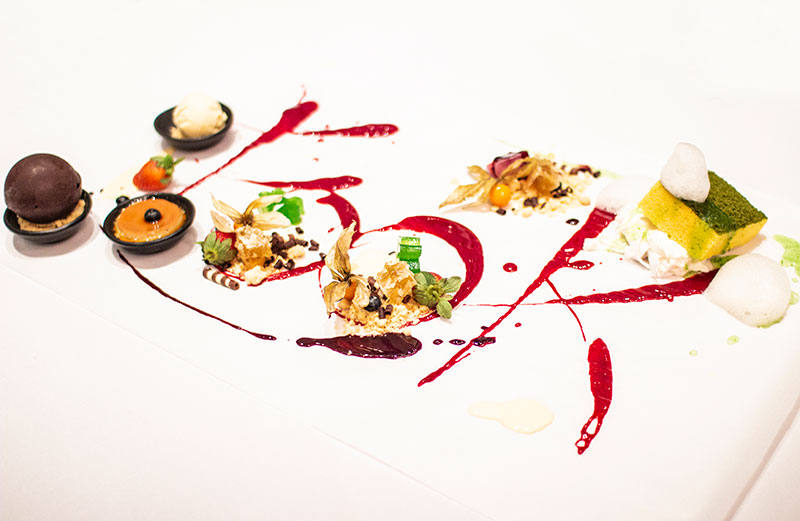 FOOK's desserts are another experience altogether. This is where we get to see Chef Sombat's artistic skills upclose as he prepares Fook's Dessert Opera for Two right at our table. Get your smartphones ready because it's an experience you'll want to snap for the gram.
He starts by drawing the name of the restaurant with berry sauce – upside down, mind you – then decorating it with fruits and sweet treats including chocolate swirls, cookie crumbs and pandan jelly. The result: a gourmet masterpiece for the sweet tooths. It's said to be made for two, but really, there's enough for three to four to share, especially if you've had a meal before.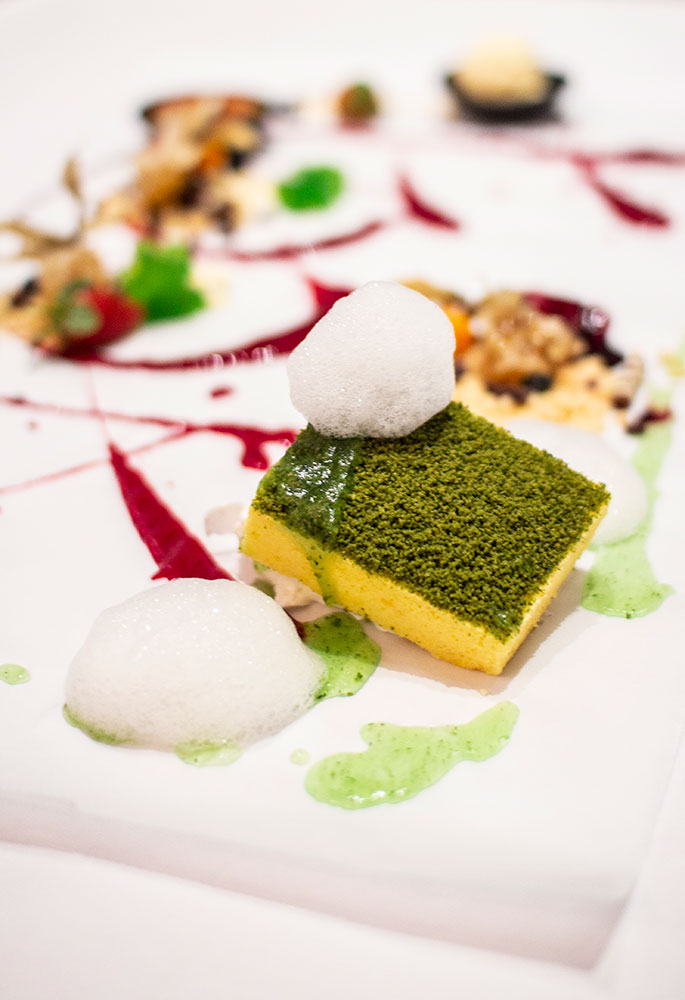 Our second dessert, Scrub-a-dub Sponge is another amusingly imaginative creation. The 'sponge' is actually a slice of lemon spongecake topped with green tea crumble, while the green 'detergent' is mint sauce with a jelly-like consistency. Completing the dessert is a mix of fresh coconut cream and lemon foam. We recommend taking only a bit of the sauce though, as a drop too much can easily throw the flavours off balance.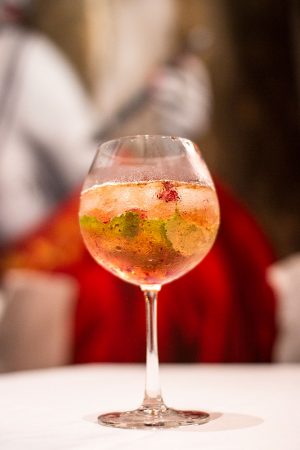 Cocktails are no less impressive, as our two choices prove. Groovy Baby is the perfect pick-me-up for anytime of the day, comprising dry beer, grapefruit cinnamon compote and grapefruit puree. After 5 is a slightly stronger concoction of Cava sparkling wine, Umeshu, peach liqueur, blueberry and bitters; but still goes down "Easy Peasy", as the name of the category implies.
On the whole, we'll likely return for cocktails and maybe desserts for kicks, but there's room for improvement when it comes to the food and service.
For reservations and enquiries, please visit the official website at fook.my.
Location: 19, Jalan Sultan Ismail, Bukit Bintang, 50250 Kuala Lumpur
Opening hours: 5.00pm to midnight daily
Photography: Gan Yew Chin