From cultivating a sourdough starter to learning French wining and dining terms, take a gander at what we have in store below.
Being quarantined at home can feel demoralising and restrictive, but that's not to say we can't do something about it. As American actress Debbie Allen once said, "But out of limitations comes creativity."
With that in mind, we at FirstClasse would like to encourage you to pick up a new skill or learn something different with our second #FirstClasseLive lineup, happening next week live on our Instagram. Take a gander at what we have in store below.
Monday, 4pm: Cultivating a Sourdough Starter with Provisions KL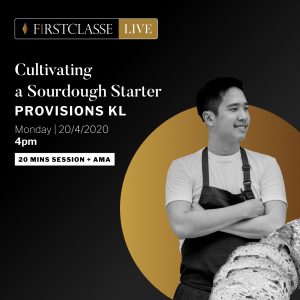 You may or may not have seen photos of sourdough bread flooding your Instagram feed over the past few weeks. Well, we spoke to the pros to find out exactly how it should be done. Get your flour, yeast and cooking supplies ready on Monday as Lim Heng Kit, co-founder and chef of Provisions Cafe will be showing you how to cultivate your very own sourdough starter.
Tuesday, 4pm: Homeplanting with Pulpy Garden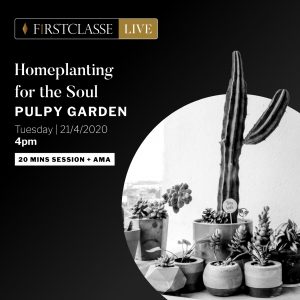 We know that decorating the home with adorable succulents and planters isn't as easy as it looks. That's why we're getting a little help from Josephine Ong, founder of Pulpy Garden, on keeping our house plants alive and well. You can also ask away if you're struggling with your plant babies, or if you need some ideas to spruce up your interiors with greenery. Happy greens, happy home!
Wednesday, 9pm: Pairing Cigar and Liquor with Eiling Lim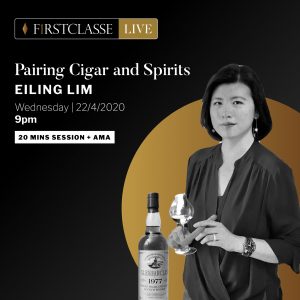 For those unacquainted, Eiling Lim is the first independent Malaysian whisky bottler who also makes her own brand of gin. What not many people may know, however, is that the Belgian-based connoisseur collects rare bottles and cigars that may put male counterparts to shame. Discover her collection and how to pair cigar and liquor in her personal home masterclass on Wednesday evening – just in time for your happy hour fix!
Related: Eiling Lim, Malaysia's first independent whisky bottler, on all things gin
Thursday, 9pm: Wining and Dining like a True French with Pierre Boyer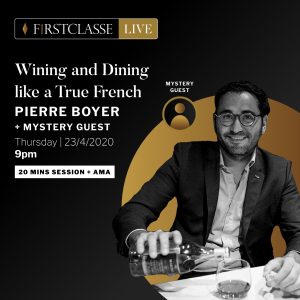 You may be familiar with foie gras, escargot and fromage. But how do you ask for the wine menu or comment on that scrumptious coq au vin? Trust a true French gentleman like Pierre Boyer to show you. Tune in with a special mystery guest on Thursday evening for a brief French 101 on common French foodie terms, so you can nail it at your next fine dining date.
Friday, 5pm: Getting Unready With: Naddy Rahman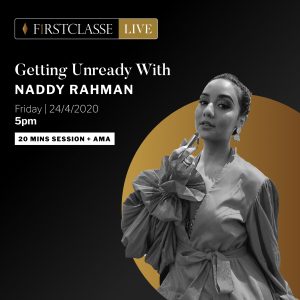 Calling all beauty enthusiasts, there's no better time than now to perfect your beauty routine and find your holy grails! Even if you're new to skincare, it's never too late to start practicing self-love and take good care of your skin. Join us on Friday evening as beauty influencer Naddy Rahman will be sharing her evening skincare routine and her top tips to look amazing by the end of MCO – and beyond!
Watch now: Getting Unready With: Jasmine Suraya Chin
In the meantime, click here to catch what you missed from our first #FirstClasseLive programme last week!
Follow us on Instagram @firstclassemalaysia for more updates.