Ebisu's new home at Banyan Tree KL's Altitude offers a modern, spacious setting to savour its brand of Japanese cuisine with a contemporary leaning.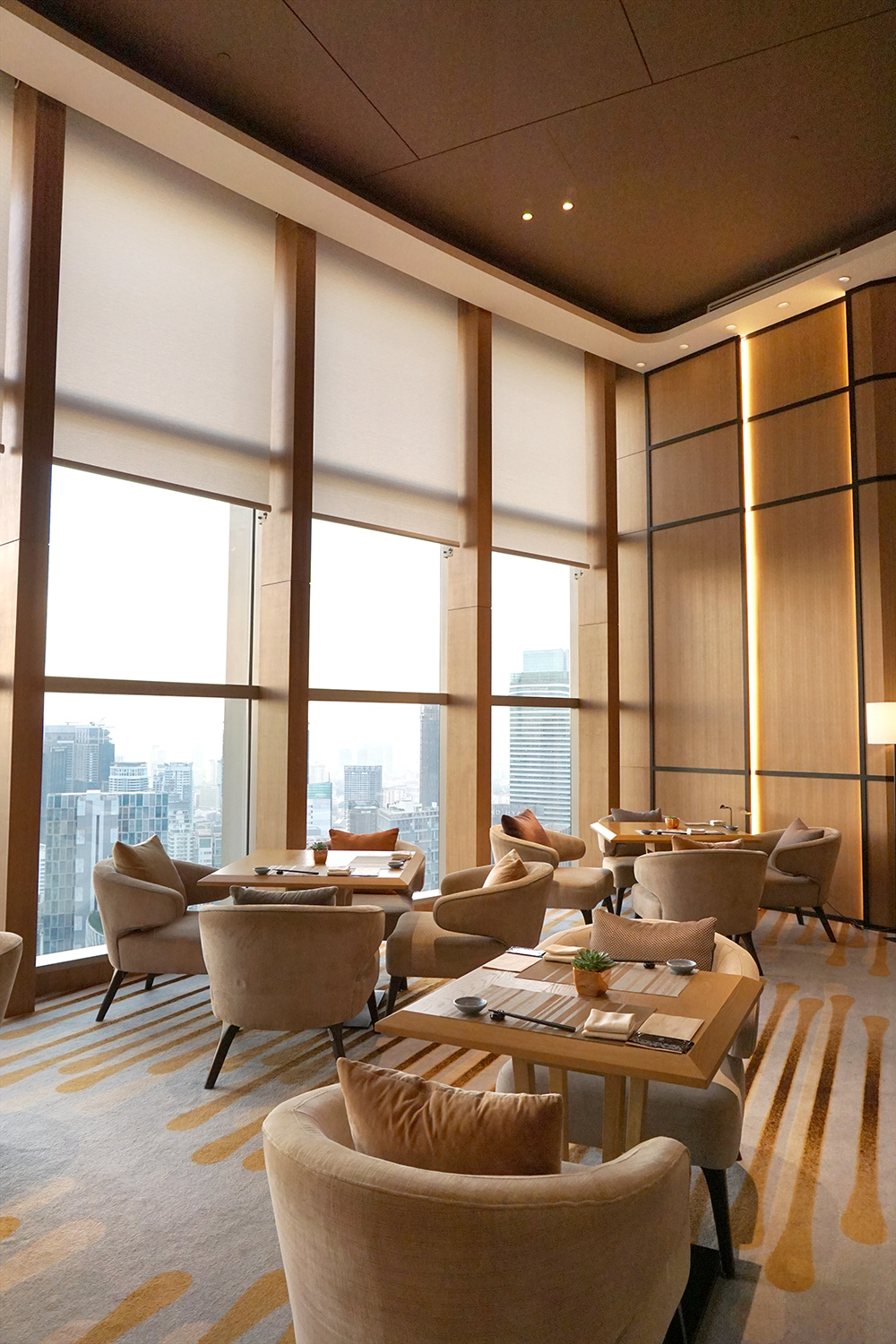 Watch out Nobu, there's another spot in town out to tempt fans of Japanese cuisine with a view of KL's skyline. Formerly located on the 8th floor of Pavilion Hotel Kuala Lumpur, Ebisu has since reopened after the MCO at Altitude, Banyan Tree Kuala Lumpur – bringing its brand of Japanese dining to new heights, quite literally.
For those who've yet to be acquainted with Ebisu, its name references one of the Seven Gods of Fortune in Japan, who is often portrayed holding a fishing rod on the right and having a red sea bream on the left. Coupled with its Crest motifs in red – the Japanese colour of prosperity – and you might get the gist that Ebisu's offerings highlight a bounty of seafood treasures.
While that may be expected of any respectable Japanese restaurant, Ebisu occupies that sweet spot between fine and casual Japanese dining. This means guests can expect an extensive repertoire of dishes on the menu for a la carte orders, as well as course meals or a tailor-made omakase experience.
Japanese dining with panoramic views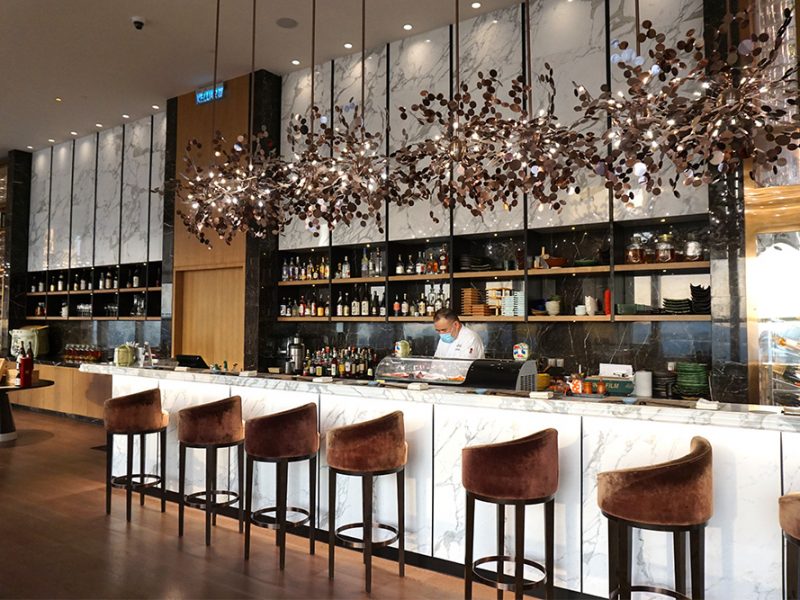 Unlike most Japanese dining venues with warm, cosy atmospheres, Ebisu's new home offers a modern, spacious setting with elaborate interiors. Initially planned as a pop-up at Altitude (prior to the reopening of Pavilion Hotel), its successful reception led to the management's decision to retain its new location permanently. (We are told there will be renovations to the space later this year to reflect so.)
Chef de Cuisine Kusuo Kamiishi, or more fondly called Ricky, helms Ebisu's kitchen with over three decades of experience in the industry. He has previously honed his skills and perfected his art at various Japanese fine dining establishments around the globe, including Shangri-La Singapore, New Otani Hotel Tokyo, Shangri-La Kuala Lumpur and Sheraton Tokyo Bay.
Under his watch, Ebisu's selection of sashimi, maki, fried dishes, dessert and more are carefully curated to offer quality produce through inventive ways that build on his experience and techniques. What better way to put this to the test than with an omakase meal for the chef's pick of his best on the fine evening we decided to drop by?
Omakase with a contemporary leaning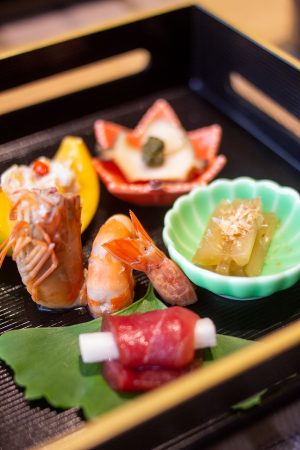 Instead of a humble salad or solo dish as one might presume, a tray of seafood and vegetables finds us at starters. The quintet before us comprises of a sweet slice of persimmon with a unique, homemade tofu sauce; abalone topped with a dollop of liver sauce; pickled celery sticks served with bonito flakes; maguro (tuna) wrapped around an unsuspectingly crunchy, juicy yam; and a lightly marinated prawn. Each bite offers fresh and familiar flavours with a special twist that hints at Chef Ricky's contemporary play on the food. The only snag is the slightly overcooked prawn, which leaves us wanting after the appetising mingling of flavours and textures in the other morsels.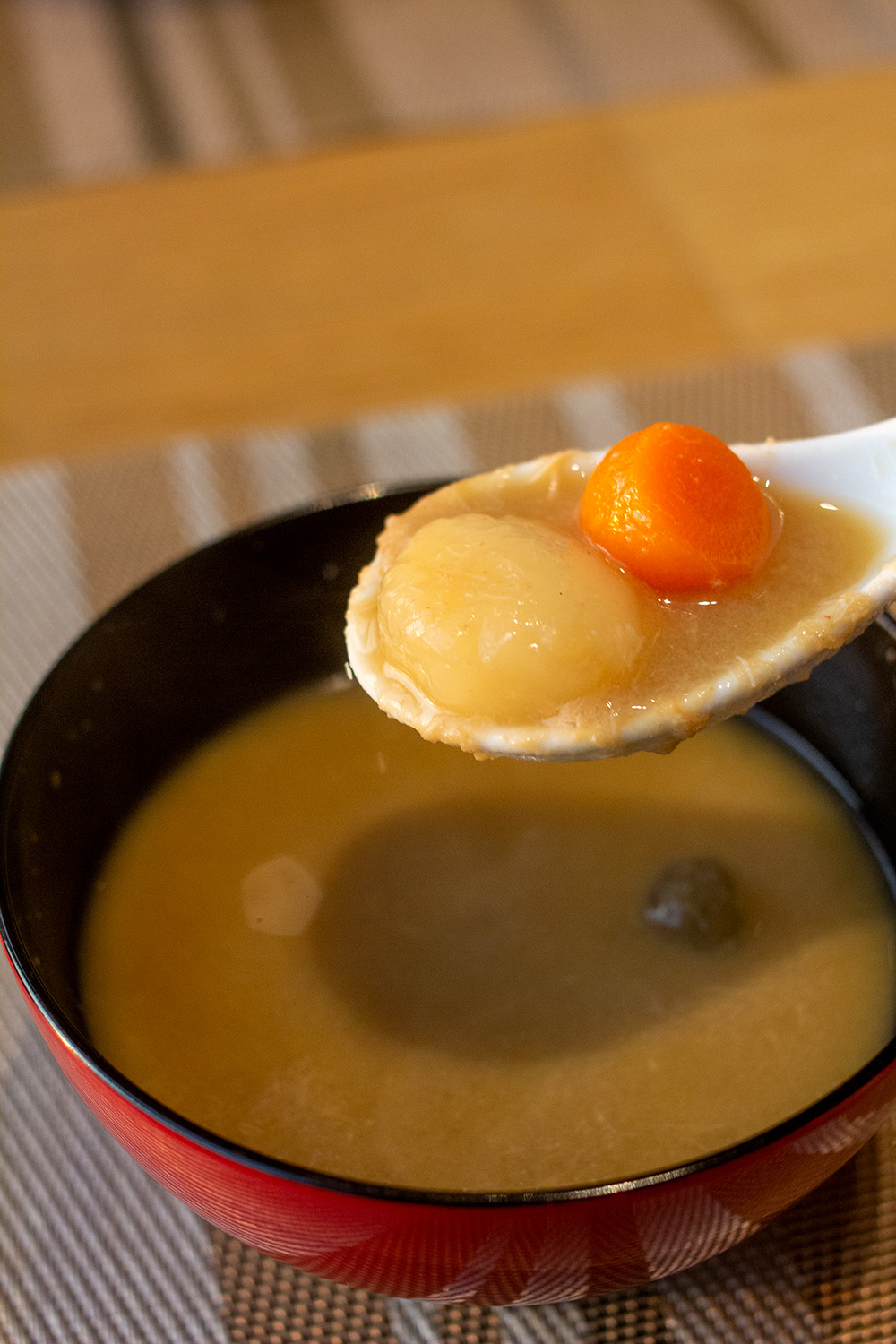 A steamy crab broth picks things up in the second course, offering heady, flavourful punches of Japanese mud crab with every spoonful. Bite-sized wintermelon, carrot and mochi add texture and sweetness to the soup, making it a hearty but not heavy dish to whet the appetite for more.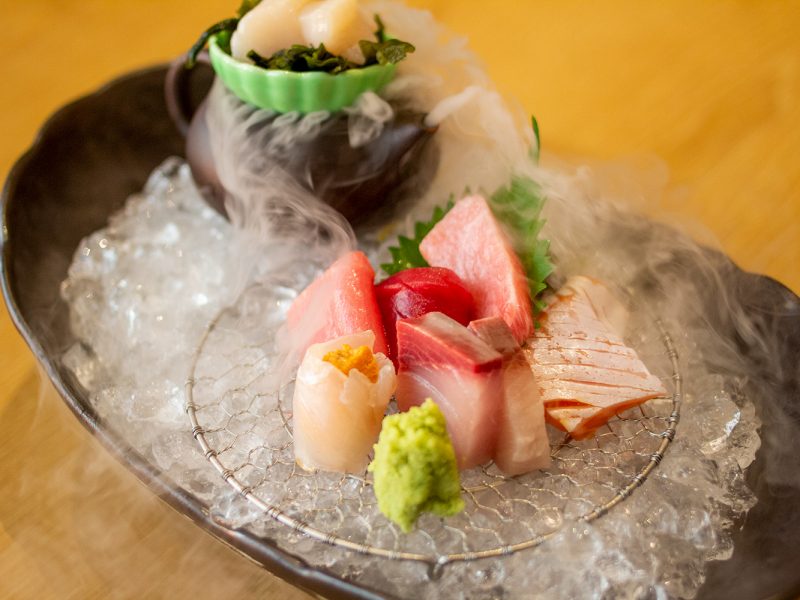 Our third course, a sashimi platter, arrives in a smoky display that in certain occasions may seem overdone; but next to our view of the Kuala Lumpur Tower, makes for a gram-worthy spectacle. The platter itself is plenty to entice sashimi lovers with its chunky servings of hotate (scallop), uni (sea urchin) draped in a beautifully translucent engawa (flounder fish), hamachi (lumberjack), akami (lean tuna), chutoro (medium fatty tuna) and otoro (fatty tuna). Accompanied with freshly grated wasabi and house special white soy sauce, every piece of raw fish is as fresh and umami as the next – singing an ode to Japan's best sea treasures of the autumn season.
Read later: 8 omakase restaurants in KL to leave things up to the chef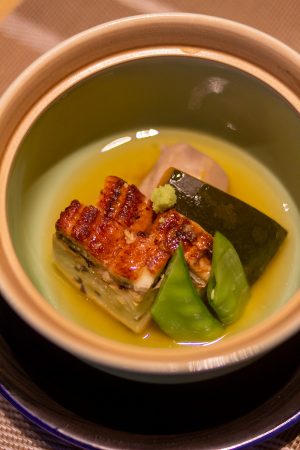 Next up is a grilled dish, in which two slices of tenderly grilled unagi (eel) rest atop a bed of tofu. Japanese pumpkin, sweet potato and snow peas complement the proteins, offering something to chew on between pieces of the silken meat and beancurd. We aren't the biggest fans of tofu and this dish didn't do much to change that, but the eel holds a decent semi-firm texture and sweetness on its own.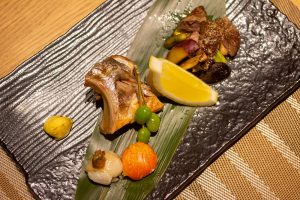 Carrying on the grilled portion of our meal, we have a melange of hamachi (yellowtail fish) collar and wagyu, served alongside salmon and engawa (flounder) sushi, chestnut, yam and gingko. The hamachi is well-seasoned with a nicely charred skin and tender, briny meat that gets a hint of acidity from a spritz of lemon; whereas the wagyu is served medium-well – which is more cooked than we'd like (medium-rare) – but buttery, fragrant and juicy nonetheless.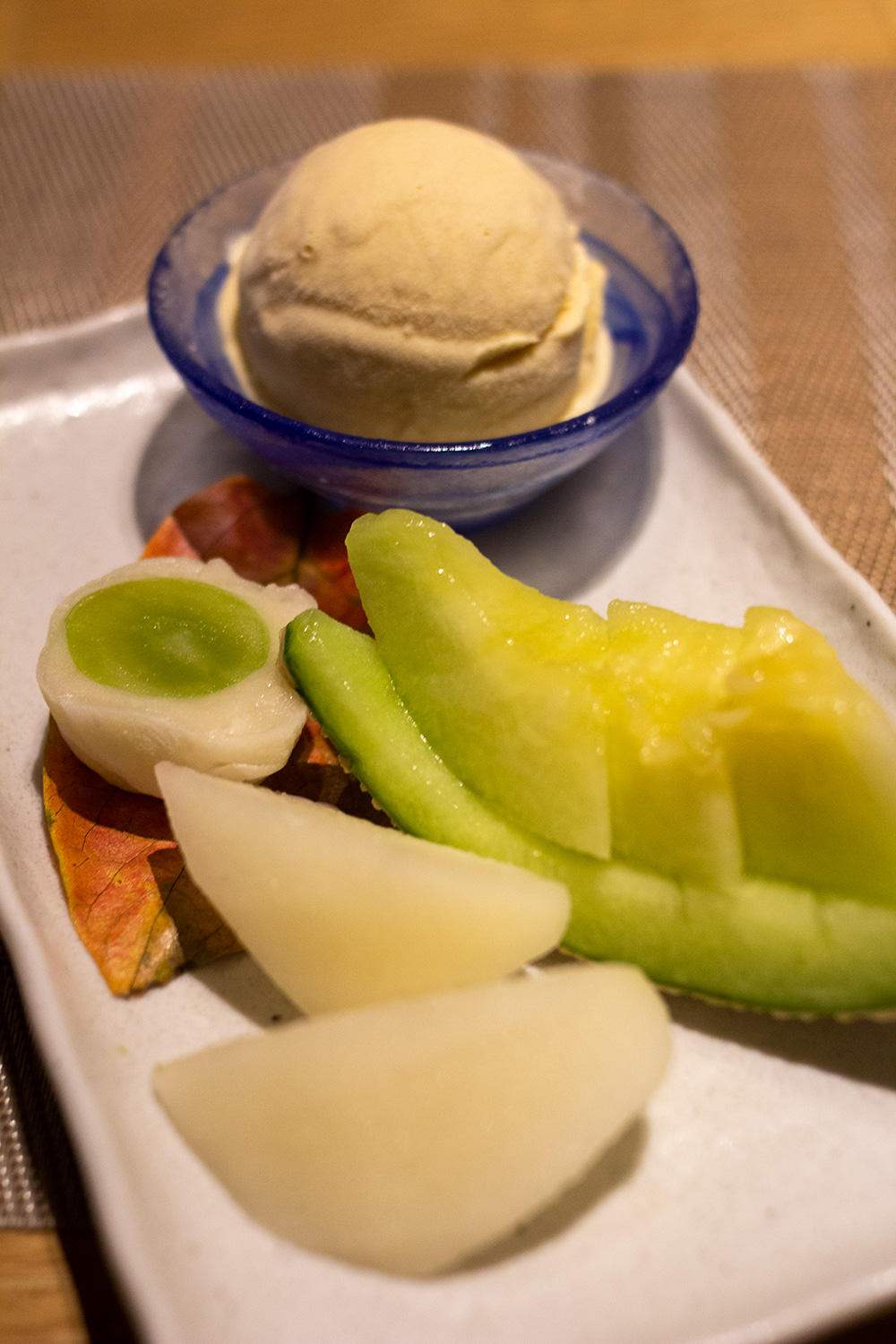 Chef Ricky comes out from behind the counter to check on our capacity to go on at this point – to which we consent to our final course. Truth be told, we are filled enough to skip dessert, but the sound of miso ice-cream piqued our curiosity enough to excuse the extra pounds. And we're not disappointed, as our taste buds find the distinctively sweet, salty and earthy aromas of miso in frozen form. It reminds us of salted caramel, but with an umami-ness that's identifiably Asian in flavour.
The accompanying trio of Japanese melon, pear and grape daifuku finish off our meal on a pleasantly sweet note. If we may add, this goes down as one of the best desserts we've had in an omakase course meal to date. On the whole, for its competitive price, ambience and views, Ebisu confidently lives up to the heights of its swanky new spot in town.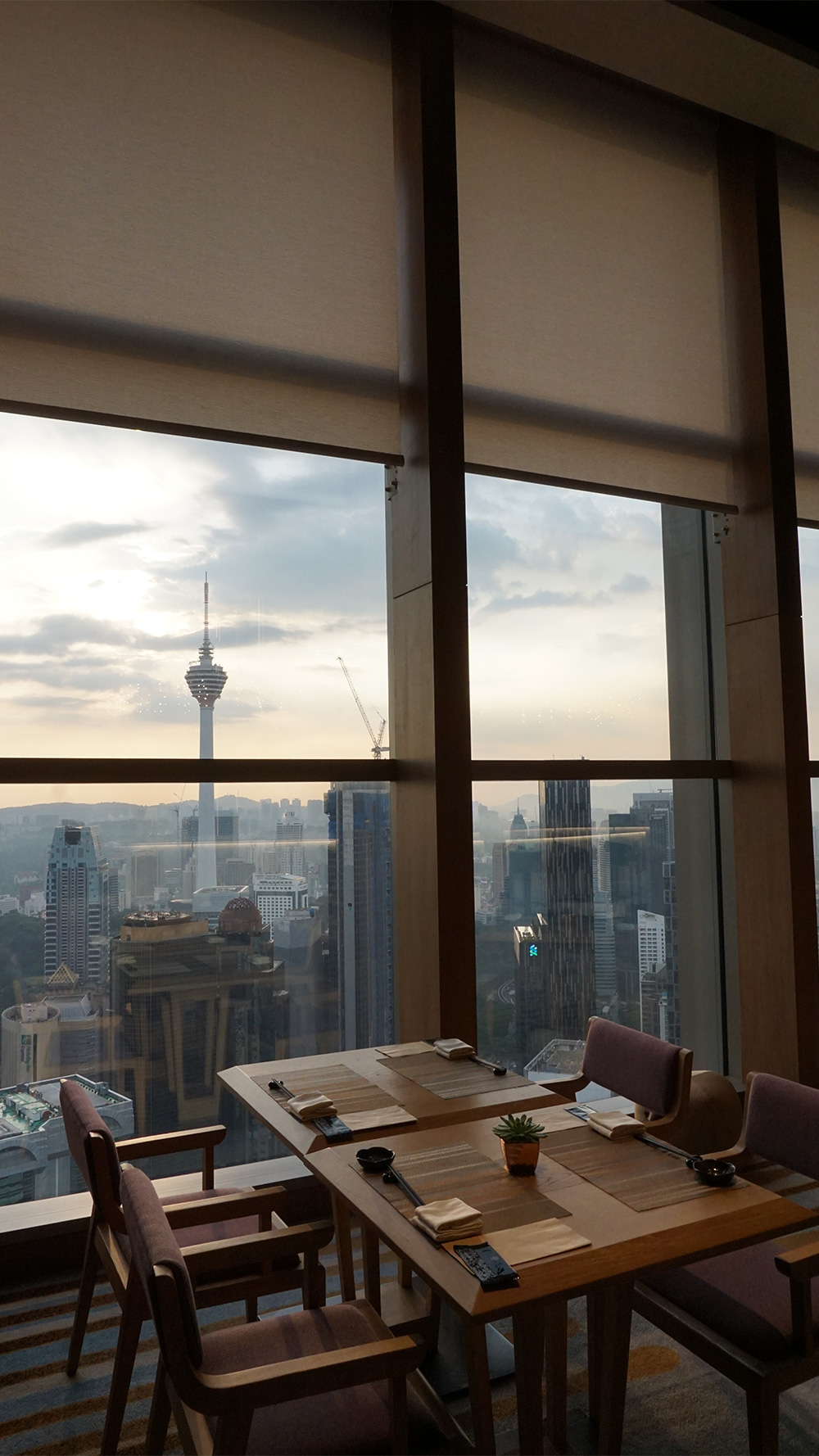 For reservations and enquiries, please call +603 2113 1823 or email altitude-kl@banyantree.com.
You may also like: Leave it up to Sushi Kazu for an umami-packed omakase experience in KL
Location: Level 53, Altitude @ Banyan Tree Kuala Lumpur, 2 Jalan Conlay, 50450 Kuala Lumpur
Operating hours: 12pm to 3pm (lunch); 5pm to 9pm (dinner) daily
Photography: Anson Siau