Two FirstClasse writers with different hair textures take the Dyson Airwrap™ Styler for a spin.
Two years after the launch of the Dyson's iconic Supersonic hair dryer, the Airwrap™ Styler made its way into the world of beauty. It didn't take long at all for it to be the talk of the town and beauty community, thanks to its innovation of using air to style hair. In celebration of International Women's Day, Dyson released a limited- edition Airwrap™ Styler Complete in Red/Nickel.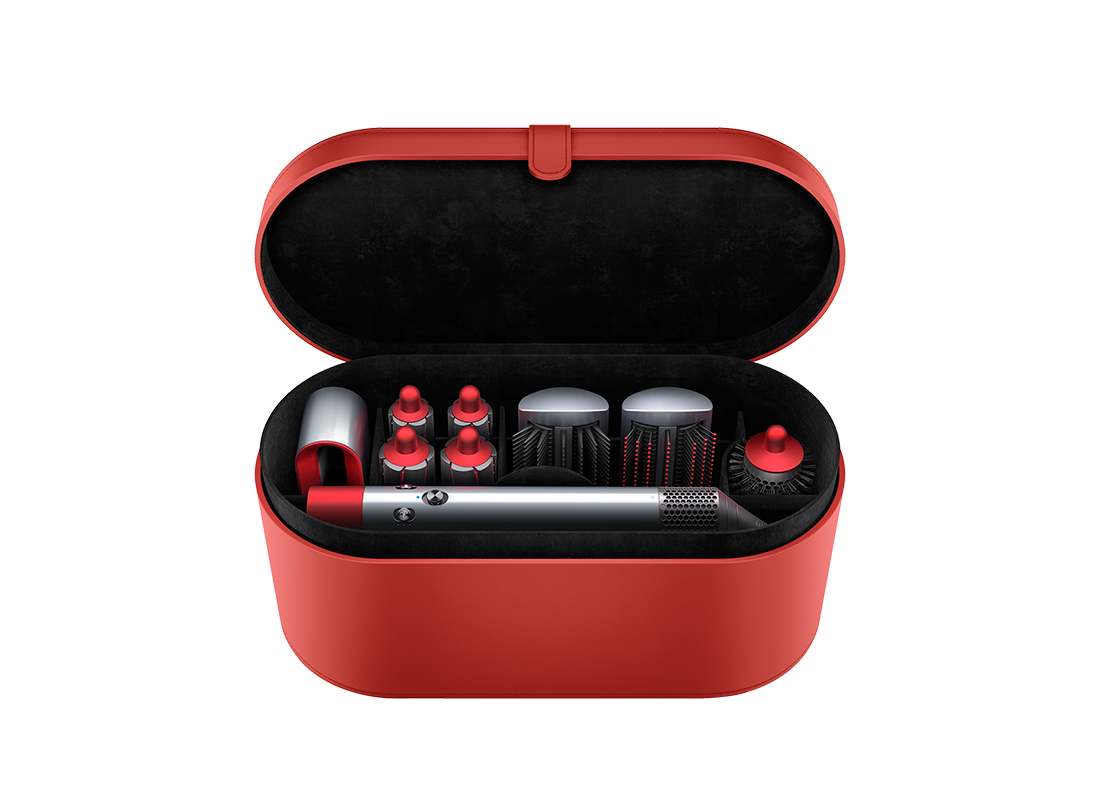 The Dyson Airwrap™ Styler is powered by the Dyson digital motor V9, and harnesses the Coanda effect to style the hair without using extreme heat, thus reducing heat damage. The Coanda effect uses air propelled at just the right speed and pressure to create a spinning vortex of air around the styling barrel, which gently attracts and wraps the hair to create the desired style.

We managed to get our hands on the new limited-edition Dyson Airwrap™ Styler Complete, which consists of 6 attachments: a pre-styling dryer, a round volumising brush, soft and firm smoothing brushes, and 30mm and 40mm Airwrap™ barrels. The styler and the attachments all come in the shade of nickel, accented with a bold, confident red colour. 
Natalie Khoo, Senior Writer
Fine, straight, waist-length hair
Having naturally fine, straight hair has been both a blessing and a curse. It's a blessing on days when I can't be bothered to style my hair (practically every day); it's a curse on occasions when I actually put in the effort. With standard heating tongs and hairsprays, curls would typically last only a few hours on me before straightening out. Hence, I was curious to see if the Dyson Airwrap™ would be any different.
As far as first impressions go, I loved that the limited-edition Complete set came in a bold, sexy red. Not that I wasn't a fan of the original pink, but the whole red and nickel colourway oozed strength and confidence – which gave me feel-good vibes as I tested the styler on International Women's Day.
After watching a simple tutorial on Dyson's website, I went with the 40mm barrels, since I prefer loose, beach waves over tight curls. Here's a breakdown of the process, followed by my thoughts.
The process: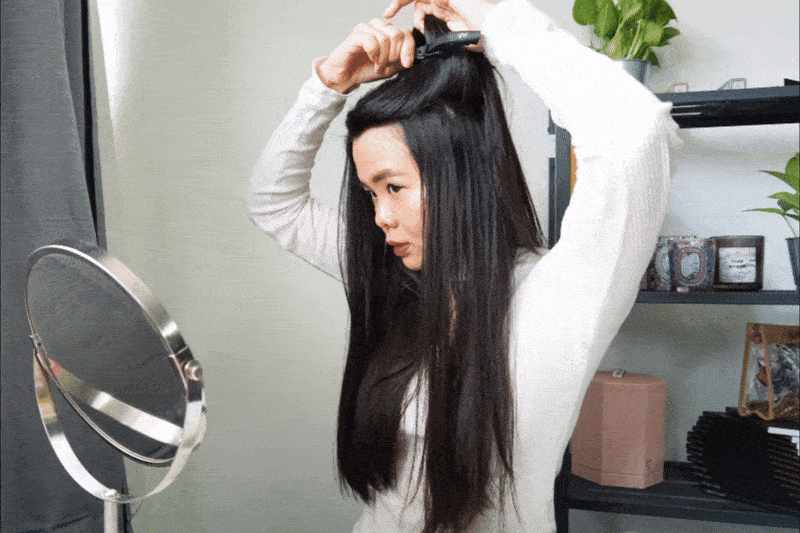 Step 1: Section
Step 1: Section
I started by sectioning my hair according to my side parting, then clipping the top half of each side. This step is optional, but I'd recommend it for those with a thick mane like mine.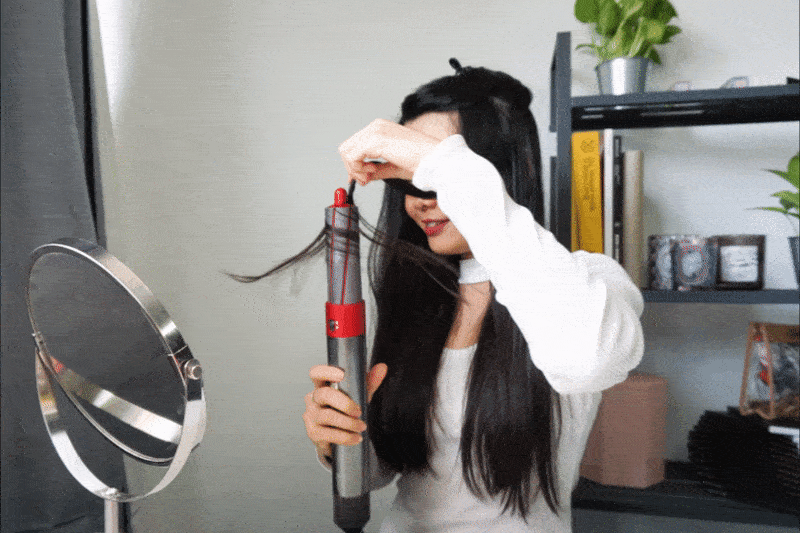 Step 2: Coanda
Step 2: Coanda
After that, I worked with small locks of hair (about an inch wide) and held it about 10 centimetres from the end. Then I simply allowed the Coanda effect to do its wonders and rolled the barrel towards the scalp.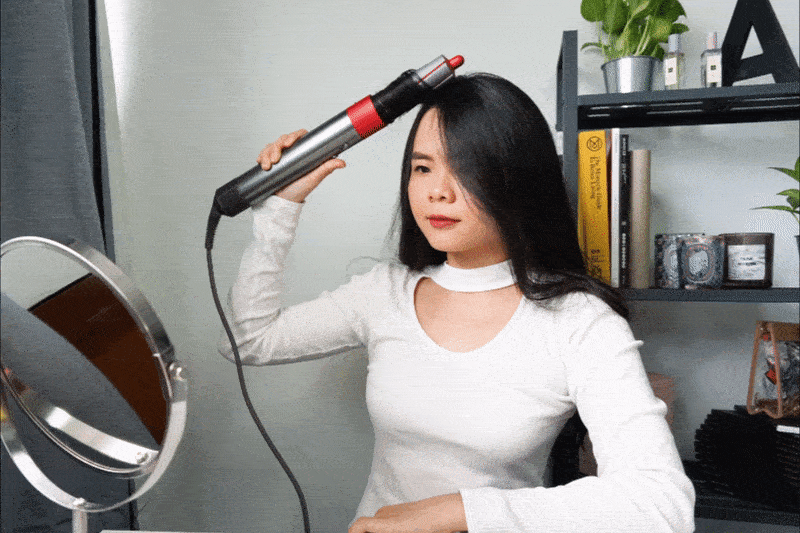 Step 3: Cool
Step 3: Cool
After about 10 seconds or when my hair is dried, I pushed the cool shot for another 5 seconds to set the curl.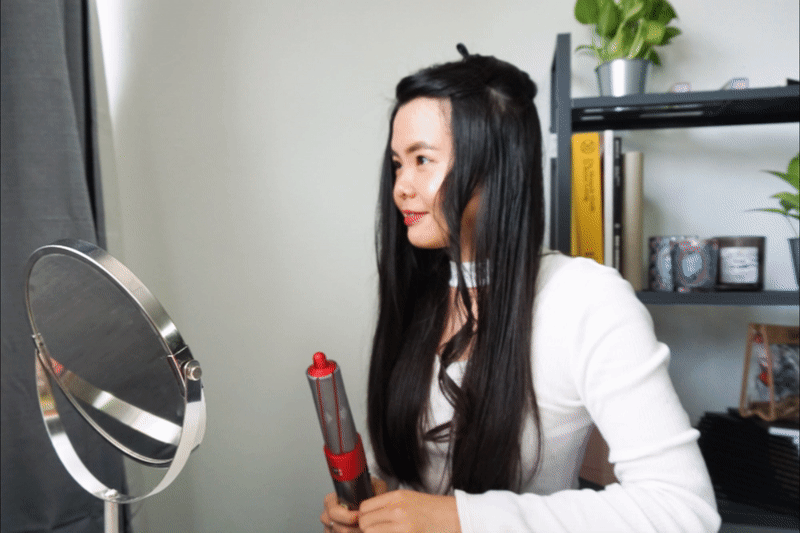 Step 4: Release
Step 4: Release
Lastly, I switched it off and pull the barrel downwards to release the curl.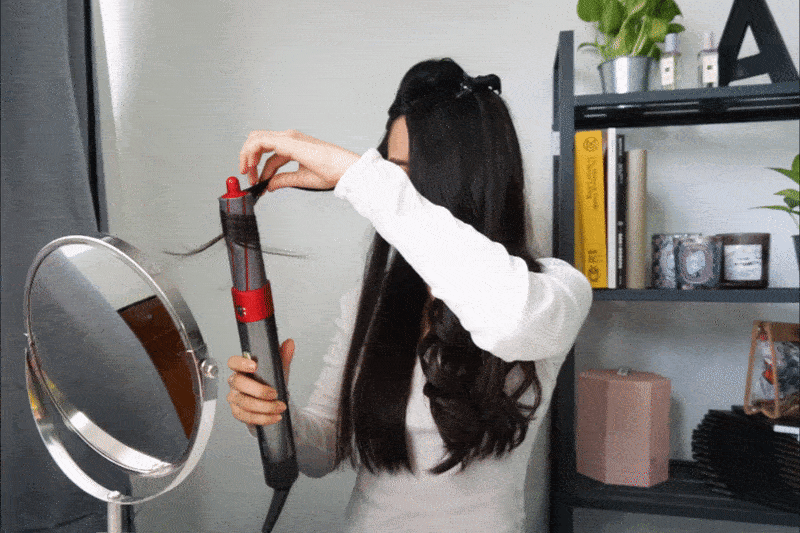 Step 5: Repeat
Step 5: Repeat
After completing one side, I switched barrels and repeated the steps.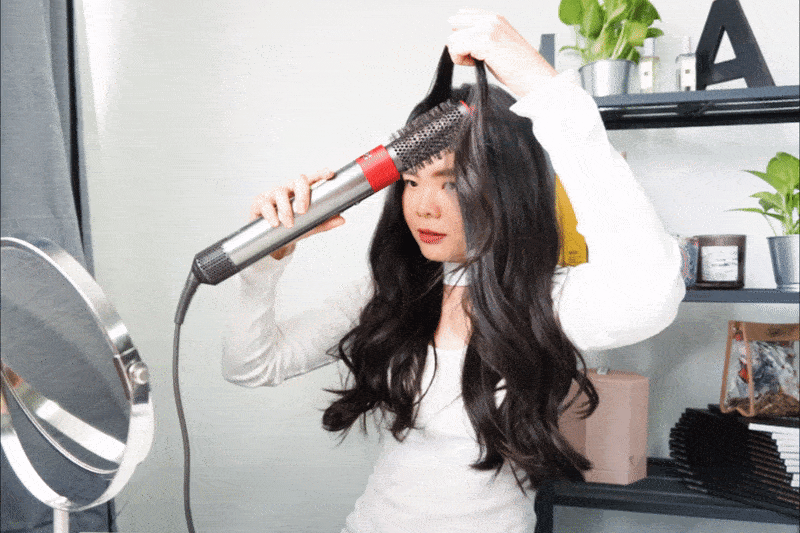 Step 6: Finishing touches
Step 6: Finishing touches
To add more volume to my crown, I switched to the round volumising brush and brushed through my fringe, focusing on the area near the scalp.
(swipe left for more)
The performance: Although the process felt overwhelming initially, it wasn't long before I got the hang of it (watching more videos helped). I appreciated how easily my locks wrapped around the barrel thanks to the unique Coanda effect, saving time and manual effort.
After several attempts, I found it easiest to work with 60% damp hair – too dry and the curls wouldn't hold as well, too damp and it'll take longer to dry and style at the same time. It took me between 40 minutes to an hour to complete the process, which may be long, but understandably so due to my hair length. Despite its large size, the styler is actually quite light, sparing me an arm workout.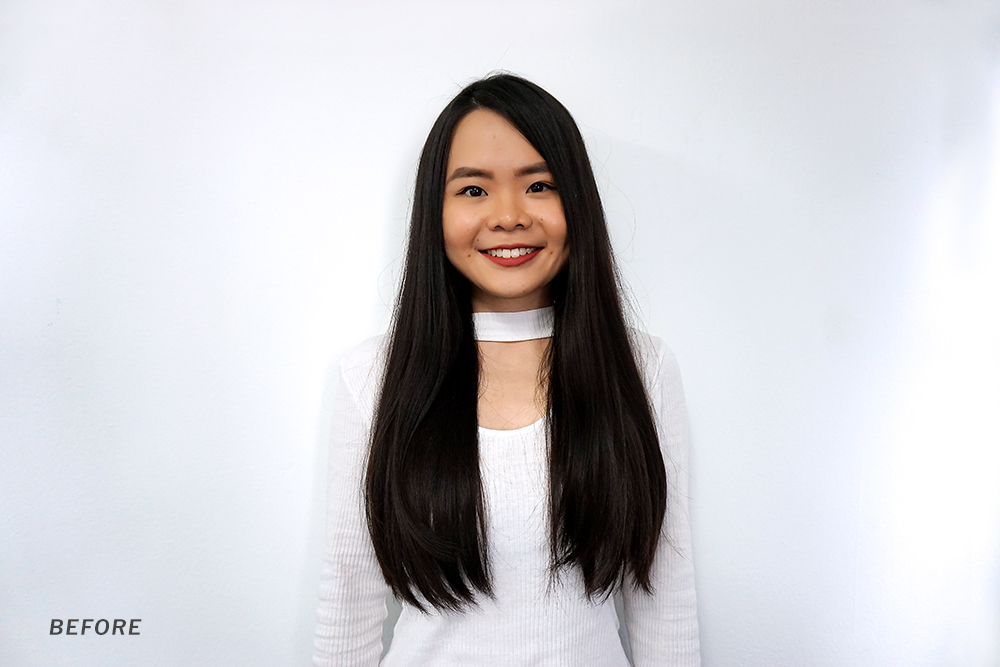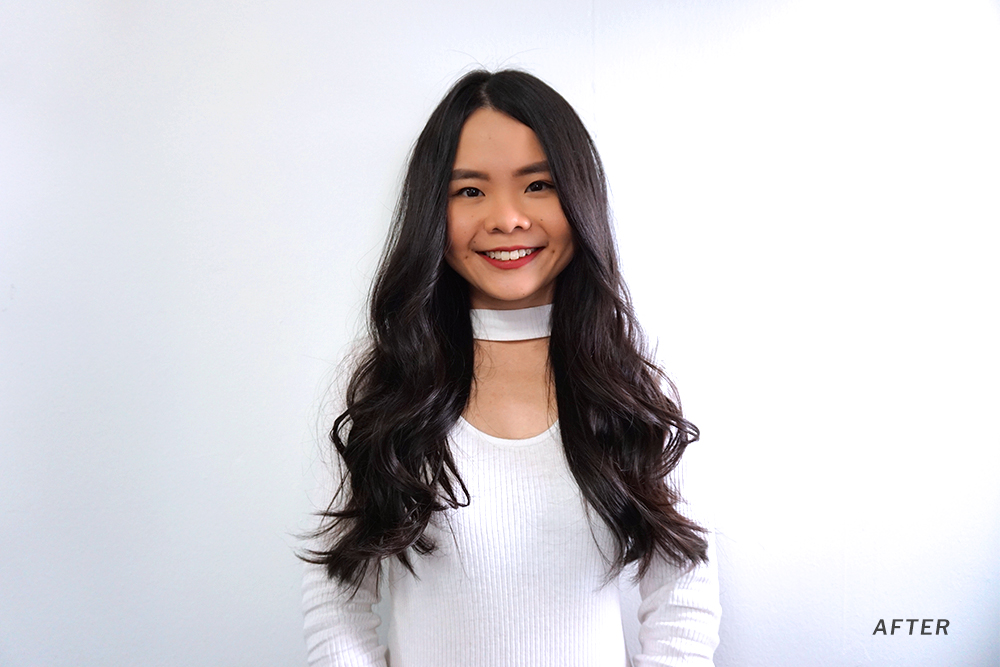 The results: The curls do loosen up easily when I run my fingers through them, but I was impressed with the way that it turned out: natural and wavy, like a salon blowout. I noticed some flyaways, but considerably less than the frizz I get from standard curlers.
To my surprise, the curls also held longer than expected – about 4 to 5 hours without hairspray. That's longer than I can hope for considering my past experiences with curling products. I also tried the 30mm barrels, which resulted in tighter curls that held at least an hour longer. On both occasions, the curls eventually dropped into loose waves that lasted until my next wash.
Another plus point is the volume and shine it gave my tresses, without the need for mousse or other styling products. The bouncy curls added vigour to my typically flat-hair look, and for that, I'm impressed.
Joanna Lee, Writer
Dense, wavy, waist-length hair
Despite having long hair that's prone to tangles, I have not touched a hairbrush in years, the only products I ever use is the usual shampoo, conditioner and the occasional hair mask, and I don't even own a hairdryer let alone a styling tool. If I needed to get any extra shape to my usually weighty hair, I would just resort to braiding or twisting it up into a headache-inducing bun. Aside from having my hair professionally styled with a digital perm twice so far in my life, it's safe to say that I'm a styling virgin when it comes to my tresses. I'll try almost anything once, though. 
After overcoming my trepidation over the thought of having my hair "suctioned and wrapped" around a styler, I decided to opt for the 30mm Airwrap™ barrels, thinking that it would be the best option for my hair since larger barrels usually doesn't give the definition I seek. Read on to find out how it fared:
The process: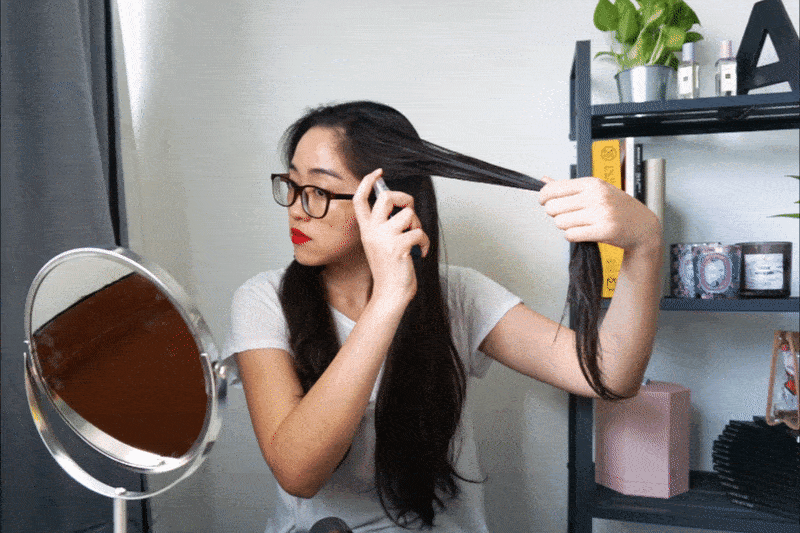 Step 1: Sectioning & Misting
Step 1: Sectioning & Misting
Since my hair is usually too heavy for clips, I divided my mane into two, securing one half with a hair-tie so it wouldn't get in the way. I then lightly misted the section I wanted to work with first so that the styler could grip onto each strand.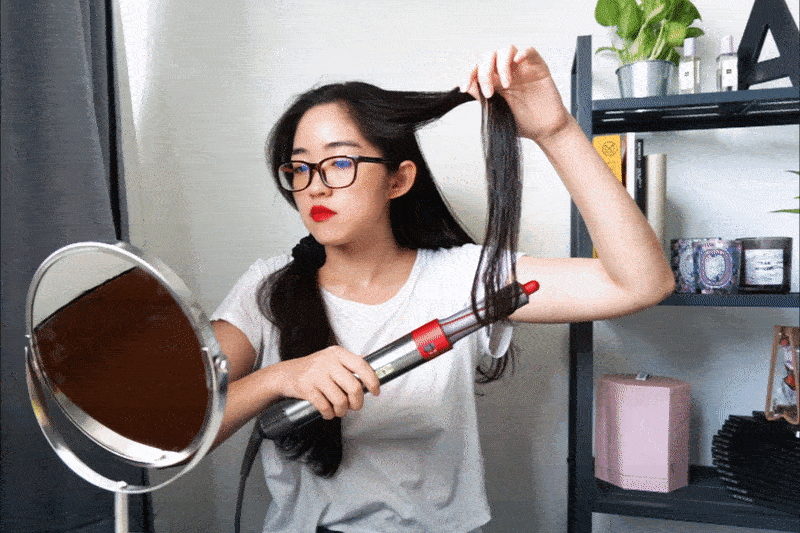 Step 2: Coanda
Step 2: Coanda
I found that holding the Airwrap diagonally at a slight angle worked best for my hair to get wrapped up by the styler. Small sections of hair (about 1/2 an inch to 1 inch) works best, any more and each strand won't get styled. I let the Coanda feature take effect by slowly bringing the styler closer to my roots - without needing to twist or turn.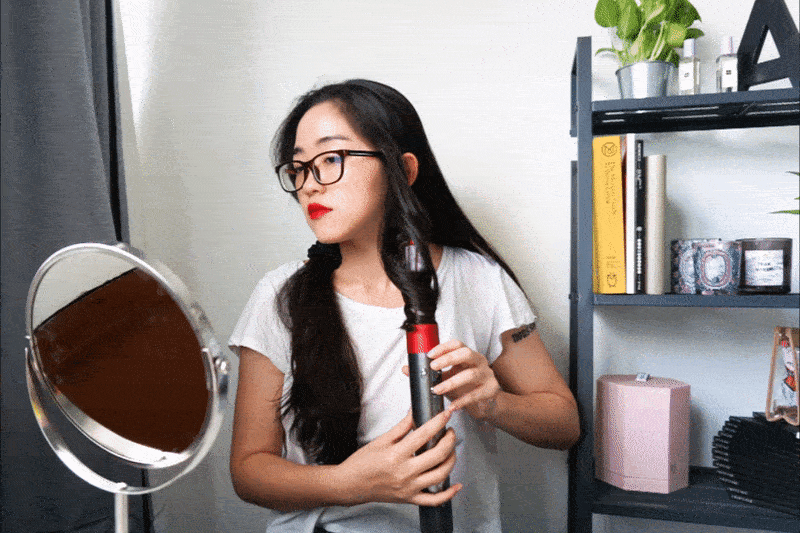 Step 3: Release
Step 3: Release
After holding the Airwrap in place for 10 seconds, I let my hair cool while still wrapped around the styler before gently pulling it away to release the bouncy curl.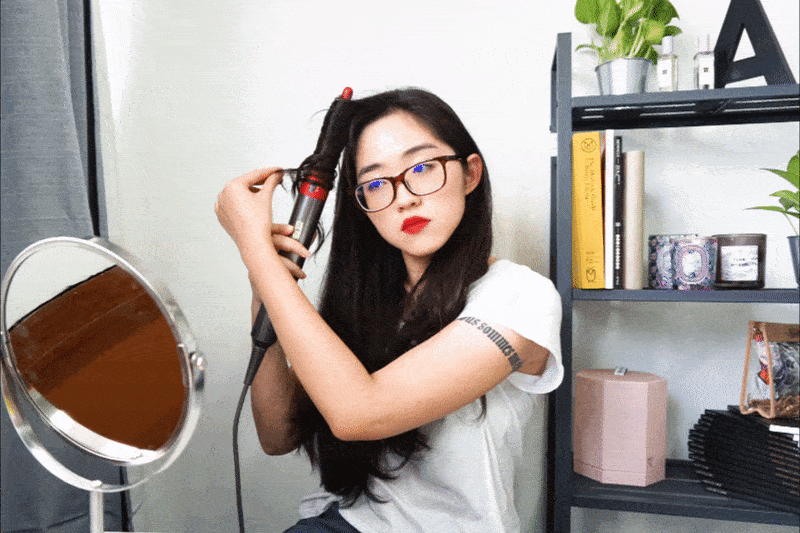 Step 4: Adding volume
Step 4: Adding volume
When working with the front pieces of my hair, I make sure to curl all the way up as close to the roots as comfortably as I could, to add more volume in that area so the rest of the curls won't look too bottom-heavy.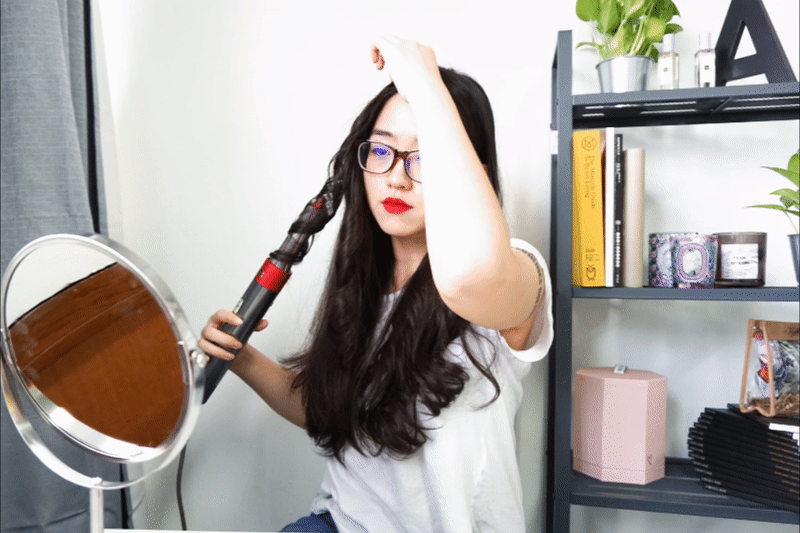 Step 5: Repeat
Step 5: Repeat
After sorting out the left side of my hair, I repeated all the steps from sectioning and misting to curling on the right side.
(swipe left for more)
The performance: I would say before using the Airwrap™ one should do their homework on how to use it correctly, it was tricky at first to find the right angle for the barrel to "catch" my hair. Despite my initial confusion, it took two tutorials to figure it out, and eventually my hair was able to wrap around the barrel. I really liked how it saves quite a chunk of time that would've been spent manually twisting the hair around a generic curling wand, and how lightweight the entire tool was so I didn't feel like I was performing manual labour.
50-60% damp hair definitely works best with this styler, so that the curls will have a better hold. It was also necessary for my wavier hair since the ends tend to be pointed in different directions, so having them damp allowed me to smooth them out in one direction, allowing my hair to easily wrap around the barrel. Overall it took me about an hour or so to style my mane, which I can live with with since I have so much hair to work with. I also found that I could only use small 1/2 – 1 inch sections of hair while curling, too much and the Airwrap™ won't be able to hang onto all the strands.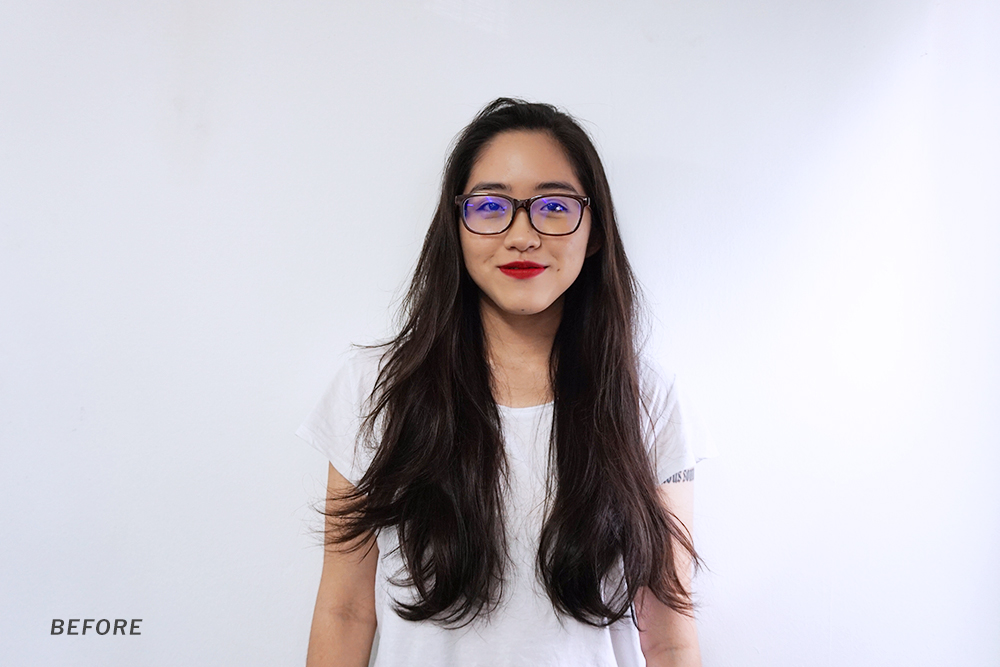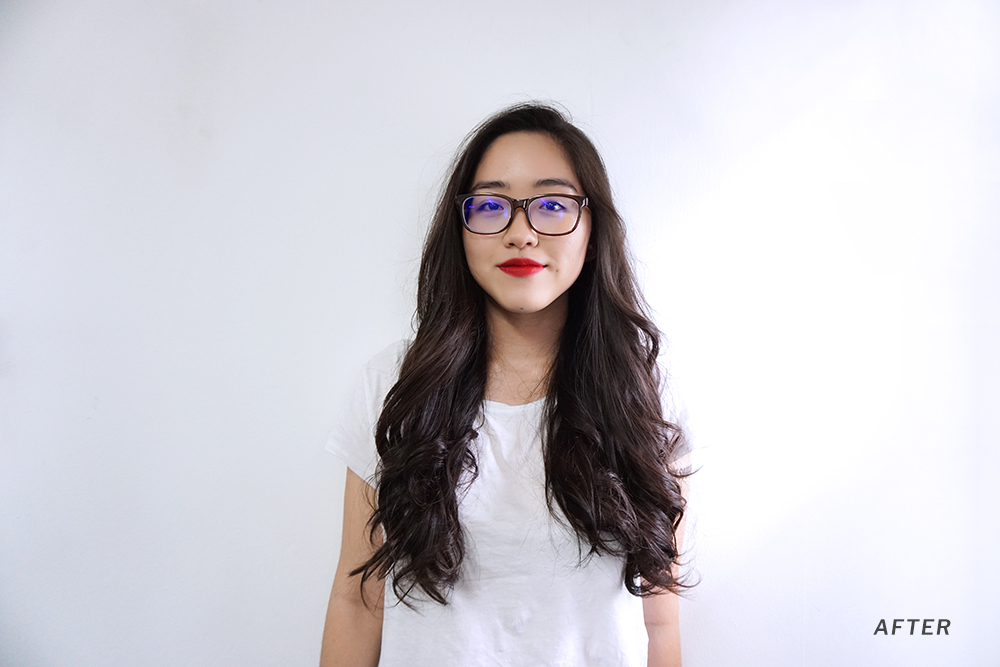 The results: The 30mm barrel definitely suited my long, dense hair the best. The curls looked quite tight and doll-like at first, but very quickly settled into shiny, beautiful, loose waves without any brushing. It also added quite a nice bit of volume and a sense of airiness, which felt lovely since its natural weight tends to make my crown look quite flat.
I tried the styler without using any product to hold the curls – just to see how long they could last, and surprisingly they stayed on for a good 5 hours before reverting back to its usual state. Thankfully, the health of my hair wasn't compromised – and didn't feel crunchy even without using any products. 
Our final verdict
Dyson claims the Airwrap™ is a completely new way to style hair – and we can attest to that. Not only does the Coanda effect save time and effort on styling, it also minimises frizz and prevents damage from extreme heat.
Overall, it performed well on both fine, straight hair and dense, wavy hair, resulting in curls that were natural, shiny and long-lasting. When not curling, the brushes work great to smoothen and add volume to the tresses too. Our hair is also healthier and more polished than when using standard tongs and straighteners.
For RM2,199, it does the job and it does it brilliantly. If you're one to style your hair often, the Dyson Airwrap™ is a tool that's worth investing in.
For more information or to purchase the Dyson Airwrap™ Styler, log on to the official website here.
Photography/artwork: Anson Siau