For Dior's Autumn/Winter 2022-2023 haute couture show, creative director Maria Grazia Chiuri once again celebrated the intimate intricacies of artisan craftsmanship in fashion and in works of art, this time looking to Ukrainian artist Olesia Trofymenko's folklore-based 'tree of life' motif for inspiration.
Carrying on the designer's practice of collaborating and spotlighting the work of female artists, this latest presentation offered a thoughtful, reflective moment – retrieving a sense of humanity in an unstable, ever-changing world.
"The tree of life is a call, a warning, to make traditions and gestures shine through, allowing us to recover a balance, if only momentarily," read the show notes.
Representing a unity of different cultures and mythologies in free and open exchange, the floral emblem is expressed in folkloric patterns and styles from various lands through an abundance of embroidery, smocking, and woven patchwork.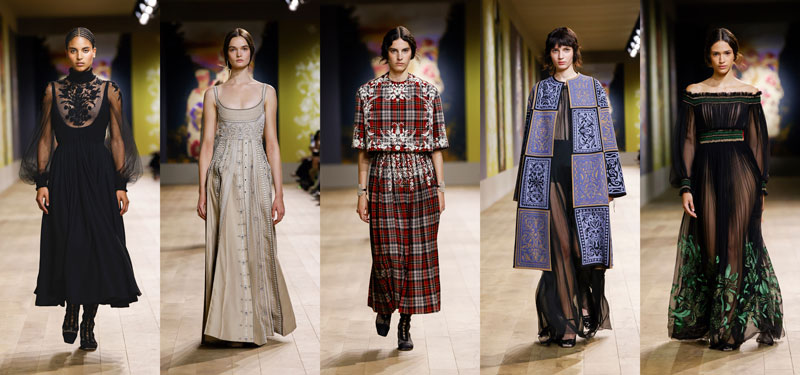 Muted shades of beige, white and black characterise the collection, bringing to light the complex, ornate details of the pieces. Lavish embroidery on cotton, wool crepe, silk and cashmere appear in an array of botanical embellishments, featured on coats, crepe dresses, and cotton skirts. 
Tartan, while intrinsic to Scottish culture, also pays homage to the founding couturier's love of menswear fabrics, while mediaeval smocking is utilised in an interpretation of the House's iconic Bar jacket. The Miss Dior dress from Christian Dior's Spring-Summer 1949 is reimagined with flowers reminiscent of the decorative folk pattern in Italian millefiori.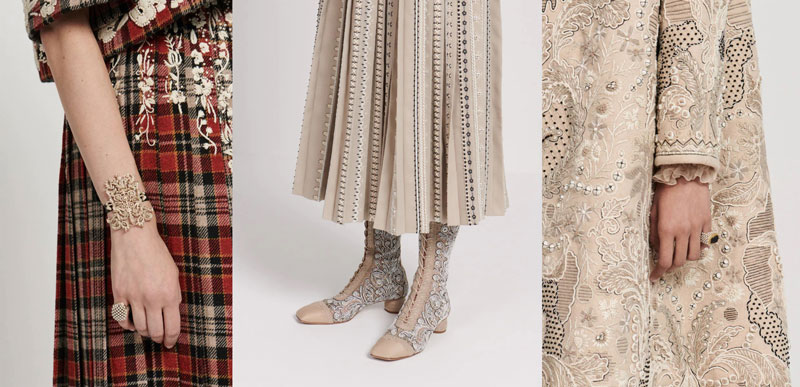 The folkloric flourishes spill over into the accessories, which accentuate the ensembles with arabesque ornamentation that echo the tree of life motif. The hems of boots and heels of ballet flats are enhanced with delicate lace or guipure braids, while heels and rings are embellished with opulent pearly beads. Adorning the wrist, finely crafted bracelets reiterate the recurring floral detail found across the dresses, coats, and skirts in the collection.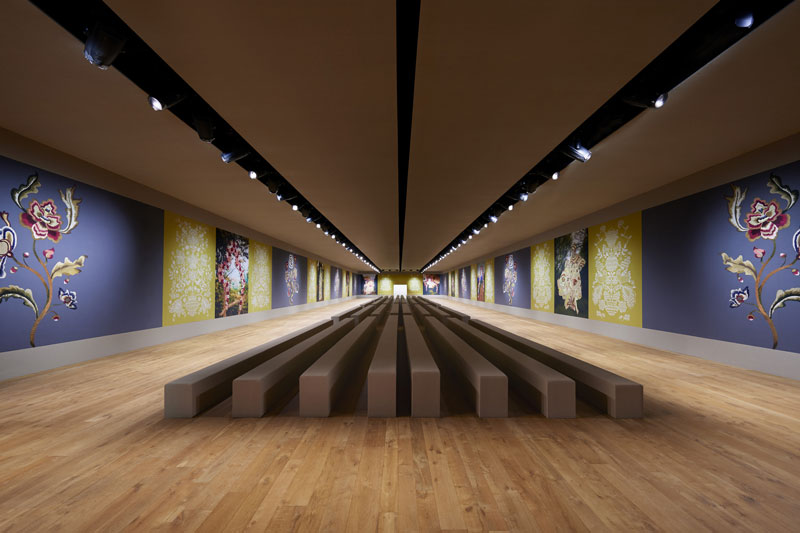 Not only did Trofymenko's works of art provide the jumping off point for the Autumn/Winter 2022-2023 haute couture show, they also directly serve as its backdrop. Invited by Maria Grazia Chiuri to create the set, the artist showcases works that weave together painting and embroidery, incorporating influences and memories of her home country's traditions. 
Painted Ukrainian landscapes appear behind floral decorations framing female figure shapes, recalling the folkloric customs and rich decorative wreaths seen in cultures within the Balkan region and Europe.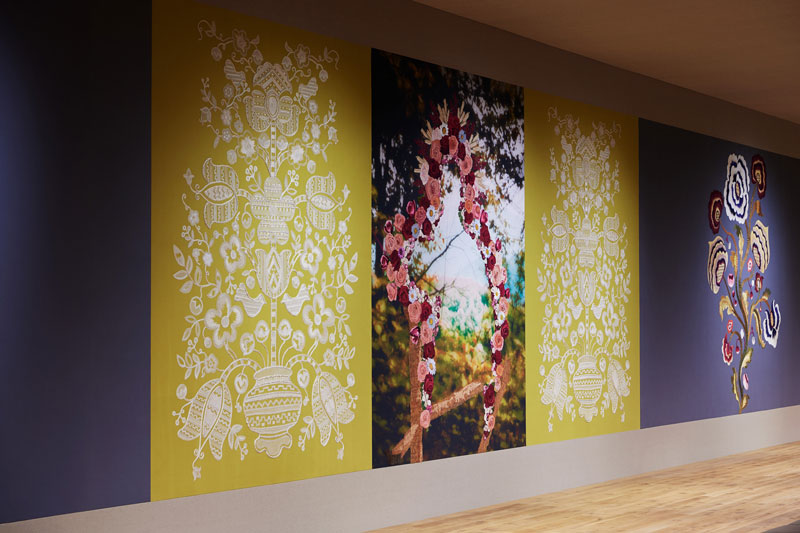 In between flower bouquets, the tree of life itself is revealed, an emblem that dates back to antiquity and ranges from ancient regions in Turkey to the Celtic tribes. Symbolising a universal expression of life, its roots anchor us in the knowledge of the past, while its leaves face upwards in hopeful optimism for the future.
Watch the Dior Autumn/Winter 2022-2023 Haute Couture Show below: