When it comes to French cuisine, Malaysians often recognise by butter-laden pastries, food served in restaurants called bistros or brasseries, or haute cuisine served on pristine white tablecloths. Only those who have had the pleasure of visiting the charming city of Lyon will know that French food is far more than that.
In Lyon, the most popular eateries are known as bouchons, a type of restaurant that will resonate the most with Malaysians. These establishments are built on a convivial atmosphere, a friendly and personal relationship with the owner, and family-style food. If you've dined in a traditional bouchon, you'll usually find hearty dishes such as coq au vin, chicken liver pâté, fish dumplings, and if you've got the stomach for it – funky tripe sausages called andouillette.
While you won't find pungent-smelling dishes at Bouchon Enfin by James Won, the chef patron hopes to bring the spirit of the Lyonnaise bouchon to his latest non-halal establishment. Conviviality and sharing are encouraged here, as patrons are invited to experience high quality local ingredients combined with European techniques and classic French recipes. Chef James ensures that the pork used are of prime quality and sourced from local pig farmers, resulting in a flavour and texture that can easily rival highly-prized European cuts. He even works with suppliers such as Langit for their rice and peppercorn, in an ongoing effort to support local talents and artisans.
So if you're ever on the lookout for a true fusion of Malaysian-French cuisine, or have thought about trying French cuisine, make Bouchon Enfin the next place you visit. Keep on reading to find out why.
A tribute to local pork and artisanal quality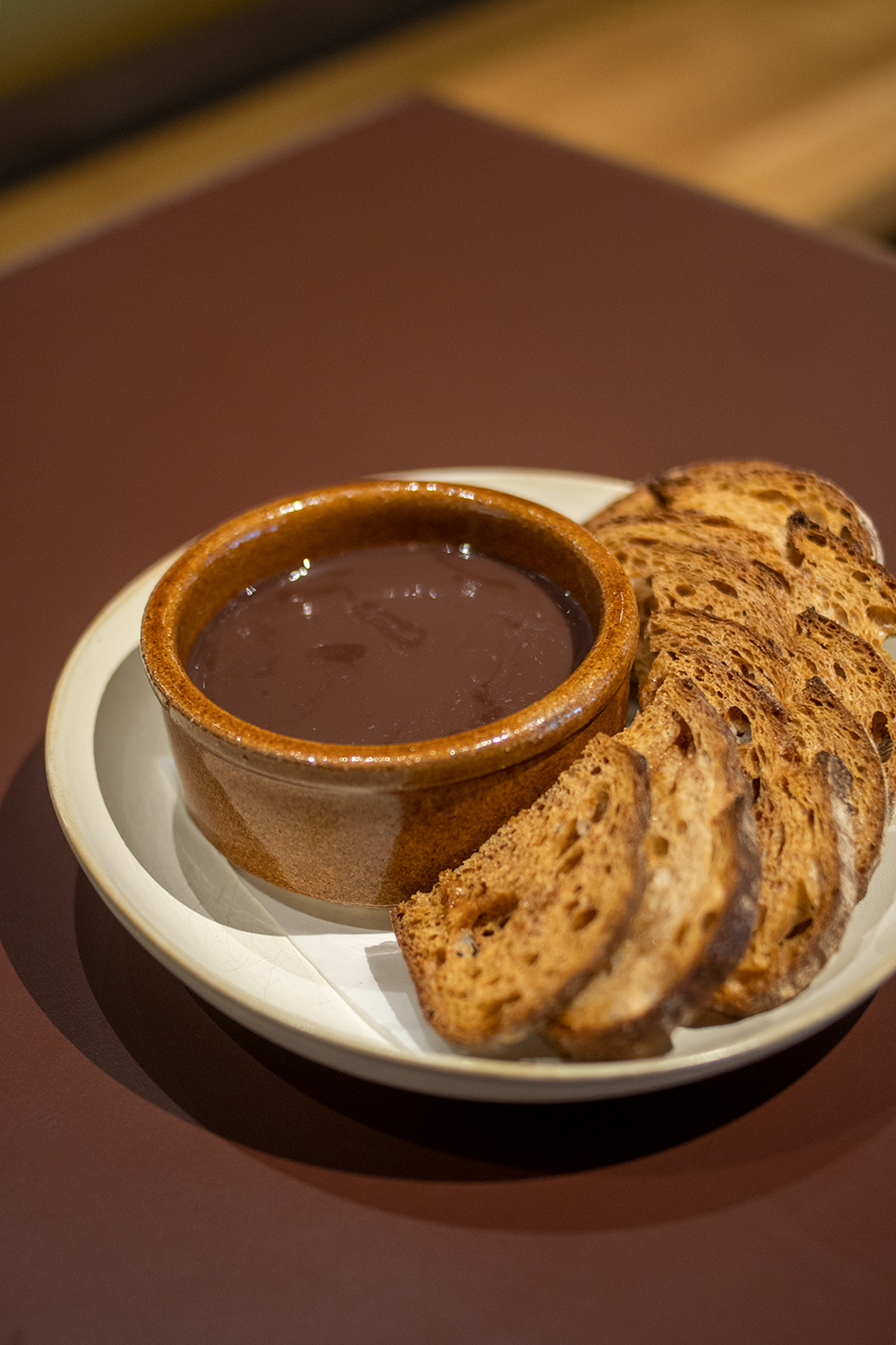 Chicken Liver Parfait and Red Wine Jelly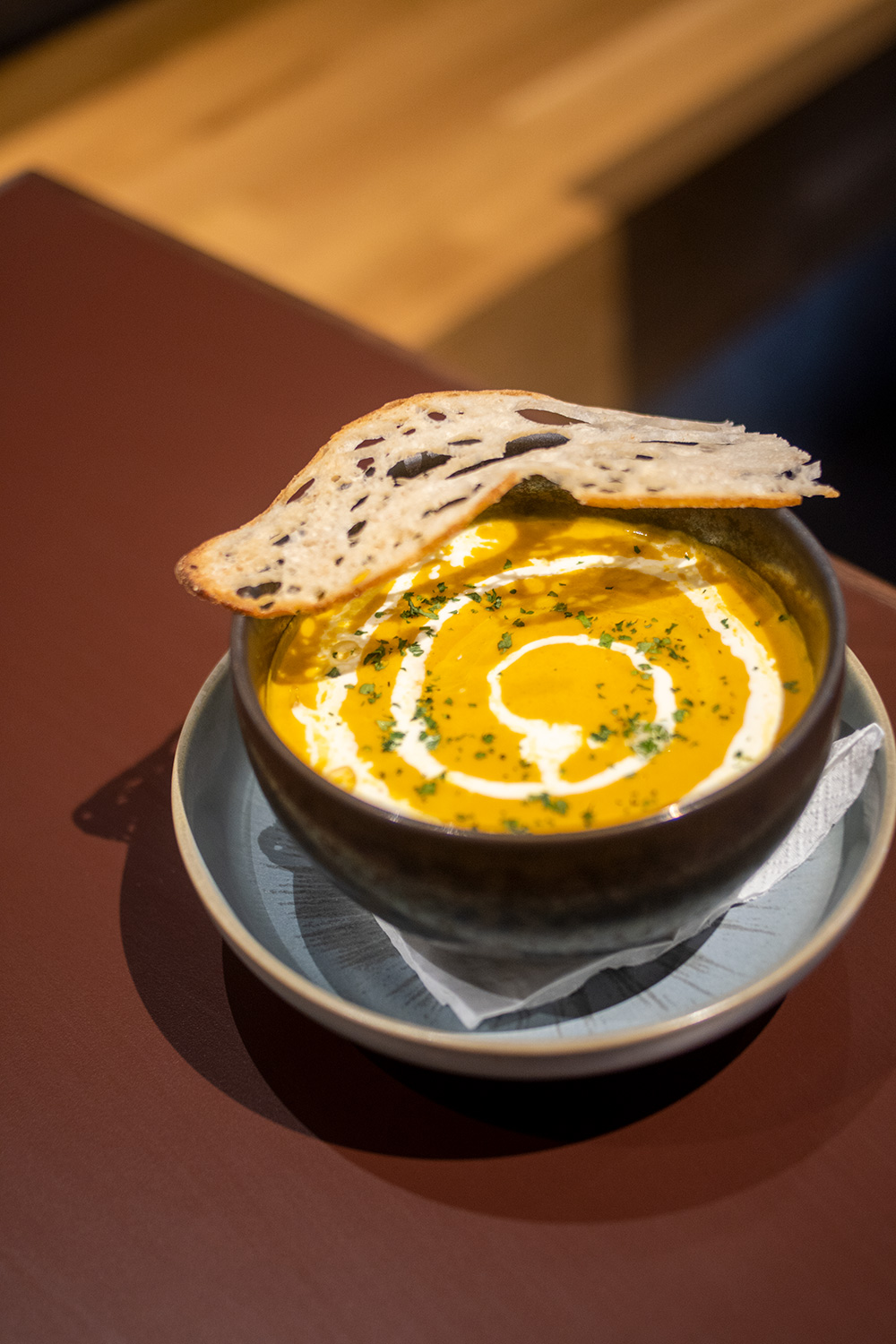 Soup of the Day - Pumpkin Soup
(Swipe left for more)
Whether as a snack or a starter, the House Platter of Smoked and Cured Meat from Charcuterie makes for a fabulous introduction, while inviting blissful grazing. This particular platter includes homemade sausage, spam, ham, guanciale (cured pork jowl), cheddar sticks, and acar – the recipe courtesy of Chef James' grandmother. As we bite into the sausages and spam, it's clear that the meat used is of superior quality, resulting in a product that's juicy, flavourful, without any of the heavy "porky" aftertaste. The Guanciale boasts a delightfully creamy yet light texture, that's lifted by the tanginess and bite from the acar.
The Chicken Liver Parfait and Red Wine Jelly is a real treat for those who enjoy French fare and gamey flavours. The parfait itself has been whipped into fluffy submission, resulting in an unctuous, smooth, and creamy spread that shines in all its funky, gamey glory – but without any of the cloying heaviness after. The red wine jelly on the top lends a silky, acidic note to contrast and complement the liver. It's best enjoyed when slathered generously on a thin slice of toasted crostini, and with a crisp glass of wine.
To bolster the intense porcine feast (and we're only just beginning), we tuck into a comforting bowl of Pumpkin Soup. You'll find everything you could want in Bouchon Enfin's version of pumpkin soup – creaminess, smoothness, balanced seasoning, and a gentle sweetness – but elevated with a spicy kick courtesy of the infusion of nyonya curry flavours.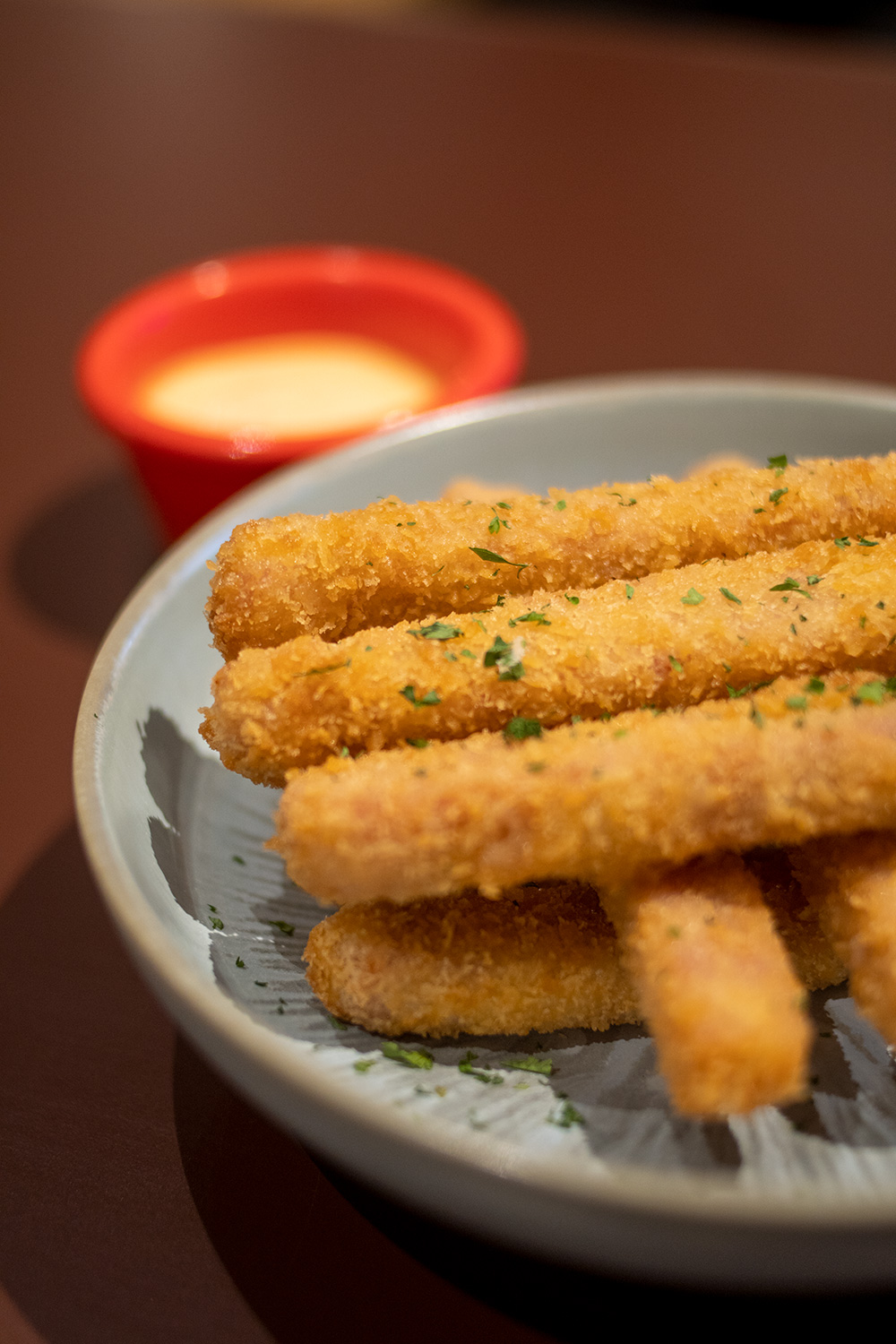 Spam Fries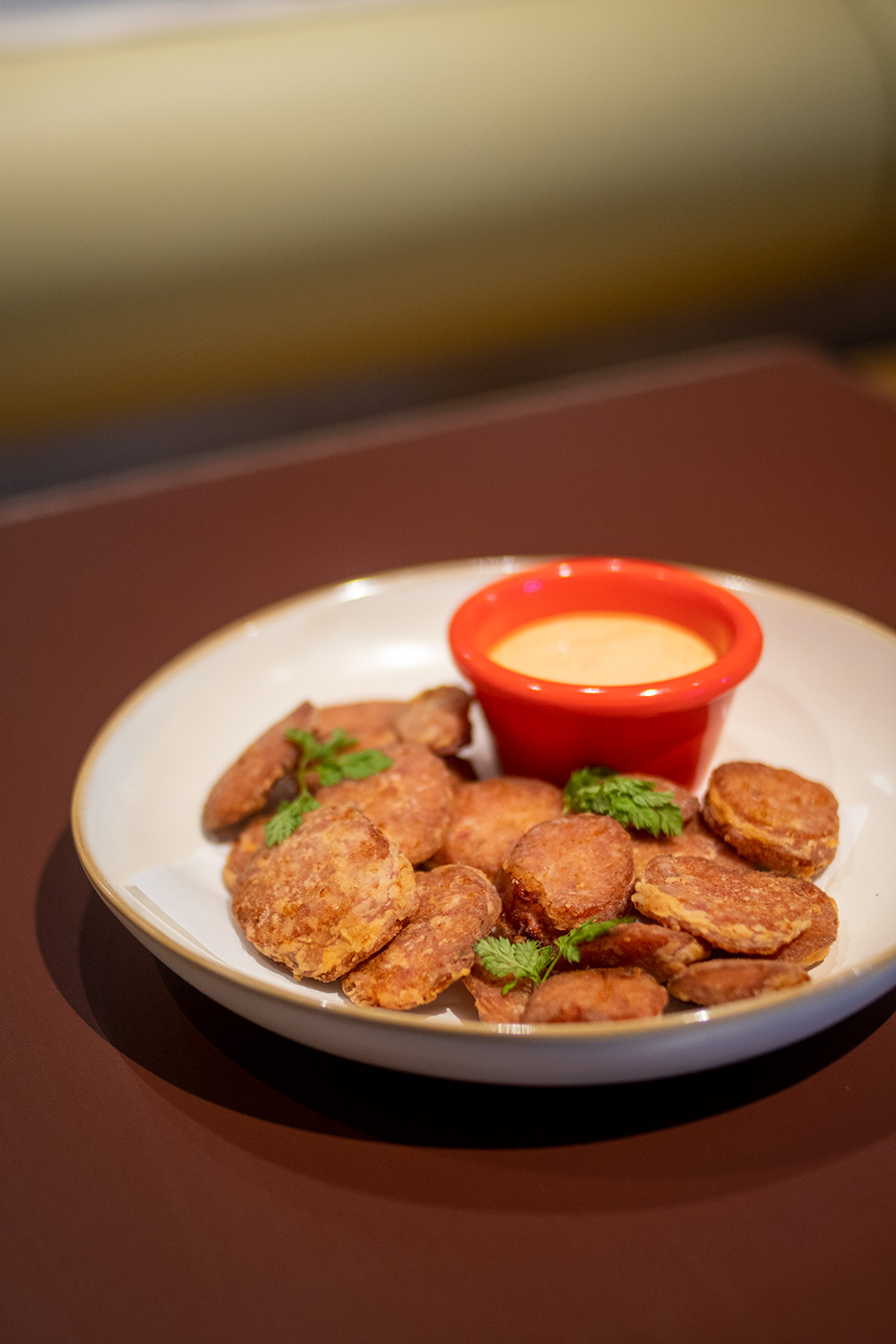 Crispy Fried Sausage
(Swipe left for more)
We return to the spam and sausages – but fried, to experience the guilty pleasure version of what we had on the charcuterie board. Thick batons of breaded spam deep fried until golden, and sausage slices are also given a sizzling hot oil treatment. The result? A highly satisfying, crisp exterior, and a tender, moreish interior that's best paired with a cold pint of beer.
Rustic French classics with a Malaysian twist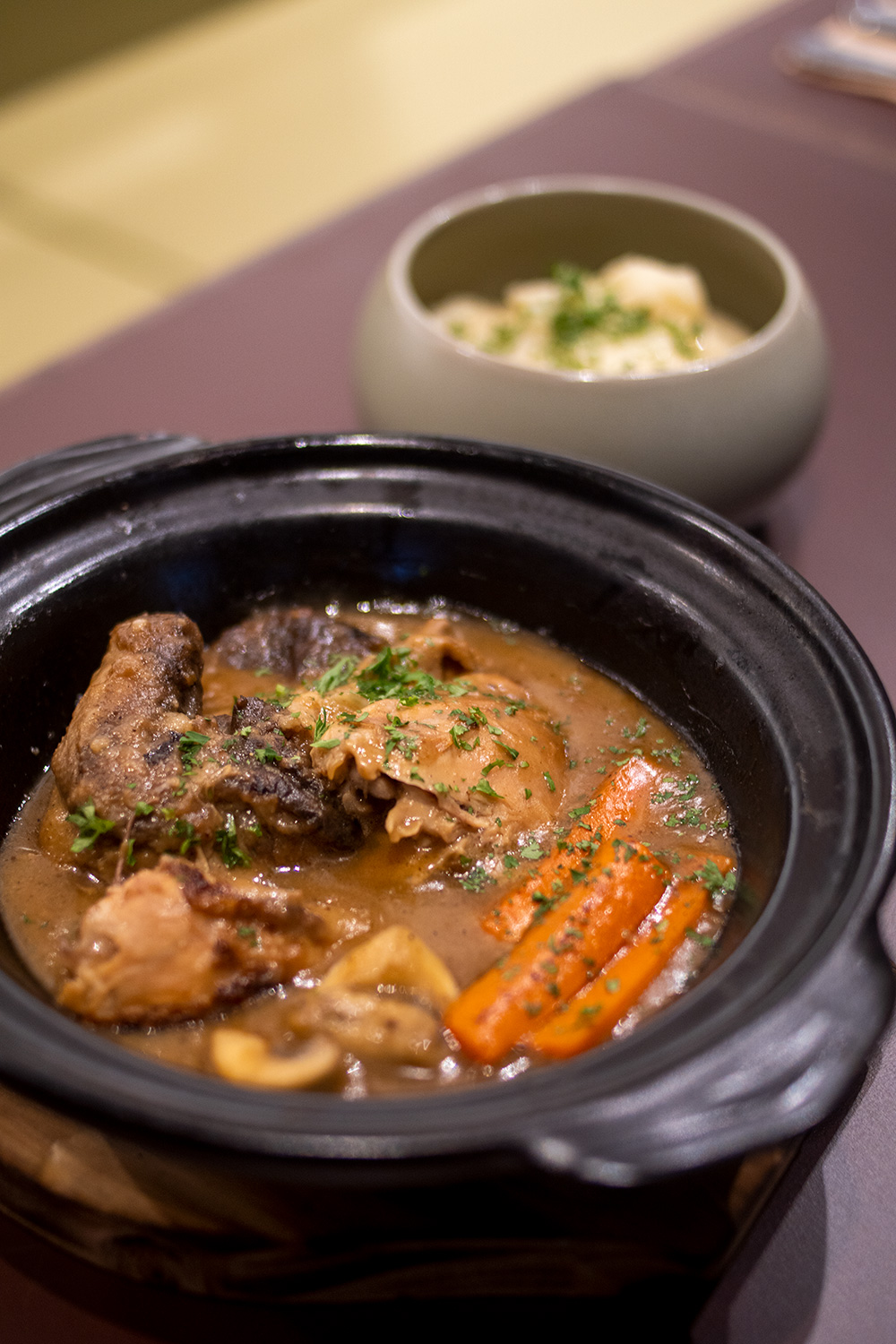 Coq au Vin with Whipped Potato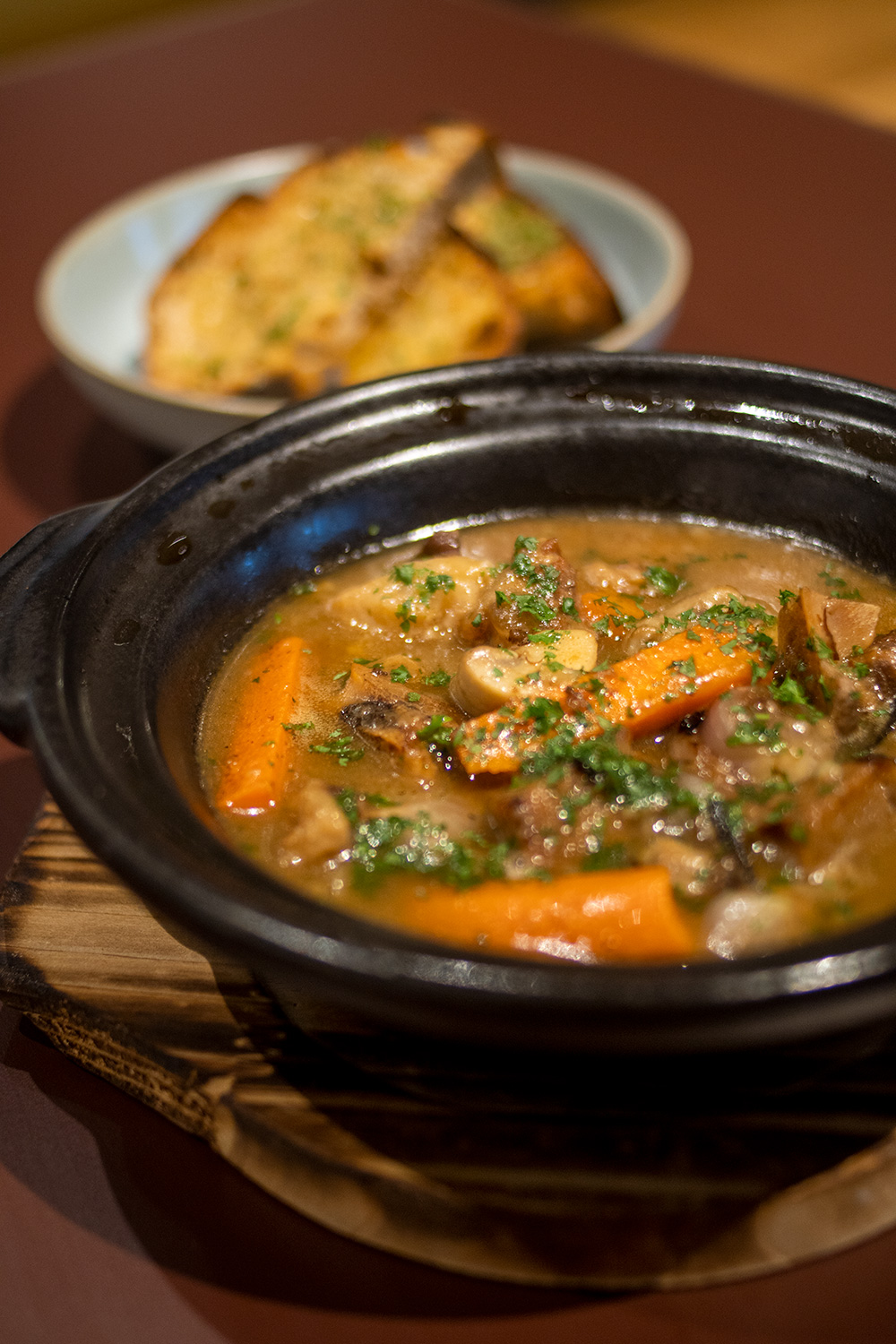 Boeuf Bourguignon
(Swipe left for more)
When it comes to extracting flavours and creating beautiful textures, cooking food low and slow is one of the best, if not the only, ways to achieve it. And what better to illustrate this fact than with two classic French recipes – Coq Au Vin and Boeuf Bourguignon? Chef James uses spring chicken and oxtail respectively, cooking them gently until the meats are extremely tender.
Traditionally, these dishes usually call for a good helping of European white or red wine, Chef James' version uses Fook Chow red rice wine, imparting a fragrant sweetness and earthy depth of flavour.
Wild Rice Bowl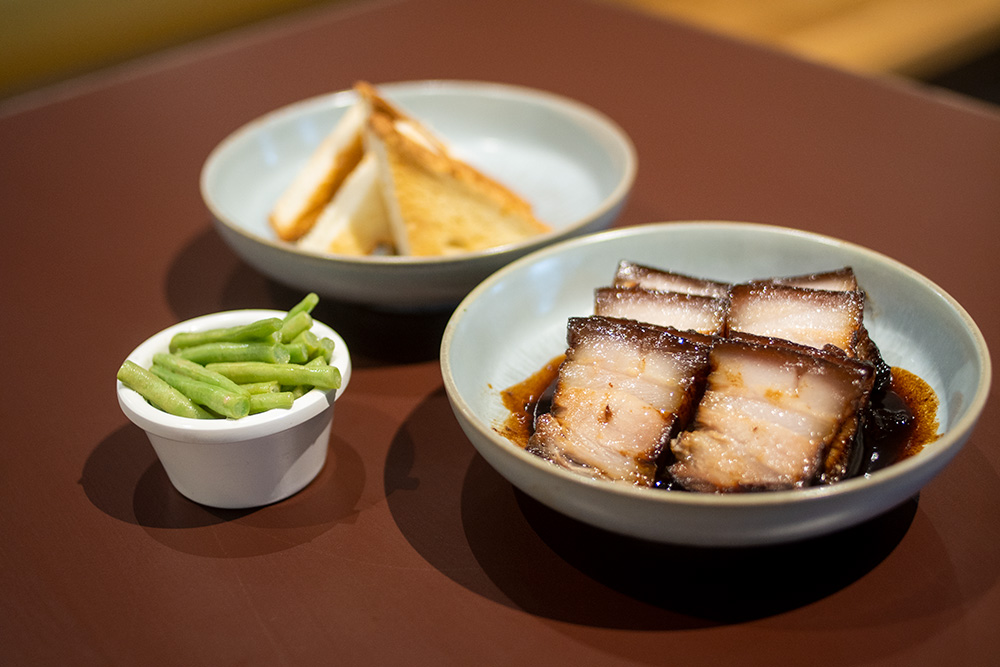 Braised Pork
(Swipe left for more)
Next we dig into the carbs, and the Wild Rice Bowl is a comforting dish that will hit home for Malaysians. It comes served in a clay pot, comprising of a mix of beras Salleh and Rumie from the highlands of Sarawak. Thin slices of creamy guanciale returns as the main protein, blanketing a soft-boiled kampung egg. Superior soy sauce, spring onions, and crispy pork lard bits complete the dish. After breaking the egg and mixing everything together, we're introduced to a unique variety of textures from the Sarawakian rice, complemented by the rich earthiness of the guanciale, egg, and pork lard.
Another dish that's more familiar to Malaysians is the Braised Pork, where the sweetness of a generous slab of pork belly is married with the intense richness of raw sugar caramel flavoured with smoked garlic, star anise, and cinnamon. The pork belly itself cuts like softened butter, and melts in the mouth effortlessly, exciting the palate with its combination of sweet spices and natural savoury notes. Most importantly, never forget to mop up all that sauce with the fluffy white bread provided.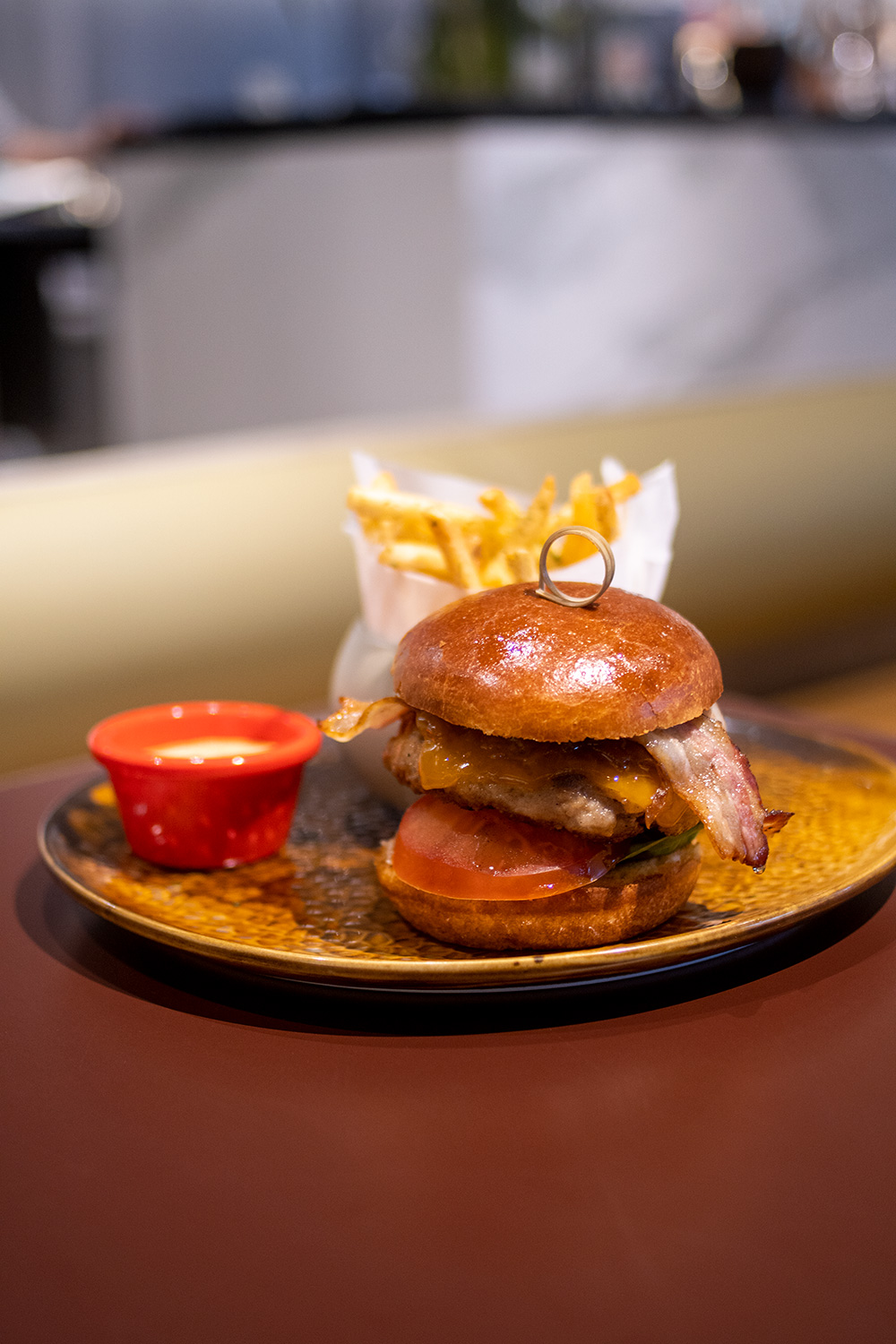 According to Chef James, "pork fat gives you intense juiciness", and if the previous pork dishes haven't already proved that, the Bouchon Enfin Hamburger definitely will. It uses a mixture of beef and pork lard, creating a patty that's packed with flavour and a satisfyingly succulent bite. Jammy onion marmalade adds a welcome touch of sweetness to the umami-rich burger, and if you're feeling indulgent – adding on some house-cured smoked bacon will only take it to the next level.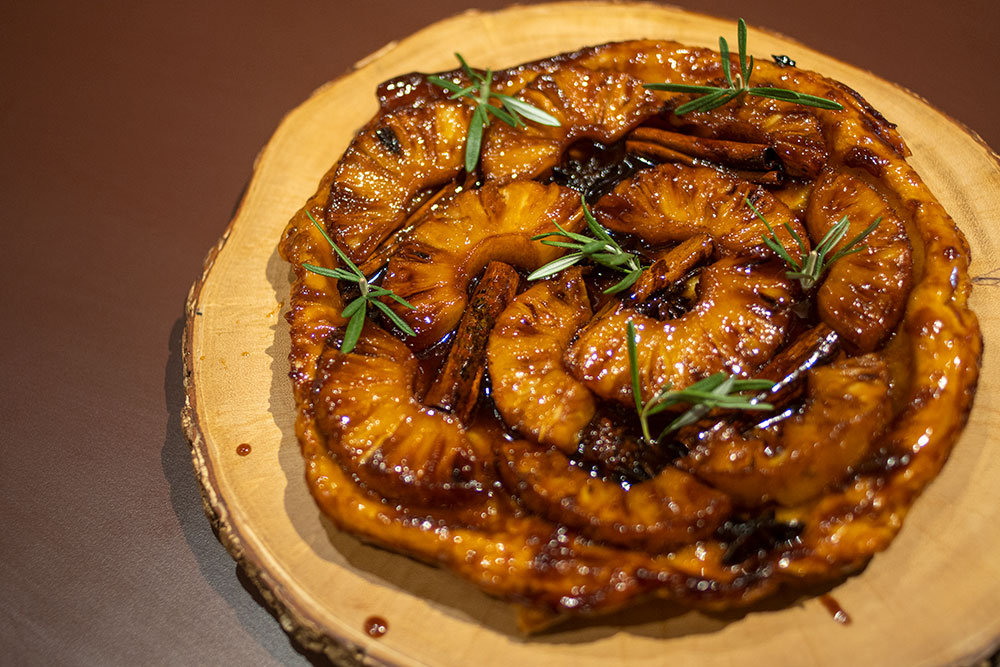 When you think of French desserts, the most popular ones come to mind such as Crème Brûlée and Tarte Tatin. And yes, Chef James puts his own spin on the duo with an unassuming star: single-origin Sarawak peppercorn. While we're more familiar with pepper that's been mixed with other varieties, the single-origin Sarawak peppercorn brings floral, citrus notes that will change the way you see the humble spice. Bouchon Enfin's Lada Crème Brûlée and Sarawak Pineapple-Peppercorn Tarte Tatin come imbued with these notes, creating possibly some of the most divine desserts to ever hit your senses.
The Tarte Tatin is sweet, tangy, rich, floral, with a hint of bitterness to balance everything out, with a puff pastry crust that's perfectly flaky yet substantial enough to hold all the caramelised pineapples. It also comes with a single scoop of vanilla parfait glace – a.k.a a velvety smooth vanilla ice cream – that adds another layer of complex, fruity sweetness and a temperature contrast. And if that isn't enough to captivate you, eat a slice with a bit of the rosemary sprig garnish – and you'll find the flavours immediately transformed.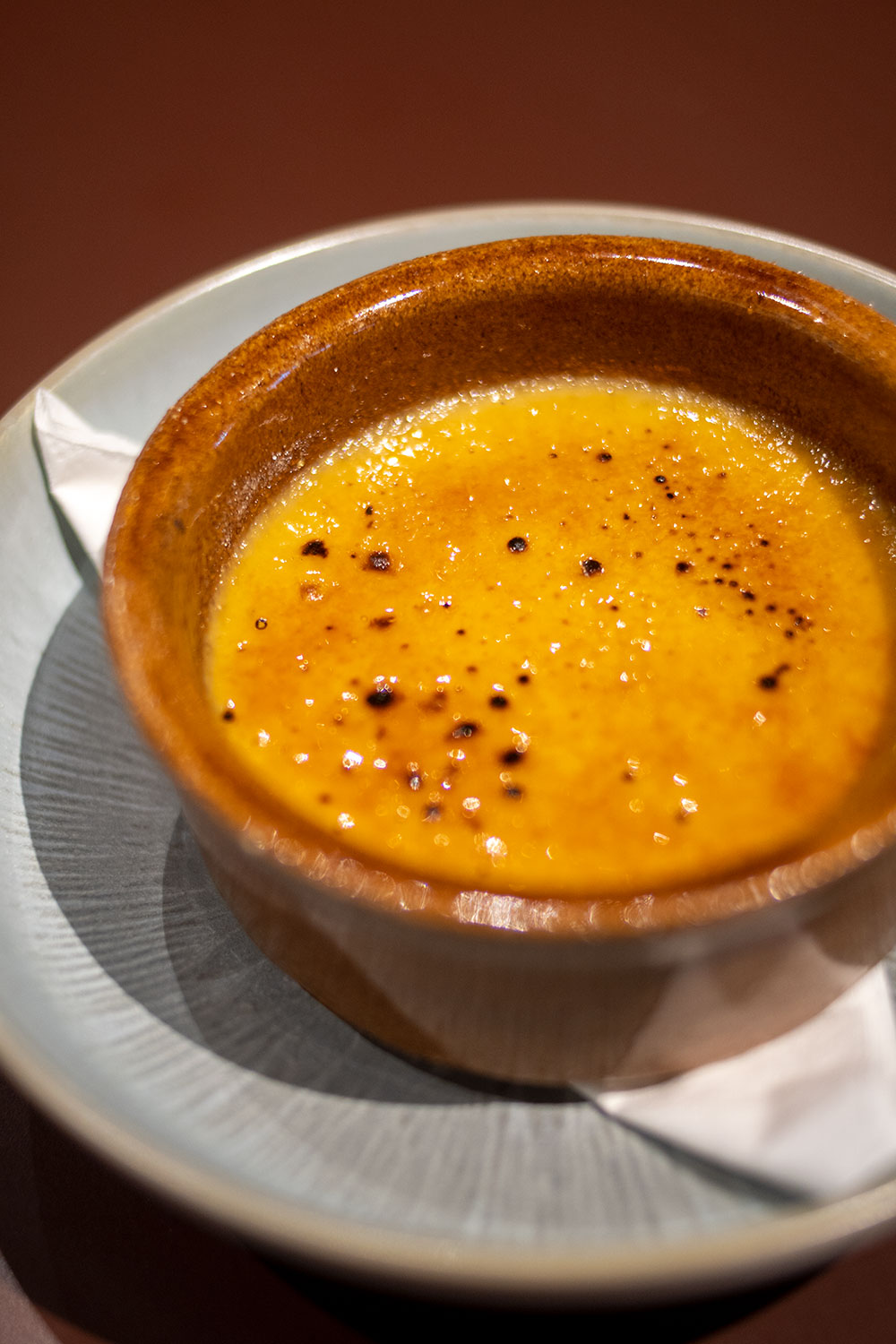 Lada Crème Brûlée
Chocolate Mousse Pod
(Swipe left for more)
As for the Crème Brûlée, the custard itself is silky smooth and luxuriously creamy, with its usual sweet caramel flavours enhanced by the citrus notes of the single-origin Sarawak peppercorn. Upon trying both desserts – it's quite impossible to pick a winner, and despite our need to pop open a jean button (or two), one simply can't resist wiping out every last trace of the sweets.
Of course, can it really be dessert without a chocolate-laden treat – and we're not disappointed with the Chocolate Mousse Pod, made with single-origin Pahang chocolates. The airy texture of the mousse sits on the tongue like a cloud, and we get to experience the deep, bittersweet cocoa flavours in all its glory. It's a simple treat, but some of the finer things in life are also just as simple.
Despite having been fed with our weight in food, each dish leaves an indelible memory in the mind and the palate, and we are already planning our next visit to Bouchon Enfin. If you truly appreciate high quality food, love all things pork, and hope to support our local farmers and artisans, definitely put Bouchon Enfin on your list.
Bouchon Enfin is open daily from 10AM – 10PM, and located at Lot C3.10.02 Level 3, Pavilion Kuala Lumpur, 168, Jalan Bukit Bintang, 55100 Kuala Lumpur. To check out the full menu, click here. More details and updates can be found via their Facebook or Instagram pages, and deliveries/takeaways can be arranged via Beepit or TableApp. For reservations, call 012-669 9156.
Photography by Anson Siau.