Sam Tan, Audrey Ooi and A.D. Rosewell Wilson tell their journey with Art of Tree – advocator of eco-responsibility turning salvaged timber into furniture.
What started as a passion for natural art has become a way of life for husband-and-wife team Jeffrey Yang (creative director) and Joey Woo (managing director). They are the brawn and brains behind Art of Tree, a Malaysian furniture maker with an eye for sustainability made beautiful.
Like all art, beauty shares its throne with deeper individual purpose – and this is something Art of Tree knows well. Salvaged raintree, acacia, angsana, chengal, mahogany are among those repurposed as building blocks of their furniture pieces. Each slab comes from Malaysian urban areas. These are trees otherwise rejected in the court of consumerism: either with cavities, fallen on their own, or cleared for development.
But Jeffrey and Joey believe a greater purpose lies in the intricate marks of each fallen tree. They take pride in creating conversation pieces tailored to stylistic and functional preferences, not just wooden tables.
Whether as a sturdy office nucleus, trusty living fixture, or dining and wining companion, Art of Tree proves that furniture can be functional, tasteful, and kind to Mother Earth at the same time. Here, three friends of AoT from different walks of life tell us how their one-of-a-kind salvaged wooden tables serve a greater purpose for business, family, and entertainment.
Where business meets culture
Pioneering green excellence in engineering is sometimes met with skepticism, but that's only strengtening Sam Tan and KEN Holdings. As son of the celebrated builder whom the company is named after, Sam was taught from a young age that their responsibility as property developers lay beyond putting roofs over heads. Today, he is the wine-and-art-loving group managing director of KEN, recognised as a forward voice in the Malaysian green building landscape.
"Business and life goes on, mankind has to progress – but that progression has to be sustainable," he says, welcoming us into his office. The walls are decorated with a series of paintings, while shelves are full of memorabilia from his travels, books about his hobbies, and photos with loved ones. Every piece in the sparsely designed interior holds a story waiting to be told, including the commanding Art of Tree piece where he entertains business associates and friends.
KEN focuses on efficiency in using resources to create large-scale, long-term structures. All its developments are green-rated. KEN TTDI, for instance, is equipped to consume 20-30% less energy than a conventional office building. A large thermal tank powers air conditioning instead of the conventional central chiller.
A man of fine tastes, Sam also inherited a love for art from his father. This mutual passion comes to life in the 20,000-square-feet KEN Gallery, exhibiting gems of local artists.
"We take pride in our work, which is a core value of the company," he says, illustrating how this translates to a deep appreciation of art and nature in elevating society.
Heart of the home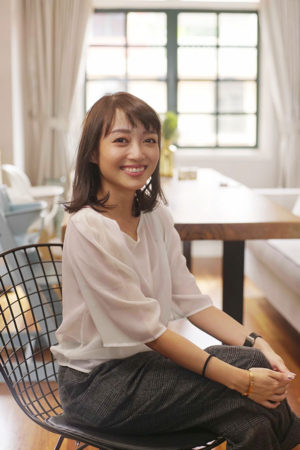 Zooming into this same society would uncover bonds of a different nature – but just as strong, if not stronger. Just ask mother-of-two and blogger Audrey Ooi, a bright and spirited young woman who could easily be the poster child of modern parenthood. She is energetic, enterprising, and ultimately loving the way only a mother can be.
Together with husband Timothy Tiah, Audrey runs co-working space Colony – a home away from home, if you will, for the nomadic entrepreneur. But at the end of a long day, she finds herself coming back to the dining table where her family of four eats, shares, laughs, and cries.
"It was our first time furnishing our own home from scratch, so I was looking for a balance between modern and classical," she explains about the custom-made dining table. While furniture shopping at Art of Tree, Joey shared with her that the dining table would be the most important item of her home – and now, Audrey understands why.
"Instead of going to the living room or bedroom each time I come home, I find myself sitting at the table just relaxing or doing work, while my kids play around. I feel like it has become the centre of my home right now," she smiles.
From Helipad to heritage
In the saturated F&B market, A.D. Rosewell Wilson seeks to introduce hidden jewels decorating the crown of KL nightlife. Down at the daintily historic Old Malaya stretch lies his latest dining-and-wining venture: Pintu.
Beneath the classic structure lies a warm yet chic double-story space, with identical Art of Tree tables cementing that magical touch of new to old. It is this poetic juxtaposition that gives his latest dining venture the panache to "get people to find us, instead of us finding them."
"I believe that from the time we were born, every door makes a difference as we open it. It could be your friends or family opening the doors for you to be inspired in your life," he tells of the meaning behind three-month-old Pintu's name.
As you may suspect, wood is a dominating theme here. Rosewell was on the search for a furniture partner that could capture the warm, natural feel he envisioned for the Western-fusion restaurant/bar when he came across Art of Tree. He was immediately drawn to their creations, and the rest, as they say, is history.
Don't be surprised when you learn this laid back, cap-sporting man is also responsible for Helipad KL. Or that before his love affair with F&B began, he was an entertainer by the moniker DJ Acid.
He was celebrated in his own right as an entertainer, but father-of-one Rosewell found himself thinking of the next generation. "They need a platform to play what they believe in and be creative musically. That's why I wanted to open up new venues for other deejays to perform," he shares.
For more information, visit the official Art of Tree website or call 012 249 9480 to book an appointment.
Videography: Zac Lam
Art direction: Gan Yew Chin