Translated from Japanese three years after its original release, the Nobu memoir immortalises a life and culinary journey of the ages.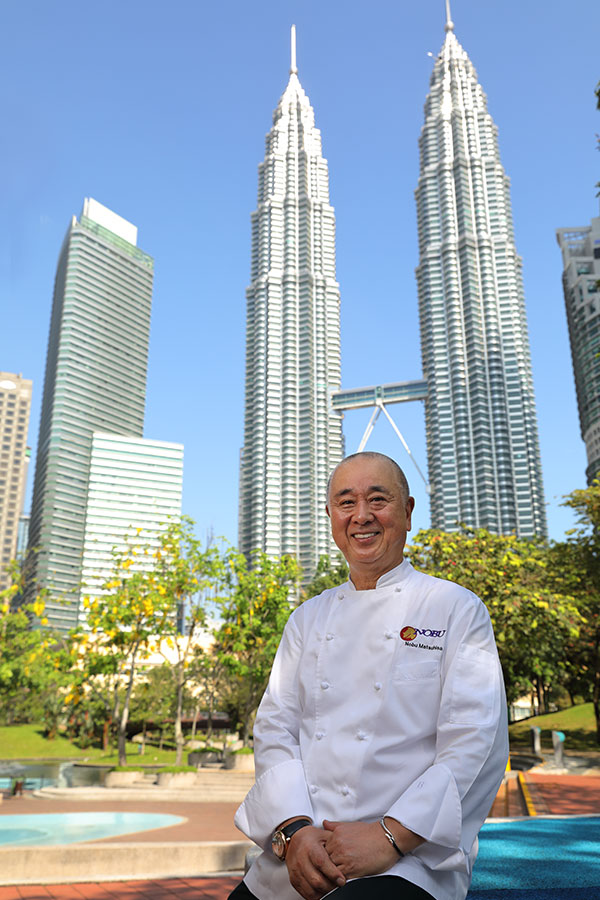 At 69 years old, Chef Nobu Matsuhisa is ever humble in his fame. He does not take credit for introducing the world to Japanese food, although it can be argued that he's in the top three list, at least.
His is a name that needs no introduction, but the Japanese master chef will be the first to admit he is a private person. Chef Nobu is not a big fan of TV appearances or talking about himself. With this memoir, he opens up to the fullest extent, for the first time, revealing the man behind the brand. It's written for his apprentices as much as it is for you and I.
Nobu: A Memoir contains experiences, lessons, and thoughts, including on the art of appreciating sushi ("The most crucial element for eating sushi is timing") and keeping celebrity guests happy (treat them like a friend, like any other guest).
Here are 5 things to we learnt from Chef Nobu Matsuhisa's memoir.
His first American restaurant is still going strong in LA
In this book, we leant how Nobu's attention to detail and sincere, innovative service saw him cross the world. His first restaurant, Matsuhisa in Beverly Hills, set the standard for Japanese cuisine in America. Despite having grown a worldwide brand after his own name, Matsuhisa is where he first grew a menu, service, and staff to success. Nobu writes, "My roots are Matsuhisa, and because it exists, I can always stay on track."
He faced three failures before opening the first Nobu…
Prior to that, though, the chef's start in America wasn't easy – tragedy struck his first restaurant in Alaska to the point of his own breakdown. But with the help of kind, loving souls, Nobu picked himself up again and went on to gain a loyal following.
… for which Robert DeNiro waited four years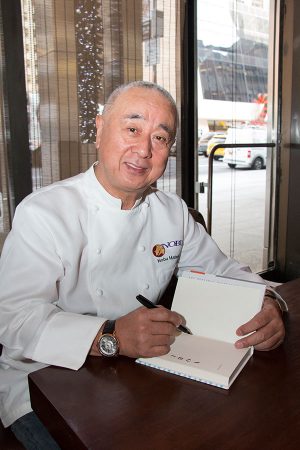 Among this was actor Robert DeNiro, whom today co-owns Nobu Group. When DeNiro first approached him to open a restaurant in New York, Chef Nobu was focused on developing Matsuhisa. So, the Hollywood star waited four years before proposing it again. This time, the chef was ready.
That was how their friendship-turned-partnership produced the first Nobu restaurant. Here in New York is where his brand took off; Chef Nobu has famously served the likes of Madonna and Cindy Crawford.
Perseverance is his process
Reading the memoir, one can't help but admire the passion this chef bears for his craft. Chef Nobu expressed, "I have worked over 50 years in sushi, and I love it from the bottom of my heart. I see sushi as the height of simplicity, the most profound food in the world."
However, one of our main takeaways is that passion alone cannot bring success. Embodying Japanese spirit and values, Chef Nobu started from washing dishes in tiny sushi bar in Japan, and sharpened his skill for years with a single goal in mind.
"We are taught that 1+1=2, but sometimes in life, it can be more or less than 2, depending on what we do. Mathematics likes answers, but life is different. Even if we go one millimetre ahead at a time, in 10 years we can look back at how far we've come," he said at his KL launch.
Key to world domination: adaptation
Nobu NY saw the genesis of his world-renowned Nobu Style. Grounded in Japanese cuisine, Chef Nobu developed recipes based on ingredients representing distinctive umami familiar to respective regions. By bringing together the best elements of Eastern and Western cuisine, Nobu now delivers a hospitality-centred service proven to be a hit the world over, even in the hotel scene.
These days, Chef Nobu spends ten months out of every year travelling to his restaurants around the world. He exchanges insight and tips with local teams. Besides protecting the integrity of Nobu Style worldwide, this nurtures the global restaurant's extensive staff network, which Chef Nobu has become a universal mentor to.
During our brief meeting, Chef Nobu explained that his purpose goes beyond Japanese cuisine. "Every child grows from their parents' food, which is why I say cooking involves heart. Through Nobu Style, I want to spread this philosophy of cooking with heart."
Nobu: A Memoir (RM 122.90) can be found at MPH, Kinokuniya, and other bookstores.
Images: Nobu KL