This makes the Michael Jordan 1985 Air Jordan 1s the most expensive sneakers ever sold.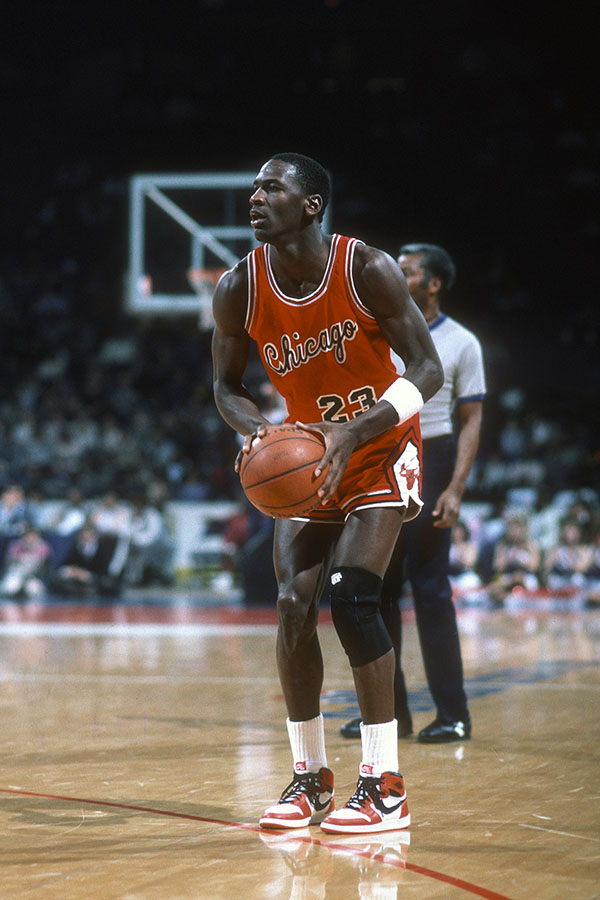 Back in 2012, an American by the name of Jordan Geller placed a bid for one of the most significant shoes in sneaker history: a pair of Air Jordan 1s worn and signed by basketball hero Michael Jordan. Eight years on, the sneaker collector noticed that Jordan-everything had a spike in value thanks to The Last Dance documentary on Netflix.
Thus, he decided to let his one of his most prized possessions up for auction on Sotheby's on May 8.
"Timing is everything and right now is unquestionably the right time to put them on the market," he told GQ. "There's more interest and excitement in Michael Jordan than ever before. I think that it will have a big impact on the sale."
It was originally estimated to fetch an amount between $100,000 to $150,000, but when the hammer went down on the final day of auction two weeks later, it was for a record-breaking $560,000. (That's approximately RM2.4 million, mind you). Earlier that morning, the bid hung at $260,000 before bidders went all-out in the last 20 minutes to bring the final value to 3.5 times the estimate.
This makes the Michael Jordan 1985 Air Jordan 1s the most expensive worn sneakers ever sold. The coveted title was previously held by another Nike shoe – the 1972 Nike Waffle Racing Flat 'Moon Shoe', which fetched $437,500.
Despite Sotheby's perceptive timing of the auction in line with the finale of the documentary on the '90s Chicago Bulls, the sneakers' steep price tag isn't solely owed to that. We're talking about the 1s here – the iconic original (in millennial terms: the OG) that birthed a generation of Air Jordans.
The pair comes in a size 13 (left shoe) and 13.5 (right shoe) as Jordan was commonly known to wear mismatched shoes for most of his career.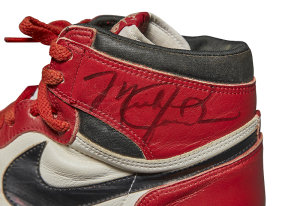 Plus, this is a mid-top worn heavily by the legend during the early years of his career, before the later low- and high- tops that Jordan would only wear for a single game. The design is exclusive to Jordan and no other AJ1s came with red laces. That's not all – the autograph on the heel is marked by permanent Sharpie, compared to most of his ball-point pen signatures.
It's no wonder why when the ritzy auction house shared the news, it came with an all-caps proclamation: "SLAM DUNK!"
Photos: Sotheby's