Fancy experiencing  a private kitchen concept, where you can observe the chef commencing the preparation of your meals with an open flame concept? Balancing familiar and experimental flavours, a generous selection of natural wines and homemade kombuchas are also on display. 
Perched on the fourth floor of the illustrious Else Kuala Lumpur Hotel, lies a culinary gem – Yellow Fin Horse. Even before getting in the restaurant itself, the rustic stone benches and the tranquil pool area is enough to entice you for a gastronomic adventure. The facade is also an attractive location for your Instagram post.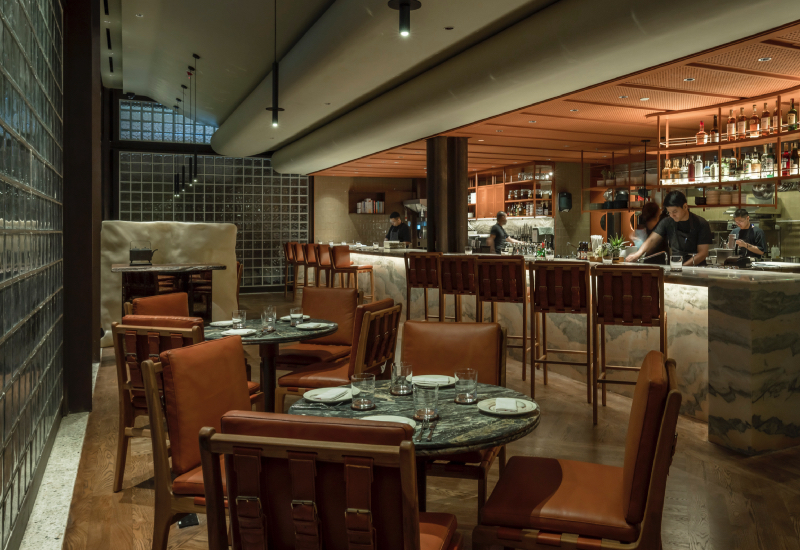 The concept of Yellow Fin Horse is simple yet profound , "elemental cooking", as explained by Chef Jun Wong. ''The dishes are crafted to be as uncomplicated as possible, allowing the true essence of the ingredients to shine through,'' she mused. 
Chef Jun Wong and her brilliant team are enthusiastic about the art of crafting foods from scratch, using ancient techniques such as open-flame cooking, preserving, curing, fermenting, and ageing. Every taste demonstrates their devotion to these basic ways, as the flavours are deep, nuanced, and completely memorable.
Chef Jun has set his sights on two lofty goals for Yellow Fin Horse's culinary haven. First, she strives to achieve a zero-waste policy, ensuring that every scrap and morsel is put to good use. Secondly, she's committed to crafting everything in-house, using only the freshest ingredients available.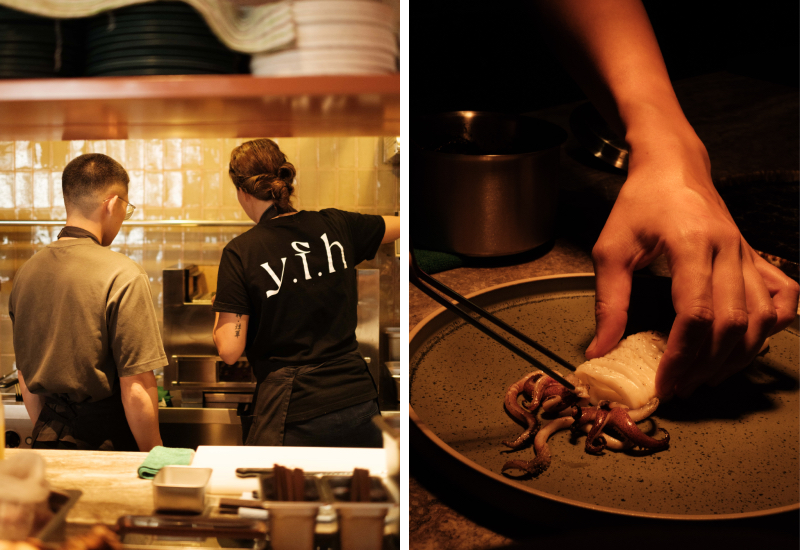 For starters, Chef Jun unveiled the Summer Salad. This delectable dish features a surprising ingredient – purple corn. But the ingenuity doesn't stop there, finding their way to utilise every part of this vegetable, including its husk, Alif, the mixologist transformed the corn husk into a key ingredient in  signature tepache – putting it his own unique twist. The result is a tantalising zero-proof cocktail that perfectly complements the Summer Salad. 
An unwavering commitment to sustainability and innovation!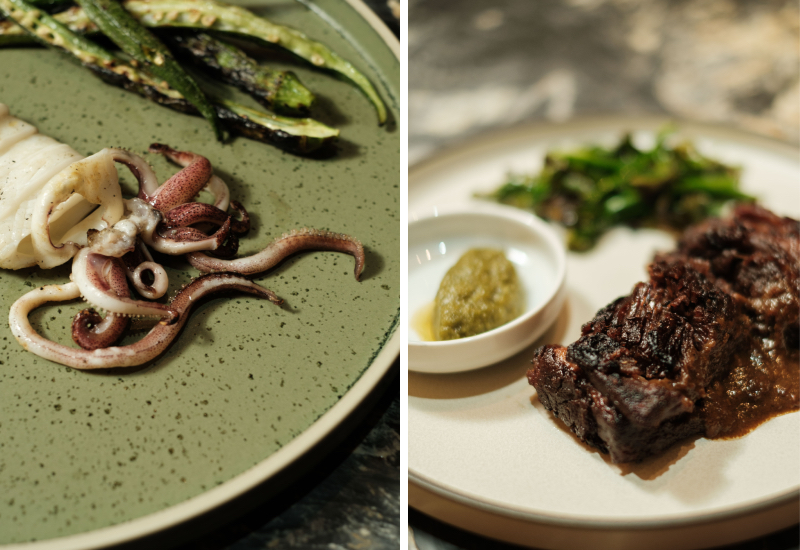 At Yellow Fin Horse, seafood also reigns supreme, with a plethora of options gracing the menu. But there's one dish that simply cannot be missed – the Flame-Grilled Local Squid. Grilled to perfection, with just the right amount of char to add a smoky depth to its already delicious taste, the plate is also served alongside a smoked buah keluak sauce and charred okra, this dish is a true masterpiece. When combined, the flavours dance on your tongue in a symphony of taste sensations.
But our favourite is none other than the Charred Caramelised Wagyu Karubi. It is a culinary masterpiece with a flavour that was reminiscent of Chinese char siew, yet elevated to a whole new level. The richness of the wagyu beef was unparalleled. The dish was perfectly complemented by the charred kailan and the YFH "chicken rice chilli", creating a blend of flavours that can be found elsewhere!
Last but not least, the dessert features two options: Cashew Dairy-Free Curd, which is filled with the enticing flavours of charred citrus fruits and honeycomb. Or you can choose the Dark Chocolate Water Ganache, which is accompanied by crispy black bean crisps. No matter what you choose, satisfaction is guaranteed!
Yellow Fin Horse is located at level 4, Else Hotel, Jalan Tun H S Lee, City Centre, 50000 Kuala Lumpur, Wilayah Persekutuan Kuala Lumpur, Malaysia.  
For more information, follow Yellow Fin Horse on Instagram and visit yellowfinhorse.com