In the lead-up to International Women's Day on March 8th, we speak to a few women bosses who are fearlessly taking on the business world. Jolyna Tan, Jady Teoh and Jean Ng are the founders of  beauty salon 176 Avenue in Bangsar that offers hairdressing, manicure services, lash extensions, massages and even a dress rental service all in one place.
---
These ladies are seeking to help men and women alike feel that little bit more empowered to take on their days, one manicure and/or massage at a time.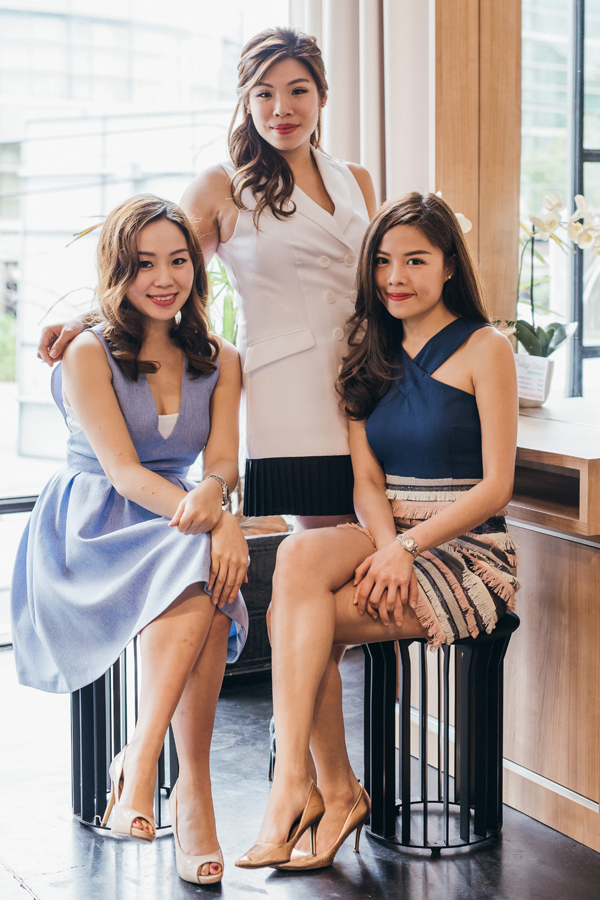 A woman's greatest asset is without a doubt her brains, but never has a side serving of beauty ever gotten in the way.
"Being able to look good and feel good as a result is empowering," says Jolyna Tan, one of the three founders of 176 Avenue in Bangsar. She would know because, along with business partners Jady Teoh and Jean Ng, the trio have founded a business that aims to pamper, polish and preen women of all ages and backgrounds to feel their best so they can be their best.
"We're all into beauty, fashion and business," tells Jady. "Jean came up with the idea and found the place."
"We go for manicures and lash extensions and visit salons often enough to know what we wanted," Jean elaborates. "It occurred to us that each service takes a long time – you have to go to different places to get each service done – so why not start someplace where ladies can get everything done all in one stop. There's no place like this in KL. We also stand out because we have the fashion section."
'Stand out' is an understatement of the gleaming lot along Jalan Maarof right opposite the equally upscale Bangsar Shopping Centre.
The two-storey bungalow with floor-to-ceiling glass windows looks like an art gallery of sorts. Inside, art does happen, where tired manes are coiffed into stylish dos, worn out nails are rejuvenated with a myriad of polish and styles and most importantly, the day of every woman who walks in is lifted and transformed for the better.
Right at home
176 Avenue (swipe left for more)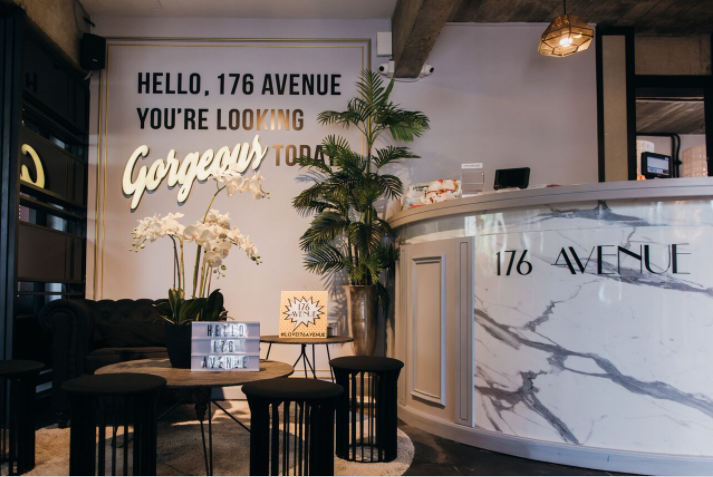 176 Avenue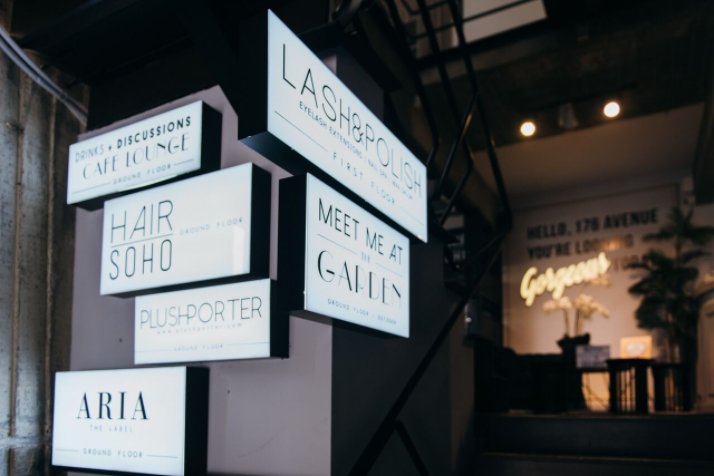 176 Avenue
176 Avenue
176 Avenue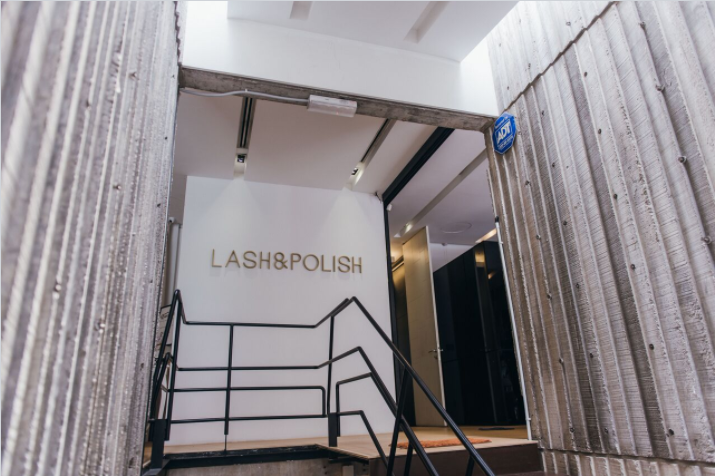 176 Avenue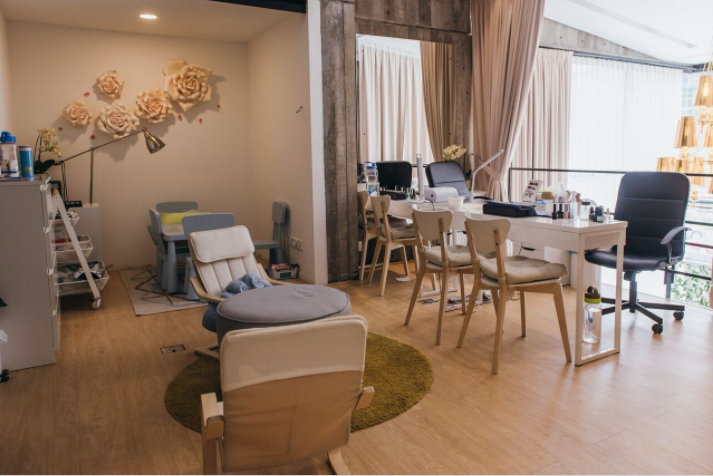 176 Avenue
176 Avenue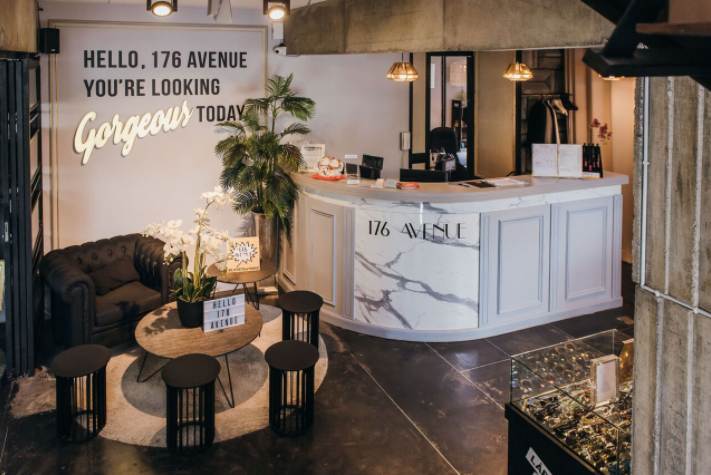 176 Avenue
Plush sofas, cream carpets, marbled tiles and a generally laidback vibe greet you upon entering.
"The concept here is that you come and you feel like you're right at home," shares Jolyna. "You'll be spending many hours here so we want make you feel completely comfortable, hence why we also offer wine and other beverages for free."
"Some of the salons I've visited sometimes feel very intimidating," adds Jean. "You have to be dressed up and all but here, you just come as yourself. Things are more intimate and naturally, people feel more welcomed."
The place is a hair salon, manicure and pedicure bar, massage and waxing parlour, eyelash salon and even a dress rental stop all in one. Exercising their designer arm, Jean and Jady also design for the in-house label Aria The Label that buyers can get first dibs at 176 Avenue.
However, beautiful façade, coveted address and tasteful designs did not make the business any easier during its early stages.
"Because we're not in a mall or a high-traffic area, one of the things that was difficult was getting people to come in at all," Jolyna recalls. "We relied solely on word of mouth. There was hardly any walk-ins or enquiries from passers-by. We had to be strong with our service to make a name for ourselves."
"In terms of marketing, many assumed we were expensive, mainly because of the location, the address," Jean chimes in. "From the outside we look really fancy but our prices are actually quite competitive."
Finding and retaining talent was is an on-going challenge as well, but they were nothing the three couldn't overcome with their combined expertise in different areas.
All for one and one for all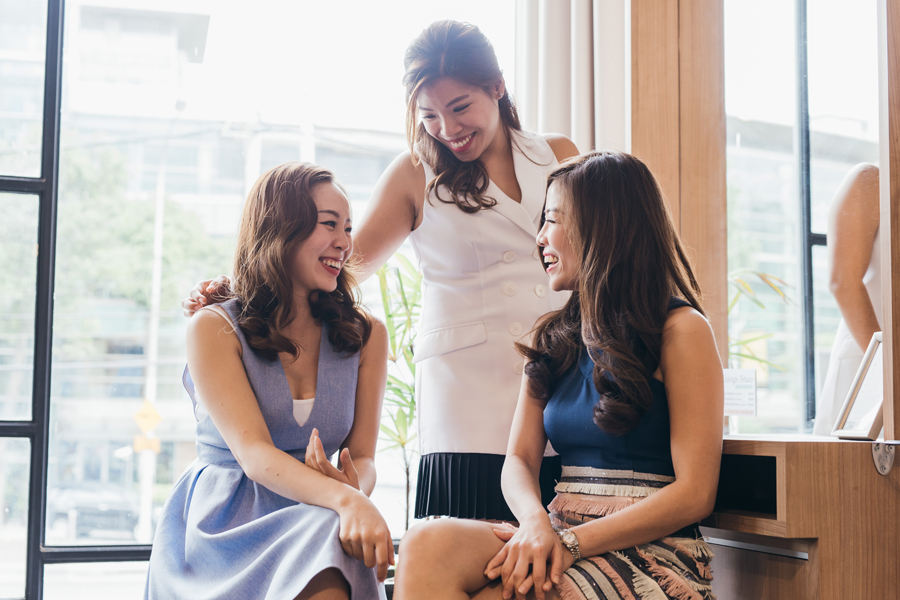 Jolyna, who was before this a real estate agent, is particularly nifty with contracts, marketing collaterals and PR skills. Jady sees to the numbers that keep the business going. Jean, with her avid eye for design, sees to anything and everything related to the creativity of the business.
"The partnership came about because we knew we had different strengths but our personalities also gelled very well," Jean tells. "We had the same vision and direction – it was a bonus that we can oversee different areas in this three-way partnership."
But more than anything, all three ladies credit being women themselves as the number one factor of the success of the business.
"Being a woman helped tremendously because we know and understand the nature of beauty and how personal it can get," opens up Jean. "We therefore know what our clients would want and like to feel upon stepping in."
Jady concurs: "From the start, we asked all the questions that we used to have as customers – is parking going to be a problem, will we like being in a cosier or more commercialised place, how much privacy matters? What we like, we know our customers will like too, so that's what we tell our staff to emulate for every woman who walks in here."
"Even during our construction period, we were very hands on," Jolyna affirms. "I was 7 months pregnant and I was getting on ladders to see to things I wanted to get done."
They're approaching the day-to-day processes with the same enthusiasm and feminine fearlessness.
"Women can sometimes get emotional but I think it works for us in terms of handling staff," Jady points out. "You relate to them more and you know better how to handle different people."
"Sometimes I think just knowing that your boss cares, helps," Jolyna echoes. "And women will always go out of their way to make everyone feel assured about themselves. We are more empathetic and more inclined to tune in to our feelings."
Pamper, polish, preen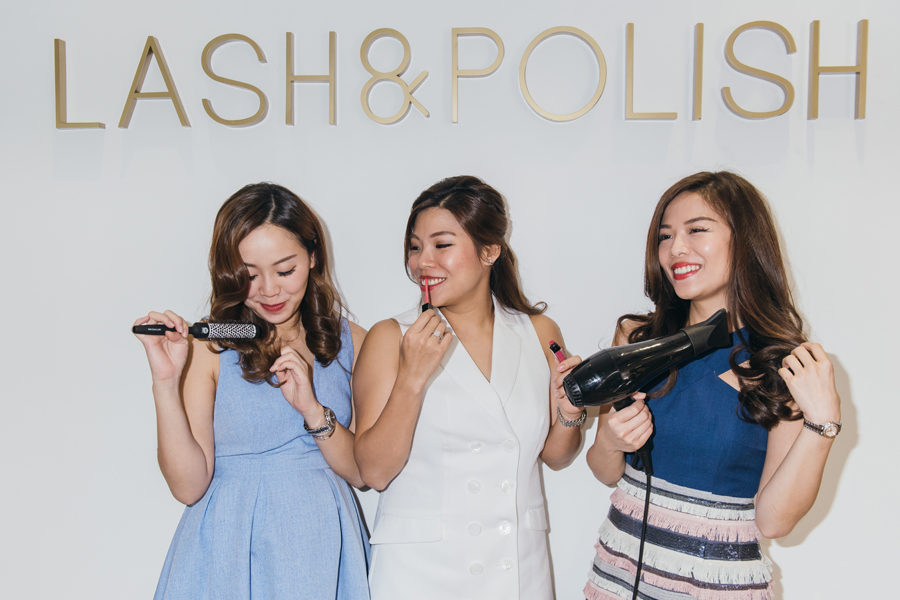 With 176 Avenue, the three ladies want to create a sanctuary where everyone — men and women alike — can come in and leave their worries at the door by means of the one of the fastest pick-me-up: a quick pampering session. They're dishing out what they call "affordable luxury" – manicures or a massage thrown in that everyone has access to.
"At the end of the day, there's nothing wrong with being a little vain if it helps you feel good and build that confidence for you," Jean tells. "When I look good, everything around me starts feeling more positive."
"If I'm not looking decent, I don't even want to talk to people," Jady shares her anecdote. "If having good hair and pretty lashes can help you feel better about yourself, why not?"
"You don't have to go too far out of your way and spend millions to look good or anything," Jolyna is quick to add. "Just the little things to help you look presentable make all the difference."
And 176 Avenue is striving to help everyone get there, one manicure and/or blow-out at a time.
176 Avenue is located at 176, Jalan Maarof, Bangsar, Kuala Lumpur. For more information or if you have any reservation enquiries, call +603 2201 9906 or log on to the official 176 Avenue Facebook page here.
Styling: 176 Avenue
Photography: Nic Chung