'Tis the season to be jolly, and for beauty lovers, a big part of that festive joy comes from the bounty of new holiday beauty collection releases that inevitably pour our way this time of year.
Whether you're searching for the perfect Christmas gift for the skincare enthusiast or make-up addict in your life, seeking out a beauty routine to dazzle the holiday party crowd, or just in the mood for some festive self-care, we've got you covered.
From skin restoring night time kits to stunning gold and glitter covered makeup palettes in limited edition shades, here are the top holiday beauty releases we're throwing in our Christmas stockings this year.
Fenty Skin The Before-Bed Set 3-Piece PM Essentials
Get that winter-kissed glow with Fenty Skin's The Before-Bed Set 3-Piece PM Essentials, a limited edition set that takes 'beauty sleep' to a whole new level. The pack is the first ever Fenty Skin x Fenty Beauty set and includes the Fat Water Niacinamide Pore-Refining Toner Serum, a mini Instant Reset Brightening Overnight Recovery Gel-Cream, and a full-size Pro Kiss'r Luscious Lip Balm in shade Hint Hint. Maximising the body's natural recovery processes during snoozing hours, the products help reset the skin so that dull and dry skin is refreshed and nourished come morning.
Available at Sephora online.
Burberry Beauty Limited-Edition Signature Eye & Face Palette
This three-in-one Limited-Edition Signature Eye & Face Palette offers the best of Burberry's signature shades in opulent gold packaging, decorated with the Thomas Burberry monogram. Housing a skin tone flattering blush, a light reflecting highlighter and four eye shadows, the palette is designed to be paired and layered to create custom looks. For instance, the Rose Gold blush and Dusty Pink highlighter when used together delivers a luminous glow, while the Classic Burberry Beige and Bridle Brown seamlessly works with the Golden and Dark Carmine for a versatile day to night look.
Available in Parkson Pavilion & Sogo KL.
Caudalie Vinosculpt Gift Set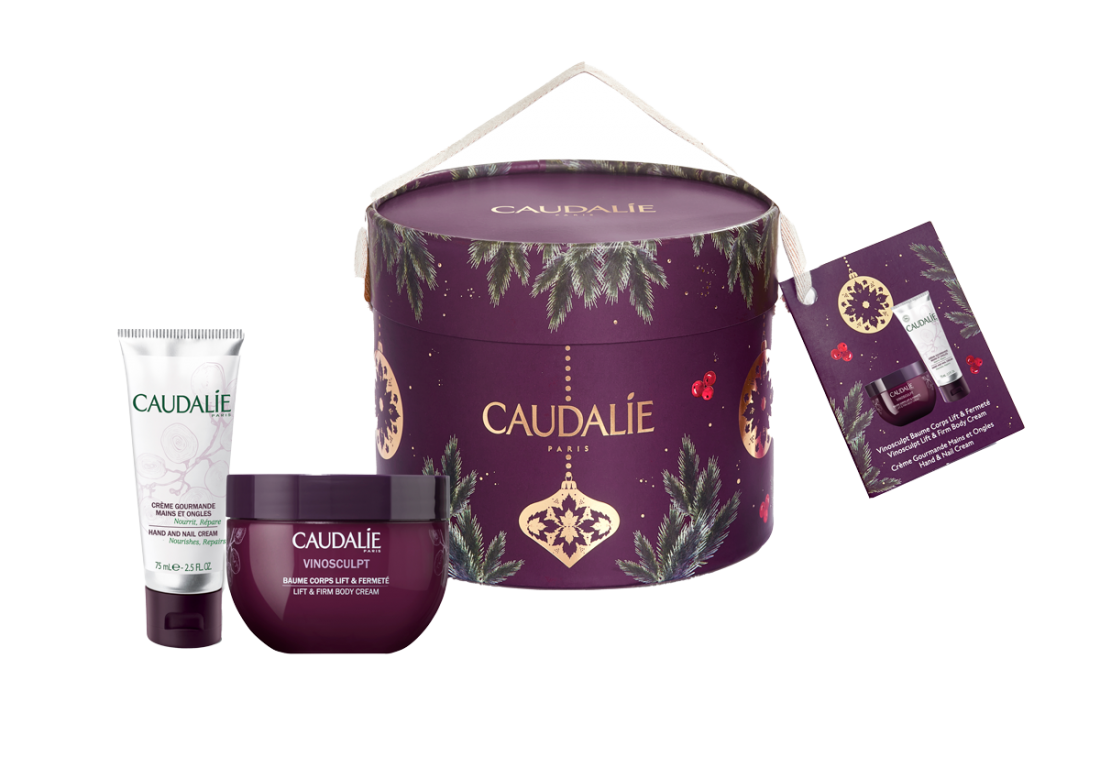 Reiterating its commitment to sustainability, Caudalie saves us the trouble of fiddling with gift wrap and boxes this year by packing its most well-loved products in beautifully designed, eco-friendly gift packaging. From the brand's 2021 luxury gift set collection, the Vinosculpt Gift Set includes the Vinosculpt Lift & Firm Body Cream and the Hand and Nail Cream. The former is enriched with grapeseed polyphenols and iris extract which help the skin look tight and firm, while the latter uses grape polyphenols, shea and avocado butters to nourish and protect the hands.
Available at KENS Apothecary online, Caudalie Kiosks, Sephora, Lazada and Shopee. 
Laura Mercier First Ball Cheek Palette
Dressed in glittering festive packaging inspired by Le Grand Palais in Paris, this limited edition day-to-night cheek palette features three exclusive shades of Blush Color Infusion and two highlighters. With blush shades ranging from warm peach to cool pink and nude bronze, the palette will be your go-to for everything from a casual day of Christmas shopping to a glitzy evening at a holiday soiree. Designed to compliment all skin tones, the highlighter shades of warm gold and cool moonlit sheen provides a luminous winter glow everywhere you go.
Available at all Laura Mercier boutiques and online.
Gucci Beauty Limited-Edition Rouge à Lèvres Mat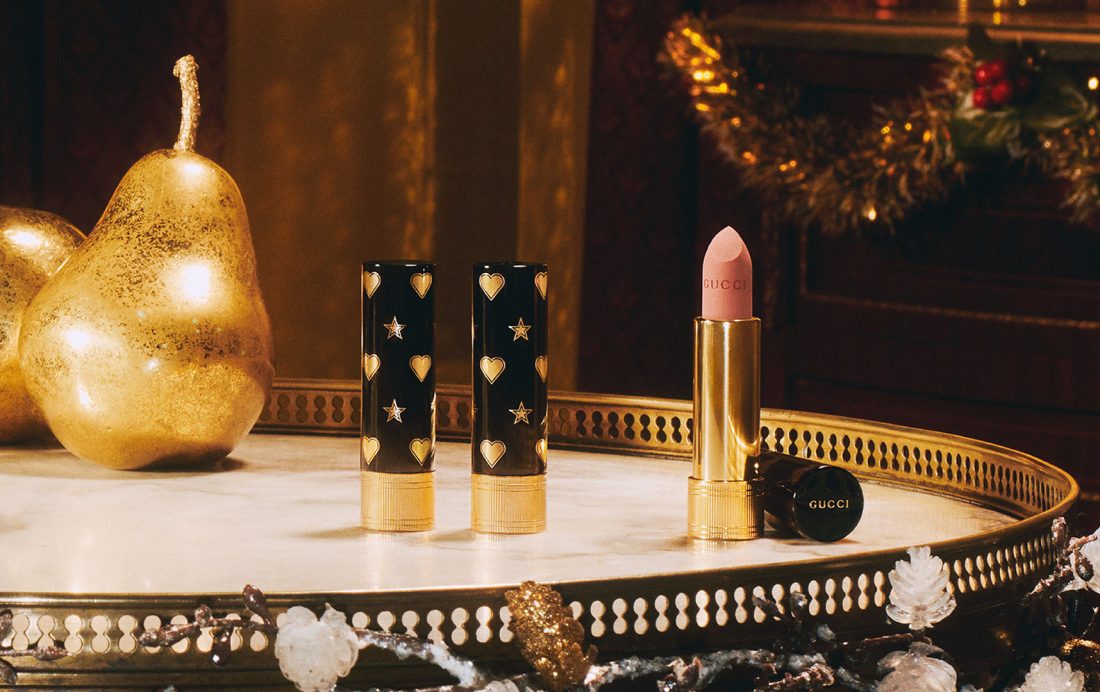 Usher in the holidays with a pop of playful colour with Gucci Beauty's new limited edition Rouge à Lèvres Mat lipsticks, available in three shades: 217 Valeria Rose, 519 Pauline Red and 25 Goldie Red. The lipsticks' creamy matte texture and soft velvety finish are designed to bring vibrant colour in one swipe, ensuring lips are always mistletoe ready all season. A festive makeover is given to the tubes, now showcasing a retro black print with gold hearts and stars, evoking the warm magic of glittering holiday celebrations.  
Available at Gucci Beauty at KLCC, Gucci Beauty Boutique at Mid Valley, and Gucci Beauty Counter at Sogo South Key.
M.A.C Cosmetics Mistletoe Matte Powder Kiss Lipstick Set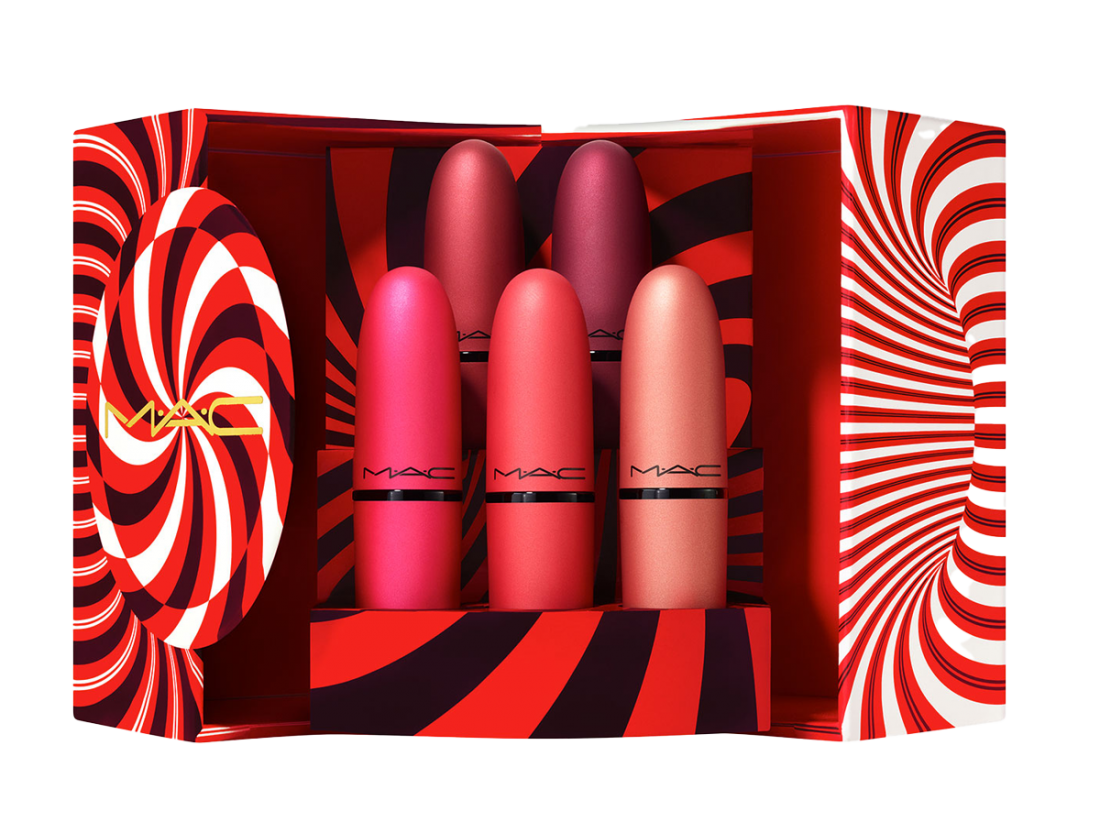 Five new, limited edition shades are found in this dreamy moisture-matte Power Kiss Lipstick set. Housed in hypnotic, candy-cane coloured packaging, the set includes colours like yellow nude, deep burnt red and bright fuchsia pink. Using a game-changing formula, the lipsticks contain moisture-coated powder pigments that hydrates the lips while delivering a soft-focus blur of colour. As a result, the lips get the best of both worlds with a zero-shine, matte look as well as the cushiony soft feel of a lip balm.
Goutal Limited Edition Tenue de Soirée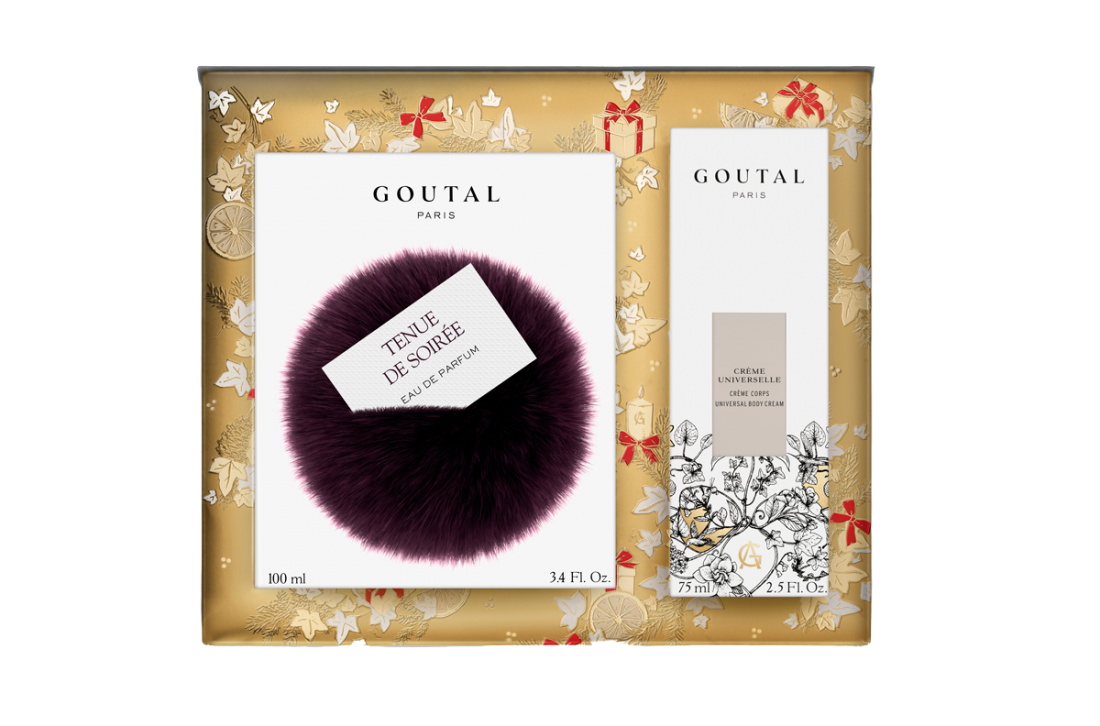 Ending its 40th anniversary year on a high note, Maison Goutal's special holiday releases continue to embody its signature pillars of tradition and emotion, with an added sprinkling of festive gold and ivory. The Tenue de Soirée fragrance, with its oh-so-Parisian bottle design in rich purple and flirty pompom, is modern, sensual, and confident with notes of red fruits, iris, patchouli. The set also comes with a travel size Universal Body Cream, enriched with shea butter to protect and nourish the skin while working in harmony with the scent of the fragrance.
Available at all KENS Apothecary stores and online.
Clé de Peau Beauté Holiday Eye Color Duo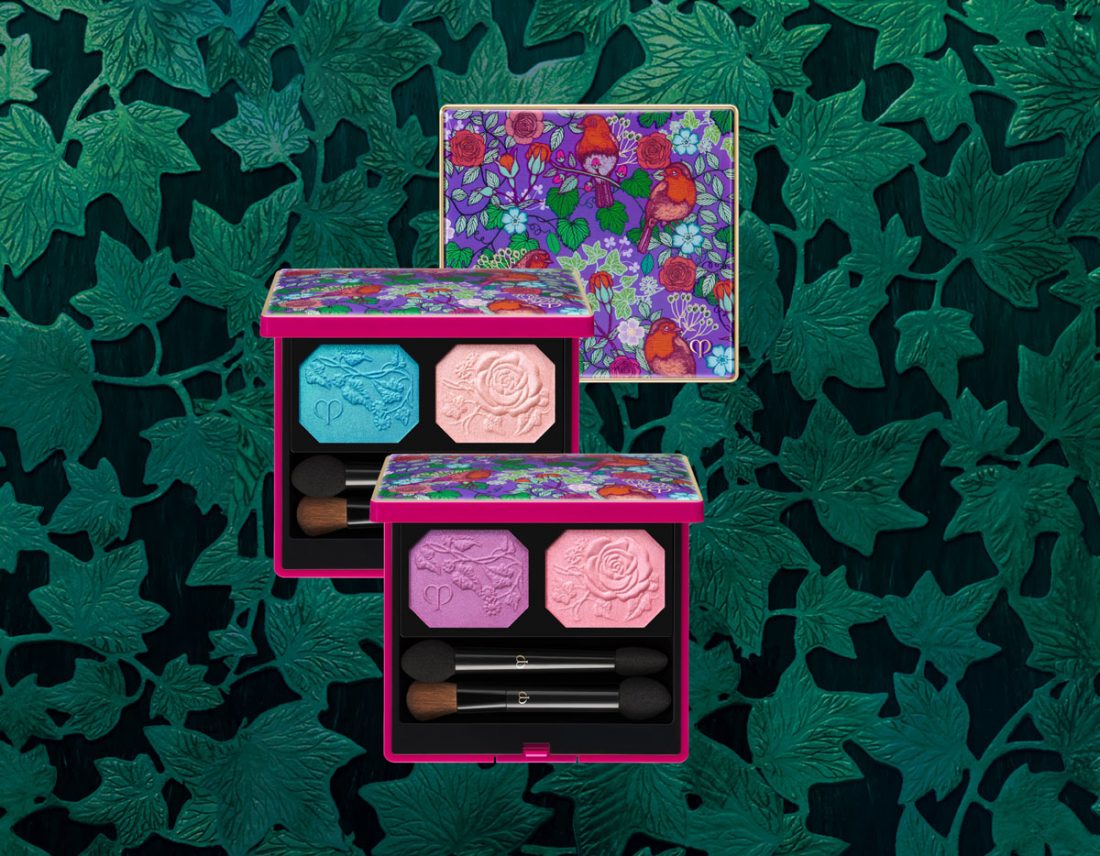 This year, Clé de Peau Beauté celebrates the holidays in the enchanting Garden of Splendor, a magical realm filled with joy and endless possibilities. Designed by French artist Michaël Cailloux, the nature-inspired limited edition collection comes in lush garden themed packaging, and offers products in new vibrant shades and designs. The Holiday Eye Color Duo from this collection presents lively, playful eyeshadow colours that expresses a sense of playful curiosity. The Sunrise in the Garden palette with soft coral and blue-green calls to mind the first morning dew of a new day, while the pink and elegant lilac of the Sunset in the Garden palette speaks of enchanted moments at dusk.
Available at Clé de Peau Beauté counters and online.
Drunk Elephant Saving Face: The Refining Routine Holiday Kit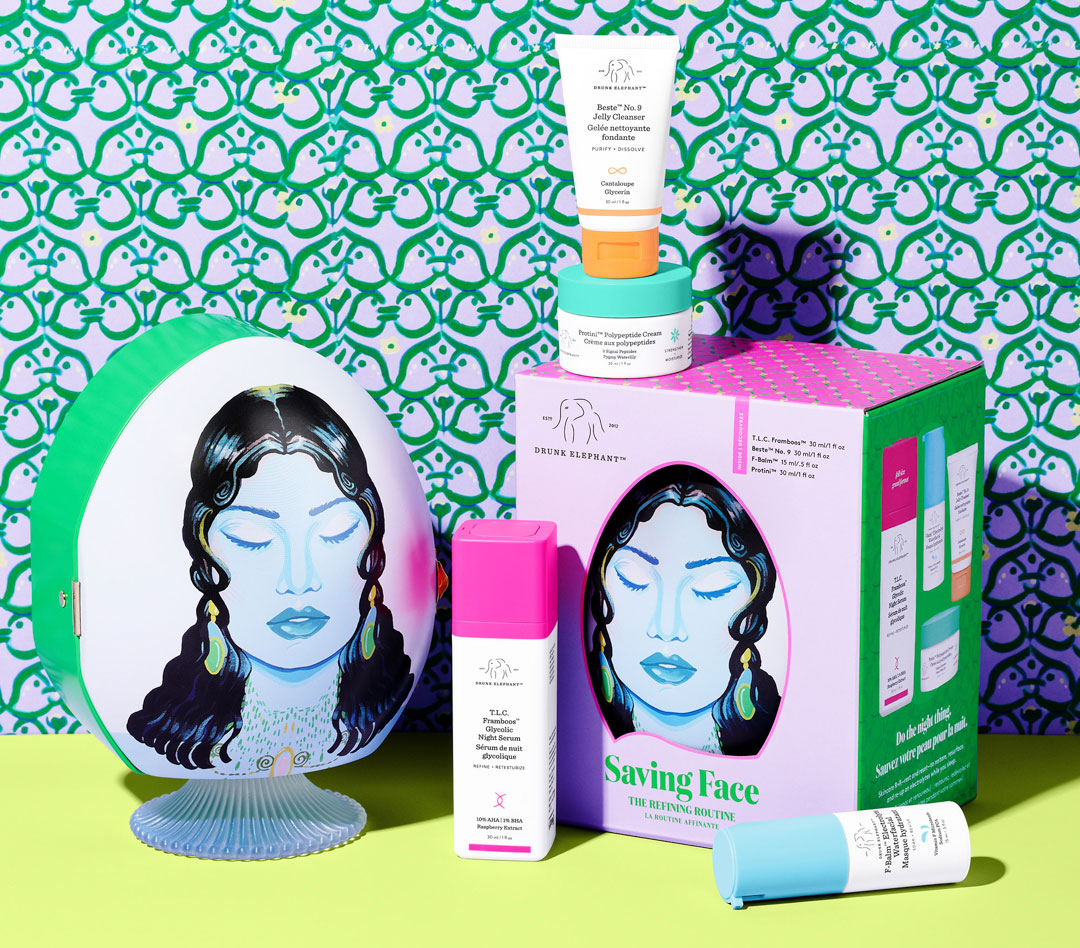 For Drunk Elephant, holiday cheer is all about having happy, radiant skin and a healthy, strong acid mantle. The new Saving Face: The Refining Routine Holiday Kit is here to provide proper restoration and replenishment of electrolytes at the end of festive fun-filled days. Start off with the Beste™ No. 9 Jelly Cleanser to melt off the pollutants, oils and makeup from the day, then take care of dead skin cells with the exfoliating T.L.C. Framboos™ Glycolic Night Serum. Afterwards, give your skin a peptide boost with the Protini™ Polypeptide Cream, and finish off with the hydrating F-Balm™ Electrolyte Waterfacial overnight mask.
Available at Sephora online and in select Sephora stores from 25 November.
Sulwhasoo Concentrated Ginseng Renewing Serum Set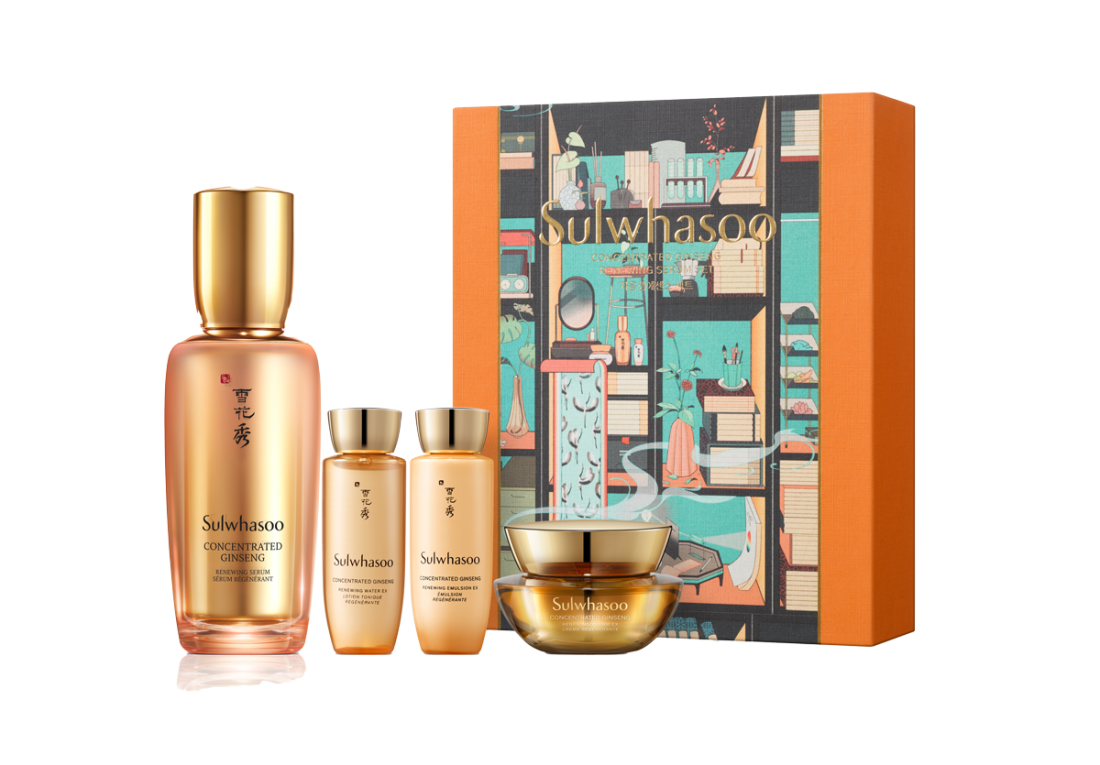 For the holidays this year, Sulwhasoo takes inspiration from Korea's traditional bookshelves with a luxurious and modern secret chamber theme. Perfect as a gift for loved ones or as a personal treat, the Sulwhasoo Concentrated Ginseng Renewing Serum set from this holiday collection features its signature anti-aging serum that promotes skin resilience and firmness. Other skincare treats in the set include the Concentrated Ginseng Renewing Water, the Concentrated Ginseng Renewing Emulsion, and the Concentrated Ginseng Renewing Cream EX.
Available at Sulwhasoo boutiques, selected department stores and Sephora stores, as well as Sulwhasoo online.
Mamonde Blossoming Rose Water Toner Set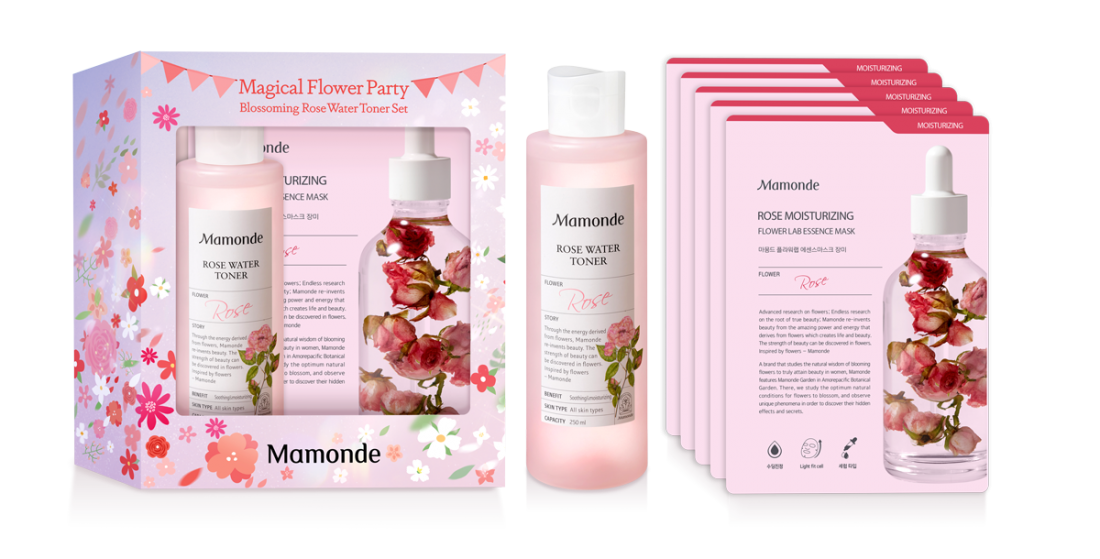 Bringing an early hint of spring during the solstice season, Mamonde's exclusive Magical Flower Party holiday collection is just the glimmer of optimism needed to ready ourselves for the new year. The Blossoming Rose Water Toner Set features Mamonde's best selling Rose Water Toner, infused with its signature essence of Damask Roses to prep and soften skin. Also included in the set is the Mamonde Flower Lab Essence Mask Rose, which offers a nourishing boost of hydration with its formulated cocktail of rose serum, emulsion and jelly essence.
Available at all major Watsons stores, Watsons online, Lazada, Zalora, Shopee and Hermo.
Until the end of November, customers on Lazada will get a free Mamonde Creamy Tint Color Balm No.26 Autumn Rose worth RM42 with any purchase of the Mamonde Holiday Sets.
YSL Beauty Libre EDP Holiday 2021 Limited Edition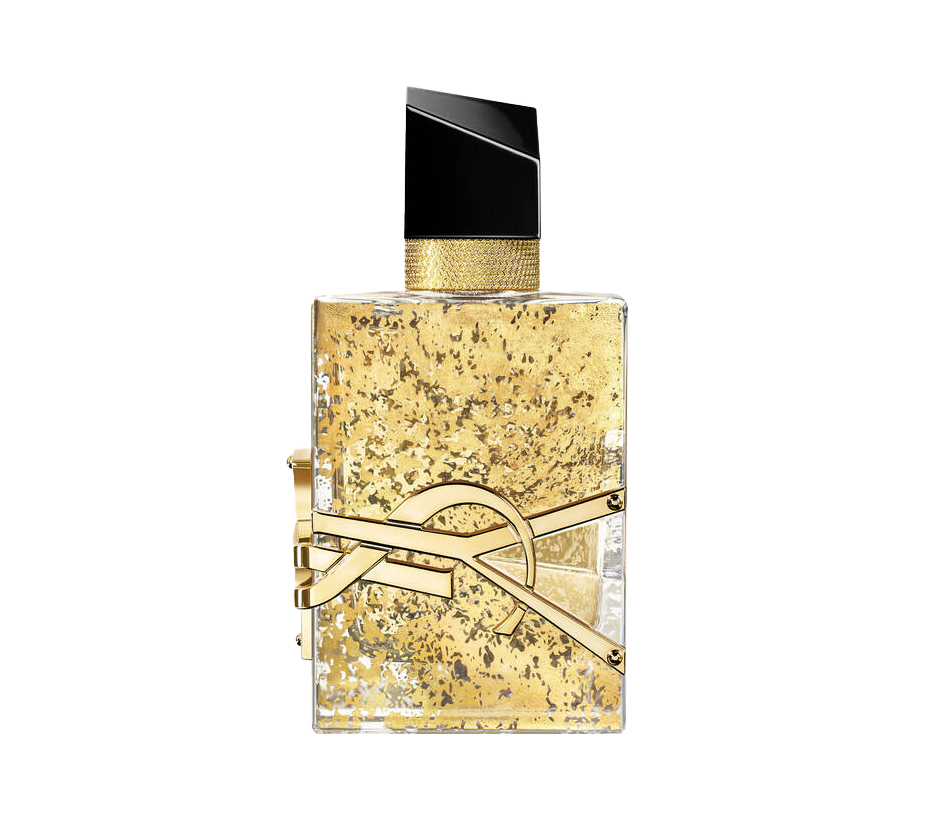 YSL Beauty's Libre fragrance gets a bold, glitzy holiday upgrade for 2021 with this limited edition iteration, decorated with luxurious gold leaves. As always, the scent is feminine, free and empowered as floral French lavender notes mingle with sensual Moroccan orange blossom. The bottle bears the iconic YSL Cassandre, also in gold, complemented by gold chains and rounded off by the stylishly asymmetric black lacquered cap, forming a glittering, timeless perfume perfect for the festive season and beyond.
Available at YSL Beauty online.
Feature photo: Gucci Beauty