The DoubleWood 17  is every bit the testament to the technique that gave it its name – the consecutive maturation process in two different wood casks for depth and fullness of flavour.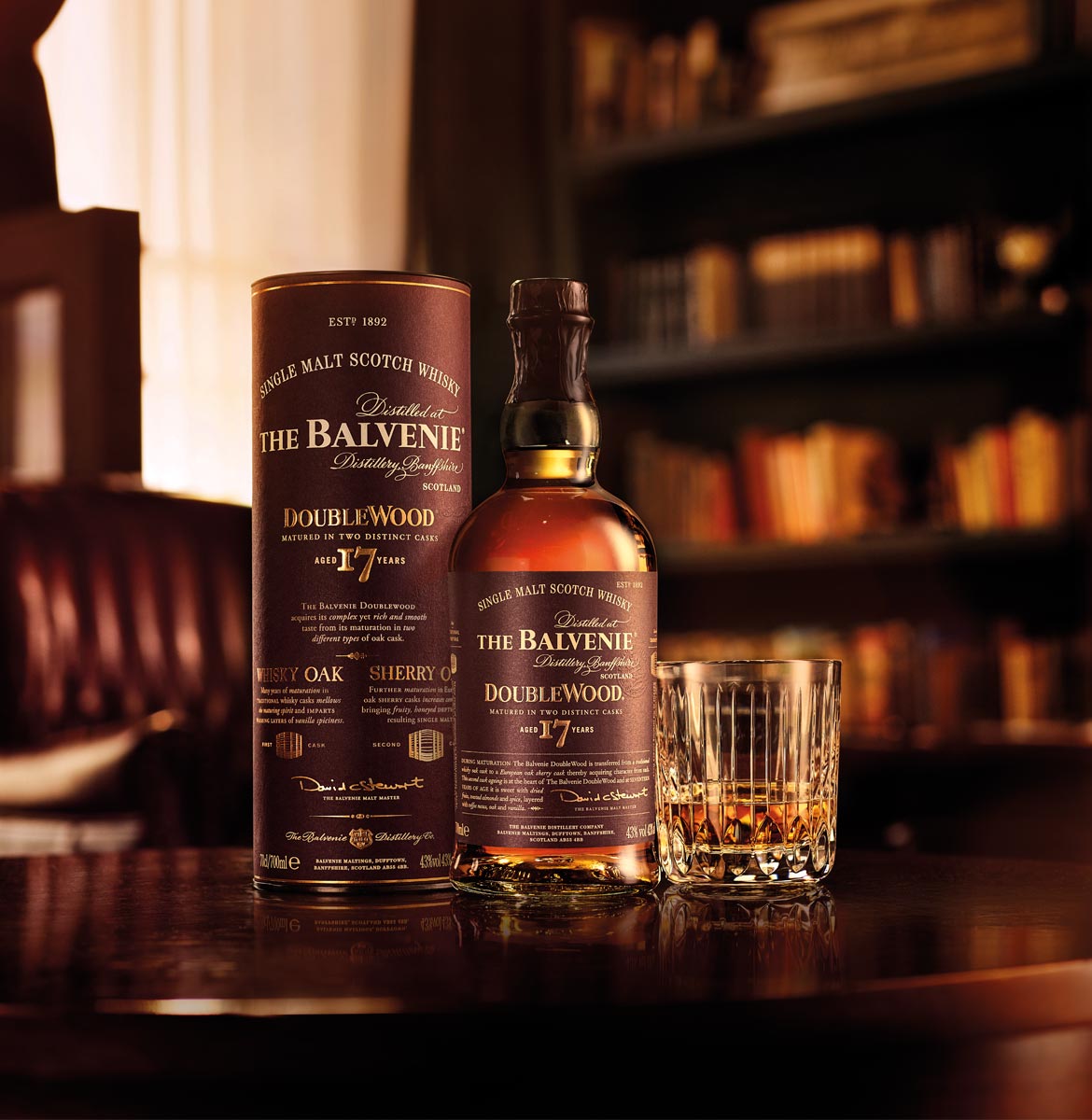 Too many whiskies strive to be smooth yet bold. The brilliance about the Balvenie is that it never tried to be either. It has always been known for its fruity and robust profile and continues to proudly own that in its older and more mature expressions.
Case in point: Its DoubleWood 17, the craft single malt by Malt Master David C Stewart MBE in one of his most celebrated achievements – the consecutive maturation of the whisky in two different types of casks that has come to be known as 'cask finishing'.
The technique is what gives the DoubleWood its name. It involves the whisky being matured first in American oak barrels, which gives it soft vanilla notes, before a second round of maturation in European oak sherry casks adds rich spicy flavours and a depth and fullness of flavour.
The DoubleWood 17– the elder sibling to the DoubleWood 12 – is every bit the testament to that technique with its honeyed, spicy characteristics, yet stands its own with a distinctly difference deeper vanilla notes, hint of green apple, creamy toffee and a striking richness and complexity.
First nose
First pour proves the DoubleWood 17 to be a vibrant whisky. Immediately the nose picks up elegant and complex oak laced with vanilla, a honeyed sweetness that makes one think of a creamy milk dessert. But it's not at all heavy, no. Bright undertones of green apple keep things crisp and fresh, leaving the palate almost impatient for a taste.
First sip
When it finally hits the tongue, it doesn't disappoint. Explosive sweetness coats the mouth with unmistakable accents of sweet dried fruits, lifted with a light veil of sherbet spice. It starts off slightly sharp but rounds off to a mellowed caramelised sweetness. Roll it on the tongue a little and toasted almonds come through, its nuttiness lending a new dimension to the sip.
Second sip
After a while, the nuttiness melds off into the creamy sweetness The Balvenie is known for – a lovely richness of creamy toffee, oak and sweet vanilla. Here is when you get to truly enjoy the whisky, in our opinion, as vanilla, honey and spicy sweetness lingers for a signature Balvenie finish.
The Balvenie has always prided itself in how easy it is to drink and and for that we love it all the more. It is a party whisky as much as it is one to sip while mulling over one's thoughts, without ever coming across as intimidating.
Learn more about The Balvenie's whiskies at the official website here.