Expect classic dishes such as Cantonese Style Crispy Noodle and Salted Egg Custard Bun, but presented with a contemporary spin.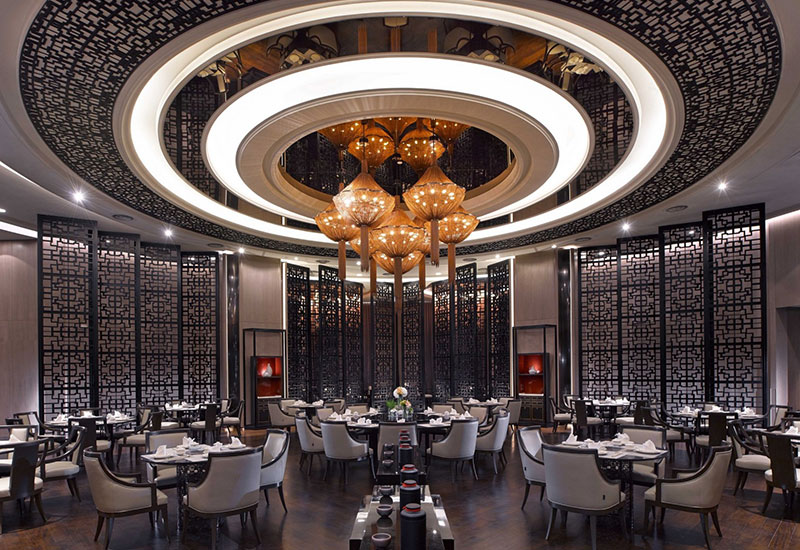 Like the rest of Sofitel Hotels & Resorts around the world, Sofitel Kuala Lumpur Damansara embodies modern French culture and art-de-vivre inside and out. Enter its doors and you'll be greeted with a "Bonjour!" for starters; but there's one spot in the hotel that is unmistakably Asian – its Cantonese and Imperial restaurant, Wan Chun Ting.
Helmed by Executive Chinese Chef Heng Leong Weng, the restaurant has recently refreshed its menu to include new a la carte dishes as well as dim sum offerings. Expect classic dishes such as Cantonese Style Crispy Noodle and Salted Egg Custard Bun, but presented with a contemporary spin.
"The new menu showcases the exceptional range of authentic Cantonese and Imperial cuisine with a twist," says Chef Heng, "The highlight of the menu is not only its innovative use of fresh flavours, but also its commitment to responding to the evolving trends and growing demands of our guests."
Here's what you can expect.
A la carte dishes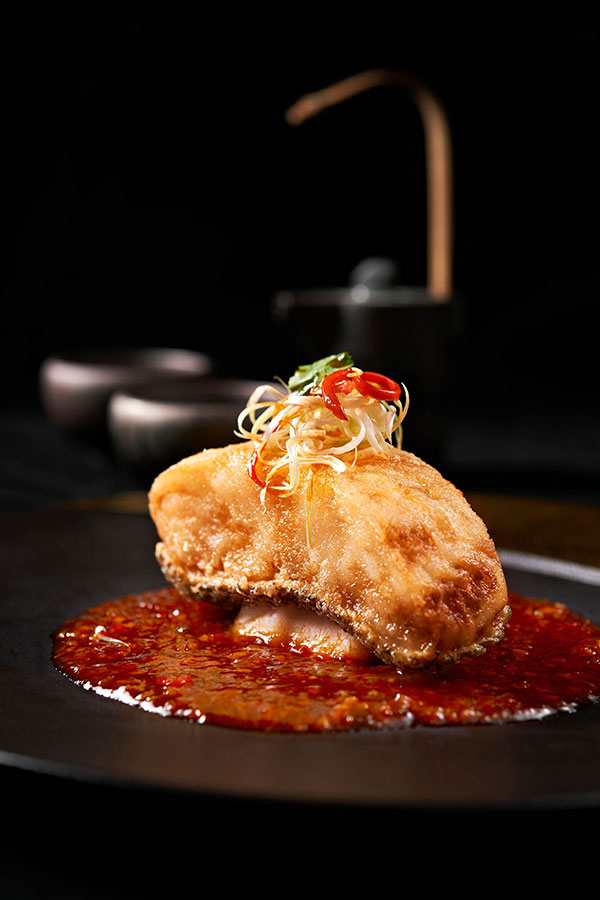 Gravy and sauces are essential in Cantonese fare and this is especially highlighted in this new menu. Take the Deep Fried Cod Fish for example, which is served in a pool of Chef Heng's special sauce and topped with shredded onion and cucumber. The sauce hints at his reference to current trends, lending a sweet and spicy kick to the dish without stealing the thunder of the fresh, flaky cod and its crispy skin.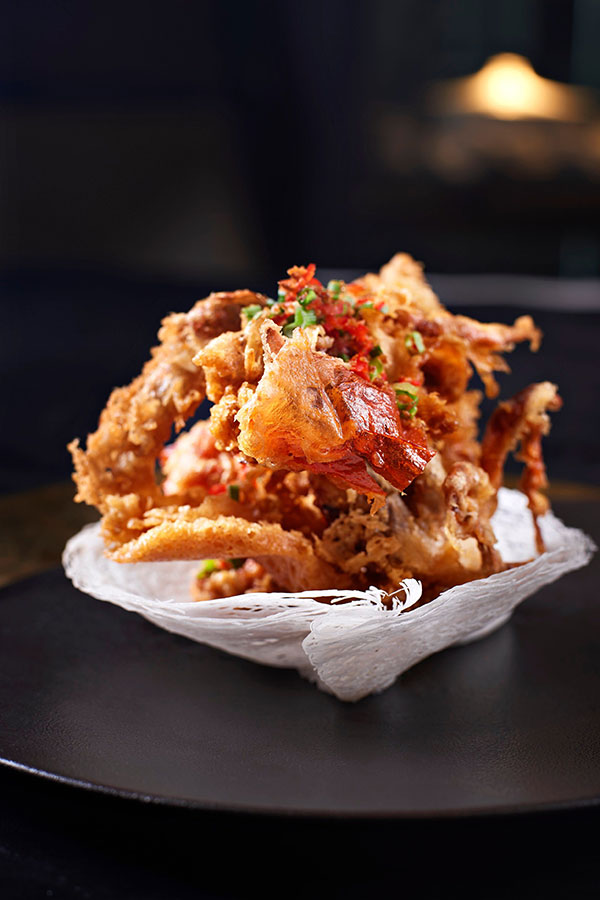 Seafood continues to take the spotlight with the Deep Fried Soft Shell Crab with Salt and Pepper. As humble as the dish sounds, the salt and Sichuan pepper does wonders to spice up the crispy crab meat. And if that's not aromatic enough for you, just dip it into your favourite choice of chilli sauce!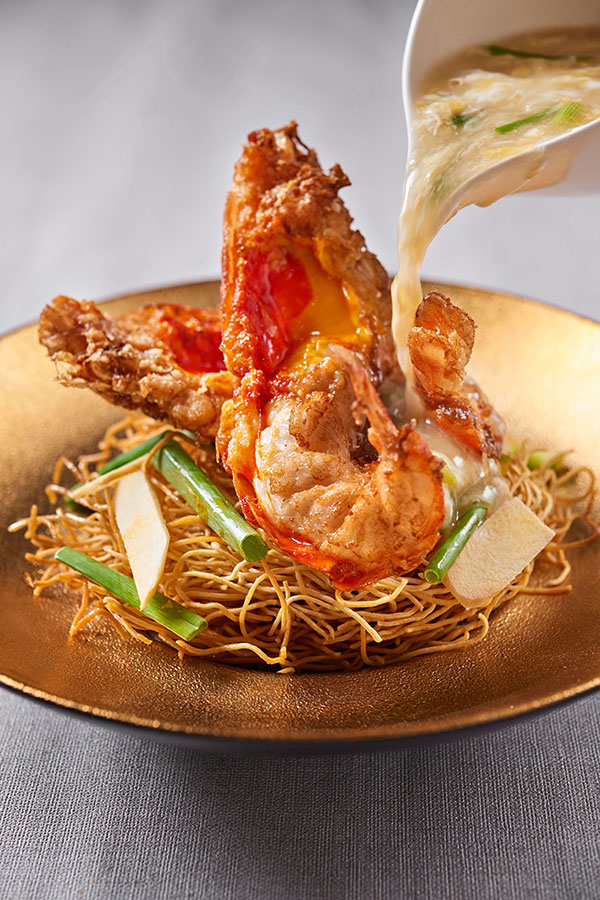 The Freshwater Prawn Crispy Noodle with Scallion and Ginger (sang har mee) is another archetypal Cantonese dish that represents gravy in all its glory. Here, the egg gravy not only adds dimension to the dish in terms of texture (turning the crispy noodles chewy), it also complements the delicate flavours of the prawn.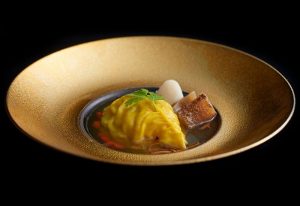 Those who can't live without soup will also find tempting options such as the Double Boiled Baby Abalone Soup with Chicken or the Double Boiled Soup Dumpling Sea Cucumber with Cordyceps, to name a few.
Dim sum delights
While most modern dim sum restaurants may play around menu regulars like shrimp dumplings and sesame balls, Chef Chong Chin Kee has cooked up over 20 varieties that include more than just your reimagined classics.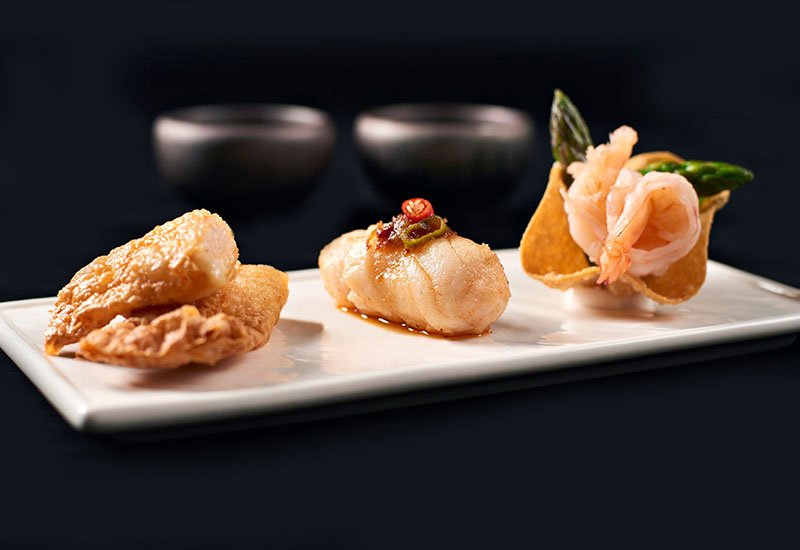 The Wan Chun Ting Trio Combination covers the former category with generous, juicy portions of prawns wrapped in translucent skin (har gaw), wonton skin (siew mai) or deep fried beancurd skin. There's also the Salted Egg Custard Bun that is filled with a sinful dose of creamy salted egg yolk – a must-try in our books. Warning: bite carefully or you'll spill some of that precious, gooey goodness.
On the other hand, the Chicken Parcel and Shrimps with Mango Dressing offers a unique blend of sweet and savoury flavours for those looking for something out of the ordinary. Other worthy options include the Deep Fried Prawn Dumpling with Chives and Deep Fried Shrimp Beancurd Wrapped in Rice Roll.
Drop by the restaurant to discover the full menu. For enquiries and reservations, please email has123-fb3@sofitel.com or call (03) 2720 6688.
Location: No. 6 – Jalan Damanlela, Bukit Damansara , 50490 Kuala Lumpur
Opening hours:
Mondays to Saturdays – 12pm to 2.30pm (lunch); 6pm to 10pm (dinner)
Sundays – 10pm to 3.30pm
Photos: Sofitel KL Damansara