Introduced to the menu at The Olive last month, the Miyazaki wagyu is recognised by various Japanese Wagyu associations and awards as the best of four wagyu breeds that exist today.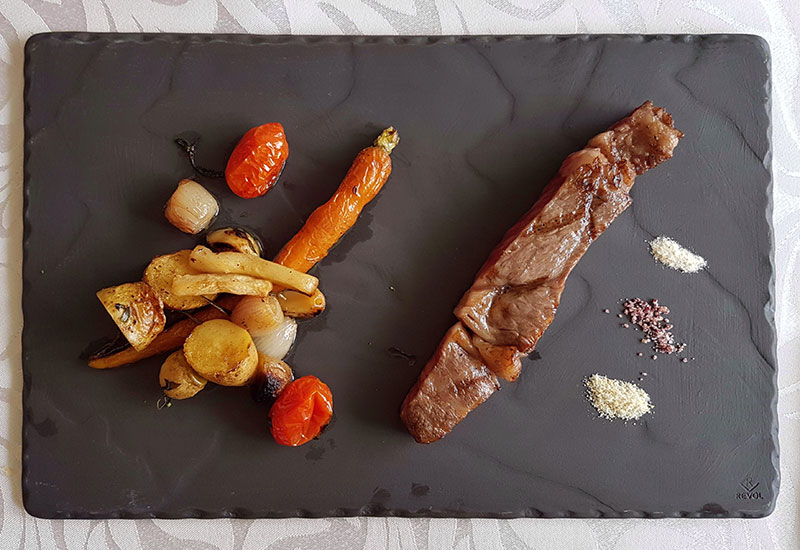 Japan's Kobe beef is widely regarded as one of the best wagyu varieties around, but not many are aware that there's another wagyu strain held in even higher esteem. Dubbed the champion of "Wagyu Olympics" for three consecutive rounds since 2007, the Miyazaki wagyu is the beef delicacy to try – and thanks to Resorts World Genting, you now can.
Introduced to the menu at The Olive last month, the Miyazaki wagyu is recognised by various Japanese Wagyu associations and awards as the best of four wagyu breeds that exist today. The award-winning restaurant is currently the only official Miyazaki outlet in Malaysia carrying top quality A5 Gold Bar Miyazaki Wagyu.
Its "A5" grade means that it has the highest yield grade (A) and quality grade (5) for beef. The latter is determined by four elements of the meat quality grading system: marbling, lustre or colour of the meat, firmness and texture of the meat, and colour, lustre and quality of the fat. To get a grade of 5 overall, it boasts an excellent Beef Marbling Score (BMS) of between 9 to 12, a cherry red colour, very fine texture, and the highest rating of Beef Fat Standards (BFS).
"This premium range of Miyazaki beef truly has to be tasted to be believed," said Mr Khew Choon Teck, Vice President of Food & Beverage for Resorts World Genting. "Miyazaki beef is special, and Nakanishi grade Miyazaki wagyu – which is farmed from cattle born and bred at the farm, not purchased from other farms – is very, very precious."
Well then, surely we had to try it for ourselves to see what the hype is all about. And so, we paid The Olive a visit for a 3-course meal featuring the star Miyazaki wagyu. Here's our experience.
Prelude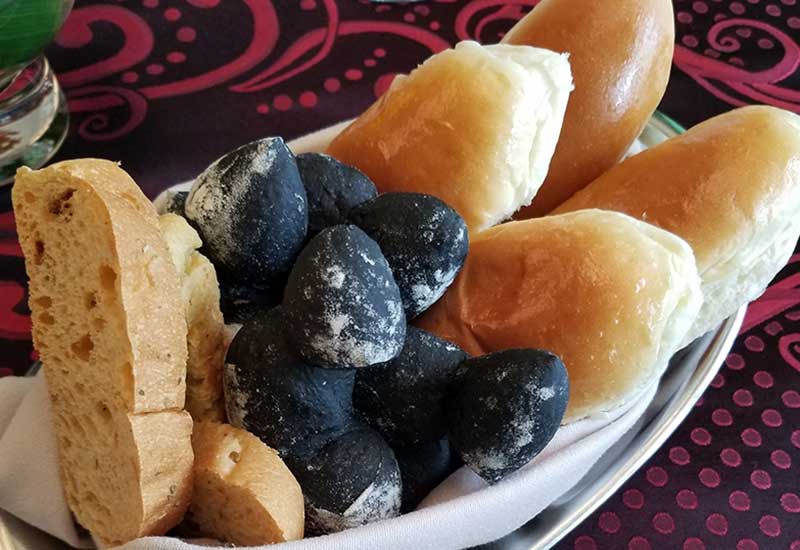 A meal at The Olive comes with a complimentary selection of their homemade bread, and ours include focaccia, squid ink and soft rolls. Served with butter, tapenade, olive oil and balsamic vinegar on the side, we are pleasantly taken in by the fresh whiff of bread – as if straight from the oven to our table. After trying all three, we vouch that the focaccia here is not one to miss.
Starter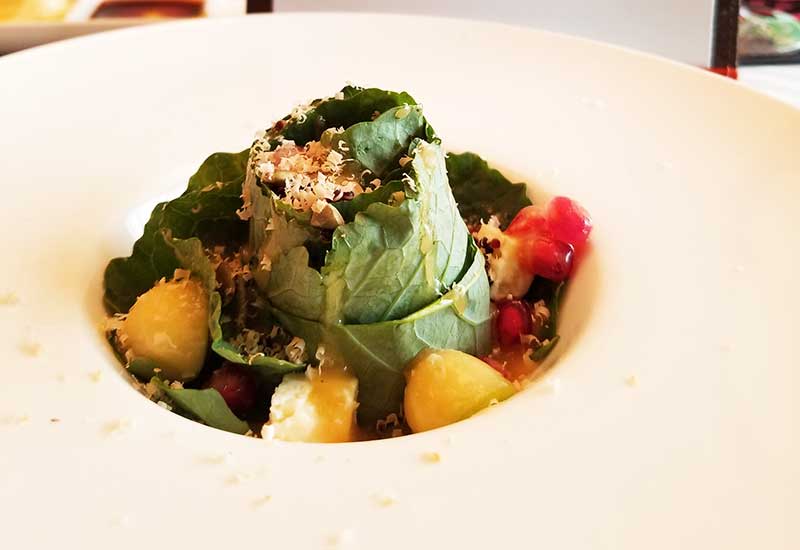 Our first course is a quinoa and kale salad, wrapped up in a spiral with pomegranate, feta cheese, green apples and maple dressing all around. Unravelling the green vortex for a bite, we welcome a delicious combination of sweet and earthy flavours highlighted by the creaminess of feta.
Main
Then comes the star of the show. Its aromatic trail greets the nose long before the palate, and that already leaves us half-convinced. When it does settle before us with three different types of salts and root vegetables to go with, we opt to savour it on its own first. Immediately, we are acquainted with its satisfyingly marbled texture in the mouth, bursting with rich, fatty flavour.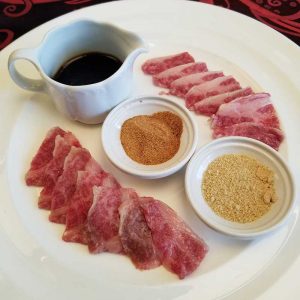 Trying it again with the individual salts, namely lemon, parsnip and shallots (Chef Radzuan is famous for his variety of salts), we must say they each add a unique relish to the cut; but the Miyazaki wagyu holds its own remarkably well.
When Chef Radzuan joins us at the table, we find out that it can also be eaten raw because of its unique texture. Sliced slightly thicker than carpaccio and served, again, only with salt, believe or not – we like it even better in its unadulterated form. If you're one to enjoy raw meat or sashimi, trust us when we say you'll want to have a taste of this melt-on-the-tongue Miyazaki wagyu raw.
Dessert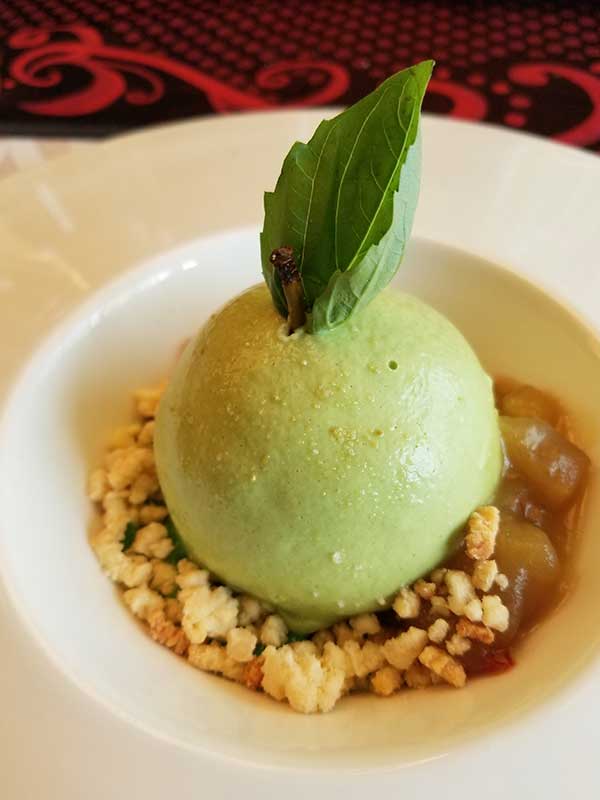 We would have settled for more wagyu as dessert, but this "apple" does stir our interest. What it is actually made of is a melange of mousse, compote and crumble topped with caramel sauce and apple salt (which unexpectedly tastes like sour plum). We find the mousse to be a little too heavy after a main that's not short on juicy fats, but otherwise makes for an enjoyable end to our meal.
The Miyazaki wagyu is served at The Olive as part of the a la carte menu, priced at RM450 nett per 150 grams. For reservations and enquiries, please call call +603 2718 1118 or visit www.rwgenting.com.
Location: Lobby Level, Genting Grand, 69000 Genting Highlands Resort, Pahang
Opening hours: Dining – 6pm to 11pm daily; Bar & Lounge – 6pm to 1am on Sundays to Thursdays, 6pm to 2am on Fridays and Saturdays