When it comes to eating out at a fancy restaurant, more often than not, we think of lunch or dinner, perhaps brunch. Despite the well-known adage that breakfast is the most important meal of the day, some of us skip it entirely; while others may prefer a simple bread and coffee fix over a full meal.
Ultime Atelier & Boulangerie wants to change that with its new Breakfast de Ultime menu, offering an extensive selection of danish and patisserie, as well as pastas and cakes for a hearty breakfast – as it believes one should have.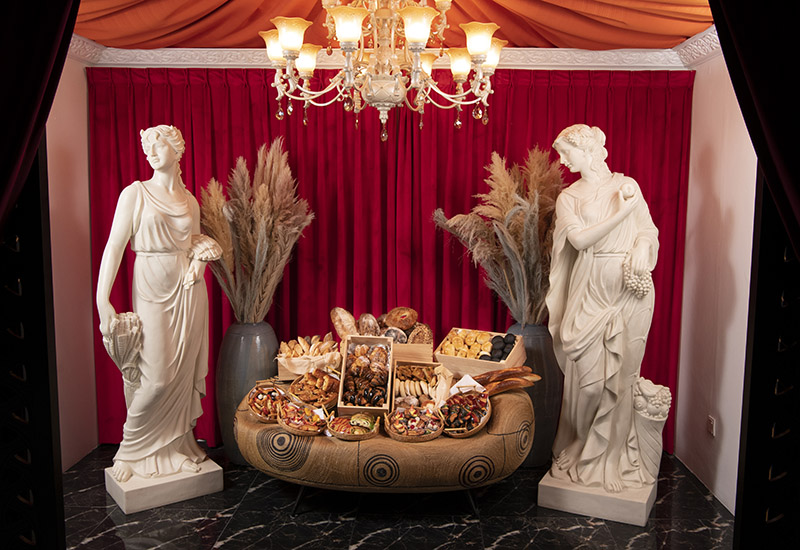 For the uninitiated, Ultime is a new French restaurant located in Wisma Nobleland, Changkat. Brought to you by the same team behind Michelin-starred Béni Singapore and Béni Malaysia, its name, pronounced oul-tim, is French for the word "ultimate" – representing the "ultimate dining experience." Opened since early March, the restaurant serves contemporary French dining with Japanese influences, helmed by Executive Chef Shiro Oonishi.
While the restaurant initially launched with degustation menus for lunch and dinner, its latest breakfast offerings reflect a more casual approach to French dining. Unlike the usual course sets, Breakfast de Ultime follows a "tiered" format that's priced according to your preferences in what one might call multiple-choice sections. Here's what to expect.
French or Danish?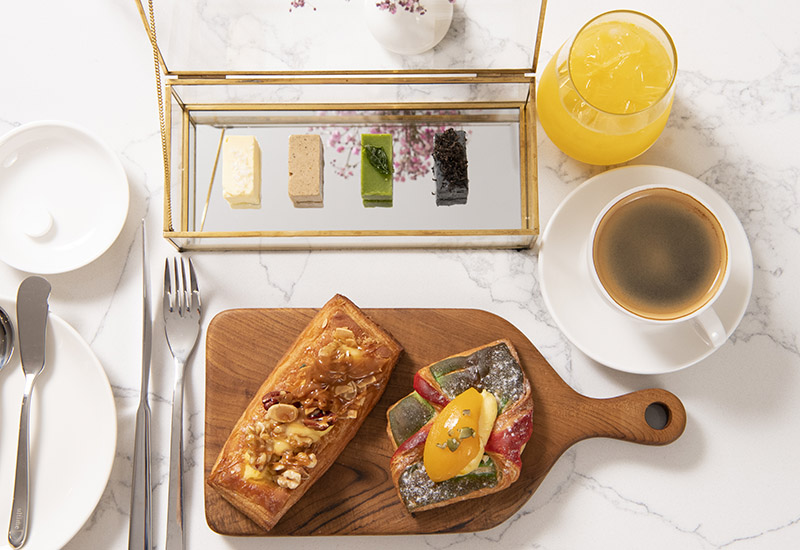 To start, you have two choices from a selection of all-time-favourite breads and pastries. The Choix de Pain (French bread) options include croissants, sourdough, baguettes, rye and faluche; whilst the Choix de Danois (Danish Bread) offers a sweeter assortment of cinnamon rolls, muffins and fruit puff pastry. When in doubt, go for the signature croissant and the owner, Kenny Ng's personal recommendation of Caramel Cream Cheese Cinnamon Roll.
Everything is baked fresh daily and comes served with Ultime's homemade butter and jams. There are four types of Brittany butter: unsalted, pesto, porcini, and truffle; accompanied by strawberry, blueberry or apricot jam – each presenting a unique accompaniment to pair with the baked delights. You also get a standard Americano at the base price of RM25 for this set, with the optional add-on of RM8 for other coffee varieties or fresh juice.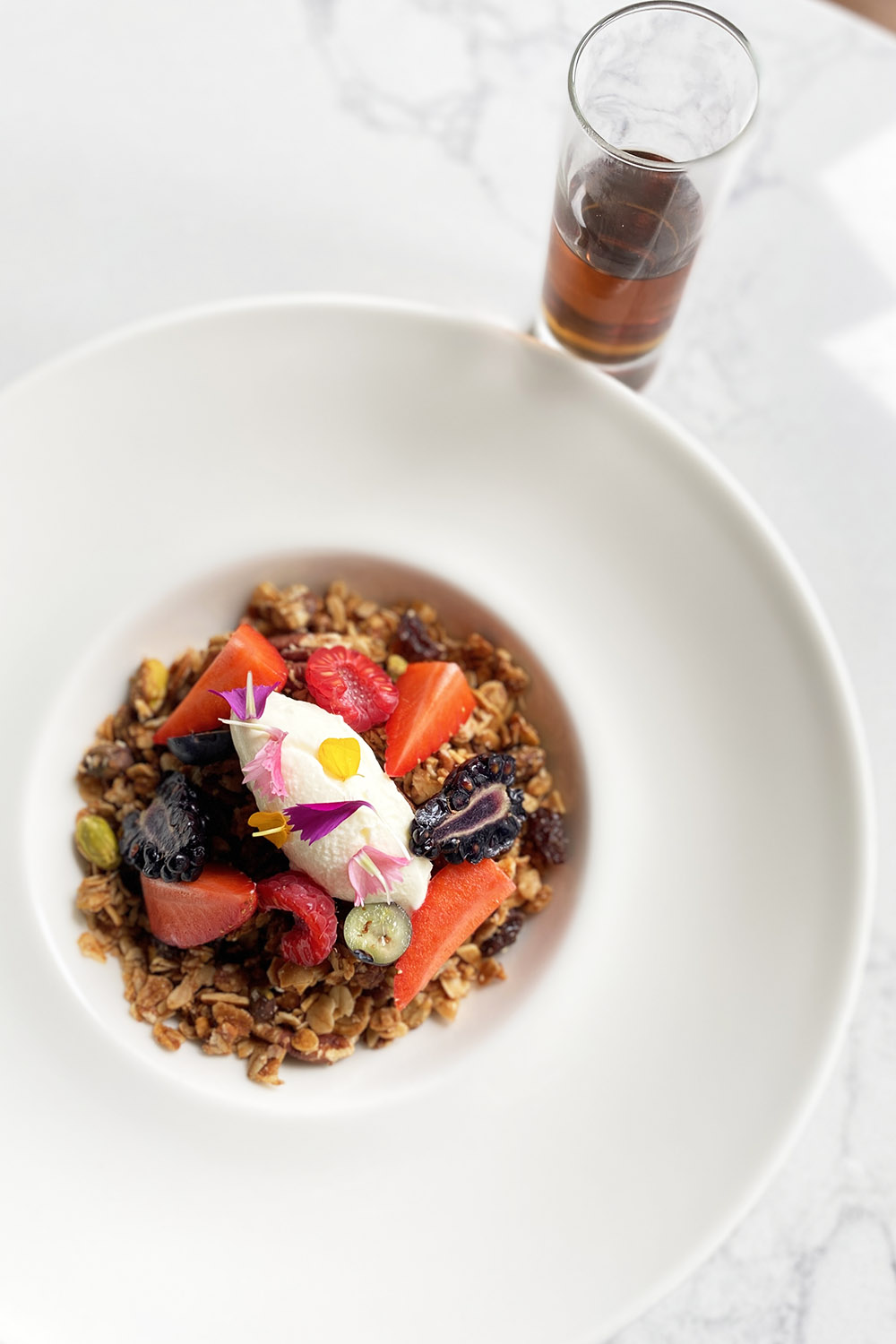 The next section of the menu is ideal for the more health-conscious diners. Options include a garden salad, granola or choice of eggs (omelette, scrambled or sunny side up). We particularly enjoyed the granola, which tastes as wholesome as it looks pretty. It's prepared with a mix of whole grain imported nuts including pecan, walnut and pistachio, as well as fresh berries, topped with honey yoghurt and Canadian maple syrup. The combination is sublime – you get a nice balance of crunchy and juicy textures as well as sweet, nutty aromas to tick both the "wholesome" and "delicious" boxes.
Heavier carbs
 For those with bigger appetites, the third tier is made to fill you up. There are three mains to choose from, starting from a base price of RM35: Pasta Marinara, Grilled Ora King Salmon (additional RM20) and A5 Wagyu Hamburger (additional RM35).
While we do get that rich, marbled fat an A5 grade promises, the wagyu patty is too soft for our liking, crumbling as soon as we bite into the burger and melting before the rest of the dish. The salmon pasta fares better, with the fish cooked to a desirable tenderness and crispy skin. The linguine also offers a umami, creamy-but-not-heavy foundation heightened by truffle cream.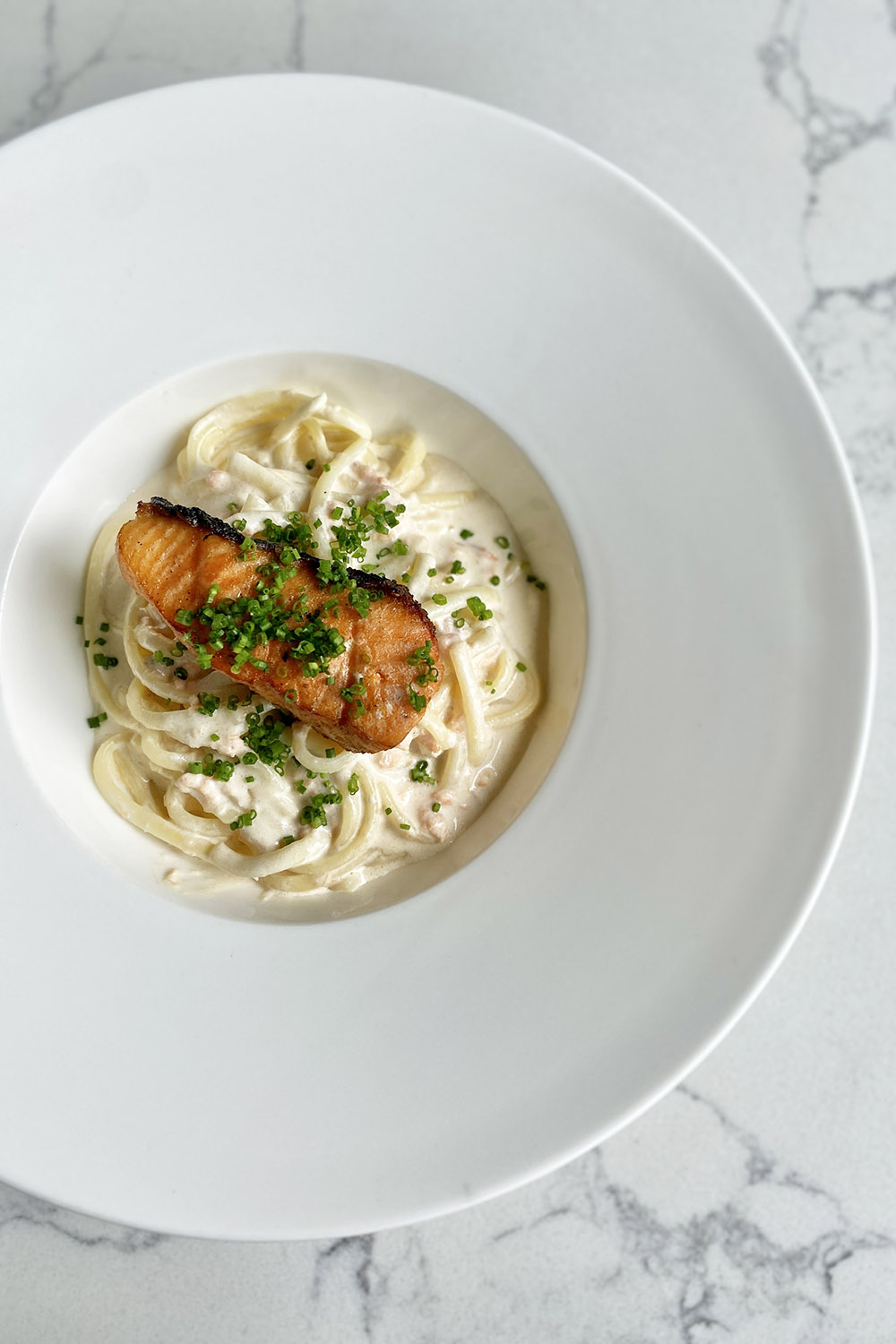 Sweet endings
If you have a sweet-tooth, don't miss out on the last tier, which presents a smorgasbord of cakes and tarts. The selection may vary from day to day, spanning from pecan tart and Basque burnt cheesecake to yellow peach tart and red velvet cake. This tier is priced at a flat rate of RM18.
Ultime offers both indoor and outdoor seating, but we recommend spending your morning at the spacious patio area for a healthy dose of sunshine to start your day right.
Breakfast de Ultime is available from 16th April from 8am to 11am. For reservations and enquiries, please call 03-2704 0988 or 012-858 8016. Visit the official website here for more information.
Location: Unit 4-1, Level 4, Menara Noble Land, No. 2, Jalan Changkat, Lorong Ceylon, 50200 Kuala Lumpur