It's true what they say about "Opposites Attract", but what happens when you bring that idea into a business? Partners in life and business, Timothy Tiah and Audrey Ooi of Colony tell all.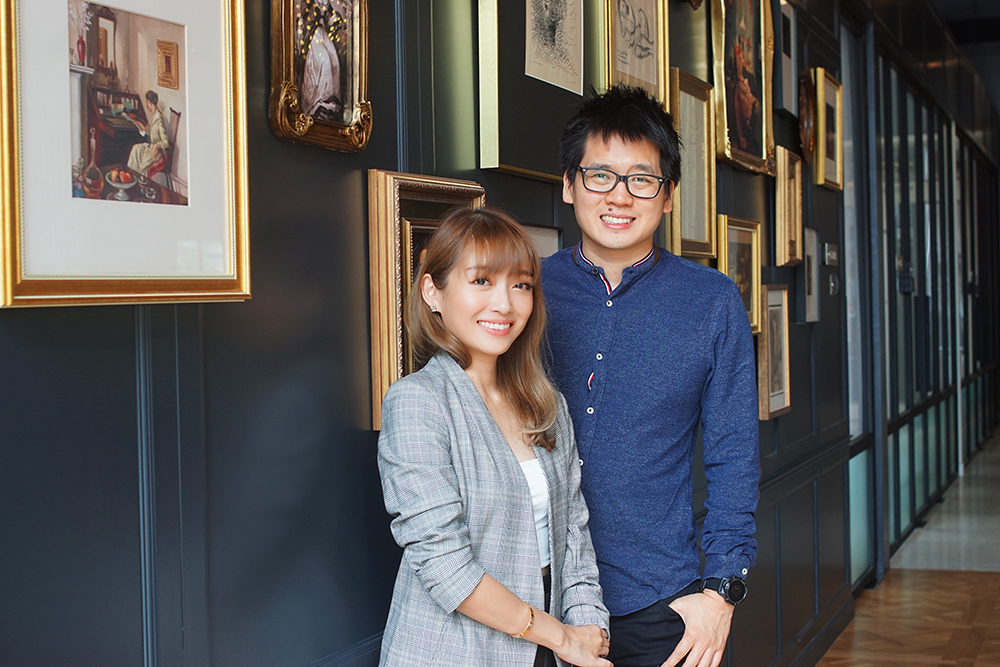 When it came to building Colony together and making it a truly amazing, premium co-working space, Timothy Tiah had a hunch that teaming up with his life partner, Audrey Ooi would be a fruitful idea.
So after Timothy popped the question to Audrey about running Colony together, what started out as a way for the then stay-at-home mother to get busy on a project, eventually became a successful 3 year journey into creating beautiful serviced office spaces equipped with world-class amenities.
However, just like any of us when being handed a large project, Audrey initially had her concerns and hesitations. "I didn't think I was very artistic – and I'm very messy!" she says, when comparing the state of their home compared to Colony. "But I was always interested in interior design, even as a kid. I didn't know whether I'd be good at it. So he would handle operations, fundraisers, and the backend things, and all the creative stuff would be parked under me."
Opposites attract – and clash
The idea about how opposites attract certainly ring true in their relationship – but when it comes to running a business together, sometimes the occasional clash will inevitably occur – and that was exactly what Audrey and Timothy had to work on during the preliminary years at Colony. When we asked about these challenges they faced as a couple during these times – it was comical to see how Timothy immediately passed the reins to Audrey.
"Oh, the first year or so was very hard," Audrey recalled. "We fought a lot – partly because we have very different personalities. He's a very Type A kind of person – organized, forward thinking, he can plan everything easily… When he wants to do something, he'll just do it. whereas for me, I'm very chill. You know, if there's time tomorrow I can do it later – and when it comes very close to the deadline then only I'll start working, and I'll stress about everything! We had a lot of clashes because of that."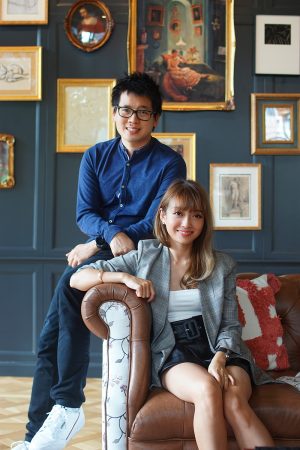 The change in their relationship dynamic was one of the first issues they encountered – as well as the biggest and most unexpected, what with the couple going from husband and wife – to becoming employer and employee. For the first time, she had to come to terms that her husband was also her boss – and in a way that they were no longer equals. Eventually resentment began to build up on her side, especially whenever he would flare up if things weren't done in a timely manner.

"We just normalized it eventually, I guess," commented Timothy. "I learnt to back off and not be so harsh."
"He also learnt to just trust that I can get things done," Audrey added, while admitting to her own role in the situation. "I also tried to be less short-tempered and sensitive. I knew he didn't mean anything bad, so I had to take a step back and learn to control myself."
Honey, I'm home
A common concern among couples who work together or simply being a hard-worker in general is bringing work into your own home – and the duo admits that they do it all the time, but chose to focus on the positive aspect of it instead of treating it as a problem. 
"I love it, to be honest," says Timothy optimistically. "Of course when I'm doing my own thing and I have issues I'll share them with my wife and she'll listen – but there's always a difference when she's in the trenches with me, and when she's not."
"Work also has always been a major part of our lives, so being able to share that and go through ups and downs in business together gives us more stimulation than a holiday. It's more fulfilling."
He compares their situation to couples who don't work together, since at the end of the day – your other half won't be able to relate to your issues at work or your stories because they weren't there with you, and the experience isn't the same. Timothy is grateful that he doesn't have to catch up with the context of his stories, such as explaining and repeating who's who at work, what they're like, and what they've done.
"It becomes very complete, in a way. Work also has always been a major part of our lives, so being able to share that and go through ups and downs in business together gives us more stimulation than a holiday. It's more fulfilling." he concludes.
"Sometimes we have no choice [but to bring work home] as well because there will be times when I don't see him throughout the workday. We could be working at different locations at that time, for example. So at the end of the day when we're home we are able to just update each other on everything – from work to our day and things like that."
It's not secret that every successful relationship requires an immense amount of trust, compromise and communication. Triple that when you're in business together. Both Audrey and Timothy had to make a lot of changes to how they view things and speak to each other, especially when she would feel disheartened over the way he speaks to her at work, compared to when at home.
"That's when he's in boss mode," Audrey explains. "But he's also harsher with me, because he's so close to me – he doesn't feel like he needs to tone down anything, and can be blunt or honest about anything."
"We also have to be very cautious," Timothy adds. "Since it's a work environment, I also can't be seen as if my wife isn't pulling her weight and I'm going easy on her. So I end up having to overcompensate – I have to be on top of things all the time."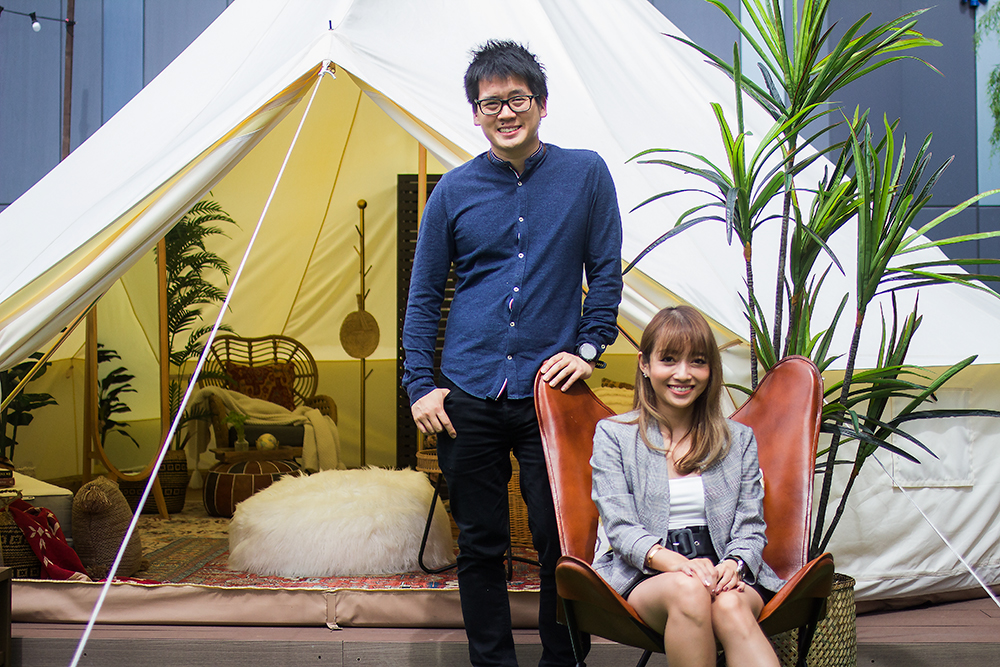 Family first
"We get to carpool?" Audrey jokes, when asked about what was their favourite part about working together, before turning to Timothy – who gave a touching albeit heart-wrenching reply. 
"I think it's when my fortune teller told me that I'm going to die young – like in my 40's," Timothy reveals. "So it gives me reassurance that my family can be financially independent with what we have. My wife won't have to worry about anything. When I'm gone, she'd already be involved in my business, and have a better idea on what to do rather than having a stranger just coming in to handle things. For me, the best thing is the continuity of the business for the sake of my family."
What I love about you
Audrey talks about how being an entrepreneur was never a plan in life. Even her initial idea to start an American school as a way to get out of her boredom of being a stay-at-home mother wasn't a monetary pursuit, but rather a passion project in education. 
"Entrepreneurship has always been his thing," Audrey says, before turning to her husband with a smile. "But it's fun. You like the fact that you're creating something and I can see it."
A couple who seeks to run a successful business together will find themselves playing to their strengths to best develop their project, and Audrey surprises her husband with what she sees in him –  especially as the one helming Colony.
"He's a very good leader. He knows how to inspire people and getting them to believe in his mission," Audrey says without hesitation. She then looks over to Timothy, glowing with pride. "I realized you're very good at that. You're good at getting the best out of people. You're very hardworking. I don't think he ever stops thinking about work! He's very focused and organized and detail orientated. He's just a very well-rounded person, and all these traits make him suitable to be an entrepreneur."
"Thank you for that question. I never knew all that in my life!" Timothy exclaims happily.
When it came to his wife's strengths, Timothy doesn't just talk about his wife's intelligence and capability. Despite her Type B personality opposing his – it was what drew him to her to begin with. It wasn't until building Colony together that he was able to experience her capabilities, even calling her a "genius". As any interior designer can furnish a space to make it look as beautiful as a luxury hotel, but it takes a certain flair to make a space truly standout. He attributes Audrey's ability to create an amazing space at Colony to her personal talent at putting regular fashion items together to create an amazing style.
"It helped me rekindle a side of love that I have for her that I never even knew was there."
"For it to have that wow factor, you need to put together elements you've never seen together before, and it hits you in a way that you never imagined. I'm very proud to be able to see this genius side of her come out and put on this display at Colony for everyone to see. It also makes me appreciate this side of her that people don't get to see on social media. I see a creator. It helped me rekindle a side of love that I have for her that I never even knew was there."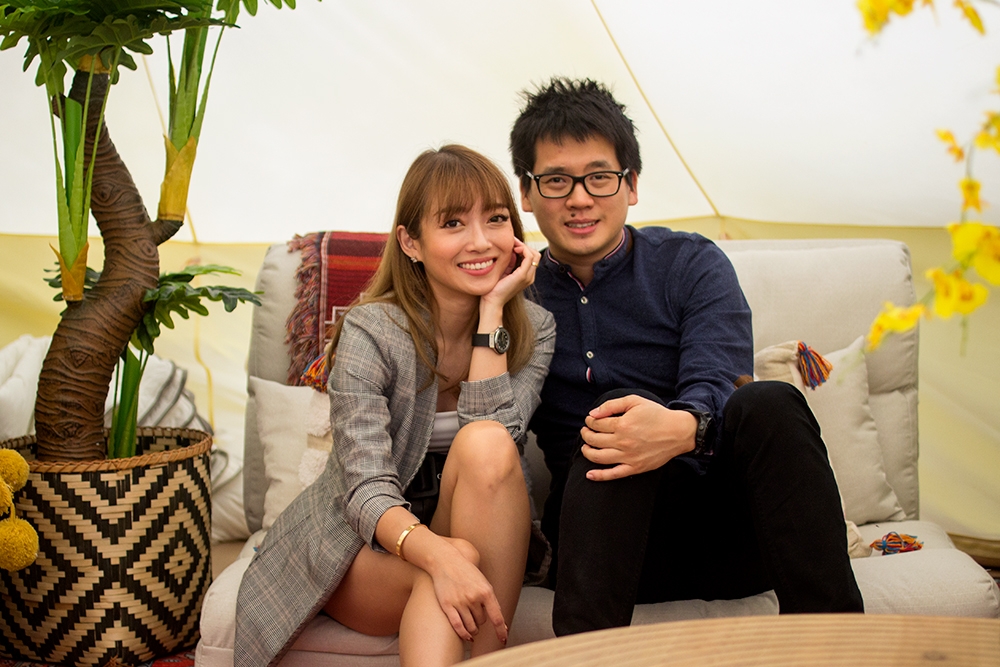 Thanks to their partnership, the past three years have seen significant growth in Colony, from having shot up 162% percent in sales just in 2019 to opening spaces in 5 locations. Its focus on hospitality, privacy, top-notch facilities, and an appeal to the niche luxury market that allows them to hold their rates propelled their business into such a profitable one. It was far from what Timothy expected, and also acknowledges that the co-working space's success isn't just built on himself and Audrey's, but with the cooperation from the entire team.
"It's like another child for us," Audrey says, as she reflects on how their business mirrors their relationship.
Timothy describes how their partnership – both in life and in business – has improved just like their revenue, and compares it a story he recalls about a childhood friend of his who could play piano beautifully by ear.
"I asked her: How do you do this? How do you do it without any mistakes?" he says. "Then she tell me – I actually made a lot of mistakes, but you just don't see it because I know how to cover it up, and let you see the big picture of the sound."
Being with someone both in life and in your career can often lead to episodes of "messing up", which is normal and simply requires the necessary effort and work in order for the relationship to improve – just like when running a profitable, passion project. There will always be a time when the current problem will seem like the biggest, unsolvable problem – until it passes and suddenly you're able to look back with a smile.
"The way our relationship is reflected in our work, you may not see all the struggles and challenges we had to get it right," Timothy concludes. "But in the end, we make it work."