When Charles Lewis Tiffany introduced the six-prong solitaire design, known today as the Tiffany® Setting, back in 1886, he started the marital tradition of buying diamond engagement rings for women. Now, Tiffany & Co. is making history again by establishing a new tradition that has surfaced among its male clientele: buying engagement rings for men.
For the first time starting this spring, the American jeweller will be offering a collection of men's engagement rings featuring a bold solitaire diamond. Named the Charles Tiffany Setting after the brand's founder, the inaugural line honours the jeweller's "long-standing legacy in love and inclusivity, paving the way for new traditions to celebrate our unique love stories and honour our most cherished commitments to one another."
Unlike the traditional men's wedding band, the collection offers bold, signet ring designs in platinum and titanium, with round brilliant and emerald-cut diamonds of up to 5 carats. The round brilliant diamond styles feature a streamlined knife-edge band — referencing the iconic Tiffany Setting — whilst the emerald-cut diamond meets strong, architectural beveled edges. Powerful contours and modern profiles accentuate the pieces.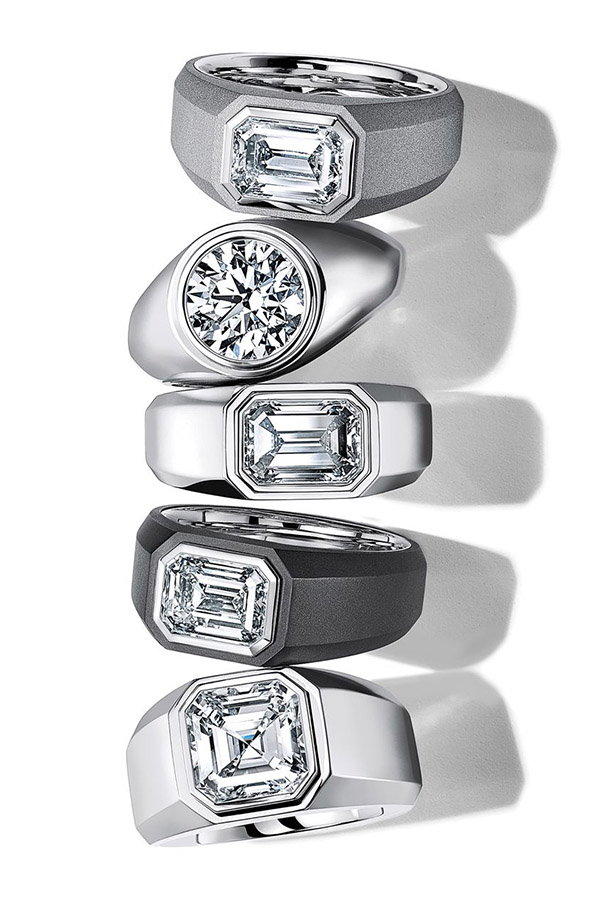 As times are changing and proposals are not solely directed at the fairer sex, Tiffany aims to be the jeweller of choice to put a diamond ring on the groom-to-be's left hand – as it has been for women for over a century.
While breaking ground, the brand continues to uphold its reputation in diamond traceability and delivering the full craftsmanship journey with the Charles Tiffany Setting collection. Every diamond's region or country of origin, along with information on where it was cut, graded and quality assured, as well as where it was set, will be printed on the Tiffany Diamond Certificate.
The Charles Tiffany Setting engagement rings will debut at Tiffany & Co. flagship stores globally from May 2021.
Photos: Tiffany & Co