Distinctive strokes and captivating swirls make up abstract artist Adli's vibrant portfolio of work. Born in London, the 31-year-old studied International Cultural Policy in the UK and has an MA in Fine Art and Technology from Universiti Teknologi MARA (UiTM), Adli's work brings together inspiration from the mythologies of East Asia and the contemporary world as showcased in his first solo exhibition, Chasing The Dragon at G13 Gallery earlier this year. We speak to Adli about his creative process and how his paintings bridge the gap between old-world philosophies and the modern day.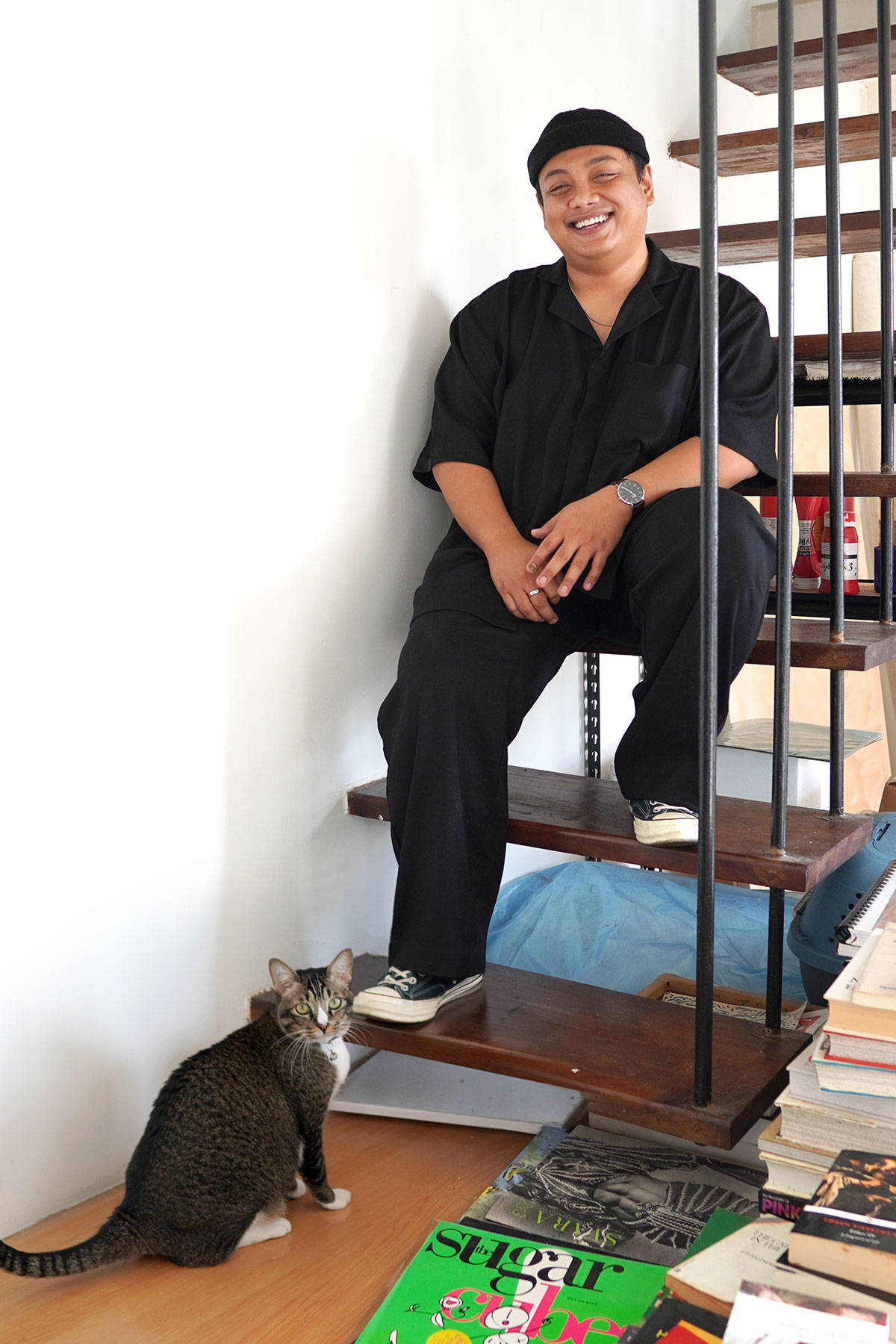 My current body of work engages with painting abstractly as a vehicle of spirituality and self-healing. The practice of painting abstractly and reflecting, became an important way of re-investigating the self, as it provides an arena for me to embrace change and mishaps in my practice, consequently transcending into my everyday life. This proposition is further accessed by investigating East Asian mythological symbols and folklore, as a way to bridge the gap between old-world Asian philosophies and the contemporary world.
I think what made me really decide to get into Fine Arts when I was younger, was the fact that I was inspired by the reasoning behind why artists do what they do. In my teenage years, I would spend a lot of time watching documentaries on art, and I was always amazed by the history and thought processes of artists. These artists had a voice and a coded language, and I wanted to have my own too.
Art has always been a subconscious way for me to cope when I was growing up. It was a way for me to manifest my existence and the validity of my experience.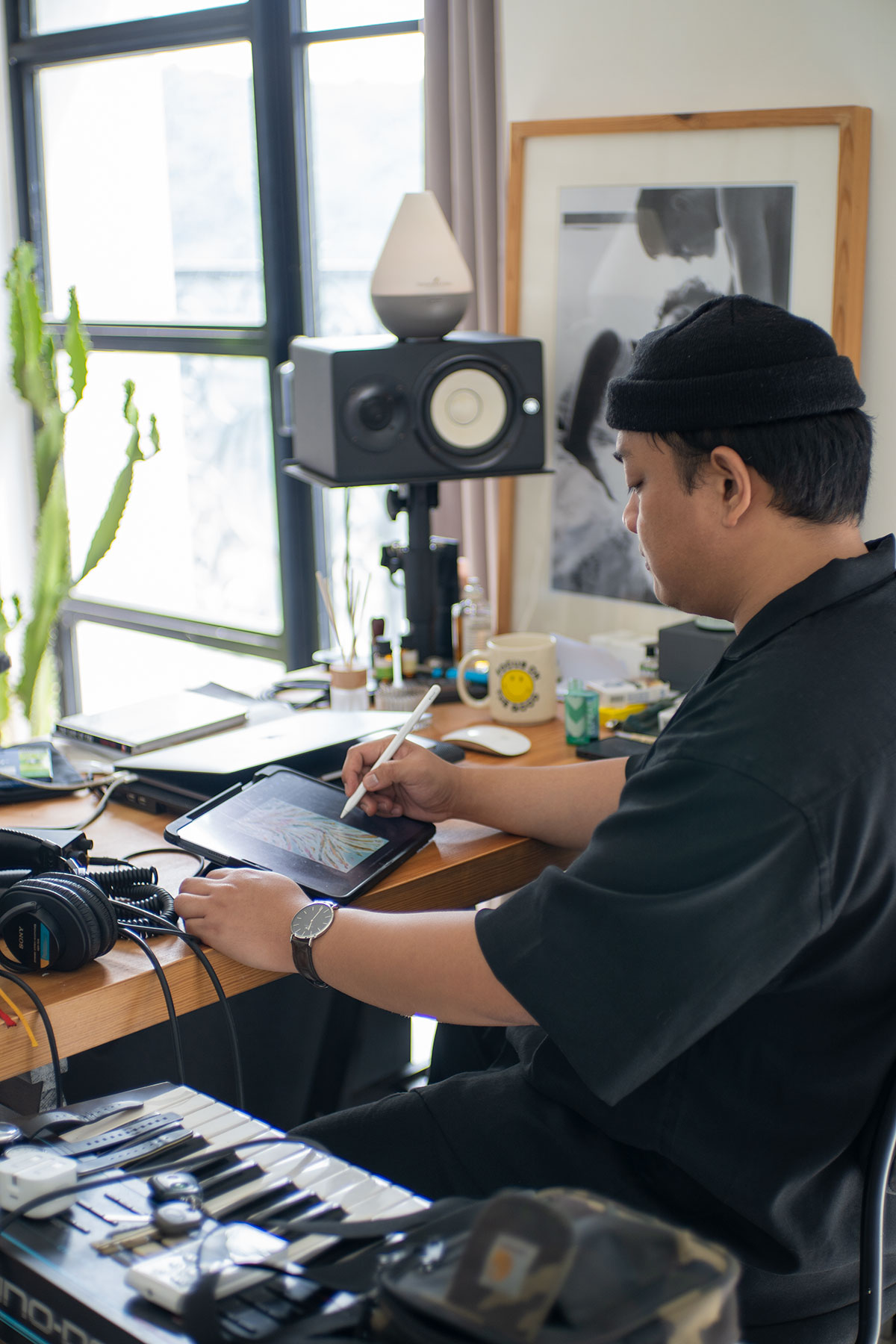 I would say that there is no rigid process in the way I work, and I often let things flow and let it become what it's meant to become. During the process, I would imagine myself as a Jazz soloist, and I'm reacting to the foundation that has been laid by my 'bandmates'. My goal then is to navigate myself through what has been presented, and hopefully make a memorable enough solo, to compliment the 'song' (painting) as a whole.
To me, observing daily life itself is very inspiring. I don't think there's anything that you can observe and not be inspired by. You just have to look closely and with intent. Having said that, my current body of work is inspired by observing Koi Fishes that I had in a pond back at my family home, right outside my first makeshift studio space. The way these fishes would move around the pond was like poetry in motion to me; a beautifully confined and inexhaustible flow of energy. Digging deeper, I found Asian folklore related to the koi fishes and that made me more interested in looking at the koi fishes as a symbol that is significant in our own collective Asian worldview.
I don't necessarily want people to feel a certain way when they see my paintings, but I do hope that it gives them some sort of peace and joy in doing so. I hope they see that beyond chaos, there is order; but it can only exist if we don't resist, but instead, follow the flow of the chaos itself.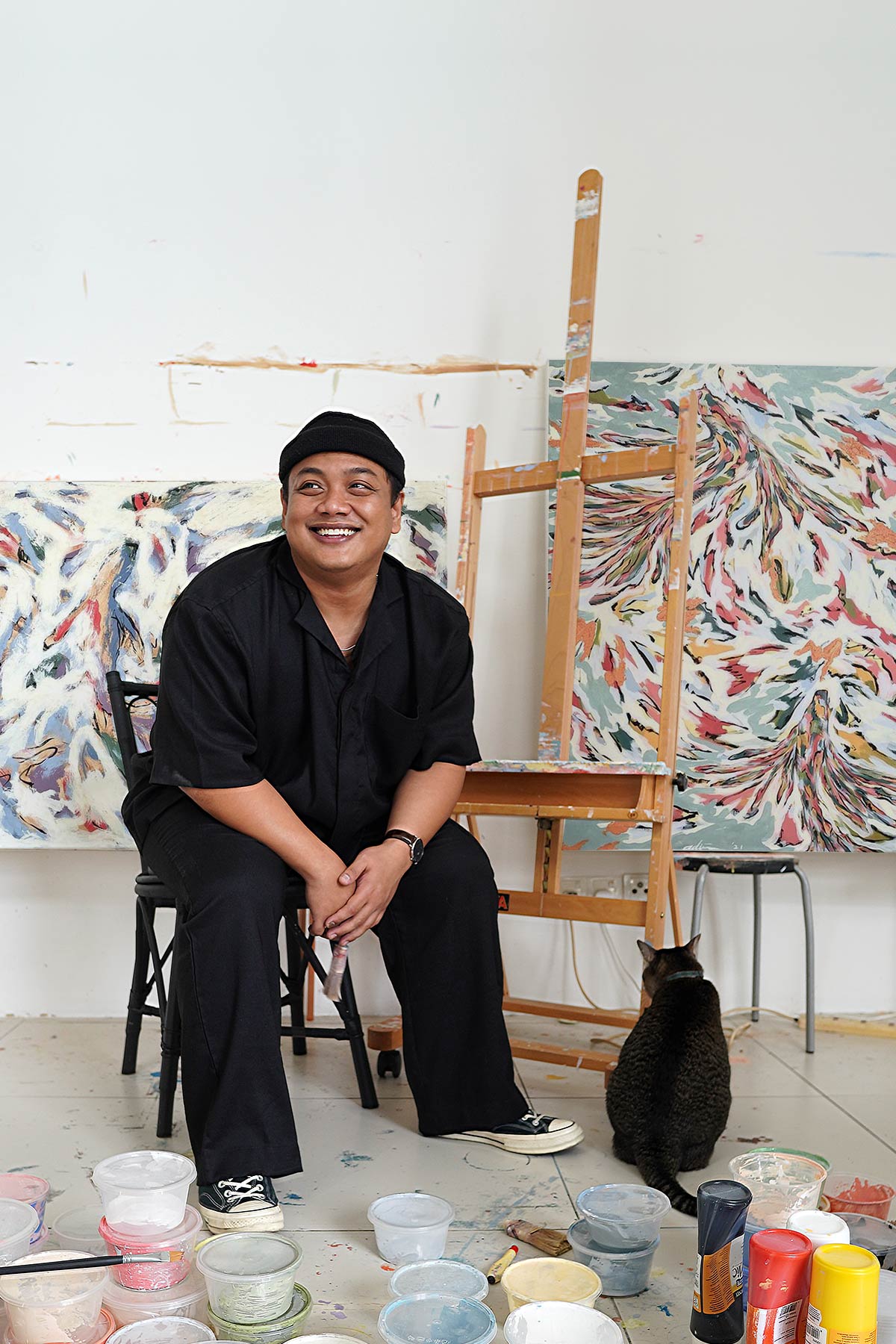 For me, it's important to have a (working) space that is both comfortable and inspiring. At the same time, it also has to serve its utilitarian purpose. I try my best to create an atmosphere where I feel safe to express my feelings and hope that feelings would transcend into my work too. Then, maybe it can affect other spaces that it would occupy in the future too.
At this point in my career, I don't think there is a time when I don't feel creative or have any artistic ideas. To execute the idea though is a whole other thing. Sometimes it's a lack of resources, time, space, or even just laziness. But I try to push through as much as I can to overcome this negative energy and just create. 
I'm not really fond of labelling myself anything immediate, because I do realise that I am constantly growing and evolving. That said, I do think people around me currently subscribe to me as an abstract artist, and that is fine too. 
Follow @senimenjadiadli on Instagram. 
Photography: Anson Siau